ASTRAVANTGARDE
SARM's Astropoetry Master Club & Guests
-Anniversary Page 2006-
"You cannot see how I am smiling-
I am so happy I am to have found such strong voices
to spread the beauty of space and stars."
-Emily Gaskin (U.S.A.)-
REMEMBER
-by Arnold Leinweber and Andrei Dorian Gheorghe-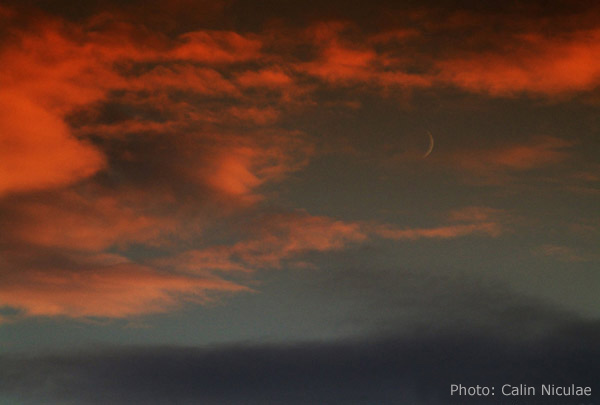 "Poetry is the blue sky of literature,
a universe of love and feelings for soul, heart and mind."
-Arnold Leinweber (1920-2006)-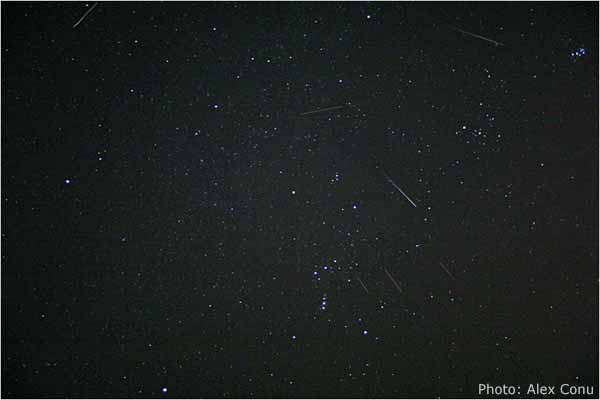 "Astropoetry is the starry sky of literature,
a noble song of astronomy, and another hope for mankind."
-Andrei Dorian Gheorghe-
ASTROPOETIC AVANT-GARDE
-by Andrei Dorian Gheorghe-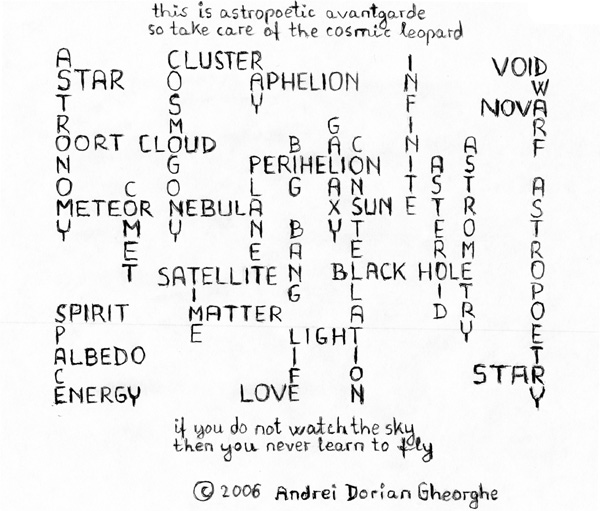 4 ASTRO-MOTTOS

"A cosmic wind traverses my thoughts towards the infinite."
-Florentin Smarandache (U.S.A.)-

"The array of stars that very night
Lent themselves to beauteous light
Asterisms of every shape and hue
Of delicate pink and white and blue
Which glittered and flickered in the firmament."
-David R. Keedy (U.K.)-

"from the stars' perspective
our problems don't seem small,
every person's life a universe
every birth the birth of all."
-David Kopaska-Merkel (U.S.A.)-

"With friends inspired by stars,
the true light becomes a component
of your life.
The cosmic element."
-Andrei Dorian Gheorghe-


PARSING THE FACTS
-photo-poem by Calin Niculae-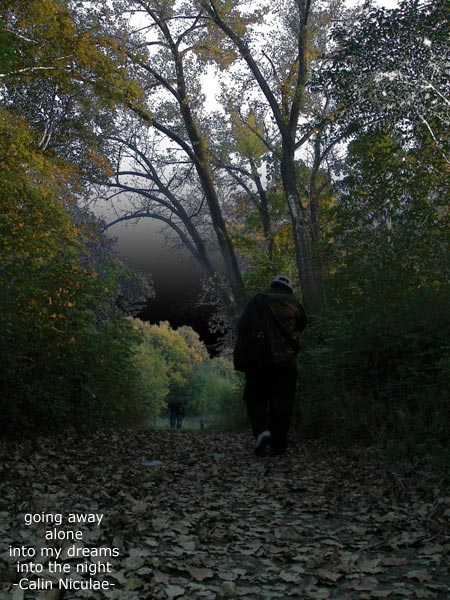 4 SARM MOTTOS

"Try that relative jump
to the cosmic feeling
when you fall to heights"
-Florian Saioc-

"Do I hear a hymn from the stars?
Yes, in every star there is a Seraph
And their chorus is sublime."
-Constantin Dumitrescu-Cunctator-

"The best sky vision is from upwards to upwards."
-Gelu-Claudiu Radu-

"The transport must always be free
in the heavenly canopy."
-Silviu Georgescu-

FROM MARS TO JUPITER
-astro-photo-poem by Gabriel Ivanescu-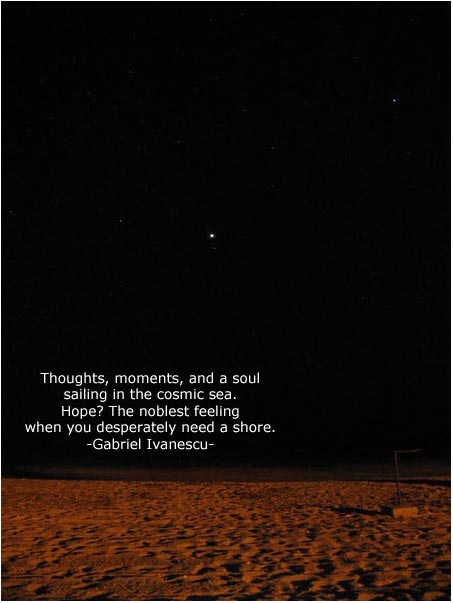 CELESTIAL FEAST
-by Dominic Diamant-

It was incredible,
I lived an experience
which terribly amazed me.
In my solitude,
I was at a celestial feast
where I sang and danced
with all my photonic goddesses.

I hardly returned
to my first stage.

If you believe me,
so much eternity
and so much light of the creation
could be embraced only
with a divine dispensation.
ALEXANDRU CONU'S ASTRO-PHOTO 2006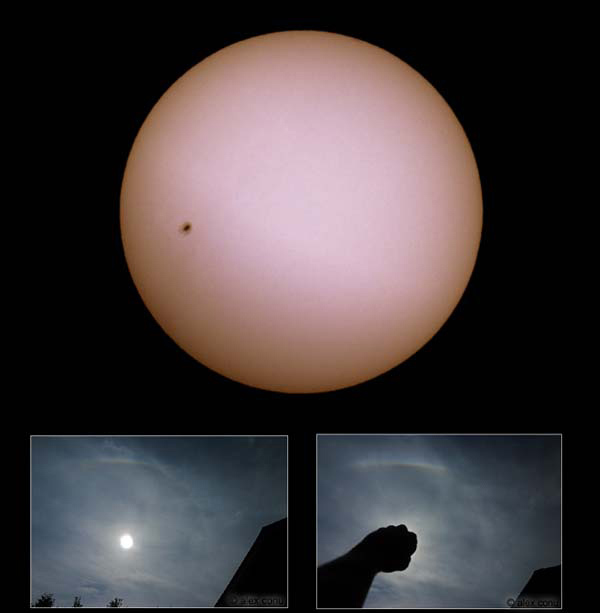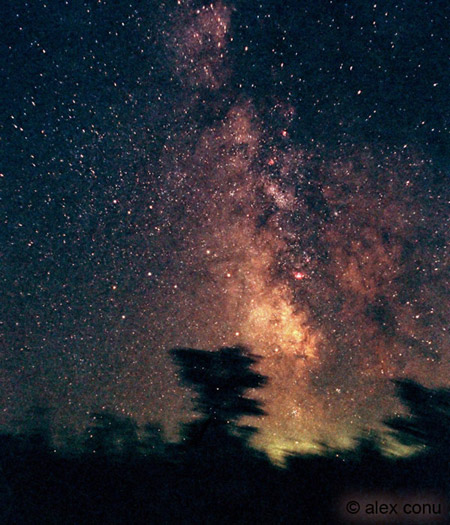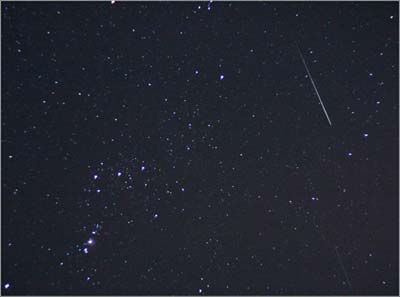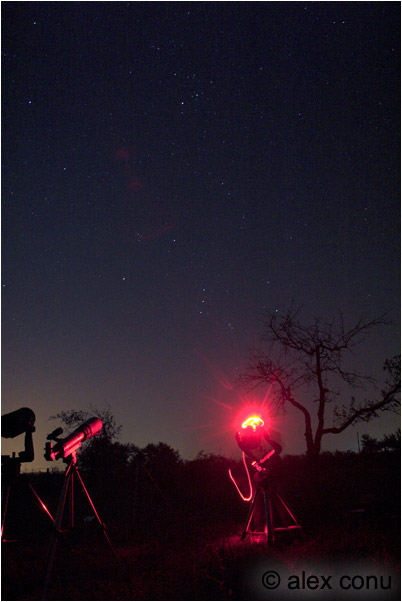 GATES OF IMMORTALITY
-by Adrian Sima-

the eye has climbed wrinkles of space
making blue the treasures of sadness

the eye and the threshold -
they do not see one another
the sleep seems to be impossible
the compass surprisingly coils to nowhere
frequently the mystery
of the luminous galactic spirals
does not arrive
even if the gates of immortality
are closed by them
throwing sacks with matter
into the waters of the thought

molecules, flowers, colored balloons,
meteors, planets, comets, stars
waiting for a flow
upon the elastic of love
DEEP SKY OBJECTS
-astro-art-poem by Diana Alexandra Ardelean (12 years)-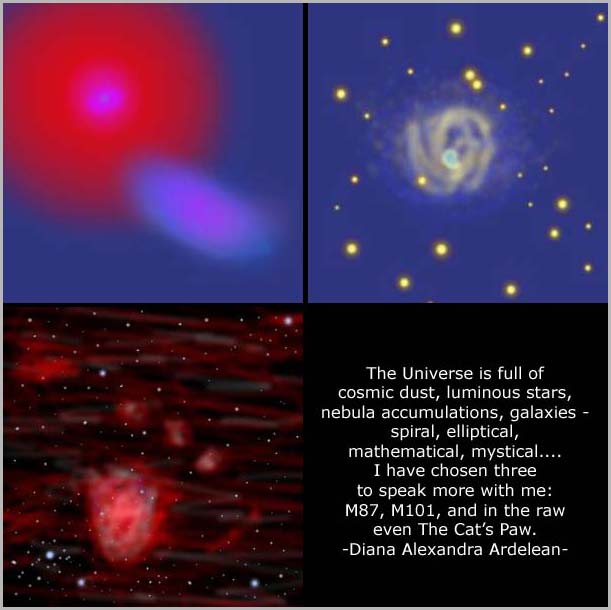 ASTRONOMICAL CULMINATIONS
-by Zigmund Tauberg (79 years)-

There are diverse culminations.
Some of them are comical
Or even astronomical.

For a cheeky astronomer:
To tug
The tail of a comet.

For a beauty salon:
To comb
Berenice's Hair.

For the Charioteer:
To harness Pegasus
With the Great Chariot.

For a fakir:
To play flute for the dance of
The constellation of the Snake.

For a refined fisher:
To taste food from
The constellation of the Fishes.
HIGH ALTITUDE OBSERVATORY POETRY
(San Pedro Martir - Mexic, Mauna Kea - Hawaii,
Cierro Tololo and La Silla - Chile, Pic du Midi - France)
-photo-collage by Ovidiu Vaduvescu
(a SARM counselor, established in Canada)-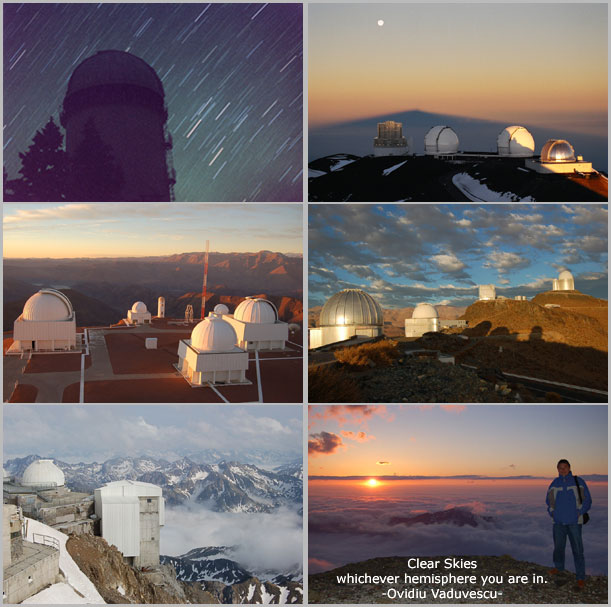 SUNDOG
-astro-photo-haiku by Cristina Slovineanu-

SOLAR ECLIPSE PRIVATE CORRESPONDENCE
-collage by Ilan Manulis (Israel), John Francis Haines (U.K.)
and Andrei Dorian Gheorghe-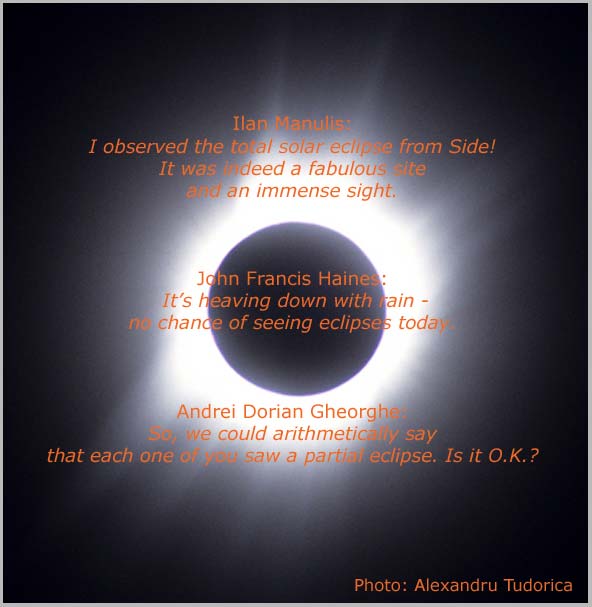 AFTERNOON
-astro-photo-haiku by Iulian Olaru-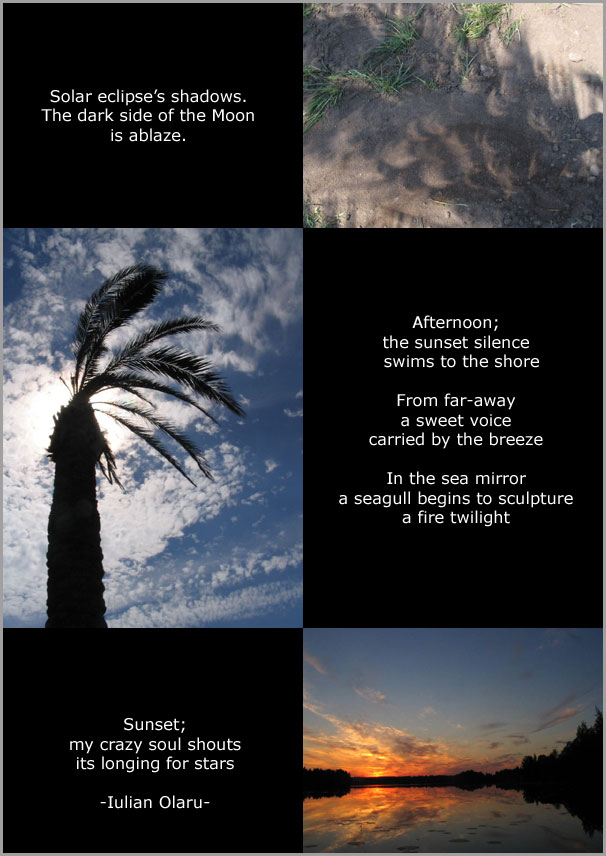 CLOUDY PRIVATE CORRESPONDENCE
-collage by Alastair McBeath (U.K.) and Andrei Dorian Gheorghe-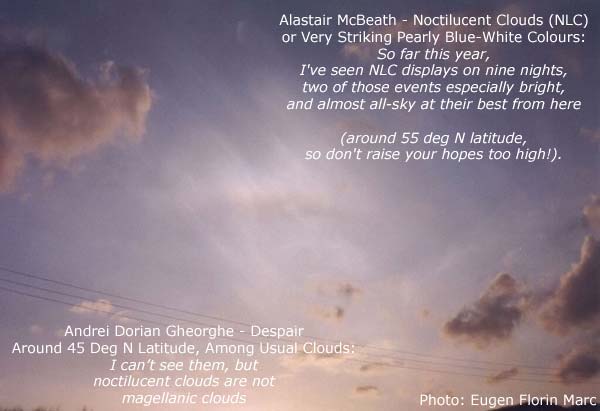 ASTRO-HAIKU GALLERY (1)
-by Gerald England (U.K.), Steve Sneyd (U.K.)
and Andrei Dorian Gheorghe-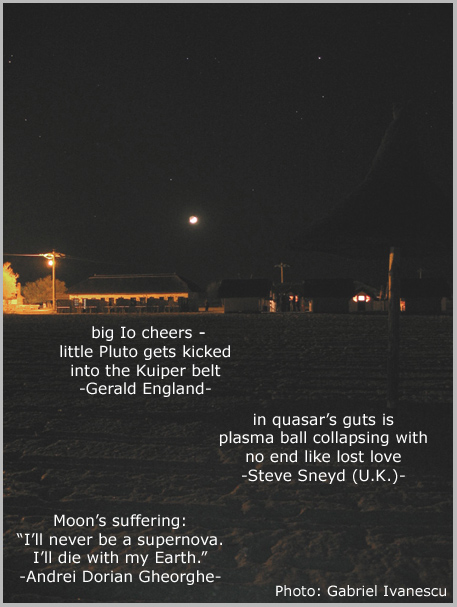 SEGMENTS OF SKY
-by Andreea Nanciu-

Darkness, horizon,
mountain air and stellar twinkles,
dreaminess.

Hypnotic guiding moonlight,
stars which fall, smile and die,
the Milky Way full of mysteries,
jumps from a nebula to another one,
amazement.

Segments of sky wished by souls.
TESTS
-astro-photo-haiku by Alin Tolea
(a SARM counselor, established in the U.S.A.)-

"Someone fell in love with my oculars."
-Klaus Lowitz (Germany)-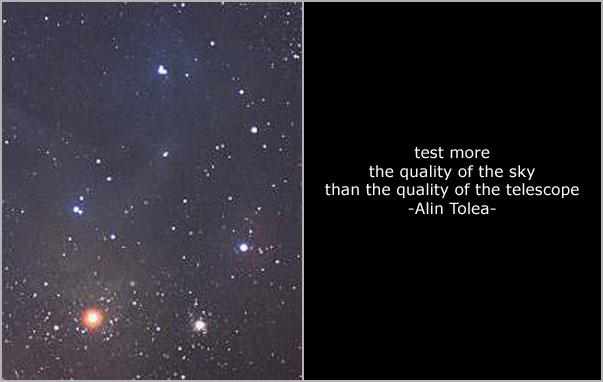 PERSEID TRAIN
-astro-photo-haiku by Valentin Grigore-

LIGHT POLLUTION
-astro-photo-telescopic drawing-definition by Eugen Florin Marc-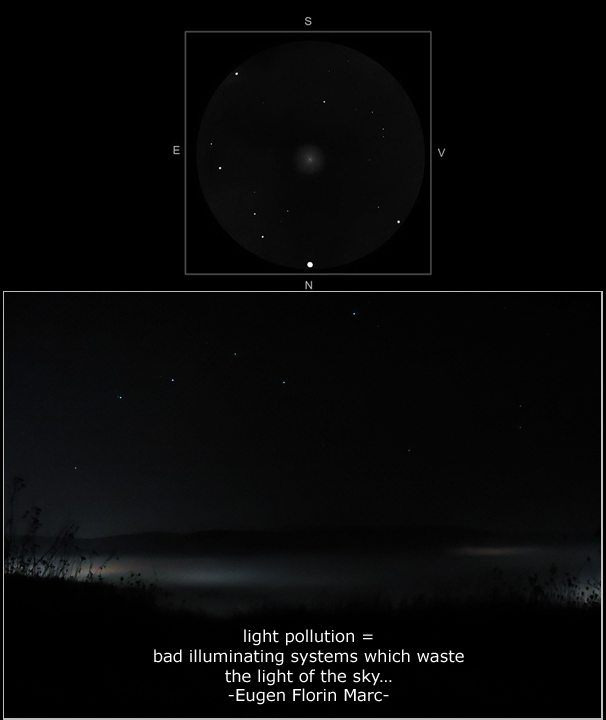 LUNAR HYPOSTASES
-astro-photo-thoughts by Sorin Hotea-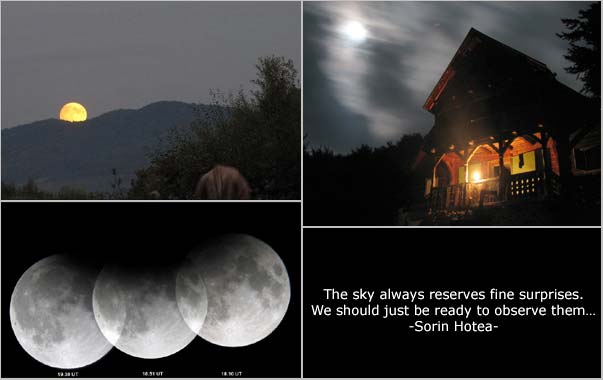 LUNAR ECLIPSE
-astro-photo-poem by Florian Severin-

FALLING IN LOVE WITH THE SAME STAR GIRL
-by Eugen Florin Marc, Raul Truta and Andrei Dorian Gheorghe-

"I'm still here, thinking of astronomical poems late into the night."
-Arlene Carol Brill (Turkey)-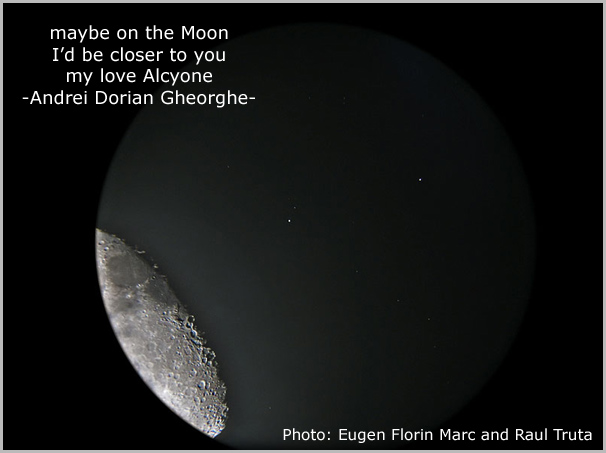 PLUTO PRIVATE CORRESPONDENCE
-collage by Marge Simon (U.S.A.), Bruce Boston (U.S.A.)
and Andrei Dorian Gheorghe-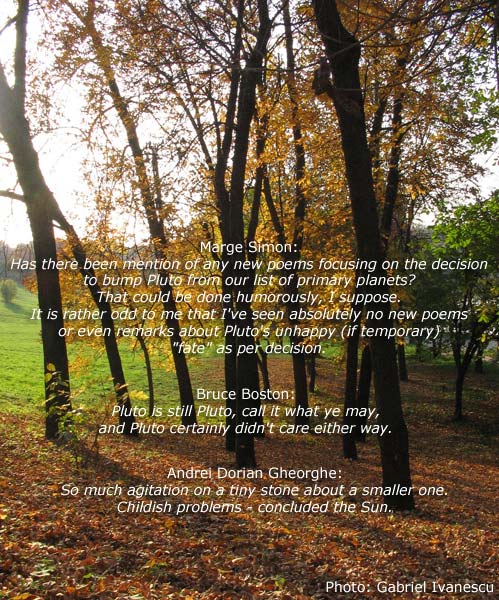 SEPTEMBER 2006
-astro-photo-poetry by Dan Mitrut-
my friend was a cyclops from another species
he painted his skin with night dreams

I don't know to sleep - he said to me -
I am a neighbor of the infinite
somebody has chosen my life star
the unseen follows me step by step
and I can only count my eyes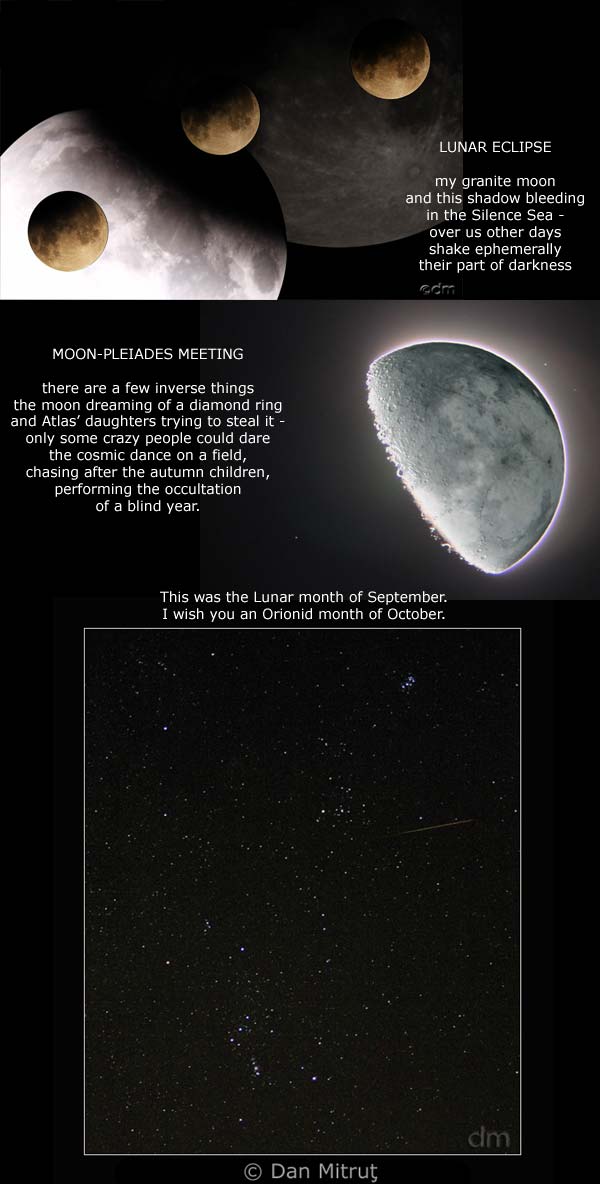 ORIONIDS
-by Irina Cristescu-

On the lake of the night
a garden of stars
Orion in the autumn

Falling stars -
white lights pass through
our infinite
IN THE SOUTH HEMISPHERE
-astro-photo-haiku by Danut Ionescu
(a SARM counselor, established in New Zealand)-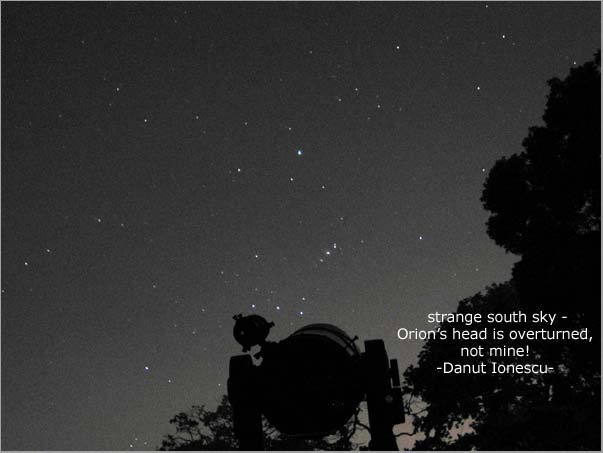 ASTRO-HAIKU GALLERY (2)
-by Nagatoshi Nogami (Japan), Deborah P. Kolodji (U.S.A)
and Andrei Dorian Gheorghe-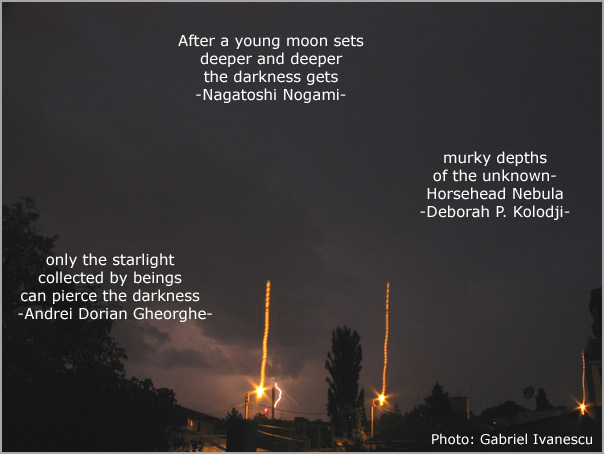 SWAN: CONSTELLATION AND COMET
-astro-photo-art-verse-collage by Cristina Tinta (Tina Visarian)-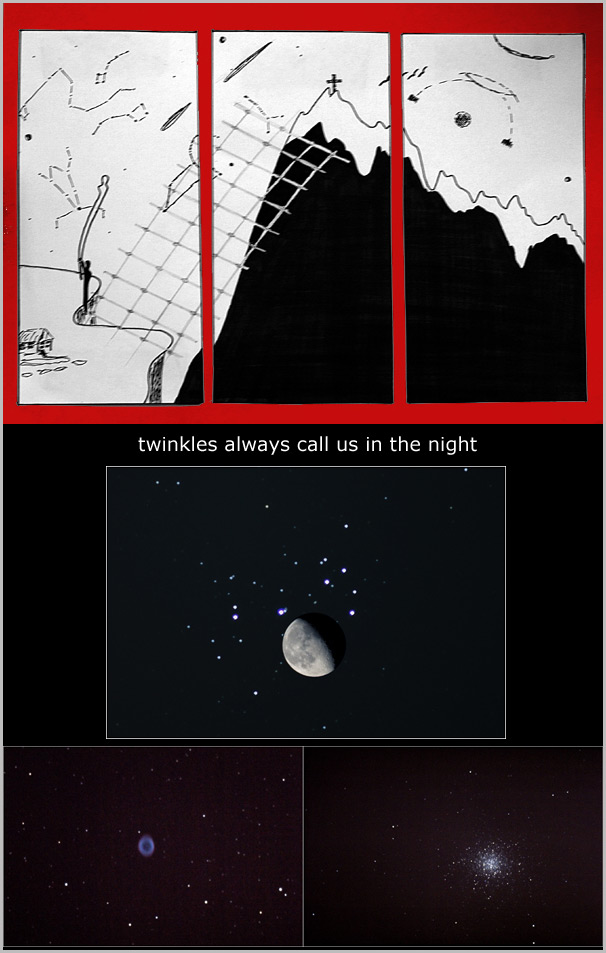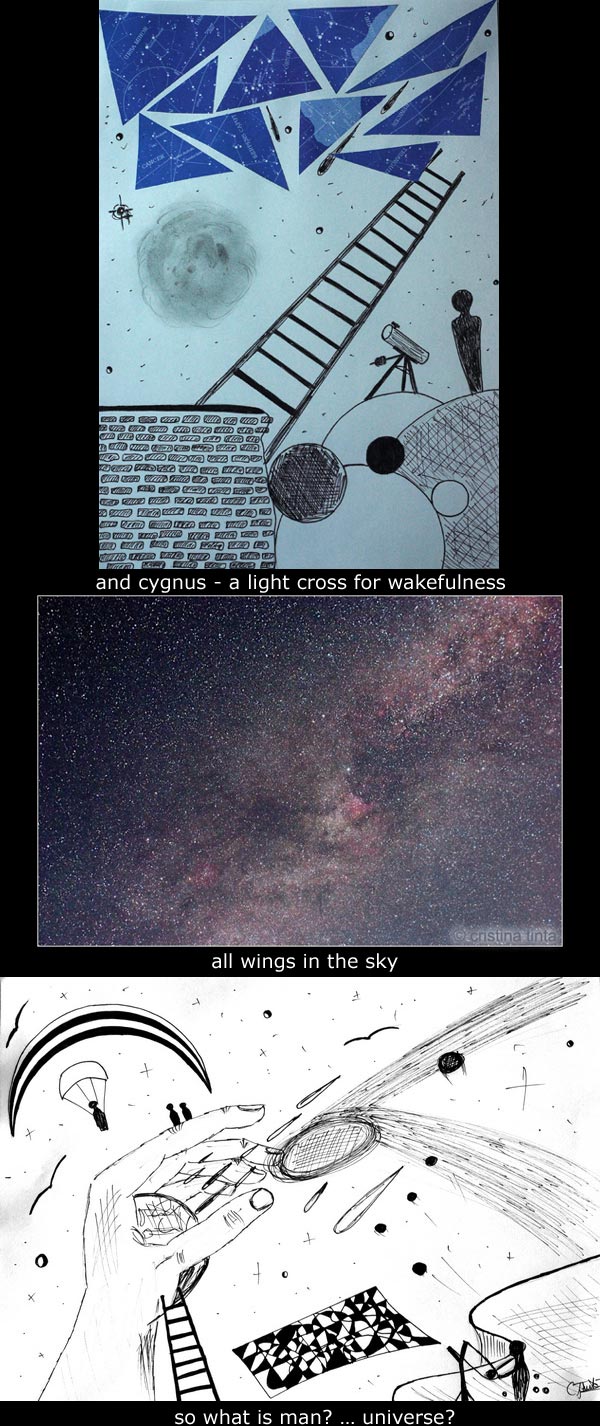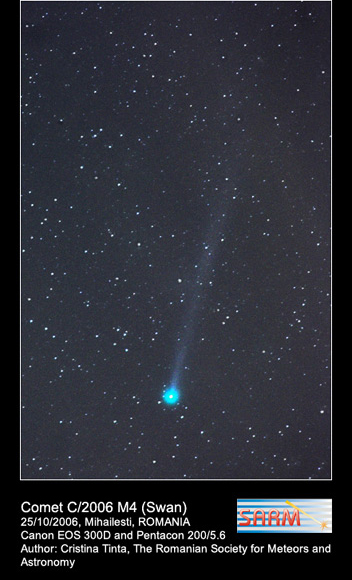 MISS TELESCOPE
OR SOME LIGHT HOPE
Model: Cristina Tinta
Photo: Casper ter Kuile (Holland)
Scenery: Lattrop Cosmos Observatory, Holland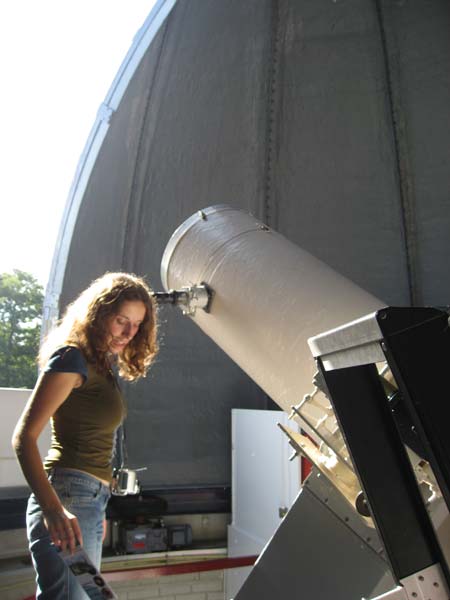 TOMA HIRTH'S EXHIBITION 2006
(November 22nd, "Admiral Vasile Urseanu" Bucharest Municipal Observatory)

GEMINIDS 2006
-astro-photo-haiku by Valentin Grigore-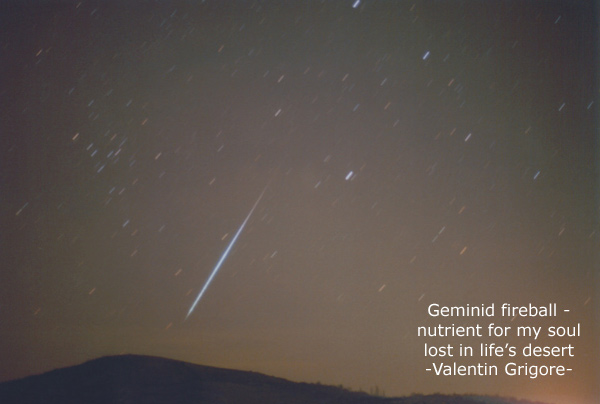 EXOSUNS
-astro-photo-haiku by Ion Moraru-


HOLIDAYS
-by Steve Sneyd (U.K.), David M. Turner (U.K.)
and Andrei Dorian Gheorghe-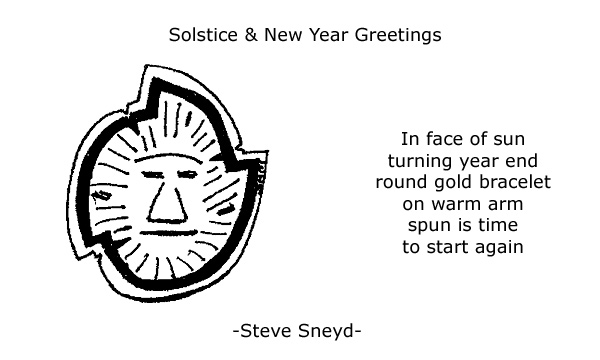 Christmas Constellations

This Christmas the stars
More numerous than ever;
That bright one I do not recall.
Each year my firmament
Seems to sparkle
More brilliantly;
More sadly
And new constellations
Cloud with soul
Night skies that once seemed dark.

When I join them
I will complete
Triangulum
. .
.
-David M. Turner-
Magic Star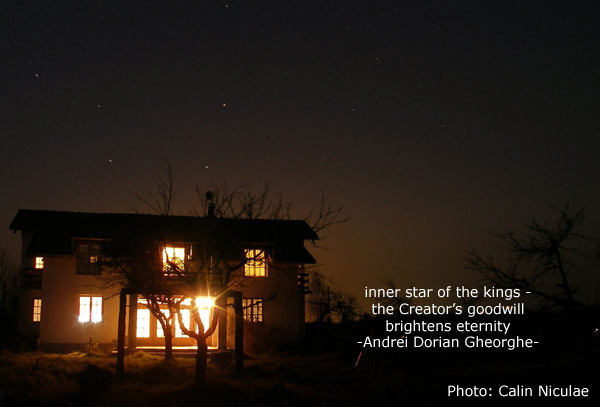 NOAH'S ARK
-by Victor Chifelea-

I would describe our existence
as a trip in the Universe's coordinates
the sense of life is to give birth
to generations after generations
of involuntary space explorers
crowded like in Noah's Ark
and condemned to admire various perspectives
of the infinite

Our planetary ship carries us among
the stellar waves of the giant cosmic ocean
sometimes facing violent electromagnetic storms
some other times surrounded by so much silence
that even the imperceptible ripple
of the primordial radiation
could be heard

It doesn't matter if there is a harbor for our ship
or how long the road is
because during the trip
a fact is certain:
we exist!
ASTRO-HAIKU GALLERY (3)
-by Jos Nijland (Holland), Larry Jaffe (U.S.A.)
and Andrei Dorian Gheorghe-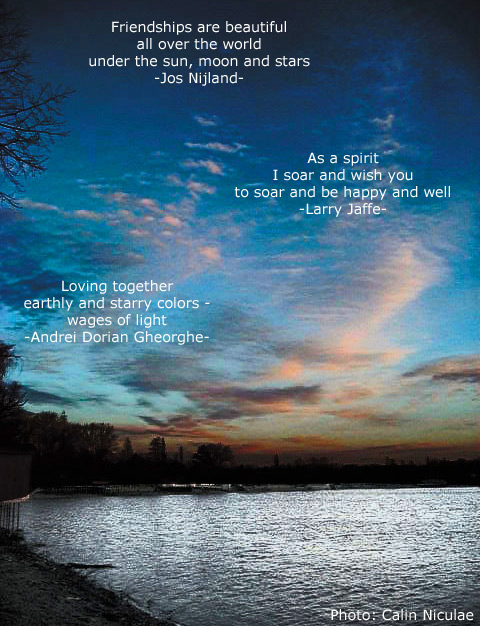 ; ; ;
SARM'S PERSEID EVENT POETRY
-comments and collage over time-

Perseid Event 1996, Targoviste, 4th edition.
The meeting where the yearly Cosmopoetry Festival of the
Romanian Society for Meteors and Astronomy-SARM was born.

"It is great to see another aspect of astronomy,
such an enthusiastic combination of astronomy, art and poetry.
Congratulations for this astropoetry movement, SARM!"
-Damien Simon (France), 1997, Targoviste-

"I have found here that poetry and art can be united with astronomy."
-Codrin Georgescu (Sweden), 1997, Targoviste-

I am very impressed by the sense of SARM:
to attract people to astronomy by poetry,
by watching the stars and following the meteors...
This is a very unifying and educational experience.
-Donald Collins (U.S.A.), 1998, Targoviste-

"I think you do a great job for Romania.
Young people learn science, and they also are able to enjoy and create
music, poetry and art connected to astronomy."
-Victoria Collins (U.S.A.), 1998, Targoviste-

"It was a big surprise to find that SARM organizes
not only astronomical activities,
but also cultural activities, which I liked very much."
-Marcel Vonk (Holland), 1998, Targoviste-

"The Cosmopoetry Festival is fascinating.
It is very moving to see so many young people writing
so many new poems about the Cosmos. It is wonderful."
-Peter Scott (U.K.), 1999, Targoviste-

"It is hard to express all, but I hope you understand my feelings
and my happiness to be here, and I want to thank you
for the chance to see your Cosmopoetry Festival.
It was something incredible, unusual, extraordinary in my life."
-Marina Blohina (Ukraine), 1999, Targoviste-

"I had an interesting experience at this meeting,
and I learned about the interaction between science and art,
so I ask myself if art is science or science is art.
I enjoyed we had poetry, photography, music, drama,
and combinations between photographs and poems -
two feelings put together…"
-Diane Allum (Switzerland), 1999, Targoviste-

…Perseids 2000 - Bucegi Mountains, Perseids 2001-2003 - Corbasca,
Perseids 2004 - Darmanesti, Perseids 2005 - Crasna-Covasna, and…
Perseids 2006 - Crasna-Covasna.
People and places change,
but astronomy and astro/cosmo-poetry remain.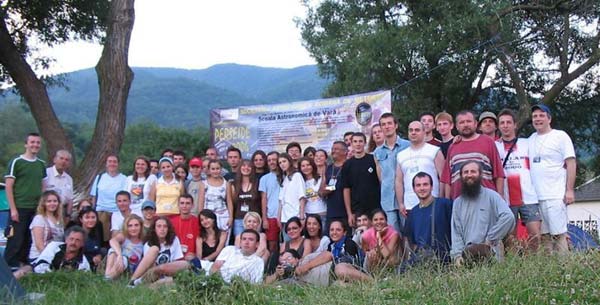 Nothing more beautiful than the diaphanous sky (Dimitrie Olinici)
We folded the fog by sprinkling galaxies (Catalina Mitrut)
We like stars and constellations - eternal hopes (Stefan Berinde)
Stars singing in the night shadow (Lucian Boboc)
Stars seeing us like some lonely lights (Diana Maria Ogescu)
Gorgeous planets as guests (Izabela Boros)
Celestial flowers for our souls (Diana Mitrut)
Heavenly perfume for dreaminess (Sergiu Dobos)
We are connections between the Earth and the Sky (Valentin Grigore)
We cry when the Sky loosens the Earth (Dan Mitrut)
Fireballs among the stars - our happy vision (Andrei Dorian Gheorghe)
Hurried meteors from generous comets (Adrian Negoescu)
Fantastic falling stars penetrating our hearts (Vasile Micu)
Astral fields with meteors from the fire of life (Paul Boboc)


INTERNATIONAL METEOR CONFERENCE POETRY
-collage over time by
David Asher (U.K.), Jeremie Vaubaillon (France),
Geoffrey Grayer (U.K.), Jean Marc Wislez (Belgium),
Juan Martin Semegone (Argentina), Jonathan McAullife (Ireland),
Galina Ryabova (Russia), Antonio Martinez Picar (Venezuela),
Arnold Tukkers (Holland), Peter Jenniskens (U.S.A),
Cis Verbeeck (Belgium), Valentin Grigore,
and Andrei Dorian Gheorghe as coordinator;
IMC 2006 group photo by Rainer Arlt (Germany)-


"What would the IMC be
without astropoetry?"
-Marc Gyssens (Belgium)-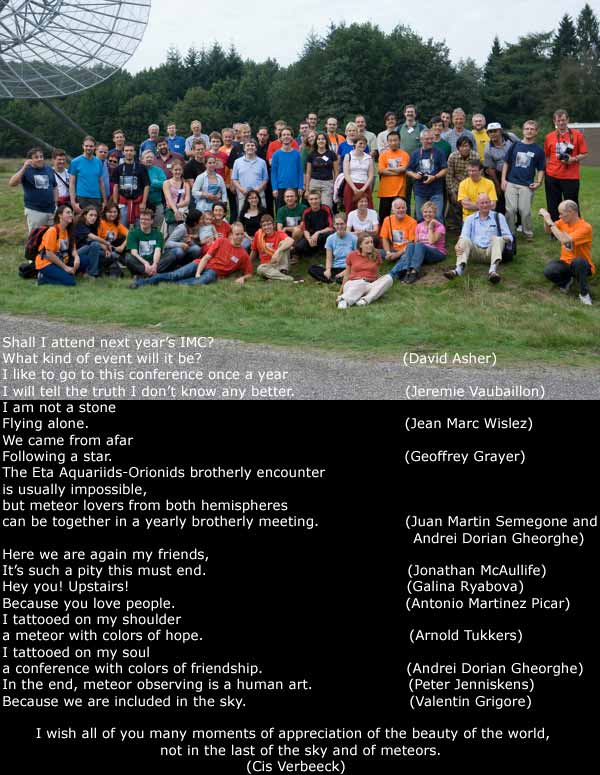 SEQUENCES FROM THE 10TH
INTERNATIONAL ASTROSHOW OF POETRY
(directed by Andrei Dorian Gheorghe in the night of 16/17 September
at the International Meteor Conference 2006, Roden, Holland)
-photographs by Jeremie Vaubaillon (France)-
"Would you dare to be an actor in an astropoetry show?"
"Yes, let's do it."
-Andrei Dorian Gheorghe and Gelu-Claudiu Radu,
Petnica 1997-

… Stara Lesna 1998, Frasso Sabino 1999, Pucioasa 2000,
Cerkno 2001, Frombork 2002, Bollmannsruh 2003,
Varna 2004, Oostmalle 2005 …


"The IMC is a very balanced event, and we wish that
the professional conferences we attended in the past had such a show!
It would have much improved our ability to learn,
as one tends to get information overload.
The Astroshow provides light relief, and relaxes the tension,
apart from being a very enjoyable experience."
-Dr. Geoffrey Grayer (U.K.) and Dr. Malcolm Currie (U.K.), Roden 2006-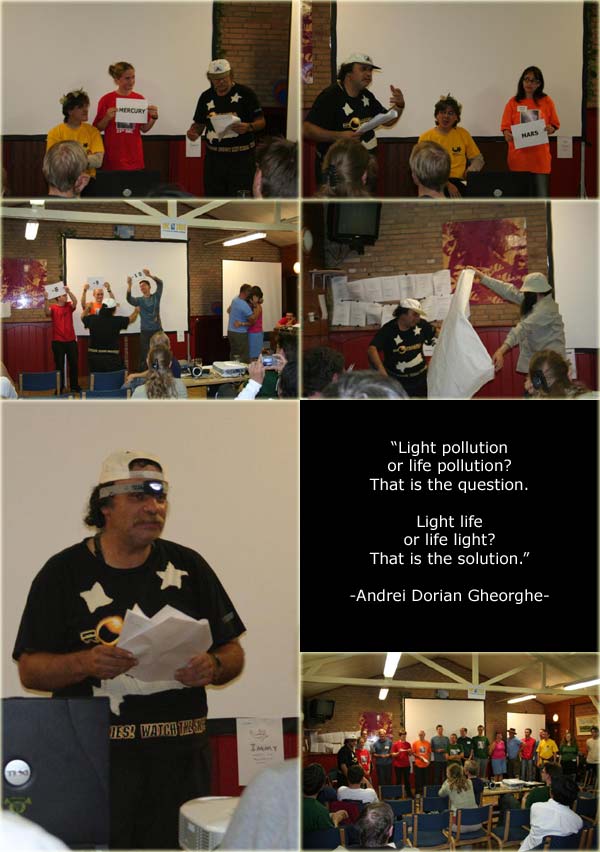 "The Romanian group brought another spirit,
one with more artistic creativity
and this has a wonderful influence
on the atmosphere at the International Meteor Conference."
-Paul Roggemans (Belgium)-
---
The Astropoetry Master Club was founded on November 22nd, 2006
during the Laureates Gala of the Cosmopoetry Festival
of the Romanian Society for Meteors and Astronomy-SARM
(11th edition, "Admiral Vasile Urseanu" Bucharest Municipal Observatory)
in order to celebrate 10 years from
the first printed astropoetry anthologies made by SARM
(launched in September 1996 at
the International Meteor Conference-Apeldoorn, Holland
in a 1996-2002 series entitled
Romanian Contemporary Astropoetry and Guests)
and it is destined to create avant-garde pages
of astro-photo-art-poetry.

Many thanks to the guests:
-Emily Gaskin (editor of Astropoetica.com),
-Florentin Smarandache (founder of Paradoxistic Literary Movement)
-David R. Keedy (from the British Astronomical Association)
-David Kopaska-Merkel (editor of Nights and Nightmares -
the magazine of fantastic poetry)
-David Asher (from Armagh Observatory,
counselor of the International Meteor Organization)
-Ilan Manulis (director of the small bodies section of
the Israeli Astronomical Association)
-John Francis Haines (leader of the Eight Hand Gang network of SF poets)
-Gerald England (editor of New Hope International)
-Steve Sneyd (director of Hilltop Press)
-Alastair McBeath (vice-president of the International Meteor Organization)
-Klaus Lowitz (German amateur astronomer)
-Damien Simon (French amateur astronomer)
-Codrin Georgescu (former youth president of Goteborg A.K.)
-Victoria and Donald Collins
(professors at Asheville "Warren Wilson" College)
-Marcel Vonk (from the Dutch Astronomical Youth Association)
-Peter Scott (teacher and singer)
-Marina Blohina (Ukrainian professional astronomer)
-Diane Allum (teacher in Switzerland)
-Marge Simon (editor of Star Line -
the Journal of the Science Fiction Poetry Association)
-Bruce Boston (the first SF Poetry Grand Master)
-Arlene Carol Brill (Turkish haiku lover)
-Nagatoshi Nogami (from the Oriental Astronomical Association)
-Deborah P. Kolodji (president of the Science Fiction Poetry Association)
-Casper ter Kuile, Arnold Tukkers and Jos Nijland
(all three from the Dutch Meteor Society)
-Larry Jaffe (coordinator of Poets For Human Rights and
Dialogue Among Civilizations Through Poetry Readings)
-Jean Marc Wislez (Belgian astronomer)
-Geoffrey Grayer and Malcolm Currie (British astronomers)
-Juan Martin Semegone (from Asociation Argentina Amigos de la Astronomia)
-Jonathan McAullife (Irish astronomer)
-Galina Ryabova (from Tomsk State University)
-Antonio Martinez Picar (Venezuelan astronomer)
-Peter Jenniskens (from SETI Institute and NASA)
-Cis Verbeeck (counselor of the International Meteor Organization)
-Rainer Arlt (International Meteor Organization visual commission director)
-Jeremie Vaubaillon (from Paris Observatory)
-Marc Gyssens (head of Antwerp "Urania" Observatory
and counselor of the International Meteor Organization)
-Paul Roggemans (general secretary of the International Meteor Organization
in 1988-1996), and David M. Turner (British poet)
for their exceptional contribution to this unique page
and for their invaluable friendship.

Many thanks to the SARM president (Valentin Grigore),
to the five SARM Masters of Astropoetry (Zigmund Tauberg,
Dominic Diamant, Victor Chifelea, Dan Mitrut and Adrian Sima) and
to other SARM members and friends (especially Calin Niculae) for their passion.

Many thanks also to my parents Steliana (Stella) and Costica Gheorghe
who have helped me with an immense devotion
to lead the Romanian astropoetry movement for over 10 years.
As they always preferred to remain in the background,
now I must call them: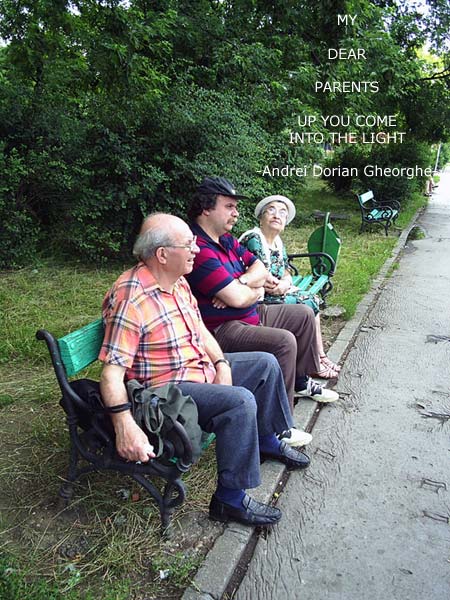 Coordinator: Andrei Dorian Gheorghe
Design: Gabriel Ivanescu
© 2006 SARM (Romanian Society for Meteors and Astronomy)