4TH QUARTER 2009
"Special thanks to Ms. Arlene Carol (U.S.A.- residing in Turkey),
who completed the organizational team for this web page."
-Andrei Dorian Gheorghe, Valentin Grigore and Florin Stancu-

*
-FOUR ROMANIAN QUOTATIONS-
*
"A star fell
At my wedding party,
The Sun and Moon
Carried my coronet,
And the stars
Were my torches."
Miorita - The Little Ewe
(the Romanian national myth-ballad,
collected by Vasile Alecsandri - 1821-1890)
*
"And if today among the people there are only pathetic neuroses,
The sky is still full of stars…"
Alexandru Macedonski (1854-1920)
*
"I do not crush the corolla of wonders of the world
and do not kill with my mind the mysteries that I meet…"
Lucian Blaga (1895-1961)
*
"It is better to look for modest conditions
and to see the astronomical phenomenon
than to look for ideal conditions
and not to see it."
Harald Alexandrescu (1945-2005)
Coordinator of "Admiral Vasile Urseanu" Bucharest Municipal Observatory
between 1986 - 2005)
*
ASTROARTWORK
by Calin Niculae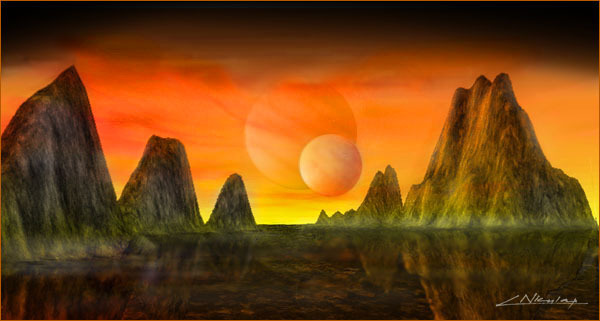 -PRAISE TO ARISTOTLE-

*
CRATERS ARISTOTELES AND EUXODUS
photo by Lucian Curelaru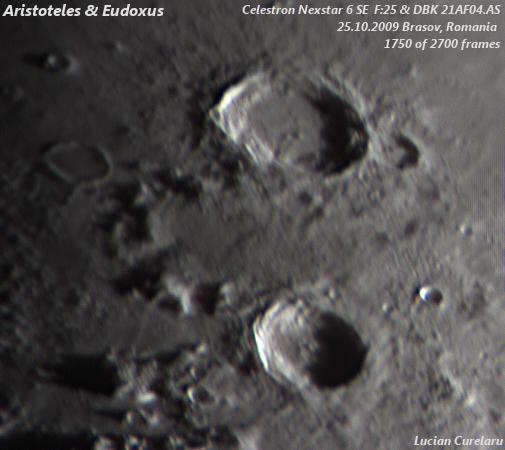 *
THREE HAIKU
by Andrei Dorian Gheorghe
astronomy and
philosophy two leaders
antique syntheses
the essence of things
bright forms of the Universe
great Aristotle
natural science
qualitative astronomy
open future
*
CRATERS ARISTOTELES AND EUXODUS
photo by Maximilian Teodorescu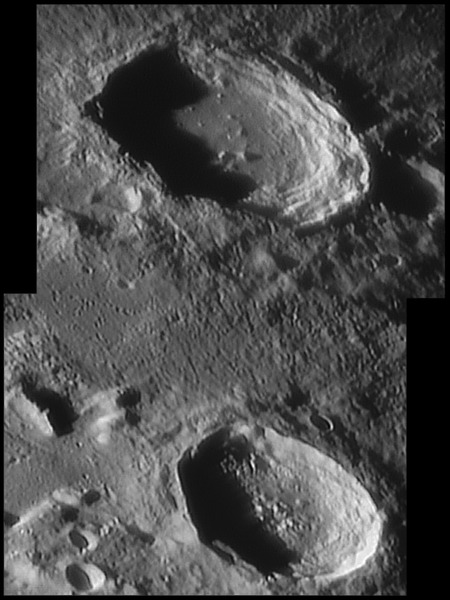 -FOUR OTHER ROMANIAN QUOTATIONS-
*
"The icon of the star that died
Is slowly climbing in the sky.
It was when we did not see it,
Today we see it, but it is not."
Mihai Eminescu (1850-1889,
the Romanian national poet)
*
"The astronomer is also
a poet and a philosopher."
B. B. Delamare
(Orion magazine, Bucharest, 1908)
*
"I throw petals from my thoughts
and leave them to fly -
the pollen of a dream,
the search of the Universe…"
Arnold Leinweber (1920-2006, SARM astropoet)
*
We go on a silver fibre
stretched between two infinites…
Toma Hirth (1939-2009, astroartist)
*
MIHAI EMINESCU,
THE "EVENING STAR" OF ROMANIAN POETRY
drawing by Radu Bercea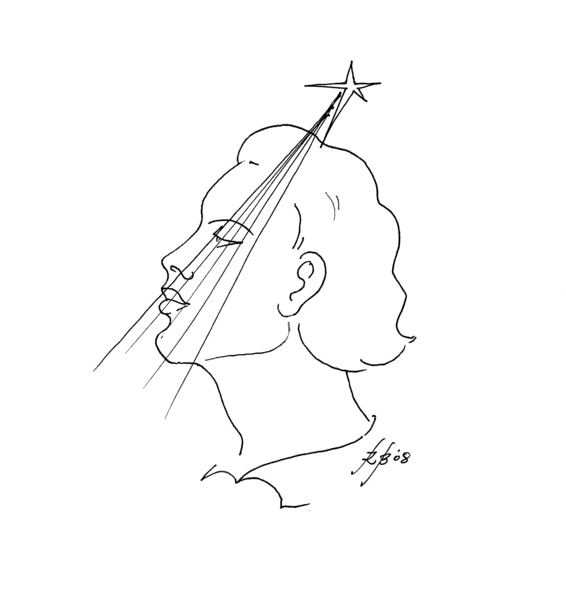 *
*
*
I particularly dedicate my work for the 4th quarter issue
of this international superproject
to the memory of my parents
Costica Gheorghe (1927.05.24-2007.11.26)
and
Steliana (Stella) Gheorghe (1934.05.18-2009.10.01),
now together in the heavens
as friends of humanity
and angels of astropoetry -
a distinctive genre
both astronomical
(serving the popularization of astronomy)
and literary
(superiorly describing human feelings about the beauties of the Universe).
-Andrei Dorian Gheorghe-

*
*
*
-THE FIRST FULL MOON AFTER STELIANA'S PASSING-
(2009, October 4th)
*
HARVEST MOON
photo by Catalin Timosca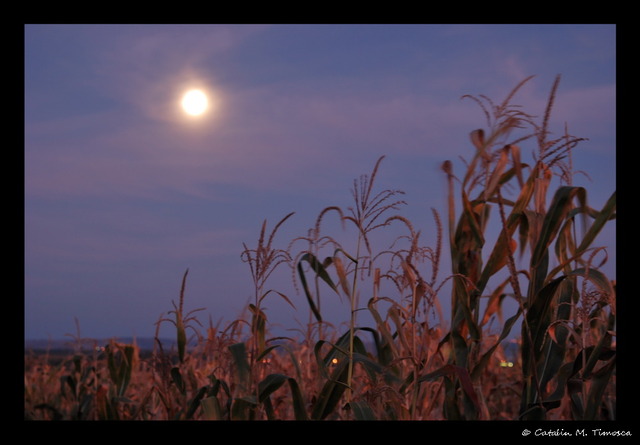 *
FULL MOON
photo-series by Valentin Grigore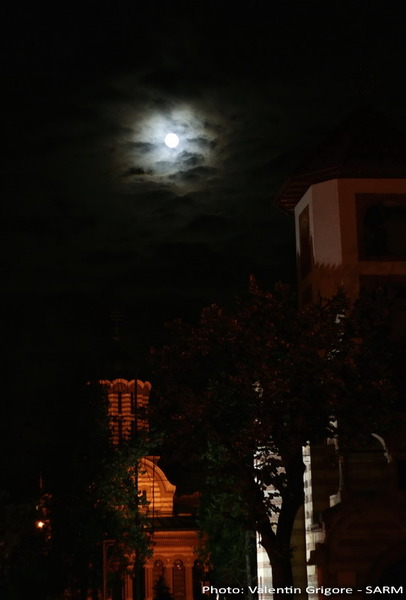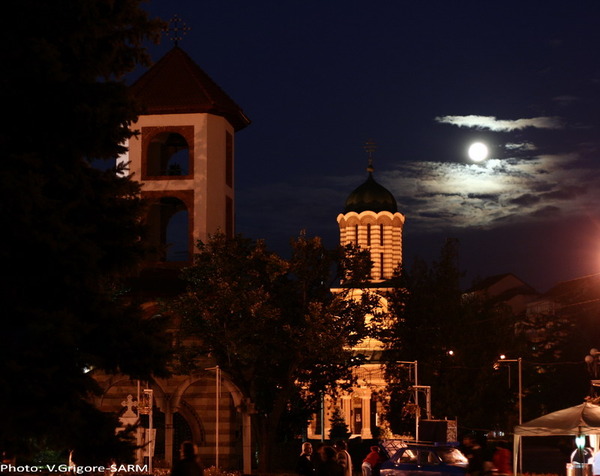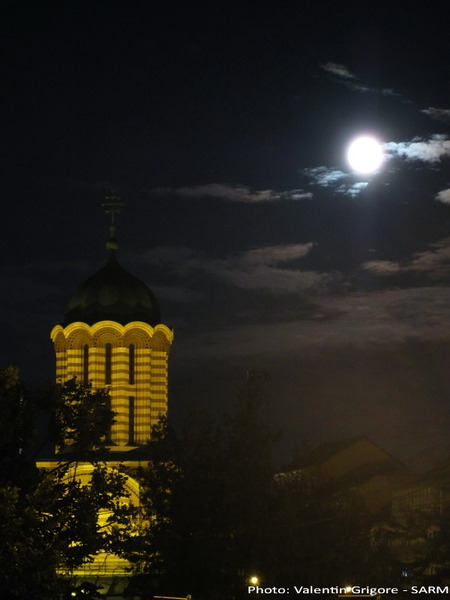 *
HARVEST MOON
photo by Maximilian Teodorescu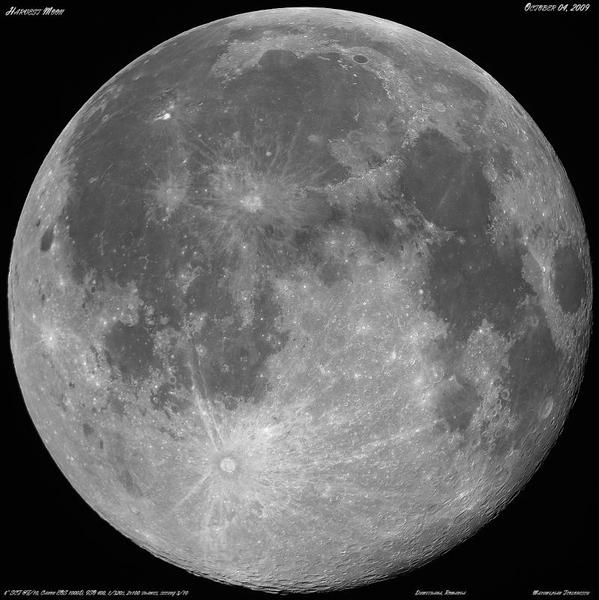 *
MARE CRISIUM
(2009.10.05)
photo by Lucian Curelaru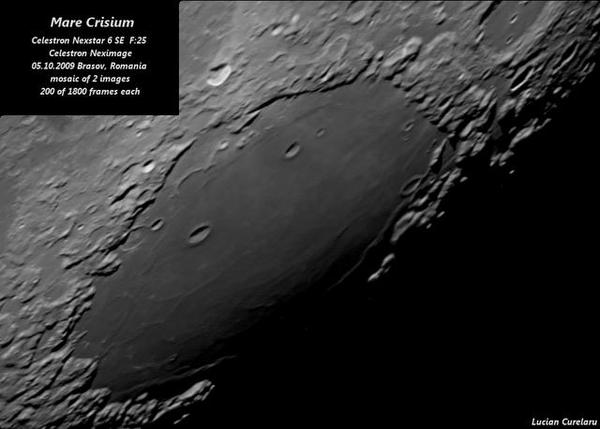 THE MOON FROM STELIANA AND COSTICA'S BALCONY
(Bucharest, 2009.10.05)
photo by Nicolae Tudor (Steliana's cousin)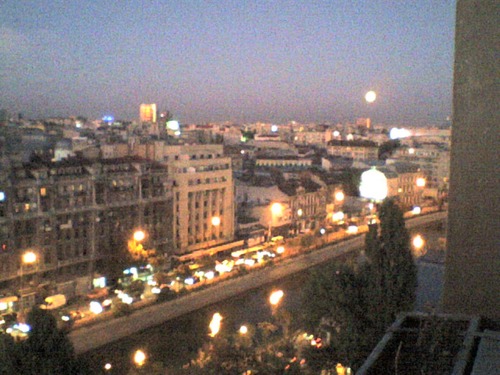 -QUARTERLY VIEW-

*
UNDER A BRITISH SKY
(Some Thoughts from 2009 October to December)
by Alastair McBeath (U.K.,
Vice-President of the International Meteor Organization)
October brought the promise of a moonless Orionid meteor shower maximum,
the start of an excellent quarter for such Moon-free major showers,
but even before then,
there was the interest of a pre-dawn conjunction between Mercury, Venus and Saturn,
all three planets easily visible to the naked-eye during the first ten days,
and I was able to view them on three mornings.
The most memorable of those was October 8,
when Mercury and Saturn were just 0.3° apart in the morning twilight glow.
Unfortunately, the weather was less kind for the post-midnight skies
essential for Orionid observing later in the month.
I was able to see a few Orionids on the mornings of October 18 and 26,
but the best from another quite strong return from this shower
occurred in the morning skies from October 20 to 24 inclusive,
when only solid overcast prevailed.
Unhappily, this poor weather extended across much of the UK,
so most observers here were equally disappointed.
November's main moonless meteor maximum was from the Leonids,
expected to produce strong activity, perhaps several times,
on November 17 and 18, though hopes that another storm might materialise in 2009
were already being heavily downplayed before the start of the month.
Sadly, the weather again had other ideas for Britain.
Despite November producing more than its normal share of clearer nights
near my location, these managed to completely avoid the critical nights
for Leonid-hunting, and my most interesting astronomical observation of the month
was the fairly close conjunction of Mars and the last quarter Moon on November 9.
However, the Leonids did indeed produce enhanced activity,
albeit not quite as strongly as expected, nor quite at the times anticipated either,
on November 17 and 18.
Some lucky meteor watchers elsewhere in Britain were more fortunate,
across parts of Northern Ireland and central-southern England,
on the morning of November 17,
though this was well before the very best rates took place.
Concluding IYA2009, December's contribution to the moonless meteor pool
should have been the Geminids, with their normal strong maximum due
on the night of December 13-14 over Britain.
The weather though had saved its worst till last,
and it turned out to be the cloudiest December since I began keeping
nightly cloud-cover records back in 1982,
a truly dreadful start to the winter with endless days of rain in the first half,
and perpetual snow and especially ice cover in the second half.
Even so, it was not a total loss, as I was able to observe
for two hours on December 10-11, spotting 11 Geminids in a slightly hazy,
limiting magnitude +5.5 sky, centred near midnight UT.
Other places fared better, especially western parts of Britain on December 12-13,
and some sites in southern Britain on December 13-14,
the excellent Geminid activity on both nights leaving most watchers
with a very favourable impression.
Two brilliant fireballs observed from multiple sites were reported from Britain
as well in December, one on the 3rd at about 20:00 UT
seen from locations across southern England, probably passing high above
the Isle of Wight to Dorset coasts,
the other in full daylight at 12:45 UT on December 19, spotted from places
scattered over eastern England.
It was likely over the North Sea not far from The Wash
and probably over part of northern East Anglia.
The month ended with the small partial lunar eclipse on December 31,
and for once, cloud gaps allowed me a reasonable view of most of it,
which was a very pleasing conclusion to International Year of Astronomy.
Overall, 2009 was a year of mixed fortunes astronomically,
mostly thanks to the weather, as is very commonly the case from Britain.
Here, it's often not so much what is available to view,
but what can still be seen in spite of the conditions.
This isn't a challenge that suits everyone,
but it does make what can be seen just that little bit more special to me,
and what helps me decide to take a closer look at the sky
when any better conditions do come along.
And so into 2010...
-SOLAR MOTIFS-

*
SUNRISE
photos by Valentin Grigore (1, Targoviste), Lucian Curelaru (2, Brasov)
and Daniel Filea (3, Bucharest)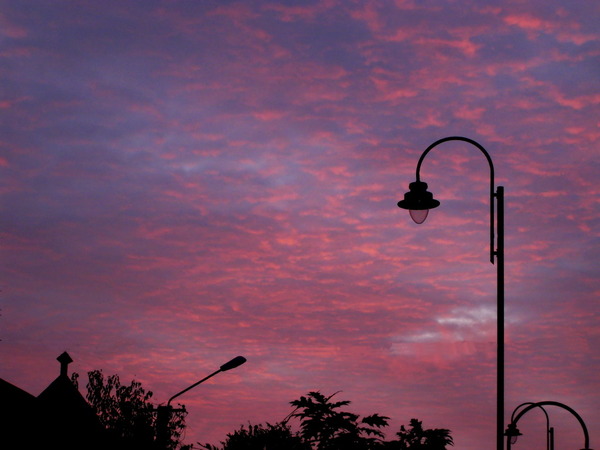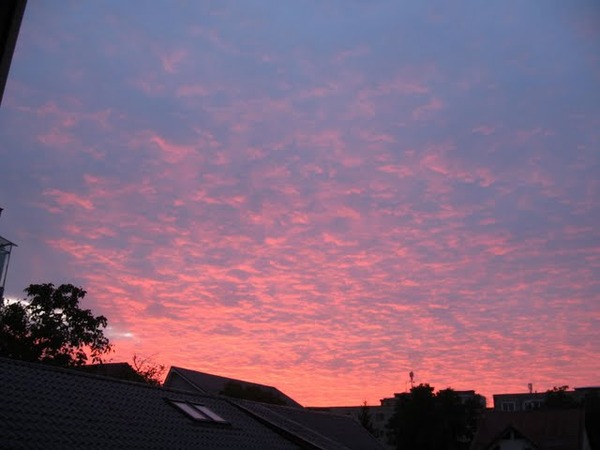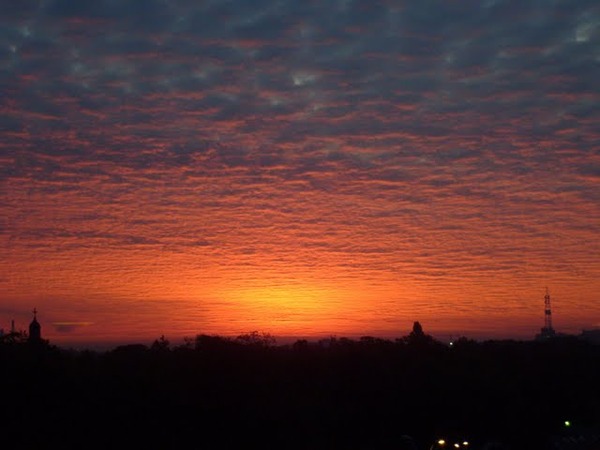 *
SUNSPOTS
photo by Maximilian Teodorescu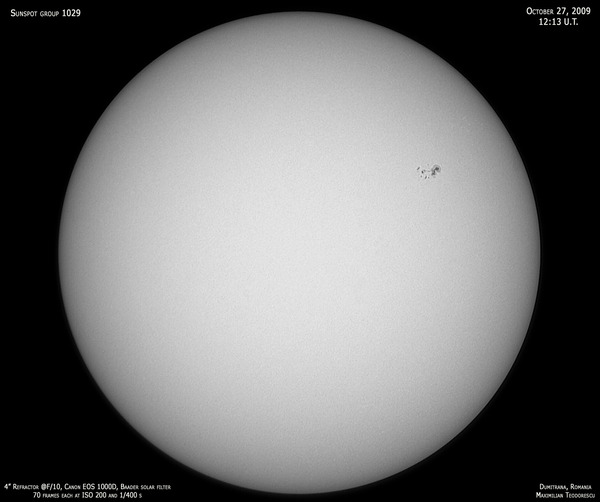 *
SUNSET
photos by Cristina Tinta (1, 2 - Rome)
and Valentin Grigore (3, Targoviste)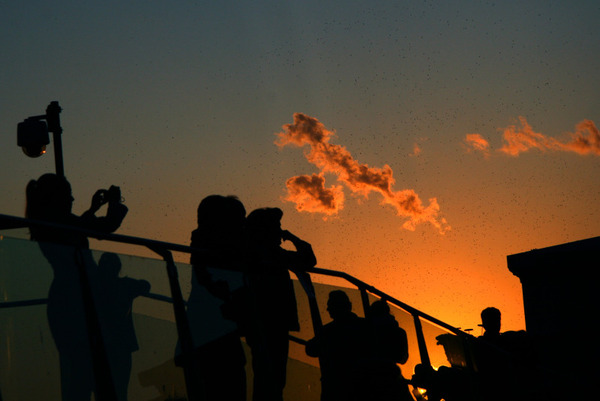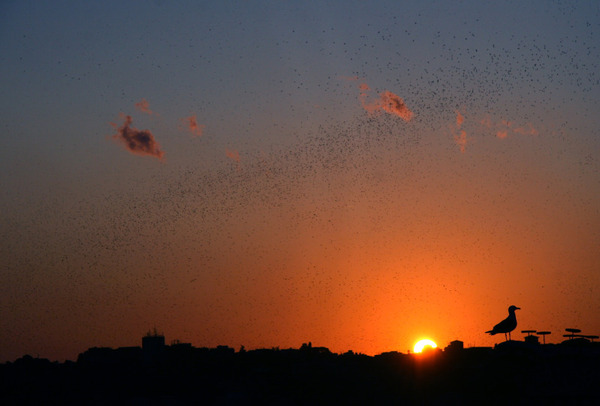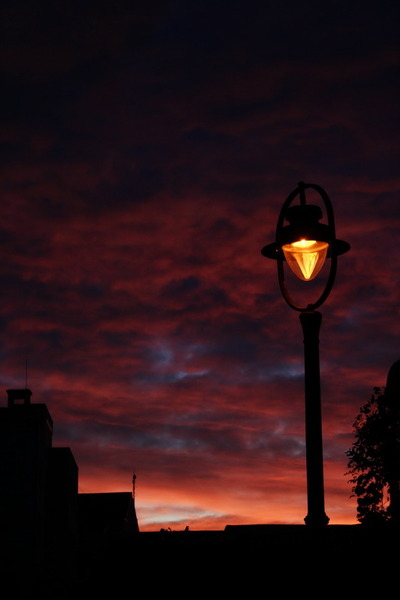 -4TH QUARTER 2009:
ASTROPOETRY, ASTRO-DEBATES, ASTRO-SENTIMENTALISM
(dedicated to Astronomers Without Borders)-

*
STARDUST
by Stephen M. Wilson (U.S.A.
co-editor of Dwarf Stars and editor of
microcosms
)
Death is not an end, but a beginning.
From stardust we came and to stardust we return.
Glorious.
*
BETWEEN ALL AND NOTHING
by Dominic Diamant
I ask myself
if somebody knows
the mystery of the verse
as long as in the pulse of the second
and in the galactic grain of dust
there is the Universe
*
DO THINK UPON AN EVENING
by Cathy Hall (Canada,
member of the International Meteor Organization)
Have you ever thought on quiet evenings
As the stars were beaming down,
Shining increments of gladness,
To brighten up your frown -
And wondered of creation
And the joy of being alive,
How the universe was created
With the splendor of its heavens,
And the wonder of its sight;
How it was formed from matter
Floating silently through space,
And modelled by a loving hand
To form the crystal night -
With its stars of infinite brightness,
With the planets travelling round,
Paying homage to their master
With each and every turn,
With the comets, lonely wanderers
On missions far outborne,
That oftimes break in fragments
To rain down in glorious storms;
With its countless wondrous galaxies
Part of larger groups again,
Each intriguing upon which to speculate
And magnificent to behold;
And clusters of silver sparkles
Known to all as stars,
Gathering round together
To form awe-inspiring sights.
Do think upon an evening,
And look at this, your world -
For to contemplate its nature
And wonder at its sight
Is an evening full of joy
Or a perfectly wondrous night.
*
GENESIS
artwork by Calin Niculae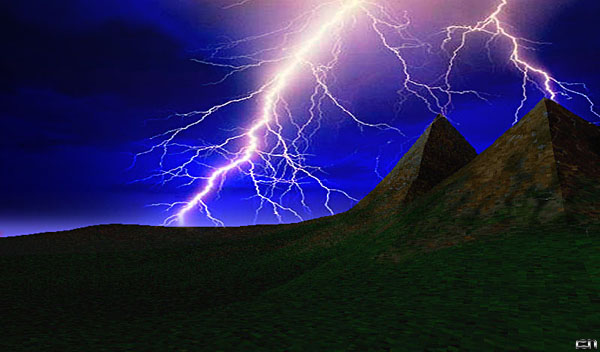 *
GIORDANO BRUNO
by Zigmund Tauberg
An immense pyre smokes
and devours a man who dared
to say that Terra moves around the Sun,
and the Sun is just a star,
and the stars are remote suns,
and there are countless worlds
in the Universe…
For all of those assertions,
he was condemned to be killed by flames
for heresy…
(it didn't matter
where the right could be…)
Thus,
a single man can be eliminated,
he can even be burnt on a pyre,
but there is no monstrous desire
able to destroy the truth
through fire.
*
MY FIRST COMETS
or
52 YEARS AGO
by Virgil V. Scurtu
I was born in 1942 under the zodiacal sign of Capricornus,
a generous one with the astronomers,
if we think that Tycho Brahe, Johannes Kepler and Isaac Newton
belonged to it too.
My first conscious contact to astronomy was in 1956,
when I was 14 years old and felt I found out a new world
when I recognized Ursa Major and Polaris.
In 1957 there was the International Year of Geophysics,
which had an important astronomical component
(so in a way a precursor of the International Year of Astronomy 2009)
through observations of the solar activity,
of the natural satellites, of the meteor showers, of the polar auroras.
More, a superb comet, Arend-Roland, appeared in March-April 1957,
and I observed it after I read about it..
Then, in August 1957, I independently saw a new comet.
It was Comet Mrkos, observed a few days before me
by a famous Czech astronomer in the Tatra Mountains.
I saw those comets with my naked eye and with my small lunette,
which I had made from glass lens.
I sent my observations to the Romanian central magazine
Science and Technique,
but I had not the luck of my Romanian precursor
Victor Daimaca
(discoverer of two comets during the Second World War).
I was too young (15 years old) and didn't know about
the "laws"
of the Central Bureau of Astronomical Telegrams…
*
A VISION OF WORLDS
by David Kopaska-Merkel (U.S.A.,
Editor of
Dreams and Nightmares
- the magazine of fantastic poetry)
Venus shines through light pollution
peeping above
the close Alabama horizon
driving 20 miles
for a view of the sky
from the ruined city by the river
living in the forest cave
thinking this green-black
universe is all
beyond this bubble
what twinkles above what woods?
*
MY FIRST TOTAL SOLAR ECLIPSE
by Liviu Ivanescu (Canada;
scientist in optics;
he worked for the European Southern Observatory
and the South-African Astronomical Observatory;
born in Romania)
Every year I come back home,
To my native country Romania,
where friends are the same (maybe a little older),
the stress diminishes,
and I can find my interior peace.
For the total solar eclipse of 1999
I climbed the Papusa peak (in Ranca, Meridional Carphatians),
hoping to see the Moon's shadow moving on the ground.
Obviously,
the mountains involve the risk of fast changing weather.
That was exactly what happened.
Happily,
I saw the totality through a thin stratum of clouds.
I could not miss that astronomical show
just home!
*
"WORLD SPACE WEEK"
(2009 October 3-10)
by Dominic Diamant
The show of the spiralled launches was incredible.
Everyone could start,
but only the chosen ones could remain.
In this competition,
the high spheres were so graceful and bright
(much over the sublimations of the stellar combustions)
that you could vie with anybody
without fear
Harmonies rushed out from Sirius to Polaris
and echoes rebounded from Alcor to Bellatrix.
When you were overwhelmed
with the celestial attention,
you could go quietly
to another dimension.
*
MY FIRST GRAZING OCCULTATION
by Ivo Dinev (Bulgaria)
I had seen many occultations before,
but never a grazing one,
so on July 18, 2009, I drove 250 km from Bulgaria to Bucharest,
passing over the Danube River
on the bridge of "Romanian-Bulgarian Friendship."
I met my Romanian friends from the Bucharest Astroclub
at the Admiral Vasile Urseanu Municipal Observatory
and continued on the road with them to the edge of a dam,
a good location for that event
(the Moon occulting the star Electra from the Pleiades),
but which did not leave us to enjoy the stars very much
because of the light pollution,
so the time of waiting passed with words and jokes.
I received the last position on the observational line,
and what I saw through the ocular,
the Moon, thin like a sickle, close to a star with a magnitude of 3.70,
was splendid.
The enthusiastic feelings during the observations and after them
made me just regret the grazing occultations missed in the past…
*
RED PLANET
by Boris Marian (Mehr)
On the planet Mars
there is not any book,
there is not death,
but the idea that Mars is
a colder brother of Terra
is good…
Oh Mars,
maybe one day you were blue,
with strange essences,
but now you are red,
with martial silences…
*
MARS
photo-collage by Maximilian Teodorescu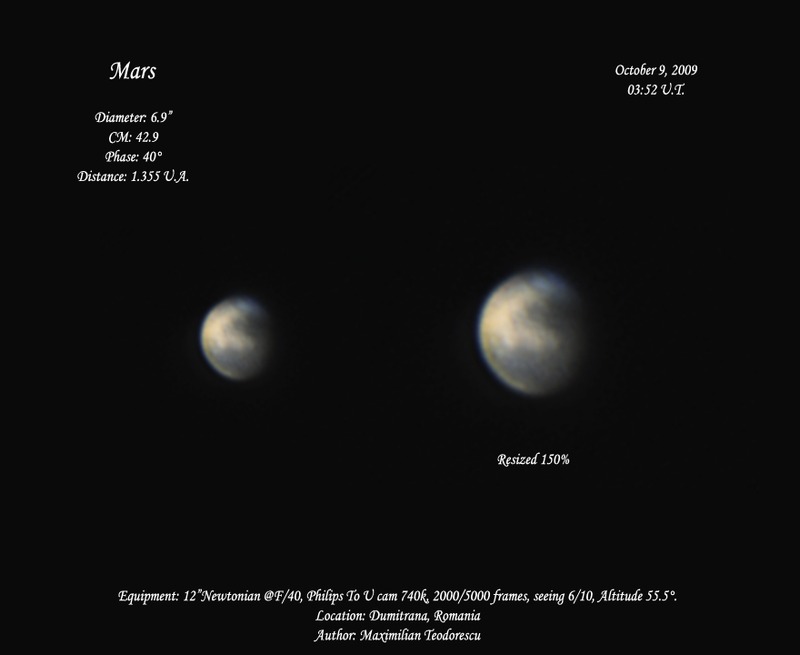 *
ICARUS ON LUNA
by Steve Sneyd (U.K.
Director of Hilltop Press, Editor of Data Dump)
In crater deeps where
sun never reaches comet
head crashes dreams reflight
*
LUNAR CRATERS
photos by Lucian Curelaru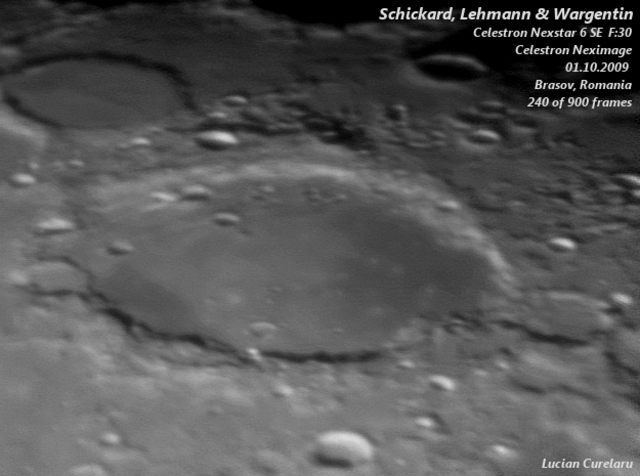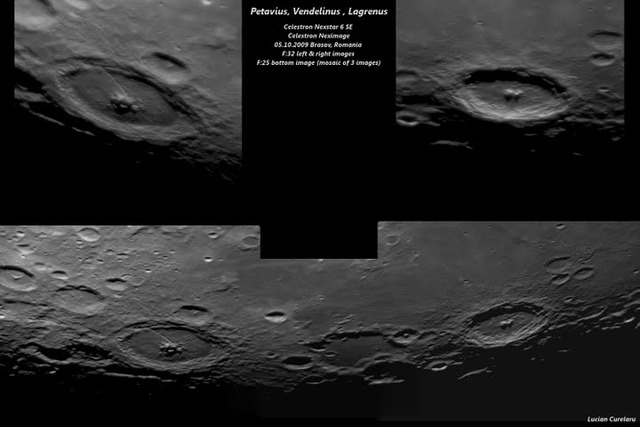 *
LCROSS IMPACT
a Romanian debate in 2009, October 7th
Laurentiu Alimpie:
Do you know the hour
of the LCROSS impact?
Adrian Bruno Sonka:
2009, October 9th, 11:31 Universal Time,
so 14:31 Romanian Time.
Laurentiu Alimpie:
It seems that, for us,
the Moon will be under the horizon in the moment of the impact.
Traian Preda:
The impact can be watched
on NASA TV.
Radu Gherase:
When we shall also launch such missions
we shall have the privilege to watch such a programmed impact
by telescope too.
Till then, we can only admire the Americans.
This is their space probe
and let's leave them to program the impact
after their preferences.
*
PLATO CRATERLETS
photo-collage by Maximilian Teodorescu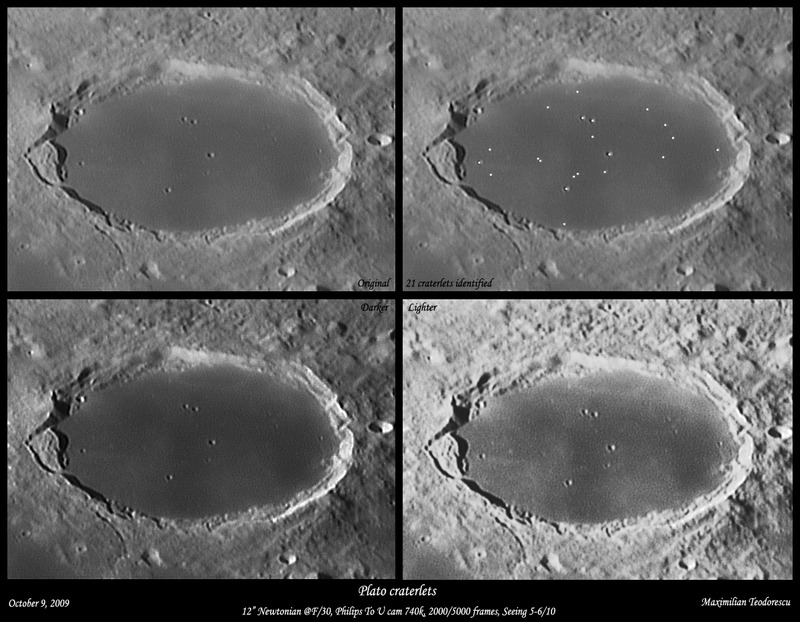 *
EMOTIONS
by Guy Ottewell (U.K.,
since 1974, the author of the "legendary" annual Astronomical Calendar
sponsored by Furman University, Greenville, South Carolina,
and the Astronomical League, U.S.A.)
I think I do not often like the night: I like the sun on my skin.
I think I don't at all like the universe: it is frightening.
These are the emotions of a child, and I confess to still feeling them.
It was while living out-of-doors that I came to want to know these things:
The stars; the clouds; rocks; streams; plants; small animals.
They are aspects of nature on our own Earth.
It is in that way that I love them.
*
SUN AND MOON OVER ROME
photos by Cristina Tinta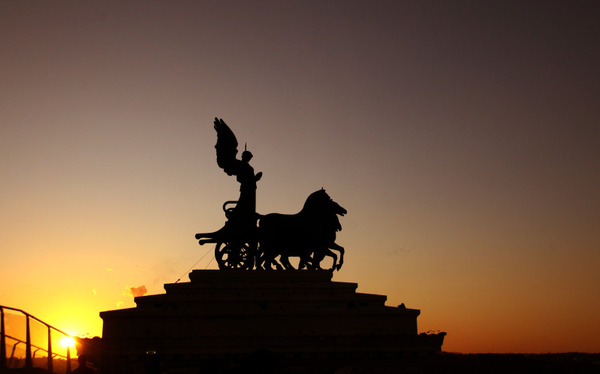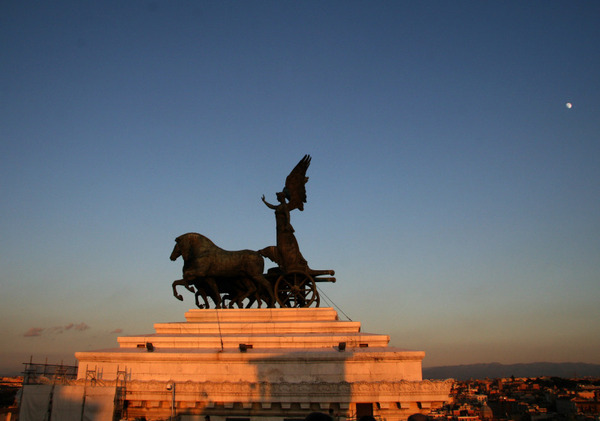 *
SONG
by Adrian Sima
I sadly arrange
a song after another
over the delicate waves
of the longing
The Sun is singing,
don't you see?
Such a wonder!
Look,
the light rises from that old mud
spread in space
Sometimes I forget the road to my home
and keep silent
hearing about time
and sanctified light
*
SUN AND MOON
artwork by Calin Niculae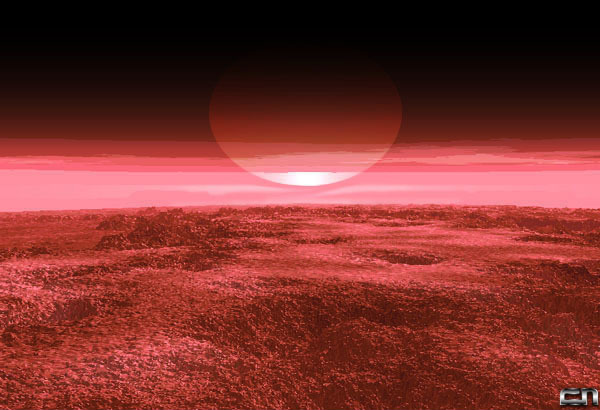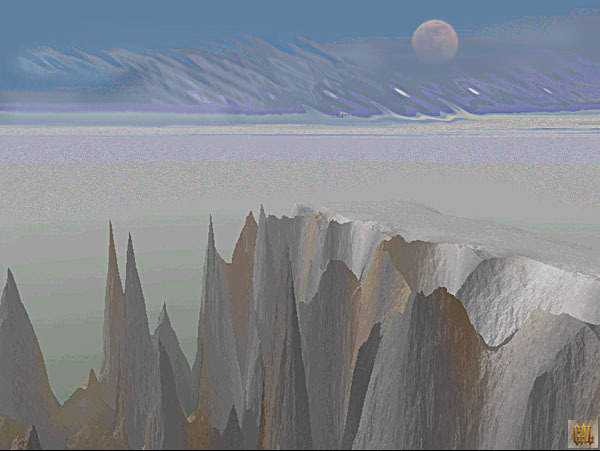 *
THE SUBLIME DISCOVERY
by Dominic Diamant
The Cosmos is my supreme obsession,
my stunning craziness, my ideal romance.
As the great possessed people
(Giordano Bruno, Galileo Galilei, Kepler, Newton, Gutenberg, Hubble
and others)
spared no effort to search and to discover,
enriching the world with new planets, new stars, new galaxies
and new universal laws,
I also fought in my intimate laboratory
to find out the dream of my life:
The Galaxy of Love.
*
MOBILE PLANETARIUM
astro-photo-poem by Dimitrie Olenici
I bought
a small mobile planetarium
with only 500 stars…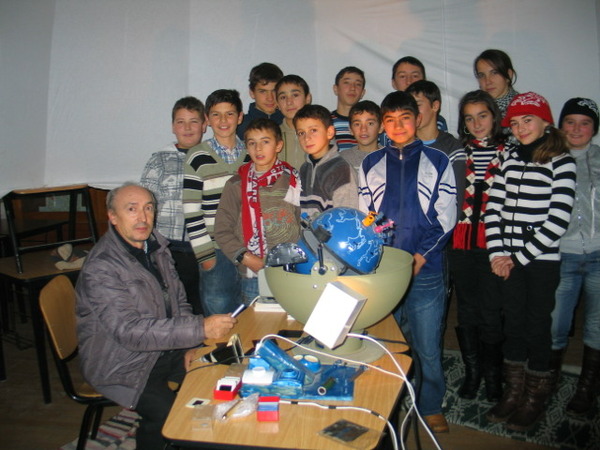 …so afterwards I had to buy
a bore-machine
in order to multiply its number of stars…
*
WE ARE
by Irina Cristescu
We are stars without names
travelling from one world to another
We look for flowers of comets
to put them under eyelids,
in icons and ideas,
in black holes and enigmas.
We are the stars
of the nameless constellation
of our own lives,
of our own reveries…
*
MIRRORS OF THE UNIVERSE
artwork by Arlene Carol (U.S.A.- residing in Turkey)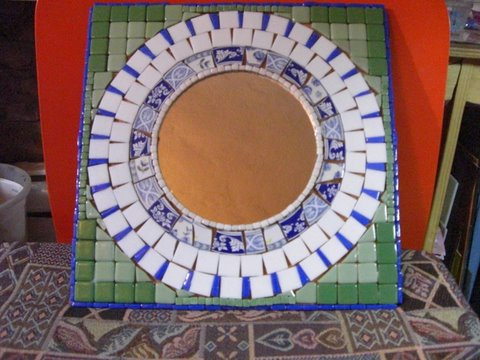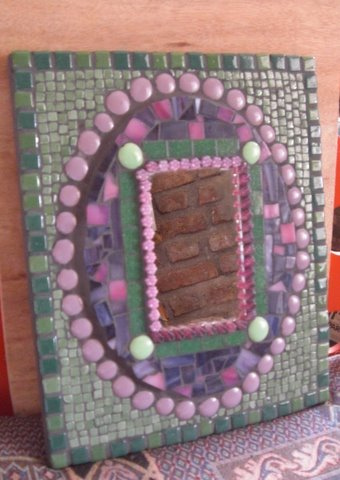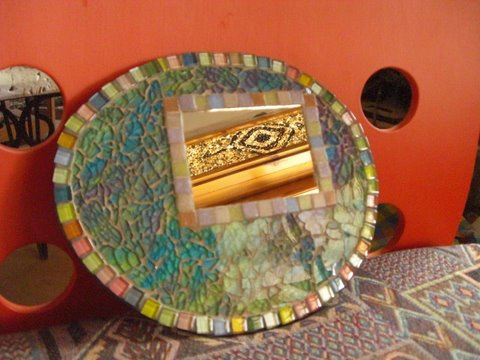 *
MOON
by Ion(ut) Moraru
the Moon is glittering in the sky
a man is deffering to another
the Moon is glittering in the sky
George is cheating on Mary
the Moon is glittering in the sky
a housewife is sleeping
the library is full of dust
and only a child is watching the sky
while the Moon…
*
THE MOON OVER THE SKY TOWER, AUCKLAND
("Don't worry, this position is impossible.")
photo-collage by Danut Ionescu (New Zealand,
Auckland Astronomical Society;
born in Romania)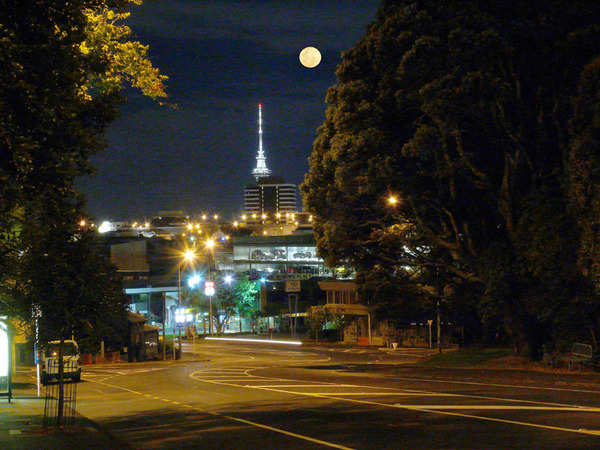 *
THE MOON OVER COLISEUM, ROME
photo by Cristina Tinta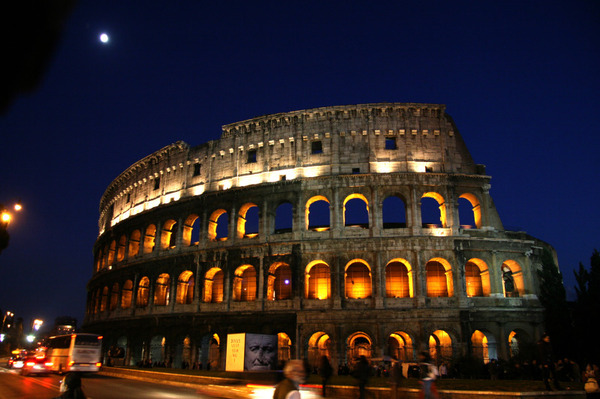 *
DRACONIDS
by Boris Marian (Mehr)
"I take a fancy to the dragons,
it's a miracle to watch them!"
said a schoolboy.
It was a strange October,
and the Draconid meteors -
a flow recalling those dragons
that sacrificed themselves
for the honour of a prince.
But the Draconids are not the same,
they do not want to play that game.
*
CELESTIAL VISIONS
astro-photo-poem by John Goldsmith (Australia,
member of The World At Night
and the producer of the "Celestial Visions"
astronomical photography exhibition,
featured at The Cosmology Gallery, Gravity Discovery Centre,
Western Australia)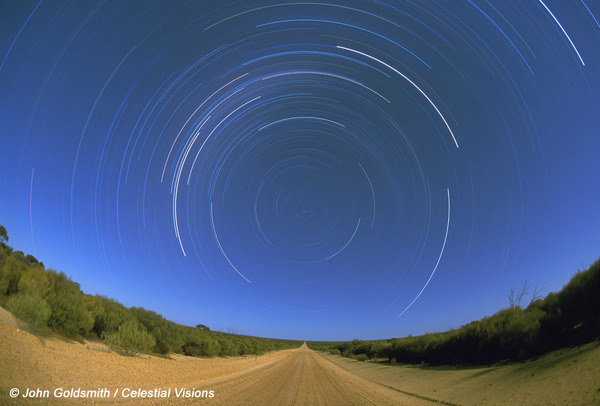 The familiar flickering
of a galaxy of stars
greets me
My quest
to witness
ancient starlight
The mystery
and romance
Of the night
Allures
Sparkling jewels
and shooting stars
The perfect alignment
Sun, Earth and Moon
I centre,
as the stars
swirl above the road
to the centre of
the universe
A moment's
glimpse
Of infinity ?
An ancient comet
And a quest to witness
the comet above the Pyramids
and Stonehenge
Links to
our ancient past
The stars unite
us
In a vast, silent and ancient landscape
On the edge of the meteorite crater (1)
An Aboriginal Elder and I,
share stories
of the night
When
space,
place
and time align
In rare moments
Of the sublime
Through the medium of the lens
I share my celestial visions
To The World
at Night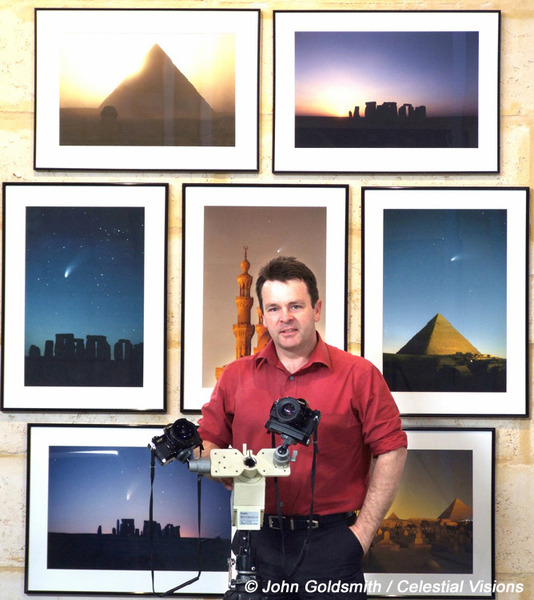 Note 1;
Kandimalal, the 300,000 year old, 900+ metre diameter Wolfe Creek Meteorite Crater,
in the Kimberley region (far north east) of Western Australia.

*
"GREAT WORLD WIDE STAR COUNT"
(2009 October 9-23)
by Andrei Dorian Gheorghe
Dear materialists,
this time I have a request:
please do not count the money,
just count the stars from the heavens
and you will find
the real richness!
*
TO AN AMATEUR ASTRONOMER
epigram by Emil Ianus
You are really proud to say
that your first idea was
not to use a compass when
you looked for the Milky Way.
*
ORIONIDS
by Adrian Sima
From other worlds
I hear your breath
as the flowers wither
and then I extract
from the smoke of the autumn
the gold of the withered straws
for the cages
of the postal meteors
*
THE RISE OF ORION'S GREAT NEBULA
(2009.10.21-22)
photo by Valentin Grigore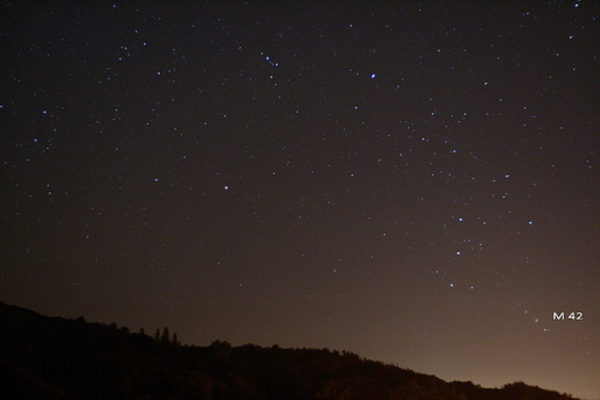 *
LESSON
by Oana Sandu
Our place in the Universe
is the first lesson that we must learn
as human species.
And this lesson is unveiled
by astronomy…
*
ACCELERATOR
by John Francis Haines (U.K.,
Leader of the Eight Hand Gang - British network of SF poets)
Particles hurtling towards one another
At the speed of light -
Just hope your planet isn't one of them.
*
PLANETARY CONCLUSIONS 2009
by Andrei Dorian Gheorghe
There is a time
when you lose
some of your existential pillars.
Then you can try
to build new ones.
There is a time
when you are too tired
to observe Mercury, Venus and Mars.
Then you can try
to admire their next rises.
There is a time
when you don't see
Saturn's rings
(once every 15 years,
as in a few weeks of 2009 -
an astronomical show,
but a sentimental temporary tragedy).
Then you can try
to watch better Jupiter's belts.
Thus,
if you want to continue to believe in life,
then you can find new joys on Earth,
new meanings for Mercury, Venus and Mars,
new belts of Jupiter,
new rings of Saturn,
new fine planetary conjunctions,
and Uranus and Neptune
would not be so far-away.
*
JUPITER
photo by Lucian Curelaru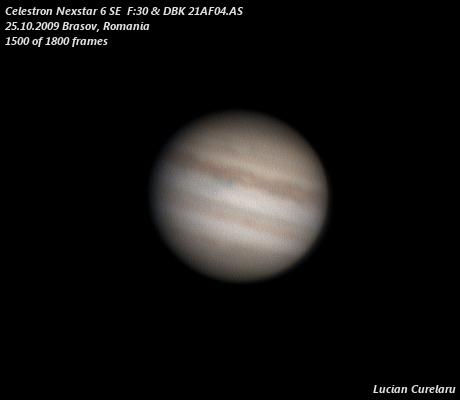 *
I'M GOING
by Cathy Hall (Canada,
member of the International Meteor Organization)
If I had a ship, and the ship had a sail -
I'd take you to Jupiter without fail.
We'd fly past the planets, and yea, e'en beyond,
To the depths of the realm,
and into deep space,
To here, and there, each one a new place -
To the stars, to the suns, and their planets withal -
I'm going, I'm going,
Can't you hear their call?
*
THE CURSE OF THE NEW EQUIPMENT
by Laurentiu Alimpie
The bad weather is directly proportional
to the happiness of having a new telescope.
Thus, if any acquisition of over 300 euro
can attract about 3 weeks of rain,
then any acquisition of over 1000 euro
can mean Code Orange.
*
TO A HUNTER
epigram by Emil Ianus
and cartoon by Radu Bercea
He thought he is Orion
and wanted to savour
the hunt of a little bear,
but he met… just Ursa Major!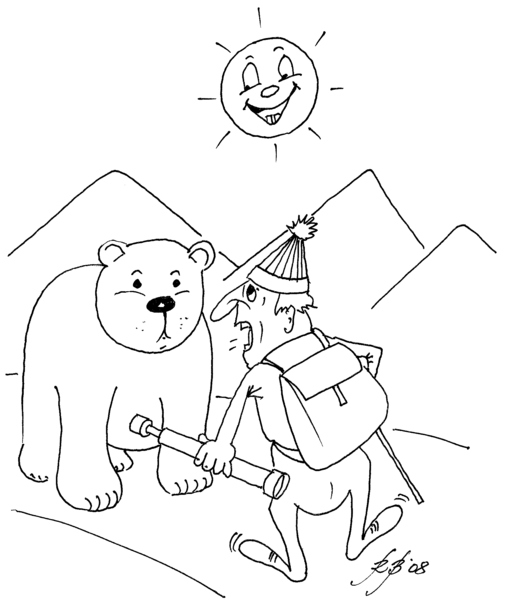 *
QUESTIONS
by Dominic Diamant
What are
the gamma-ray clouds
in the Milky Way?
Are they
the "cassandras"
of our Universe?
*
VISION
artwork and haiku by Arlene Carol (U.S.A.- residing in Turkey)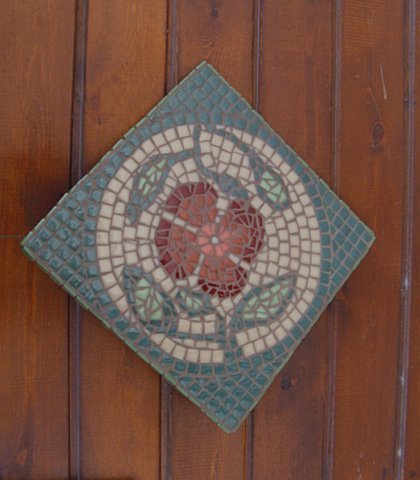 whirling and twirling
the galaxies are spinning
tunes of the dervish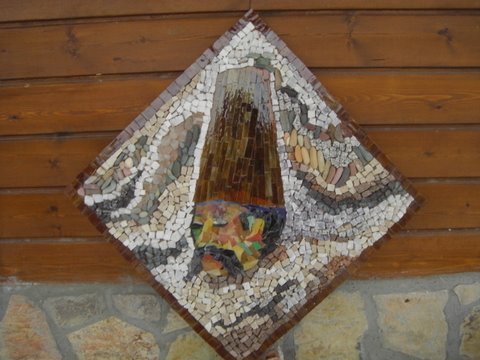 *
INTERIOR UNIVERSE
by Pompiliu Alexandru
There is a strange analogy well-fixed in our minds:
we speak about the interior universe
as if we are a mirror in which
the misunderstood of the great universe
is clarified by the universe reflected in a soul form.
When we speak about the universe
as "the sky above us"
we say that our thought is directed
to an astronomical regime.
When we speak about
the interior universe (the same useless),
our thought makes a story jump,
dressing the clothes of poetry.
*
HAIKU
by Mihai Manea
oh my thoughts
not about the cosmos but about life
(in the cosmos)
*
STARS ARE ETERNAL
(for Steliana Gheorghe and Andrei Dorian Gheorghe)
by Jean-Marc Wislez (Belgium,
member of the International Meteor Organization)
Stars are eternal,
until they suddenly disappear
in a final outburst of absence.
Their constellation is forever missing
that one twinkling star.
Stars are eternal.
Their essence expands,
subtly conquering the universe.
Their breath is creating
new stars in new constellations.
*
PRAESEPE AND MARS
(2009.10.31)
photo by Mihai Rusie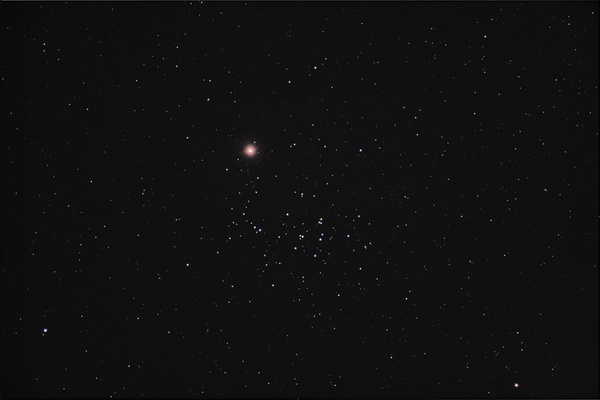 *
ASTRO-CONFESSION
by Paul Roggemans (Belgium,
the main creator of the International Meteor Organization)
William Frederic Denning was probably the most fanatic visual observer ever;
to be able to observe like that he had no real job
but tried to earn a living from writing paid articles about astronomy.
He sacrificed his private life completely to meteors.
In his time, 1870-1920, visual observing wasn't as common as today:
no equipment like now and catching a cold on long winter's nights
put health and life at risk.
But Denning was a lonely man,
living isolated and keeping contact with editors only by letters.
I never found any mentioning of lectures given by Denning;
Denning wasn't interested
in organizing meteor work in a kind of society.
He didn't like organizational aspects, planning and certainly wasn't a 'society' man.
His isolation may account for many of his controversial theories
and miss-interpretations of his own observations.
He did not profit from the interaction of critical comparison
like cooperation guarantees now.
I have spent years among the most active meteor observers (1975-1993),
but people like Norman McLeod, Jeff Wood, Jurgen Rendtel
were even more active observers than I.
Norman and Jeff quit like I did.
Today and in the long run Jurgen Rendtel and Koen Miskotte
are the long term champions holding the record for visual meteor observations
in our time.
If they continue many more years they might equal Dennings' observing status -
I will never be comparable to Denning.
My merits for meteors are limited to my initiative to bring
meteor observers and groups together.
First the local meteor groups in Belgium, later worldwide.
Doing so I saw the need for a meteor journal, so, since 1980,
I have been developing WGN into a real journal
after it had been a newsletter since 1978.
I wrote observing handbooks and made these available
at low non-commercial fees which lead all meteor groups
to gradually use standard observing and reporting methodology.
My greatest quest was to create a real international meteor organization.
A first attempt was in 1978, several failures followed until
I learned from trial and error and managed to create IMO in 1988.
I also played an important role in the International Meteor Conference history,
but the very early pioneer time of the IMCs were thanks to Hans-Georg Schmidt.
I also brought an enormous amount of historic meteor literature together
and created the Visual Meteor Database (VMDB) in 1988
something others declared impossible to achieve at that time,
now it is the most extensive data collection about meteors ever
and the source of all subsequent analyses.
It is difficult to estimate what would have occurred
if my contribution hadn't been made.
May be someone else would have done the same?
Maybe meteor work would have been as dead as it was in the 1970s
and we wouldn't have known each other,
wouldn't have been at IMCs...
all our lives would have been totally different.
P.S.:
I just hope nobody will feel insulted or unhappy that
I name only certain people,
there are other very valuable persons who made important observations
and have done other kinds of admirable work.
I didn't name all these persons since my text was just
informal thoughts about who could have come close to Dennings' status.
The current state of meteor work is the result of the contributions of many others,
great and small, and others who have made crucial contributions,
and delivered huge amounts of work,
but the success of meteor astronomy in the first place
is the result of all those who helped in some way, done what they could,
most without ever
appearing in the spotlight.

*
SPORADIC METEOR
(variant 2009)
by Paul Boboc and Lucian Boboc
As in a
prophylaxis
of time and space,
Hercules sent an arrow
through the heart of the Lion
because the celestial king of animals
did not want to establish himself forever
in the northern world.
*
ON A METEOR
by Cathy Hall (Canada,
member of the International Meteor Organization)
What a fiery death! They seem to like it so -
Flaming down the pathways of the mind through atmospheres so thick,
Just as it lit the wick of night.
And every spark flares, then dies, forgotten -
But what ecstasy to see it
Floating seemingly endlessly on a sliver of air
To who knows where;
I don't - it doesn't matter -
The sparks are always there.
*
PIECES OF THE WHOLE
astro-art-poem by Arlene Carol (U.S.A.-residing in Turkey)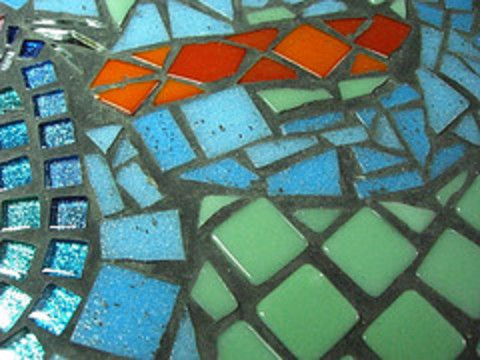 Sometimes, it takes my breath away
Just to gaze into the night sky and
Realize how old all of it is.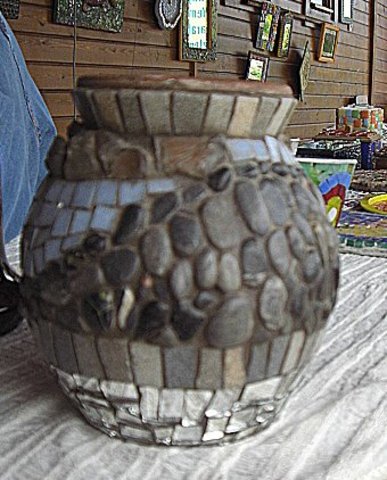 There's eternity,
Right before my eyes.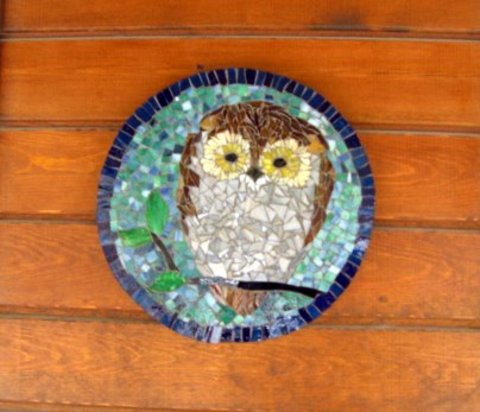 A very humbling experience.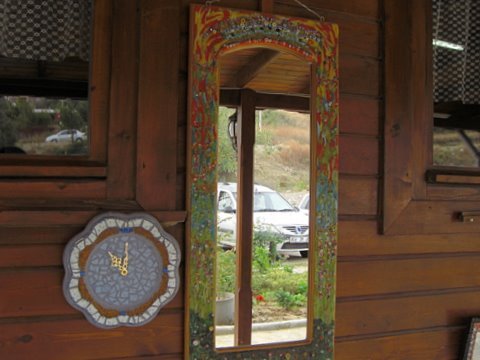 *
TAURIDS
by Boris Marian (Mehr)
Many thousands of years ago,
a comet (now named Enke)
left Taurids, not so speedy,
which appear in November…
They have just passed
over the grove,
so I shall put, my darling,
a few woods in the stove.
*
LEONIDS 2009
haiku by Andrei Dorian Gheorghe
oh your restive cubs
Comet Tempel-Tuttle -
meteors through clouds
*
LEONID MAXIMUM NIGHT 2009 PARADOX
astro-photo-poem by Catalin Paduraru-"Sarpe"
I could not photograph
any Leonid meteor,
but I caught
a small Taurid one…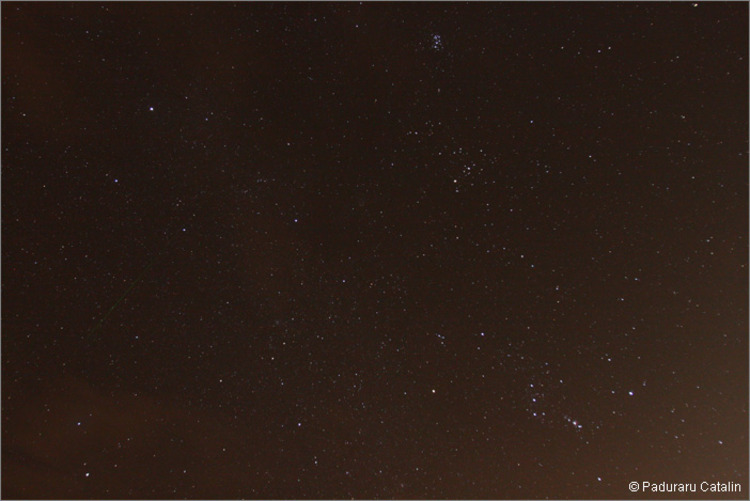 *
LEONIDS 2009
astro-radio-poem by Florian Gabriel Bratu
Unfortunately, this year
the dense fog annulled
the visual observations,
so I confined to
radio observations (meteor scatter)…
and here is the greatest Leonid echo: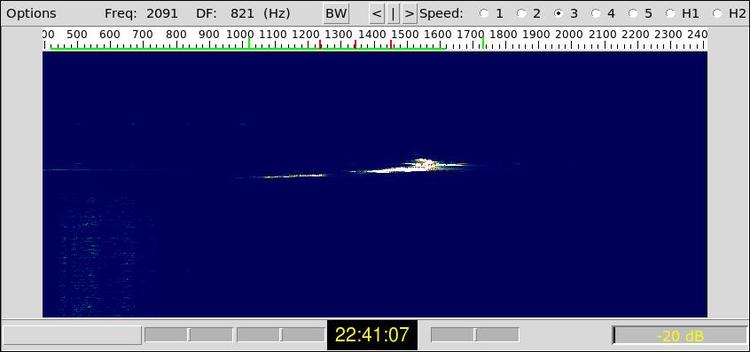 *
AFRICA!
astro-debate by…
Liviu Ivanescu (Canada / South Africa;
scientist in optics, born in Romania;
he worked for the European Southern Observatory
and the South-African Astronomical Observatory):
A giant fireball passed recently over Johannesburg to Pretoria.
It was filmed.
It was impressive.
Like in the movies with the end of the world.
Ovidiu Vaduvescu ((universal citizen,
former professional astronomer on 3 continents,
current astronomer in the Canary Islands, Spain;
discoverer of asteroids and Leader of the EURONEAR Project;
born in Romania):
I wonder about its magnitude.
And, if it left meteorites,
I like a South-African regulation:
"By law in this country any meteorite which hits the ground belongs to the State".
Laurentiu Alimpie:
I think it is more correct the principle which says essentially
that an object without any master that falls in my propriety will belong to me.
The "state" is a fiction, but the citizens no.
Lelia Marin:
I think there must be some exceptions.
A meteorite must get to a place where it can be studied,
and where the results of the study can give benefits to humanity.
I also hope that the "state" can be…
a more solid concept!
*
TO THE POLITICAL PARVENUS
epigram by Emil Ianus
They came to the government
by the Little Chariot
and after a while, full of riches, left it
by the Great Chariot.
*
ESSENCE
by Dominic Diamant
neither life nor death
neither paradise nor hell
neither nothingness nor joy
neither song nor cry
neither love nor hate
neither honesty nor theft
neither wisdom nor stupidity
only cosmos, stars and dust
*
MARS
astro-photo-poem by Adrian Bruno Sonka
(coordinator of "Admiral Vasile Urseanu" Bucharest Municipal Observatory)
In 2009, November 22nd
I could take some pictures with Mars.
The final image is below,
with the north down.
On the planet,
the northern polar calotte can be seen,
the long arm is Sinus Meridiani
(where there is the Opportunity rover),
and in the left
Syrtis Major enters the night.
*
FLASH ASTRO-INTERVIEW
Adriana Luscalov-Daraban
(the most active promoter of astropoetry through Radio Romania):
The stars have always inspired (scientifically, philosophically, and artistically)
the people.
What do you think about
the International Year of Astronomy?
Andrei Dorian Gheorghe:
It has brought three major benefits:
1. A superior interest of the public for astronomy.
2. A superior enthusiasm for sky lovers.
3. A superior approach between professionals and amateurs.
You know,
the conjunction between profession and passion
is as beautiful as
the conjunction between two heavenly bodies.
*
MOON-JUPITER CONJUNCTION OVER THE VOIEVODES HILL
(2009.11.23)
astro-photo-poem by Ionut Priceputu
Making a photograph with a Moon-Jupiter conjunction
in a clear sky…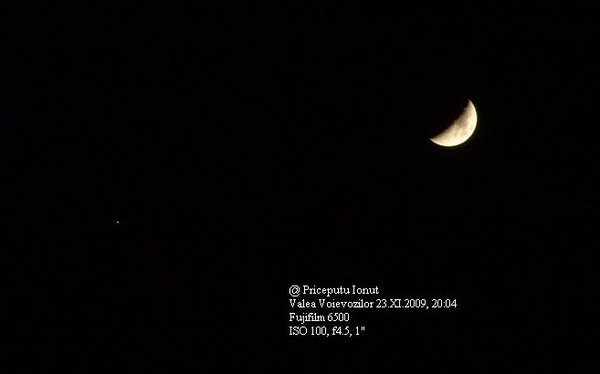 …I remarked sadly that the Voievodes Hill near Targoviste
(the place of so many astronomical events organized by SARM in the past,
such as "Perseids" and "EuRoEclipse Perseids 1999")
is now parcelled out and fenced…
Probably, in a short time, that great place for astronomy
will remain only a fine memory for sky lovers…
*
MOON-JUPITER CONJUNCTION OVER BUCHAREST
(2009.11.23)
astro-photo-poem by Mihai Curtasu
Here is a close-up
of the Moon-Jupiter conjunction.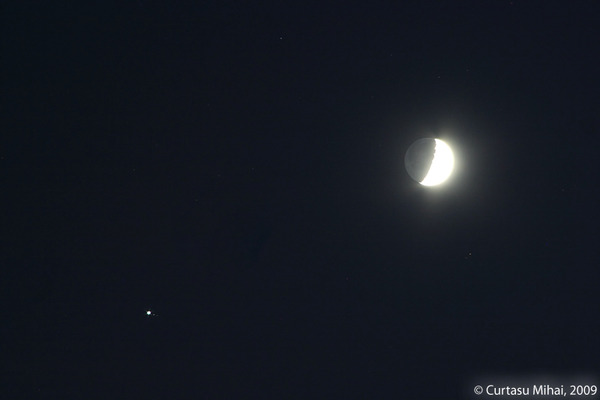 A very nice conjunction,
and a very ugly gesture of mine
because I was not able to go to a park
for a more beautiful scenery.
*
MOON-JUPITER CONJUNCTION OVER TARGOVISTE
(2009.11.23)
astro-photo-poem by Valentin Grigore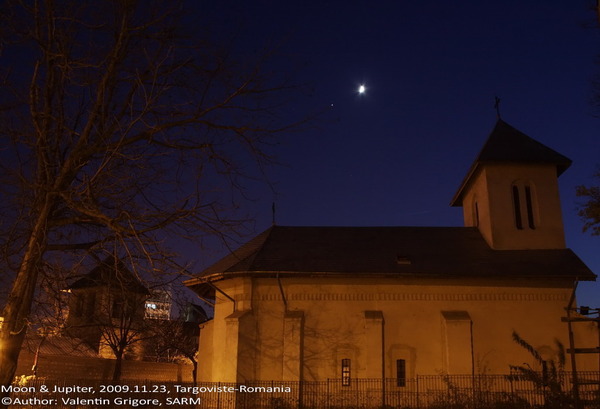 The Moon and Jupiter gave again
a show in the evening sky,
a small present for those who
live in towns.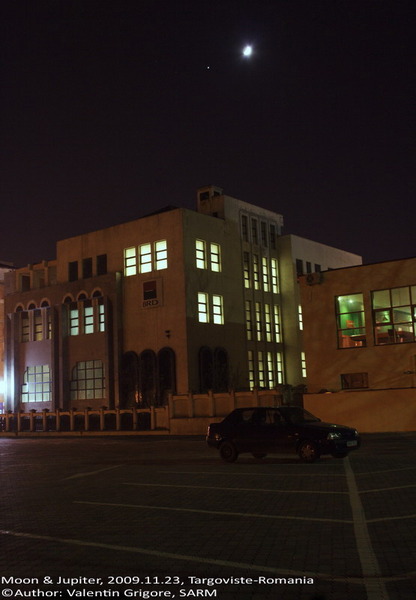 Hard for those who
are used to
the freedom given by the sky
out of towns.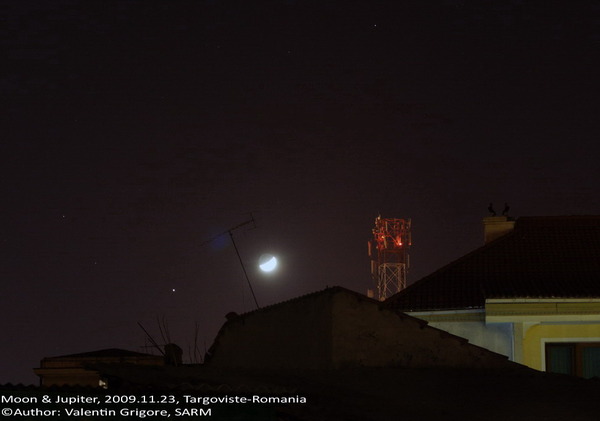 *
ABOUT THE LIGHT POLLUTION
astro-debate by…
Marian Niculescu:
In my opinion, public illumination has negative features,
but does not affect the health of people.
Alin Tolea (U.S.A.,
astronomer at John Hopkins University in Baltimore;
born in Romania):
The connection between the nocturnal light and the people's health
is not really a folly;
there are studies and proof that people need darkness to sleep.
Marian Niculescu:
I think that a good drape blocks all lights,
even the blue light.
Sorin Hotea:
What do you say?
To switch on the light and to put the drapes?
Maybe this way we can see the stars better!
I remember an astro-joke, told by an old sky lover.
He showed the Moon to some people with his lunette,
and one of them said:
"Let's watch it faster, before the night comes!"
Valentin Grigore:
The influence of the nocturnal light on the health of people is not a joke.
It can affect even the eyes.
So this can be another argument to combat light pollution.
Dana Maria Popa:
Happy those who can sleep with the light…
Dimitrie Olenici:
Something is certain:
any deviation from nature is not good.
The change in the day-night rhythm and nocturnal supra-illumination
are harmful to health.
But there is a wasteful drunkenness of electric light.
In order to see the stars and to protect our health,
we should use minimum nocturnal artificial illumination.
Best regards.
The darkness comes with the speed of light.
*
LUMINOUS FUTURE
by Ion(ut) Moraru
Many generations without stars.
The luminous cloud
covered the useless sky,
so nobody asked
why the night is night
or why the day is day,
and nobody believed that
the stars really existed.
*
PRESENT
by Dominic Diamant
Don Quixote,
why do you not give
a bouquet of virtual galaxies
as flowers for Dulcinea?
*
ASTRO-CARTOON
by Radu Bercea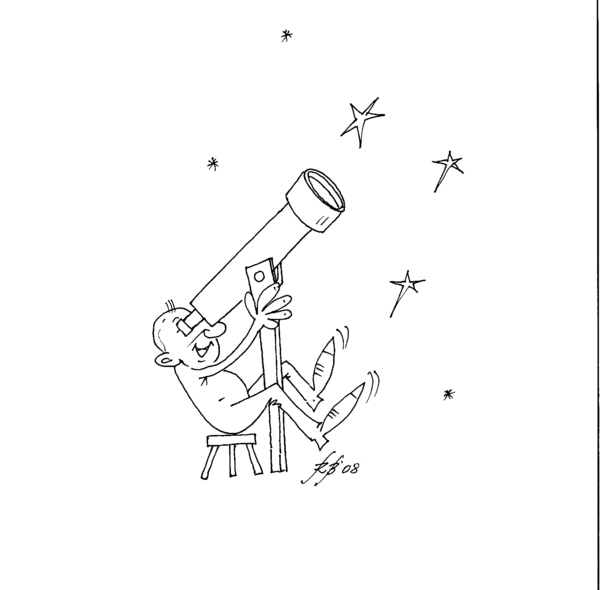 *
SKY LOVER
by Dan Mitrut
a friend of mine
made magnetic therapy
Jupiter' north pole
on his knee
Mercury's south pole
in his ear drums
and excerpts of photosphere
on his retina
while the clay of the cosmos
oscillated
between silence and song
*
CROWNED MOON AND UN-CROWNED JUPITER
photo by Alexandru Sebastian Grigore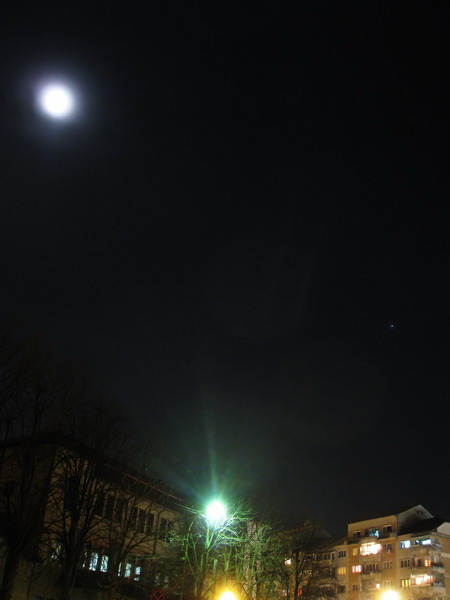 *
LAST QUARTER
by Alfredo Caronia (Italy,
co-discoverer of three asteroids)
Poetry is flow of light,
Rhythm of sequences
in alternating phases,
Inner impulse
in equilibrium of
harmonic motions,
mechanic Echo
of the primordial Engine,
Spark of heat
while merges itself
in the breath
of the mystery,
and the insistent succession
of the lunar cycles
is semblance of reliving
of our inner harmony.
*
A LUNAR AREA
photo by Lucian Curelaru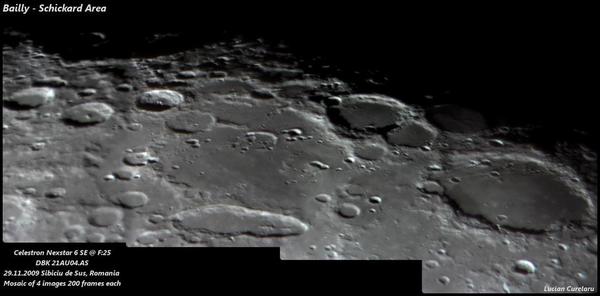 *
CASSINI MISSION
by Andrei Dorian Gheorghe
science and beauty
rings, satellites, auroras
Saturn's marvels
*
ASTROARTWORK
by Calin Niculae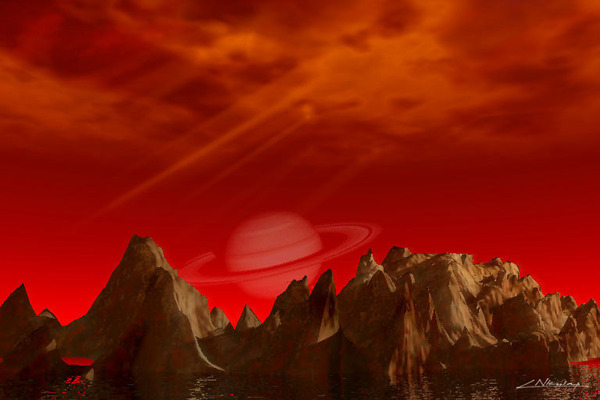 *
TOPS OF ECSTASY
by Dominic Diamant
I was making fuses
from words,
directing them
as oblong states of agony
or tops of ecstasy.
Sometimes I flew with them
and travelled among the stars
till the music of the spheres
smothered me
with its beauty
*
BEING A PART
astro-photo-poem by Johannes Stubler (Austria,
Astronomers Without Borders Ambassador and National Coordinator)
-Being A Part Of It-
Looking to the stars I feel I am home
Looking to the stars I feel I am connected
Looking to the stars I feel I am connected
to all the people
Looking to the stars I feel I am connected
to the whole universe and its possible beings
-Night Call-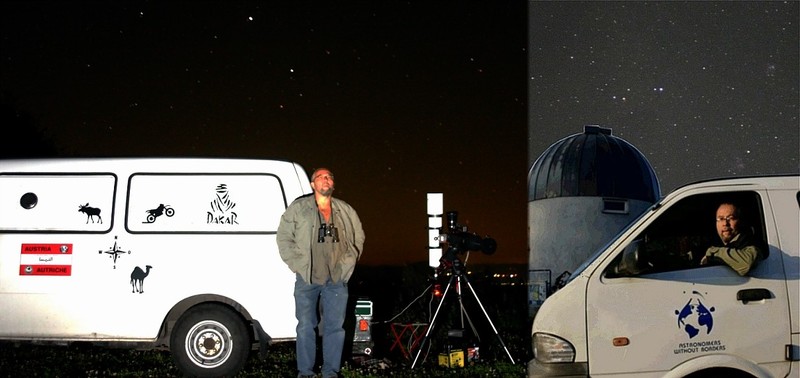 -Being A Part Of God's Creation-
Looking through my telescope
I am diving to the cosmic wonders
It's a kind of spacewalk
Spacewalk of the plebs
My individual spacewalk
A spacewalk through space and time
I am touching the universe
*
QUASARS, PULSARS, BLACK HOLES
by Boris Marian (Mehr)
A quasar sings a song,
a bad girl falls into a black hole,
I laugh at a bizarre supernova,
and a pulsar would fly with my space ship…
But nobody can make too many jokes
with the great mysteries of the Universe,
so quasars, pulsars, black holes,
you are so true
that someday I shall write a hymn
to all of you.
*
AWARENESS
poem and artwork by Arlene Carol (U.S.A.- residing in Turkey)
I read something the other day.
A way around all this religious talk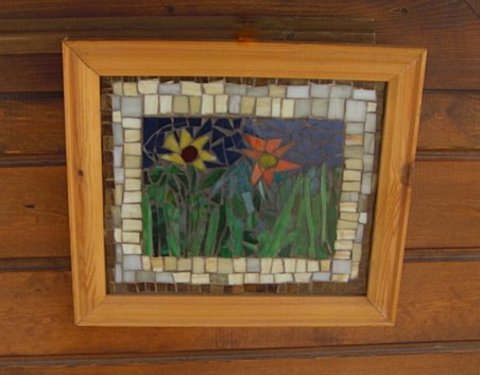 God, Allah, Adonai, Buddha, whatever you choose to call it...
A new idea for me, agnostic that I am...
'Awareness' - good name, better than the others.
An awareness controlling the universe, causing it all to 'be'...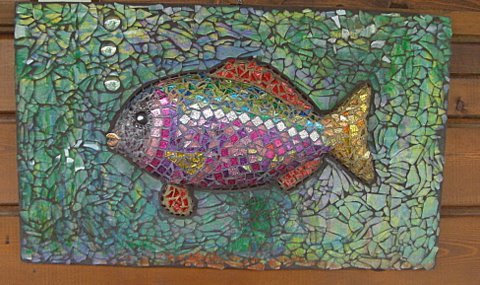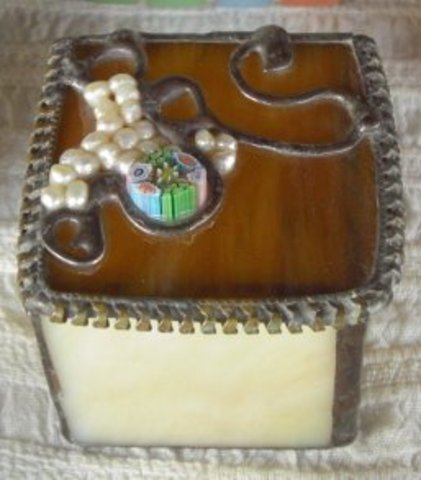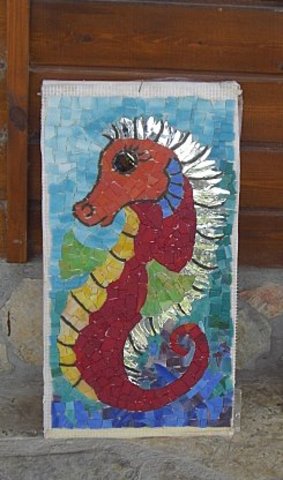 If only we were as aware.
Think of the possibilities!!
*
WORK
by Constantin Dumitrescu-Cunctator
Please make a work
about man in comparison
with the atom and the Universe.
The title must be
just
HUMANITY.
*
COSMIC PRISONER
cartoon by Radu Bercea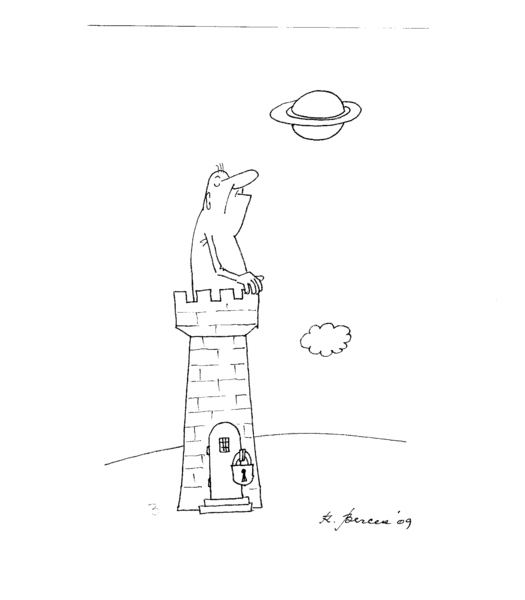 *
AT PLANETARIUM SUCEAVA
by Dimitrie Olenici
In order to stimulate children's imagination,
I use to ask them
after I simulated the planets' motions of revolution around the Sun:
"Where would you prefer to be students?
On Mercury,
where in accordance with its motion of revolution
around the Sun,
measured in the time of a terrestrial teaching year,
the school would take 66 days and the vacation 22 days,
or
beyond the belt of asteroids, where on Jupiter
school would take 9 years and vacation 3 years,
and on Saturn (the last planet visible with the naked eye)
school would last 21 years and vacation 7 years
(where, till we finish a teaching year, we will have long beards).
Most of the children would prefer the Earth, however,
although the ideal combination would be
school on Mercury (66 days) and vacation on Saturn (7 years).
They are terribly amused and begin to ask more questions about the solar system,
so I suggest, for homework,
that they calculate a vacation on Pluto (60 years)
and other various themes regarding the times of planets,
and to write memorandums to the Education Ministry
and even to the United Nations Organization
for a cosmic teaching.
*
OTHER ACHIEVEMENTS OF DIMITRIE OLENICI
1. Ceiling of Constellations (painting);
the mythological map is surrounded by the spectrum of light - the rainbow;
each colour is divided into 365 small squares,
representing the 365 days of a year.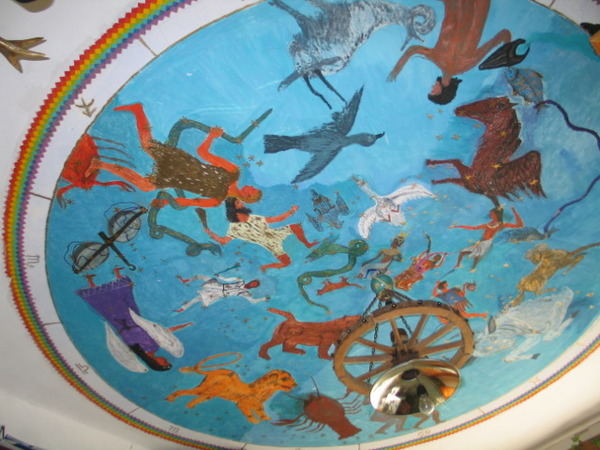 2. Solar Tapestry;
the Sun is surrounded by 12 rombs representing the zodiacal constellations,
and by stars with four corners;
up and down there are seven rombs that suggests the seven days of a week;
laterally there are two "infinite columns".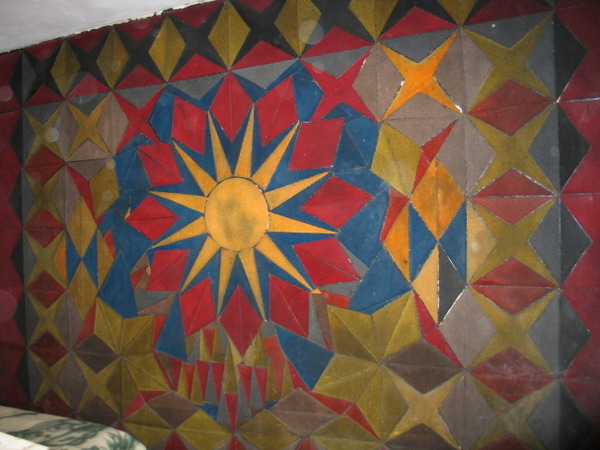 3. Horodnic Private Observatory, Suceava County;
built in the small isle of a rivulet.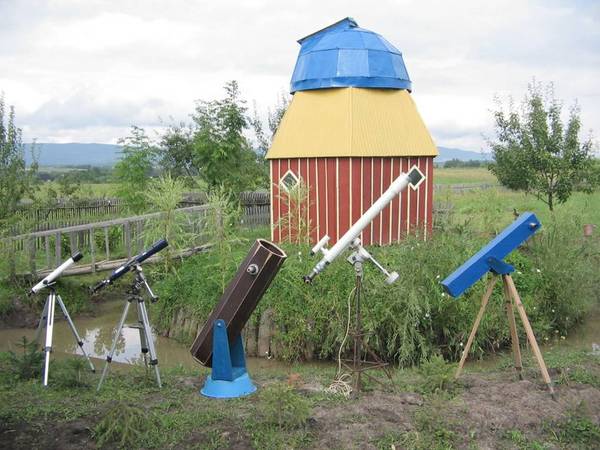 *
COURTSHIP RITUAL
by Steve Sneyd (U.K.
Director of Hilltop Press, Editor of Data Dump)
"Prove it" she said "bring
me from black hole's heart Hawking
radiation to
shine on my finger, show your
love", stroked Schrodinger's cat.
*
WHAT IS THE REAL MOON?
astro-photo-cartoon by Ion(ut) Moraru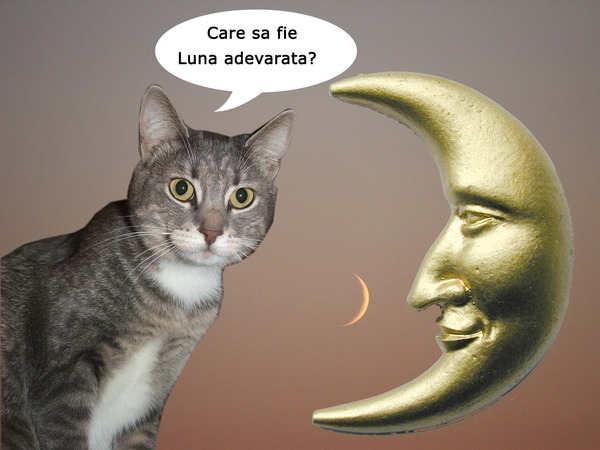 *
GAZING OUT INTO THE NIGHT
by Cathy Hall (Canada,
member of the International Meteor Organization)
The night fills me with wonder,
Gazing out upon other worlds -
I think of what I am -
How small, how seemingly forgotten
'Midst billions of other beings such as I.
The world is infinity
And everything is small like I myself;
We are but like stars
A billion looking down upon a one.
*
UNIVERSAL TREASURERS
artwork by Arlene Carol (U.S.A.-residing in Turkey)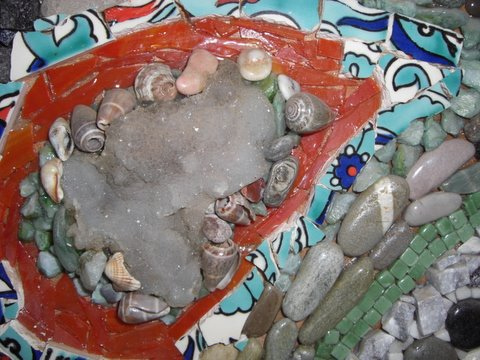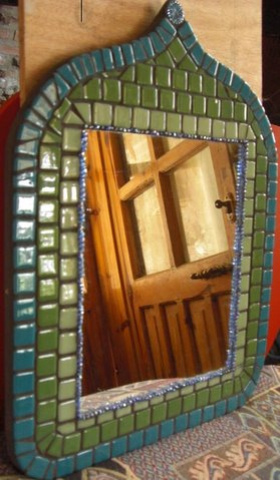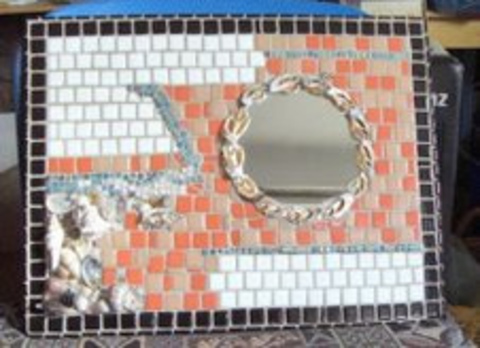 *
THE MOMENT OF LOVE
by Florian Saioc
People think they are unique
in the Universe full of stars,
but they die one after the other,
while the stars remain the same.
Power, richness, glory… are nothingness
(and here, there is a long list),
people live only through love,
in which they don't know they exist.
*
THE MAGIC OF THE NIGHT
cartoon by Radu Bercea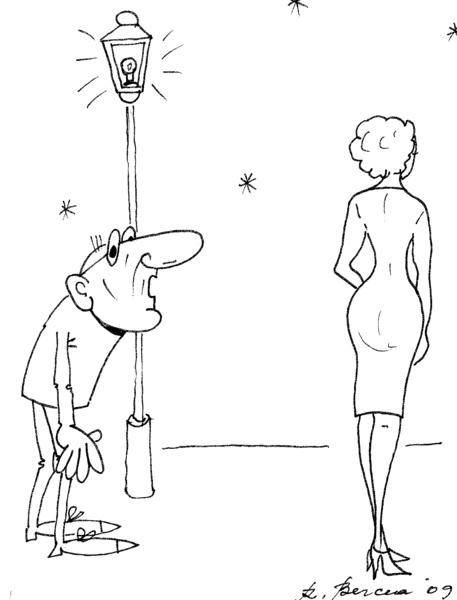 *
GEMINIDS
by Andrei Dorian Gheorghe
Although December is a cold month,
it is not fair to stay home
when the children of Castor and Pollux
give in the heavens
sport of fire
*
FIGHTING THE CLOUDS IN THE GEMINID NIGHT
photos by Valentin Grigore
(1. Procyon, Rigel and Orion's Belt
2. Alhena in Gemini, Betelgeuse and Orion's Belt
3. Mars and Regulus)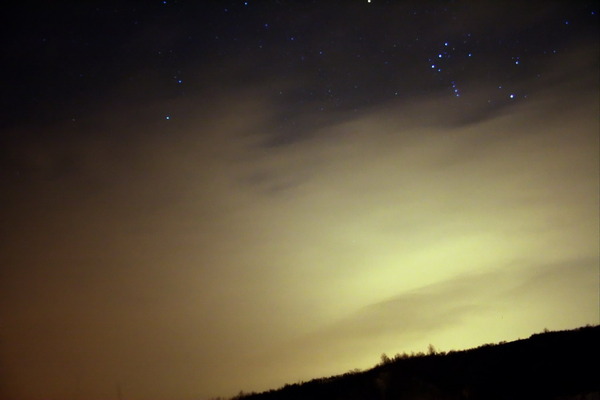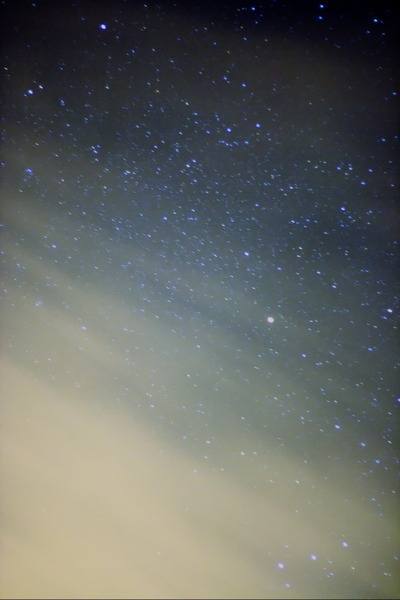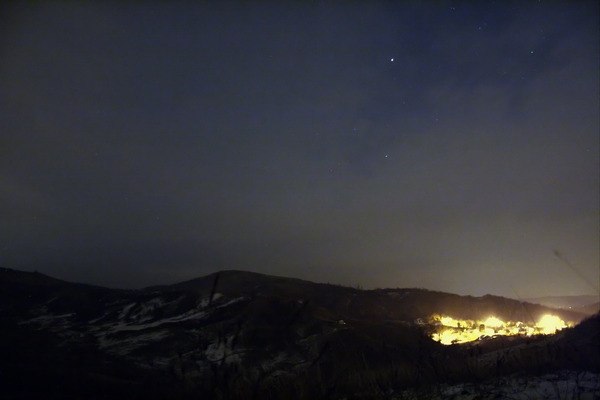 *
ASTRONOMICAL CALL
by Stefan Berinde
One December evening,
before becoming a doctor in astronomy,
on a strong snowstorm,
I felt a strong call
to make strong astronomical observations.
So I used the auto-stop,
fought snow mountains for a few kilometers,
avoided a few hungry wild dogs,
and finally arrived from my town,
Cluj (Capital of Transylvania, Romania),
to the astronomical observatory from the Feleac Hill.
But right there I remembered
I could not make astronomical observations
when the sky was strongly cloudy.
*
MOON AND JUPITER
(2009.12.20)
photos by Ionut Priceputu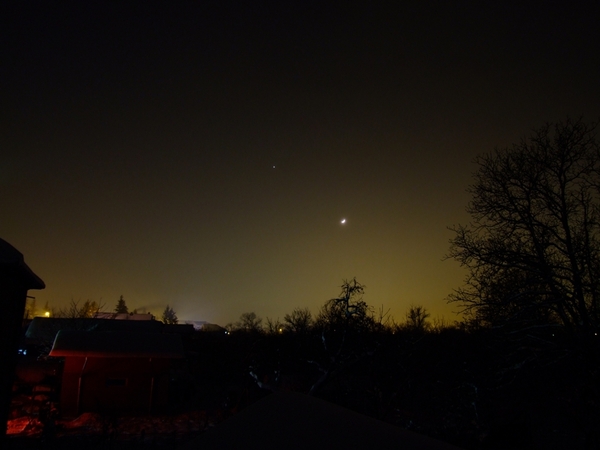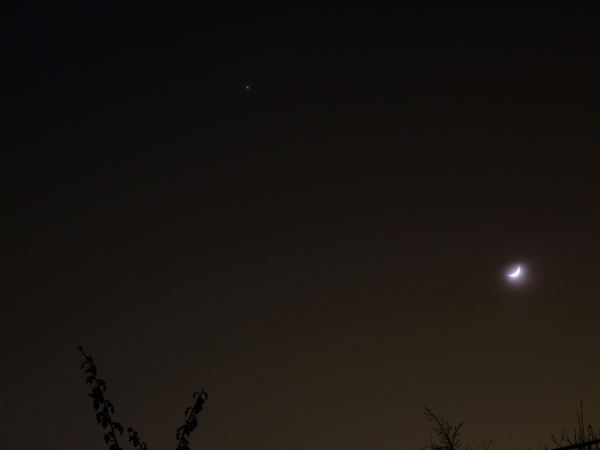 *
WINTER SOLSTICE
by Cristina Slovineanu
I'm sorry,
this time
I cannot find inspiration to write astropoetically.
In exchange,
I can wish all of you
a beautiful time.
*
"SEASONS WITHOUT BORDERS"
(Measuring the Sun's Shadow in the Shortest Day of the Year -
2009.12.21)
photos by Alexandru Sebastian Grigore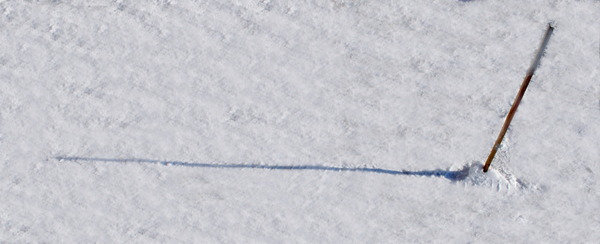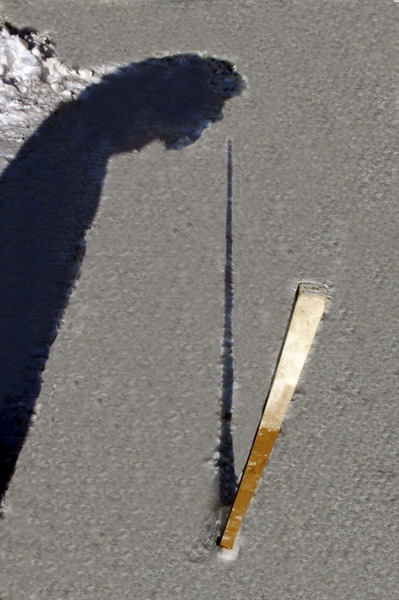 *
CONJUNCTION
by Zoltan Deak
(former President of the Bucharest Astroclub)
An event which can be surprised in different ways.
Everybody with his visions and possibilities.
As there are more ways to photograph the same phenomenon,
there are more ways to process the image,
and the final photograph depends on everybody's imagination.
I wish you fine conjunctions!
*
WINTER SOLSTICE SHOW:
MOON-JUPITER CONJUNCTION OVER BUCHAREST
photos by Alex Conu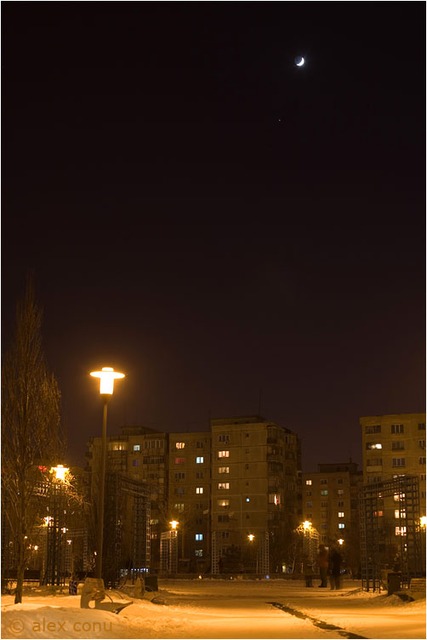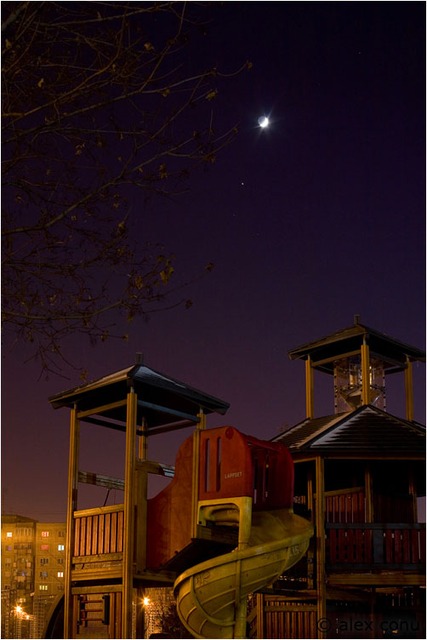 *
JUPITER-NEPTUNE CONJUNCTION
by Dimitrie Olenici
My dears, this is the very rare event
of the end of 2009.
So,
small and big, young and old,
all of you
come to watch it
and to identify Neptune.
If you lose this chance,
you have to wait till 2022
for the next Jupiter-Neptune simple conjunction.
What a memorable winter solstice!
Moon-Jupiter and Jupiter-Neptune,
a conjunction next to another!
*
WINTER SOLSTICE SHOW:
MOON, JUPITER AND NEPTUNE
photos by Catalin Timosca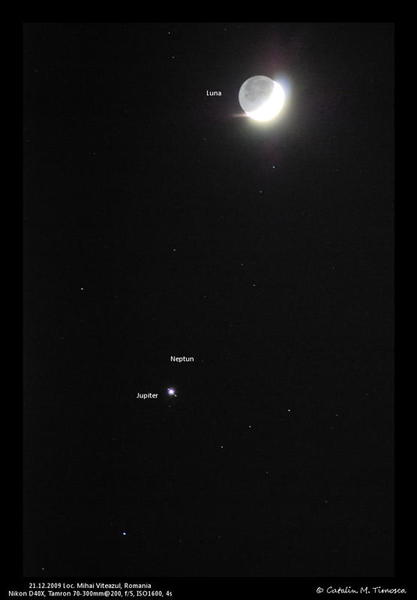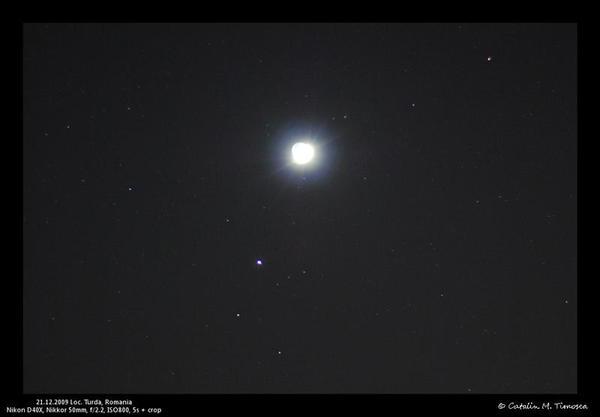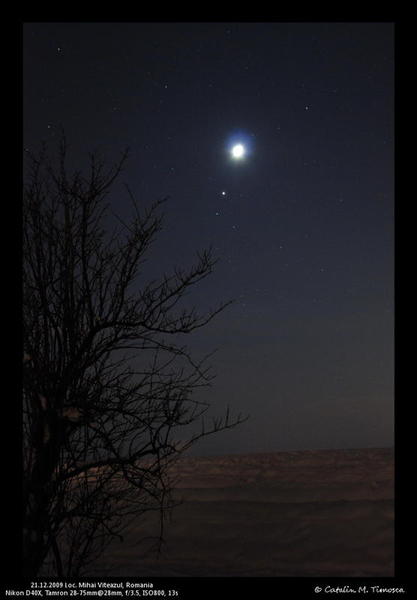 *
MOON, JUPITER AND SANTA CLAUS
(2009.12.21)
astro-photo-poem by Valentin Grigore
Under a fine Moon-Jupiter conjunction
I was with my telescope
in the central square of Targoviste,
a winter solstice action for Seasons Without Borders,
an international project of Astronomers Without Borders.
.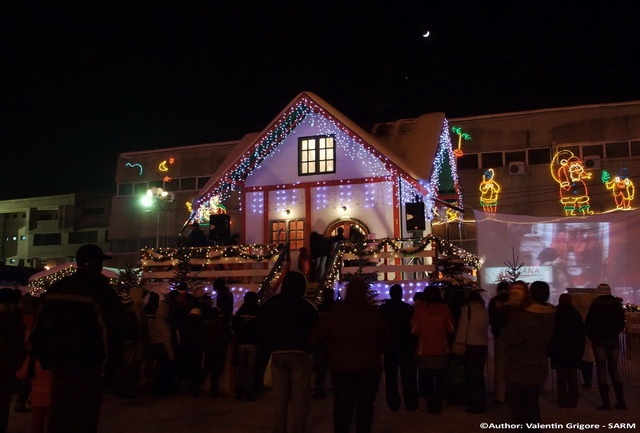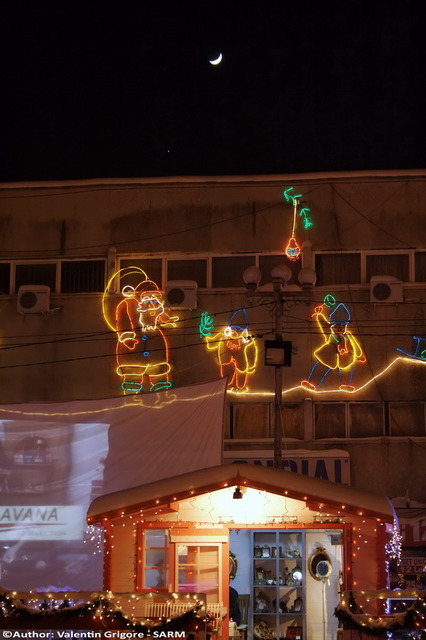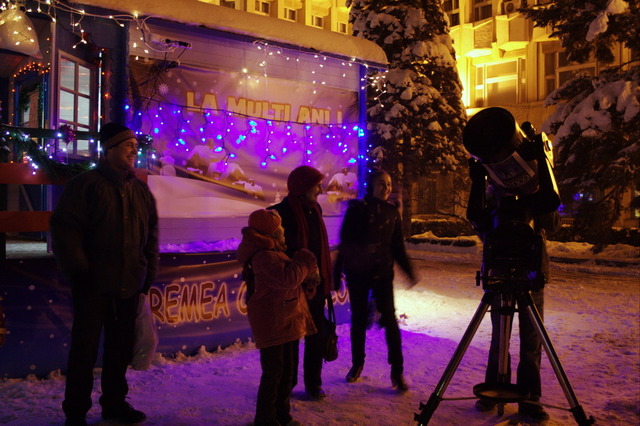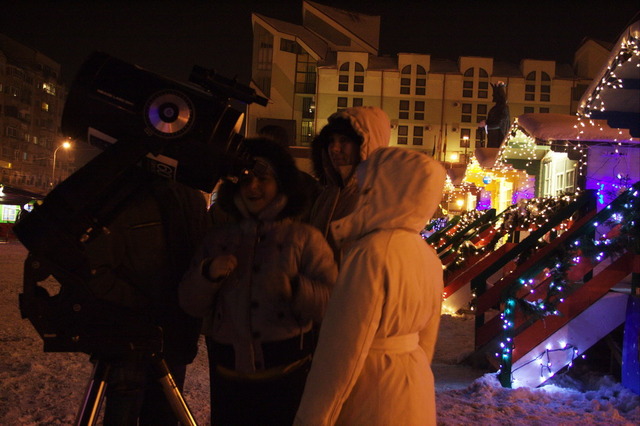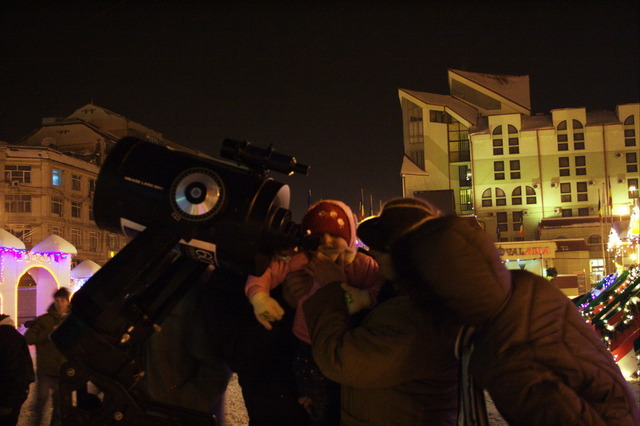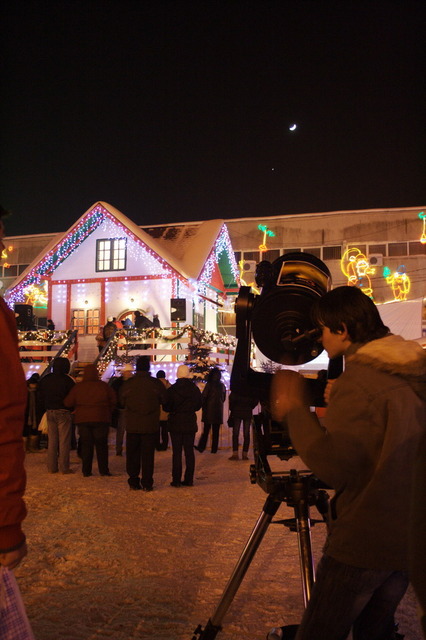 And guess who watched the sky
through my telescope!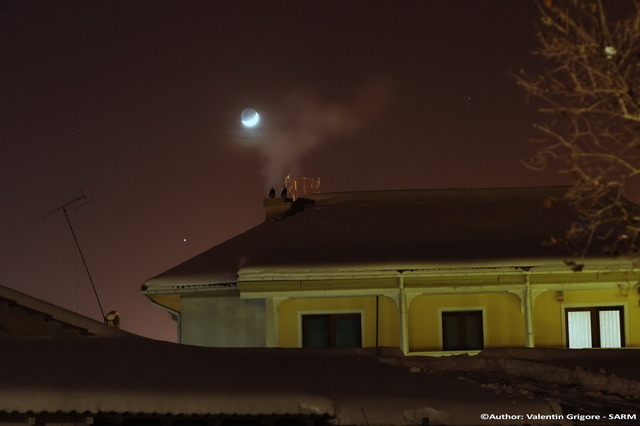 Even Santa Claus!!!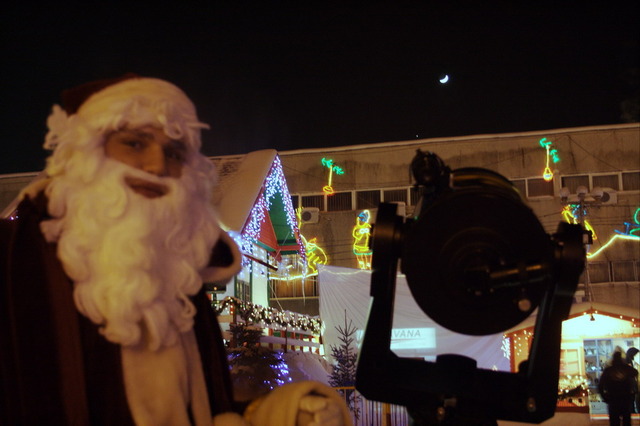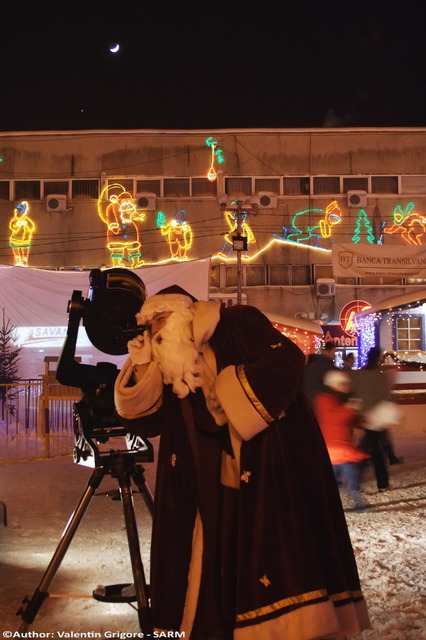 *
ASTROPOET
by Dominic Diamant
That supreme art to create
an imaginary big bang after another
belongs only to the astropoet
who knows his own resources of love and gift.
Irrespective of the mechanism of the world,
he secretly makes universes,
moves numb happenings,
gives soul to them,
and converts the miracle of the feelings.
And worlds after worlds gravitate
in the cosmic feast of his burning,
which makes the Lyrical System reverberate
in the ample sparkles of a happy fate.
*
ASTRO-CARTOONS
by Radu Bercea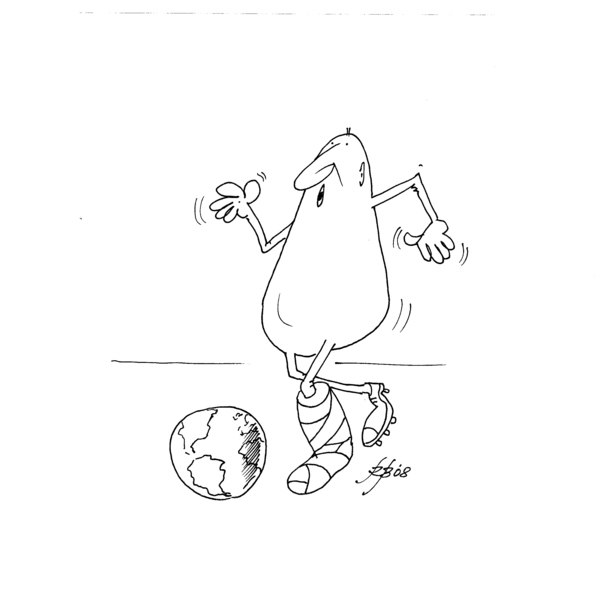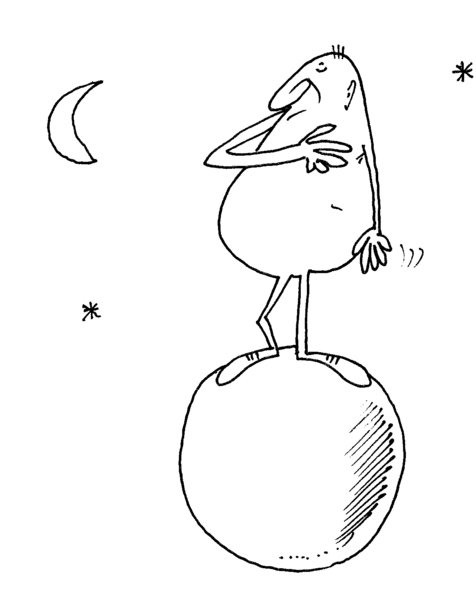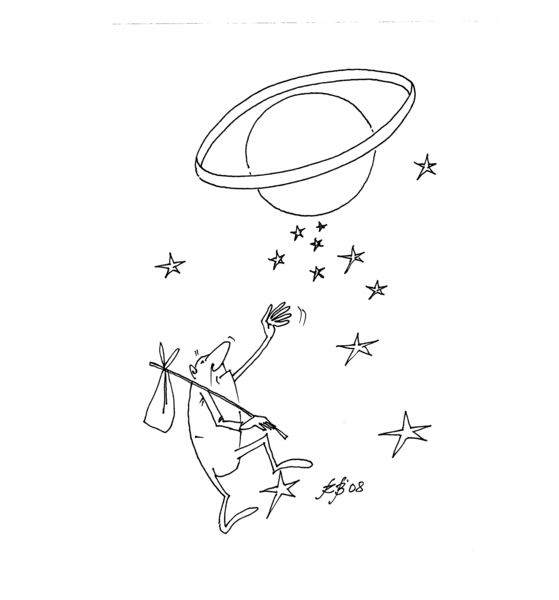 *
NIGHT BREEZE
by Cathy Hall (Canada,
member of the International Meteor Organization)
The starwinds are blowing tonight.
I hear them -
They're calling me into the night, the darkness;
Each star is as a bell, calling.
And I'm leaving, I'm going.
I cannot live without the heavens,
They are a part of me, as I am a part of them -
Without each other we both should die.
*
STELLAR VERTIGO
(2009.12.29)
photo by Catalin Timosca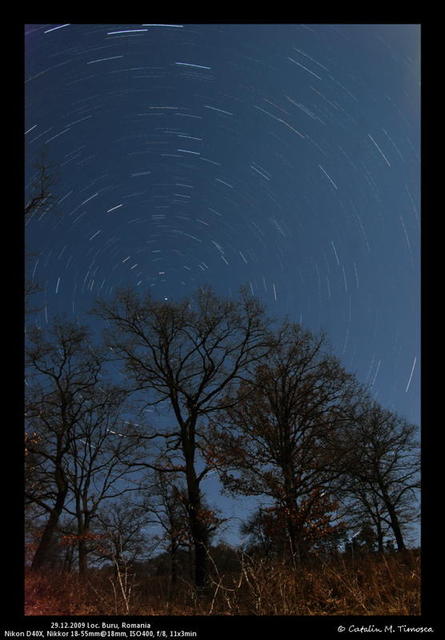 *
MOON AND PLEIADES
(2009.12.29)
astro-photo-poem by Valentin Grigore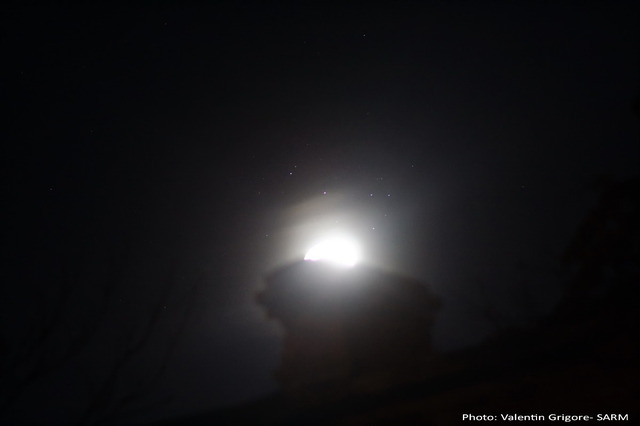 A new Moon-Pleiades meeting…
Not an occultation
(like in July 2009),
but just a conjunction.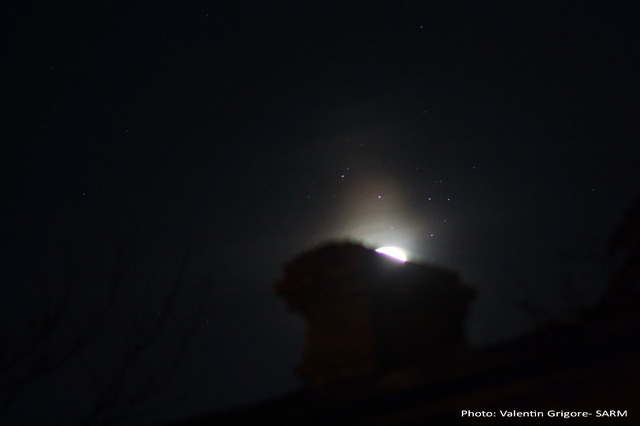 It was difficult to observe the cluster of stars
because of the strong light of the Moon,
but I caught the moment when the satellite
hid behind the chimney of a neighboring house.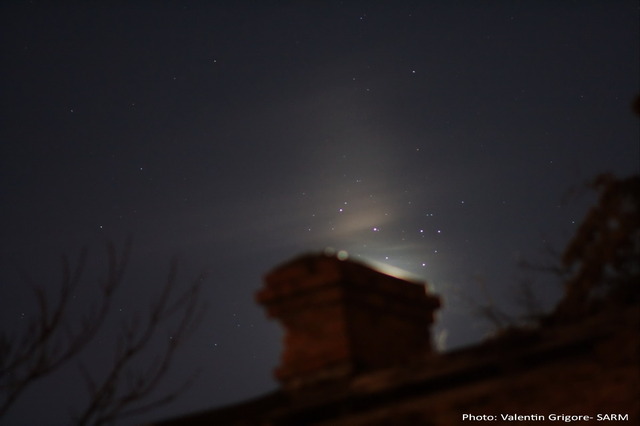 *
MARS…
(2009.12.29-30)
astro-photo-poem by Lucian Curelaru
After a long time period with a cloudy sky,
I tried to defeat the transparency and the wind
in a clear night,
and installed my "stand"…
I took a few pictures with the red planet,
and it seems it was not a bad idea…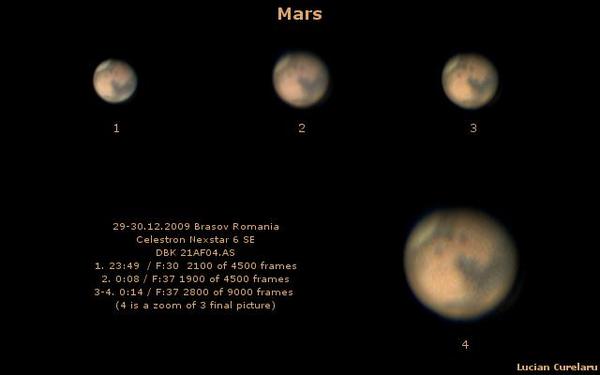 *
BLUE MOON
(2009.12.30)
astro-photo-poem by Cornel Apetroaiei
As the Anglo-Americans have an expression,
"once in a blue moon",
regarding the second full moon in a calendar month,
I photographed the satellite,
but it appeared rather silver…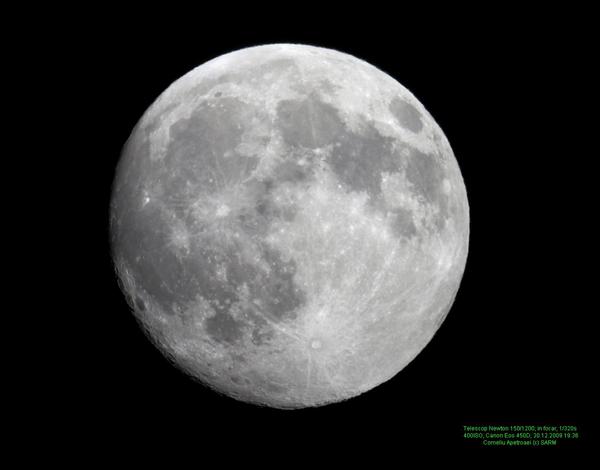 *
"DUSK OF IYA" - VOIEVODES HILL, TARGOVISTE
(2009.12.31)
astro-photo-poem by Valentin Grigore
Between 1993 and 1999
Valentin Grigore
and the Romanian Society for Meteors and Astronomy (SARM)
organized on the Voievodes Hill
(Voievodes = Romanian Kings in the Middle Age)
and in the town of Targoviste
the first 7 editions of the cultural-astronomical event "Perseids",
which culminated with "EuRoEclipse Perseids 1999"
(250 participants come from 4 continents and a complex program:
five observational camps on the solar eclipse's totality line,
an international astronomical symposium,
an astronomical summer school,
various sky observations,
an international showroom of astronomical arts, photos and publications,
workshops, a national astronomy contest for youth,
an international cosmopoetry festival, etc.) -
a top of SARM's essential concept
"astronomy-culture-art-education-society".
Ten years after that fabulous event,
they chose symbolically the same hill for saying goodbye
to the International Year of Astronomy
during the last international project of 2009, initiated by
Sidewalk Astronomy
and Astronomers Without Borders.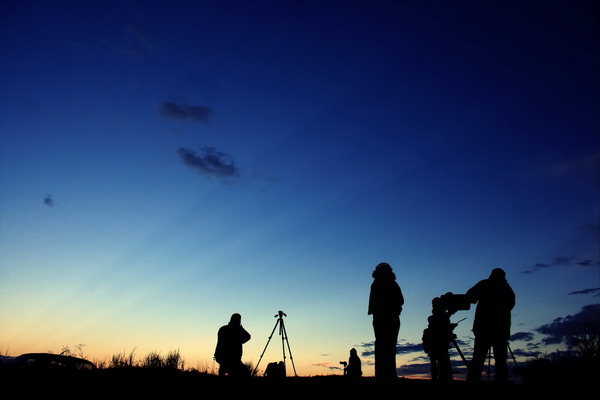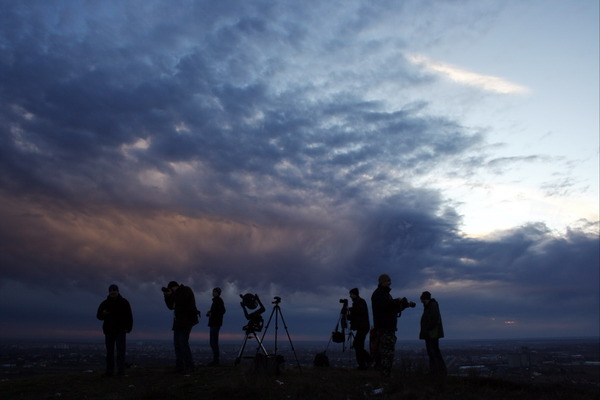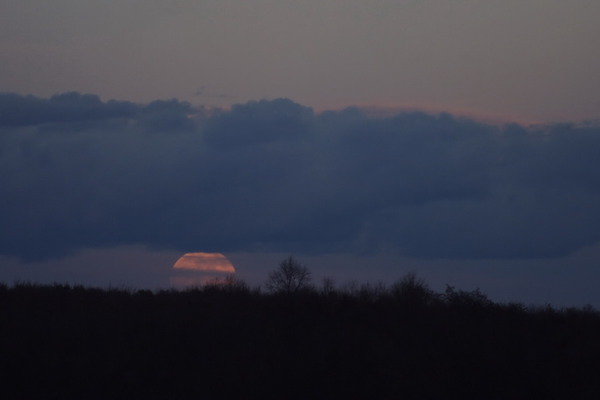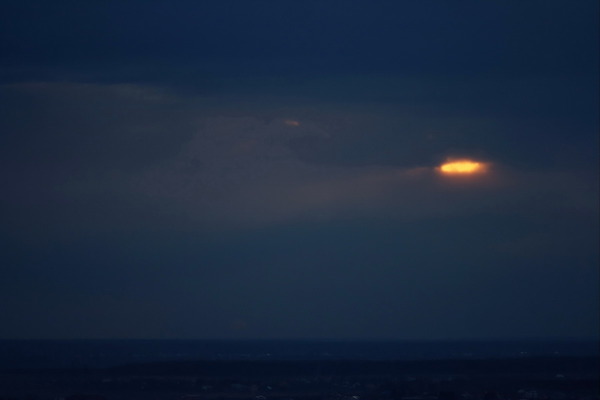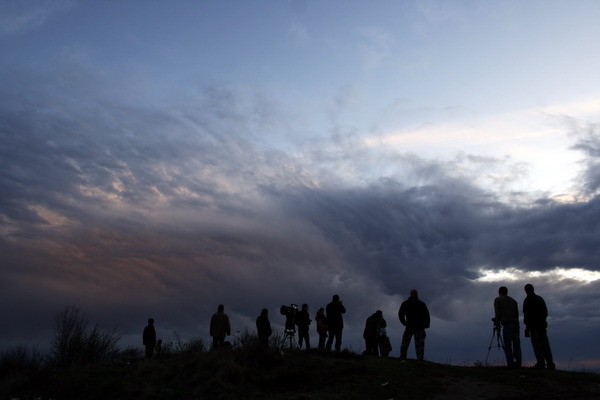 Bringing the sky to our hearts
through astronomy
should be an exercise
of normality.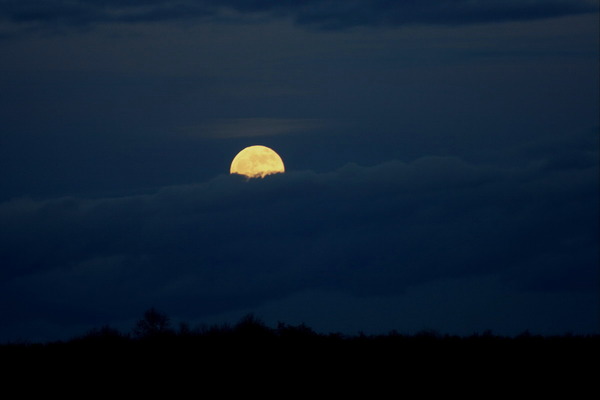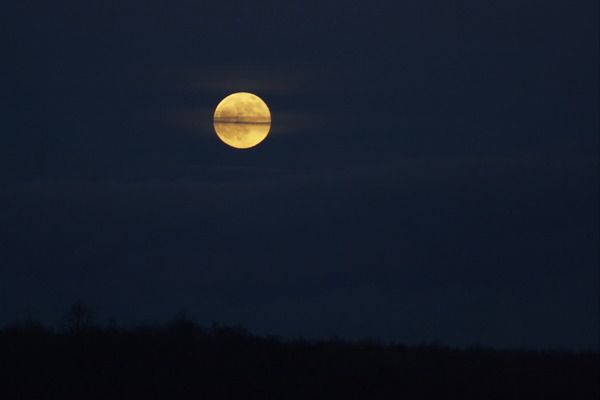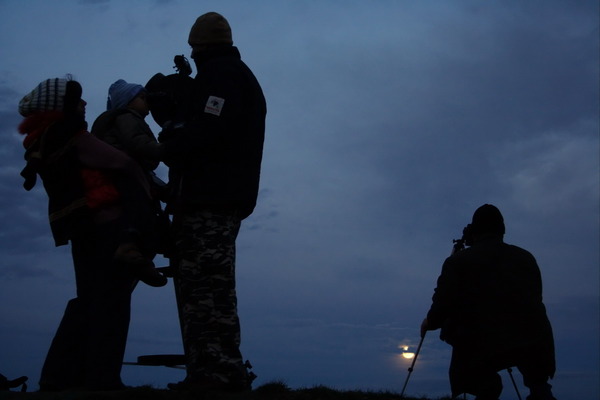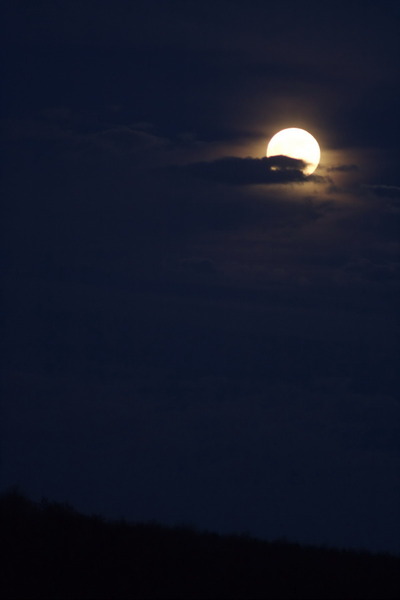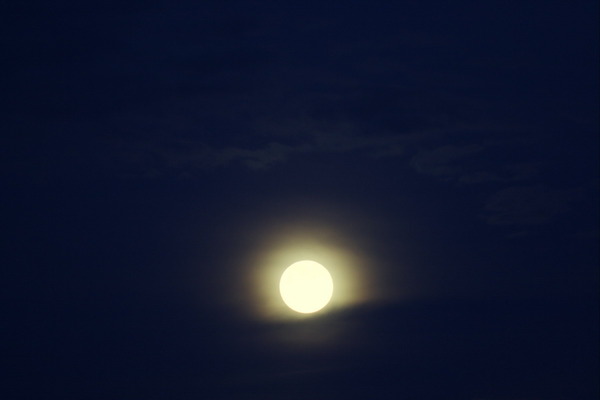 *
HOLIDAYS
by Camelia and Andrei Stanciu
Give your heart
Open your soul
Enjoy the light
*
"DUSK OF IYA" - VOIEVODES HILL, TARGOVISTE
photos by Ciprian Grigorescu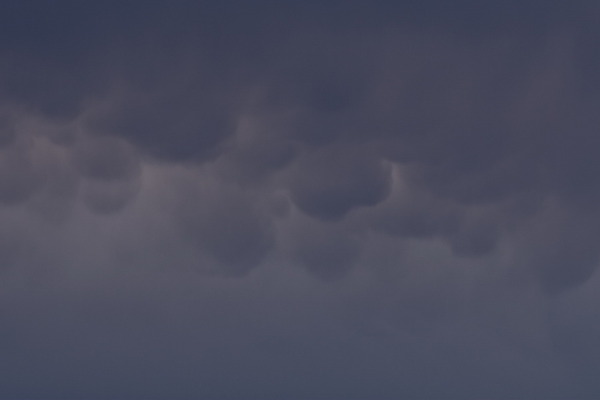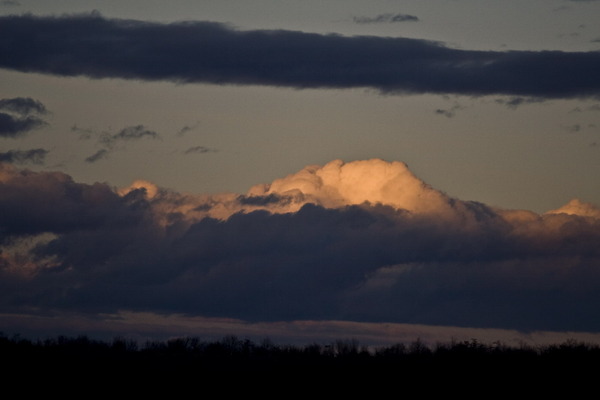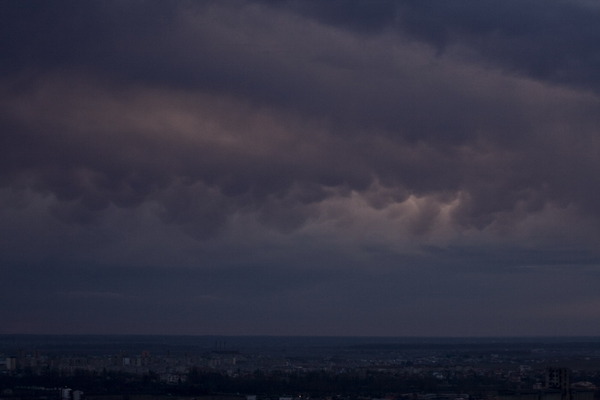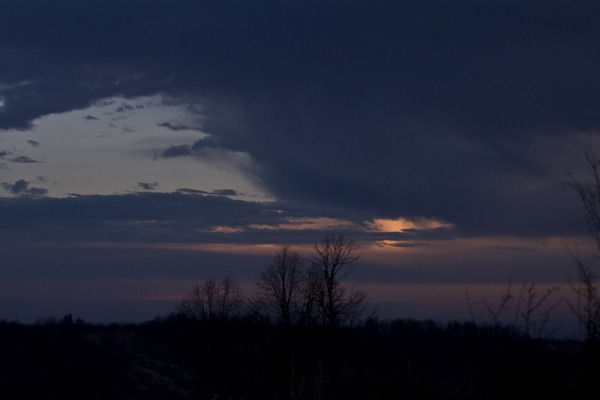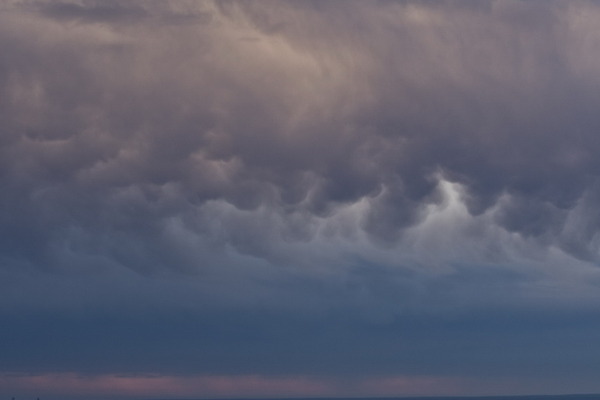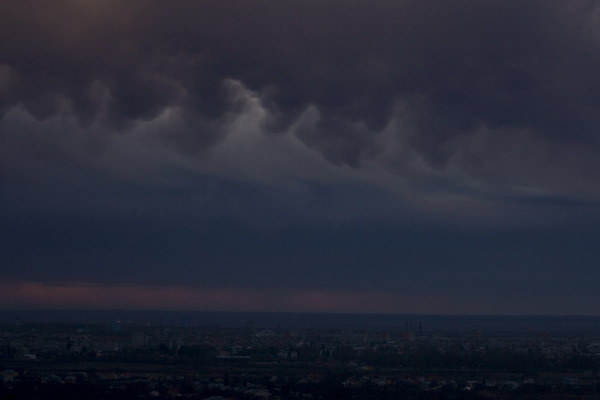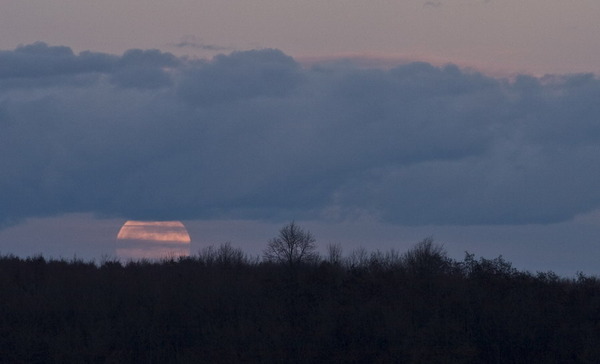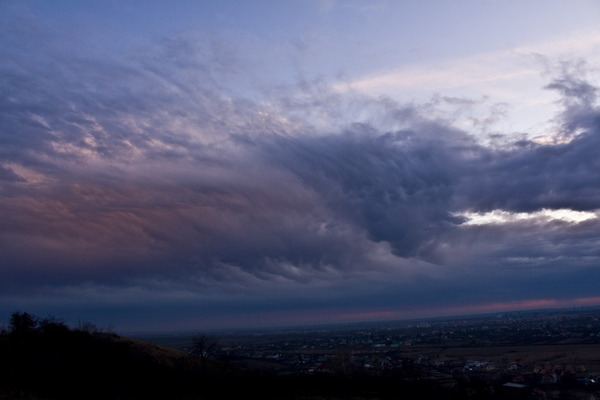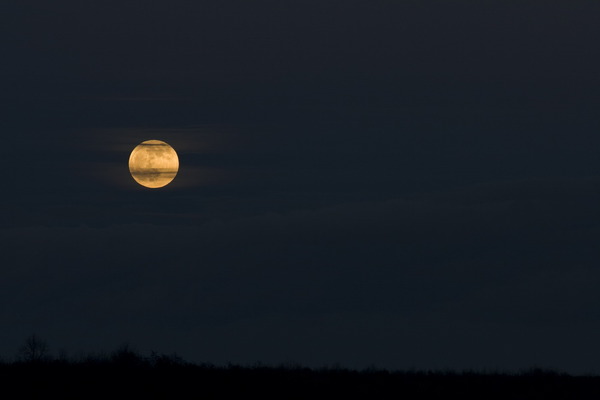 *
I AM DREAMING…
by Elena Andreea Alecu
… to feel the beauty of the flight,
to have a goal-refuge in the deep sky,
to understand the light measured in years,
to find a path to me and to the Creator,
to be a thought in the consciousness of the world
and to find my cure in its marvel.
*
"DUSK OF IYA" - VOIEVODES HILL, TARGOVISTE
(LAST SUNSET, LAST MOONRISE)
photos by Pavel Tica Popescu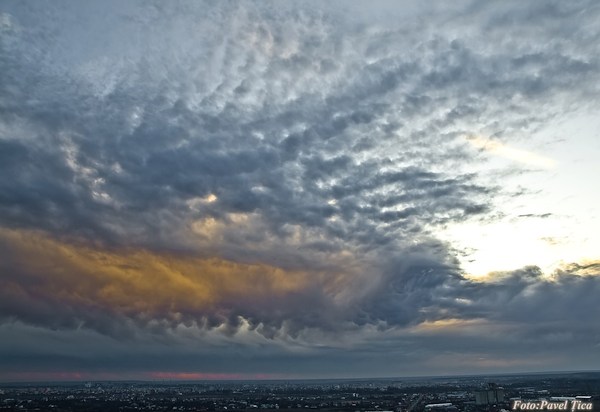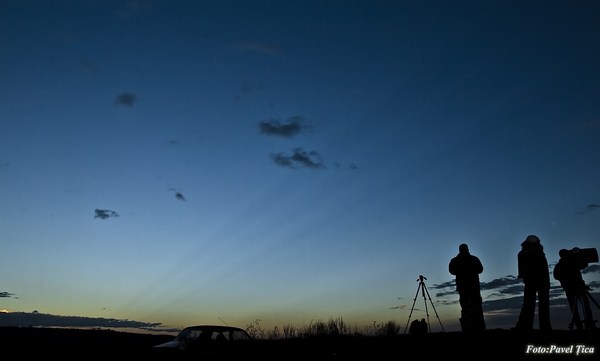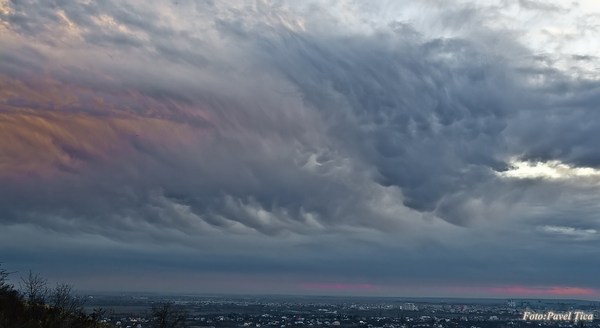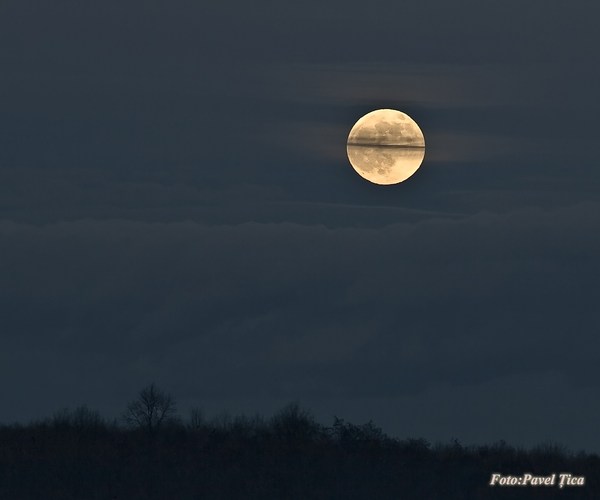 *
A WISH TO ASTROPOETS
by Cristian Miala and Claudiu Serbanescu
Continue on and on
to enrich the others' lives
by your gift
*
"DUSK OF IYA" - VOIEVODES HILL, TARGOVISTE
photos by Pompiliu Alexandru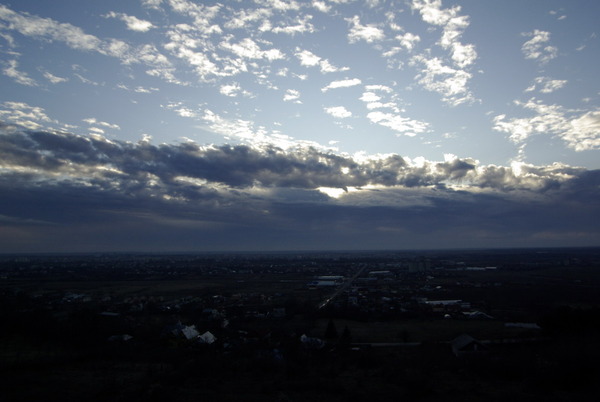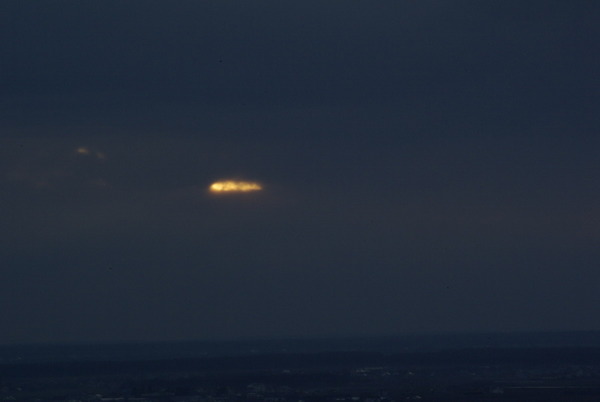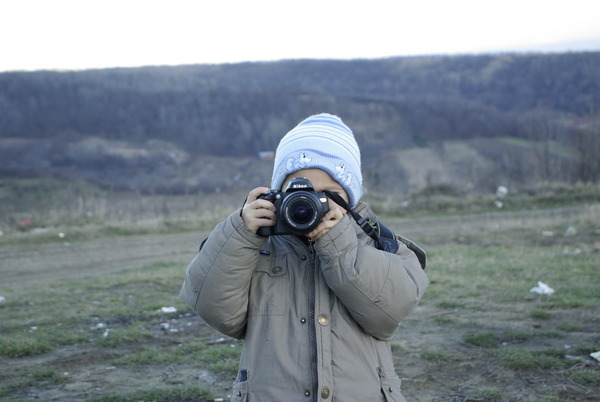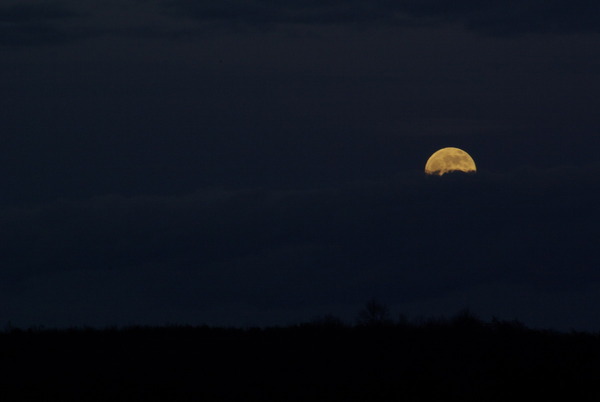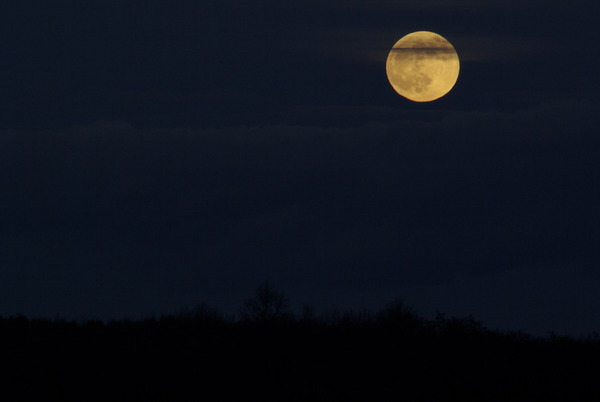 *
BLUE MOON
photo by Damian Alexandru
(schoolboy)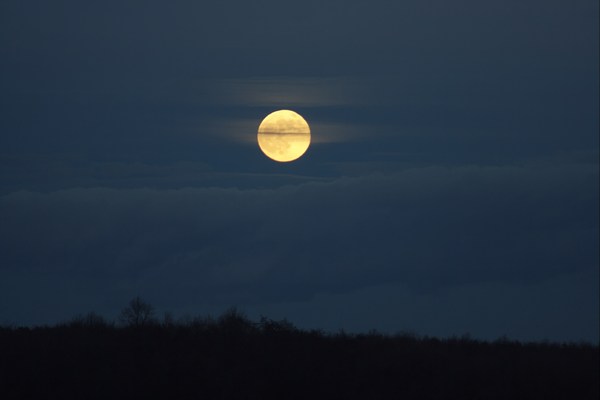 *
2009, DECEMBER 31ST
haiku by Andrei Dorian Gheorghe
sky ceremony
the end of the IYA
lunar eclipse show
*
PARTIAL LUNAR ECLIPSE OVER BACAU
photo-collage by Vlad Dumitrescu

*
FEELINGS IN SUCEAVA ON THE LUNAR ECLIPSE
dialogue by…
Cezar Lesanu:
When I saw the partial lunar eclipse
I had a feeling of incertitude
because I forgot
where I was going.
Dimitrie Olenici:
When I saw the partial lunar eclipse
I had a feeling of frustration
because I didn't have with me
my favourite camera.
*
PARTIAL LUNAR ECLIPSE OVER SUCEAVA
photo-collage by Dimitrie Olenici

*
LAST ECLIPSE OF 2009
by Gerald England (U.K.,
Editor of New Hope International
and Honorary Member of the International Artists and Writers Academy)
five hours before
the end of the decade
above my window
the cold earth is eating
a piece of blue moon
*
PARTIAL LUNAR ECLIPSE OVER THE NORTH OF ROMANIA
photo by Constantin Psenitchi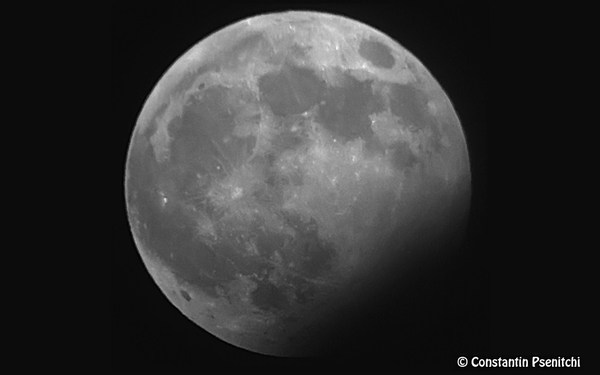 *
END OF 2009
collective astropoetic mini-tragicomedy
by the Gartzau Order of Great Flights
(the cosmopoetry group that preceded SARM's astropoetry movement in 1990s):
Bogdan Ioana (now established in U.S.A.) as Gartzau I
(The Magnificent, Master Of Visible Ponderous Matter),
Constantin Huth as Gartzau II
(The Diplomat, Technical Director In Any Space And Time),
Victor Chifelea as Gartzau III
(Astro-Role, Admiral Of Cosmo-Alcohol and Star Reporter),
Mircea Bodea (now established in U.S.A.) as Gartzau IV
(He Who…, Great Tunnel-Man and Noble of Antimatter),
Andrei Dorian Gheorghe as Gartzau Sazartinus
(Supreme Path-Man and Illustrious Compass-Man, Floating Master)
The last evening of the International Year of Astronomy 2009.
It's raining, and the Gartzaus are sad they cannot see the lunar eclipse.

Gartzau Sazartinus:
Life is a tragedy
without astronomy.
Now I am so unhappy because of the clouds
that I've composed the following haiku:
"lunar eclipse show
the end of the IYA
rebellious curtain"
Gartzau II (to Gartzau Sazartinus):
Believe me,
you suffer of astral folly.
Gartzau Sazartinus:
In exchange,
usually I am so glad that the Earth
carries me around the Sun
that sometimes I imagine
I am Galileo Galilei.
Gartzau I:
I've thought you imagine
you are Nicolaus Copernicus.
Gartzau II (to Gartzau I):
Believe me,
you suffer of earthly folly.
Gartzau I:
Since the Earth's poles move so much…
Gartzau III:
It seems that in a few hundred years
the Earth's poles will suffer major changes.
Should our generation
be interested
in this demonstration?
Gartzau II:
More,
it seems that in a few billion years
the whole solar system will be in danger.
And time passes so quickly…
Gartzau IV:
That's why I'm in a hurry
to wish everybody:
Have A Happy New Year…
Gartzau Sazartinus:
…and live without fear!
*
WE ARE ECLIPSING THE WHOLE EARTH
astro-photo-cartoon by Ion(ut) Moraru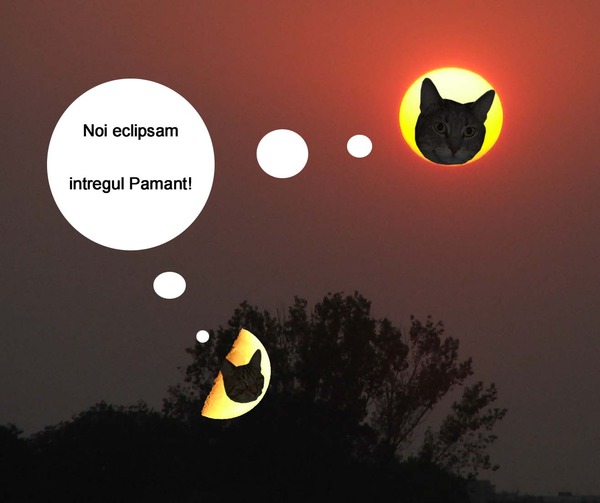 -FRIENDS OF KEPLER
(special dedication of SARM's Astropoetry Master Club
and two super-guests)-

*
400 YEARS
haiku by Andrei Dorian Gheorghe
Johannes Kepler
Astronomia Nova
planets' victory
*
MERCURY, VENUS, SATURN AND MOON
(2009.10.15)
photo by Valentin Grigore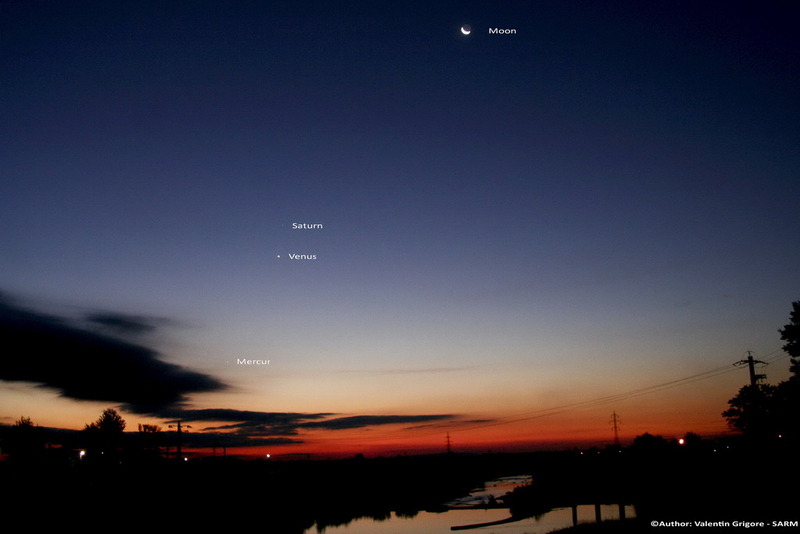 *
TYCHO BRAHE AND JOHANNES KEPLER
by Zigmund Tauberg
Tycho Brahe made exact astronomical measurements
and tried to understand the big question
of his time,
if the planets actually move around the Sun,
or Ptolemy had been right.
He finally thought that
Ptolemy's geocentric theory was O.K.,
but destiny decided
in a different way…
Thus, after him,
Kepler used Tycho's research
and could see
the three laws of planetary motion.
Astronomical irony!
*
JOHANNES KEPLER
limerick by David Asher (U.K.,
astronomer at Armagh Observatory, Northern Ireland,
discoverer of asteroids,
and counsellor of the International Meteor Organization)
Our knowledge of planets was crowned
By the great genius Kepler, who found
That on their orbital trips
Each path's an ellipse
And nothing so simple as round.
*
TO KEPLER
by Adrian Sima
He wrote with numbers
over the white paths
traversed in the snow times
of the planets
He saw them
rotating around him
and whispering stories
about the dark caves of the light
Around the Sun
he built his temple
from old boulders of travelling iron
He frequently looked at the others
who remained behind him
He hoped to find his love
with a white and living heart,
simplifying his rotation.
*
KEPLERIANA
by Boris Marian (Mehr)
There is no calculation
for the birth of genial people.
Thus, Kepler calculated
and watched the skies,
"Those are not circles,
those are ellipses, my dears,
the areas are equal,
so if you refuse to see,
then come and calculate with me!"
See, Johannes Kepler,
"vestigia semper"!
*
PLANETARY ROULETTE
(to Kepler)
by Victor Chifelea
The fan of the complex planetary roulette
sized carefully the spheres,
and perceived their itineraries
and their motions,
faster to the centre
and slower to the edges.
He followed their behaviour
(some of them being more timid,
the other ones more temperamental),
and was careful at the central marshal,
the bright space croupier.
Afterwards
the fan became himself a player
and realized the perfect martingale
of the planetary roulette.
From then on,
that astral casino has been closed.
*
KEPLER
by Dominic Diamant
A genial theologian…
A fascinating man…
A great inspired…
From the symmetry of the snowflakes
to the laws of planetary motion,
he suffered,
but gave himself to humanity
and marshalled a part of the chaos.
*
KEPLER
by Dan Mitrut
you don't how it is,
when the universe looks at itself
through you,
when it utters laws
which cannot live on orbits
undressed mathematically,
without rhymes
snowflakes come from the sun
with the savour of a boreal aurora
where is the temptation of knowledge?
in colours?
in the tables of Rudolf?
on white papers
duel of comets
and errant rumours
open to the cosmos
the eye falls asleep
swung by prime numbers
and mysteries
*
KEPLER
by Ion(ut) Moraru
Kepler enters his laboratory,
the canopy of heaven
(where the only fixed thing
is the conception of the clergy)
and translates
the laws of planetary motion.
*
KEPLER MISSION
by Marge Simon (U.S.A.,
laureate of the Rhysling Award
and Editor of Star* Line - the Journal of the Science Fiction Poetry Association,)
-Kepler Mission I-
Our unmanned voyager
seeks the event horizon
amidst a million stars.
Is anyone out there
to note our primitive probe?
Could anyone be smiling?
-Kepler Mission II-
He's a little guy,
too slight for service,
but he's got a gift
the captain can't refuse.
He got his stripes
on a bench before
an infinite keyboard
on an unknown mission,
dogging off the biggest
sunspot of all time.
He's master of
the whole number,
an oval prism
in a fractal universe.
Name it, he plays it:
jazz or ragtime, blues
dark, bright, luminous,
the delicate, the bold,
the songs of unborn galaxies
or the music from a single star.
-Kepler X
(The Answer: Another Place In Time)-
Here summer seems forever,
churning fragments of dreams
in everlasting storm.
John brought me a life-form
for company. I nursed it from
the silky floss to amber scales.
I called it baby names.
Yesterday it spoke to me,
it called me "Mother." Come
spring, I shall return it to
the wild after John leaves. We
won't be needing him.
My new scales are growing
faster than my hair.
I turn toward the storms,
I choose the dreams.
*
ASTROARTWORK
by Calin Niculae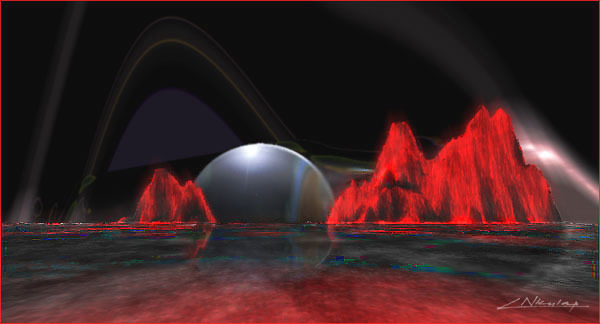 -CAROL FROM THE HOURGLASS NEBULA-

*
LYRICS AND PHOTOS OF AN ASTROFOLK DRAMA-SONG
by Dan Mitrut
(composed and launched a few years ago,
re-made in 2009 and re-dedicated to his grandfather
and Andrei Dorian Gheorghe's parents)
An angel says:
"I'm flying from a star to another
towards You,
Dear Sky,
So Deep Sky!"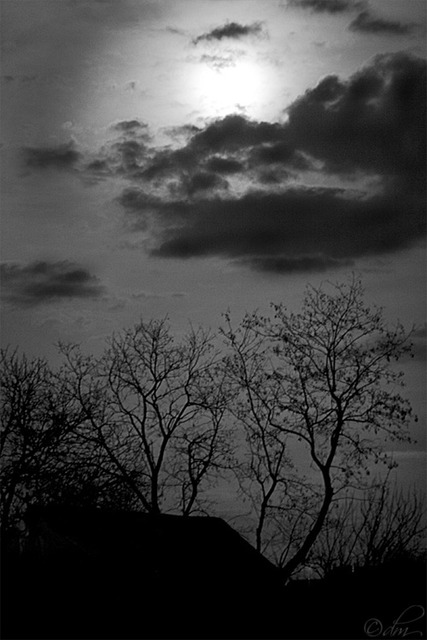 A child sees and sings:
"I'm flying from a star to another
towards You,
Dear Sky,
So Playful Sky!"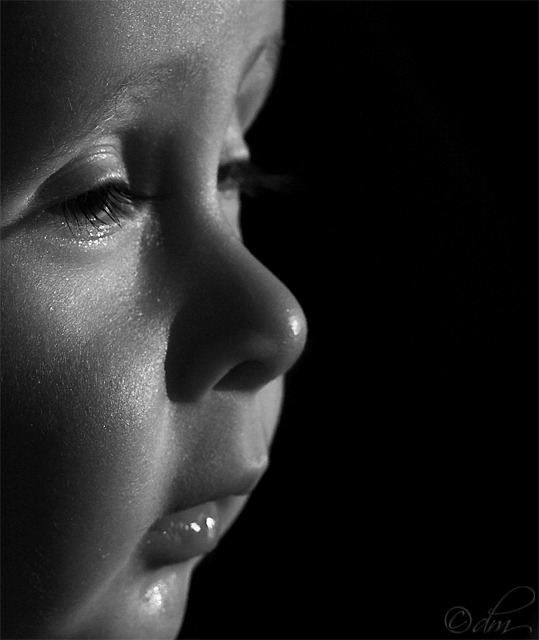 A young girl rises her eyes and shouts:
"I'm flying from a star to another
towards You,
Dear Sky,
So Dreamy Sky!"
An old man meditates and whispers:
"I'm flying from a star to another
towards You,
Dear Sky,
So Temporal Sky!"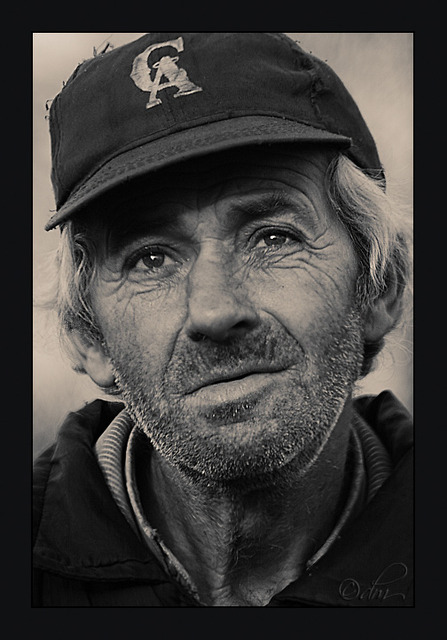 A man who passes the threshold of death catches the echo:
"I'm flying from a star to another
towards You,
Dear Sky,
So Living Sky!"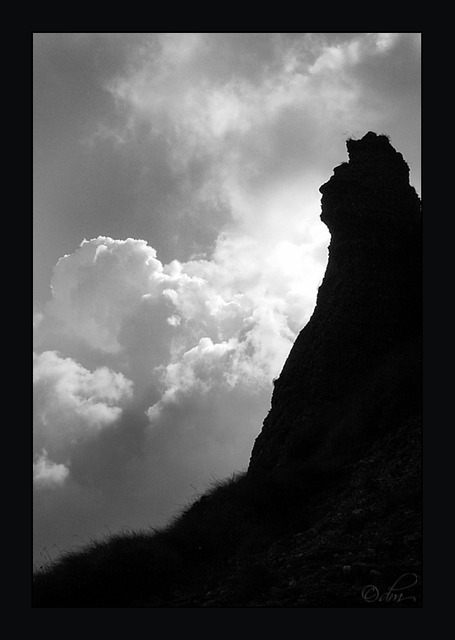 Over all, the clear sky keeps silent…
"The flight is
love from light-years,
Dear Sky,
So Human Sky!"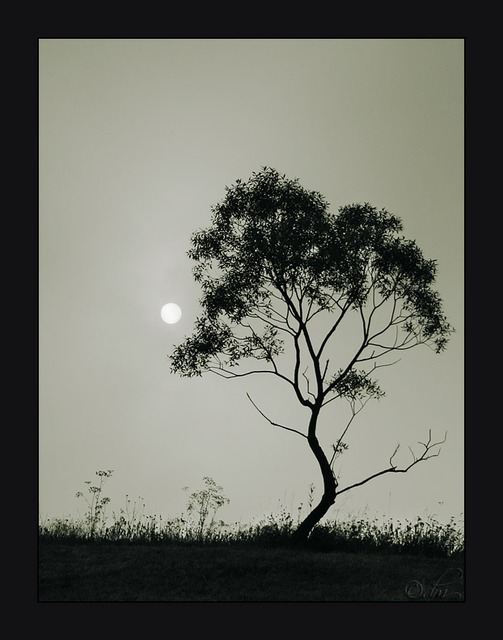 -PROJECT COORDINATOR'S FINAL WORD-

*
"TANTI SILA" AND LA SILLA OBSERVATORY
by Andrei Dorian Gheorghe
(with photographs by Valentin Grigore, President of SARM)
In 2000, April 17th
I directed and performed (with Valentin Grigore)
a successful astropoetry show
at NASA's Leonid Workshop in Tel Aviv (Israel).
But in the same day in Romania
my grandmother died.
In 2003, after I coordinated
the most impressive participation of a national group
(SARM, Romania)
in the largest global project of poetry,
Dialogue (Among Civilizations) Through Poetry (Readings),
my mother found she was extremely sick.
2007 was the most productive year of mine
in works published on the Internet.
But it also was the year
in which my father died.
2009 was my best year in international recognitions
thanks to the projects that I coordinated
for the International Year of Astronomy.
But just in this extraordinary year
my mother died.
It seems that many times
the great successes ask for terrible prices.
But every time there must be
a way to continue.
My mother's sister,
Vasilica Tudor (nicknamed "Tanti Sila")
was the person who helped me to find that way,
and I shall be grateful to her all my life.
Certainly,
everybody would normally say that
between La Silla Observatory in the Chilean Andes
and my aunt, Tanti Sila, in Romania
there is only a nominal similitude.
But I think that,
if the astronomers and telescopes of La Silla
help the Universe to unveil its mysteries,
then Tanti Sila is a human observatory
who, in the most difficult time of my life,
stimulated my interior universe
to save the last part of this project,
Astropoetry to the International Year of Astronomy 2009.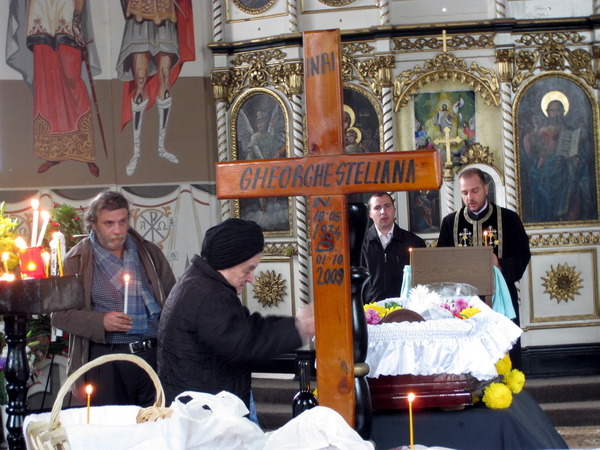 Andrei Dorian Gheorghe and Tanti Sila
at Steliana Gheorghe's funeral in 2009, October 4th.
(Among other participants,
some of the heroes of SARM's astropoetry movement:
Valentin Grigore, Zigmund Tauberg, Dominic Diamant, Calin Niculae,
Victor Chifelea, Ionut Moraru, Iulian Olaru…)

*

"Our son is coming home. Hooray!"
-Costica Gheorghe-

"I don't want to leave you, my dear boy,
because I know that your life will be much harder without me…"
-Steliana Gheorghe-

Finishing this project,
I thank again my parents
Steliana and Costica Gheorghe
(magnificent secretaries to my visions
on astropoetry, cosmopoetry and astrohumanism)
for their education, devotion and spiritual legacy
that taught me that astronomy
is not only a science,
not even the "queen of sciences,"
but the queen of human spirit,
the noblest way to become better
as a human being,
and the highest lesson to get closer
to the Universal Creation and its Creator,
regardless of the vicissitudes of life.
And Father Costica, Mother Steliana,
we directed together so many world premieres
in astropoetry and cosmopoetic fusions!
And this time,
step by step and flight by flight,
we and our friends did even more,
Astropoetry to the International Year of Astronomy,
the largest-ever astronomical poetry tribute
and the greatest representation of the cosmopoetry concept!
I am also grateful
to the sky lovers from all over the world
for their solidarity around this unique year,
to the editor of astropoetica.com, Emily Gaskin
(whose web magazine shares with cosmopoetry.ro
the sublime spirit of astronomical poetry),
and to the fascinating Universe,
in which,
wherever we are,
we must follow the light.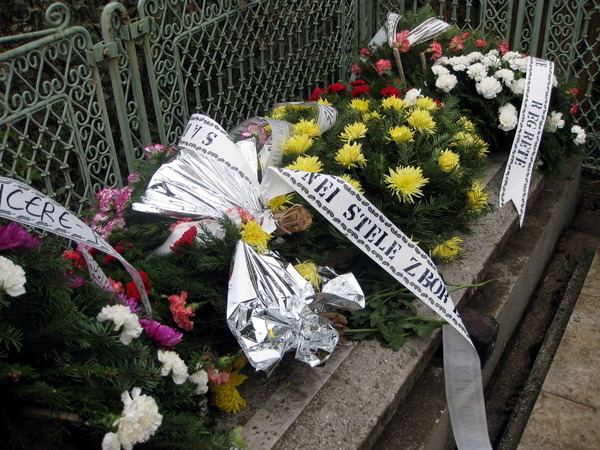 "STELE" = stars, a word visible on the SARM wreath
over the tombstone of Steliana and Costica Gheorghe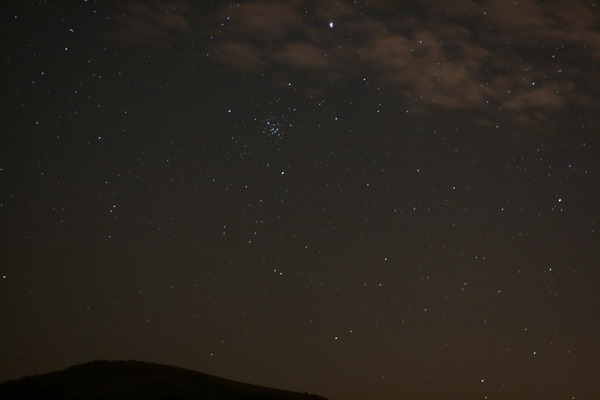 Stars, Mars and Praesepe

*
HOME
NEXT