THE RETURN OF "EINSTEIN OF BESSARABIA"
Text, introductory and final photos Andrei Dorian Gheorghe
Event photos Valentin Grigore
Design Florin Alexandru Stancu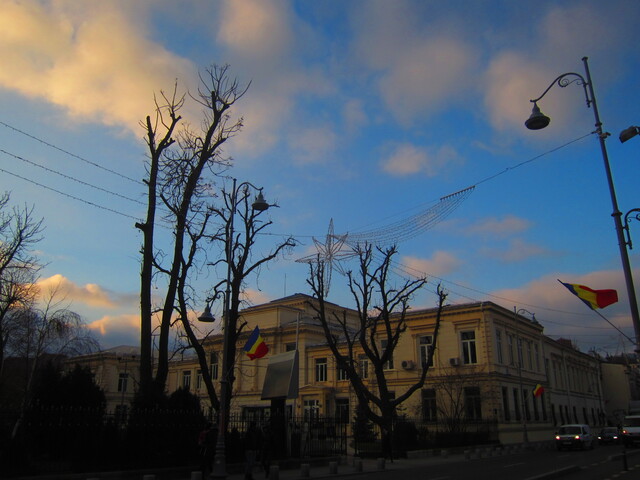 In 2016 November 30
I caught the dusk over the old building of the Romanian Academy,
an institution created in 1866.
In fact, it was the first academy of United Romania,
which overtook the traditions of
the Vasilian Academy (17th century),
the Princely Academy of Iasi (18th cemtury)
and the Mihailian Academy (19th century) in Moldova,
the Princely Academy of Bucharest (17th century) in Wallachia,
the "academic" institutions of Blaj (18th century)
and the Andreian Academy (19th century) in Transylvania.
Then, during the decades of normality,
the Romanian Academy had many brilliant members,
but, unfortunately, during the communist regime
it was prisoner of many political impostors.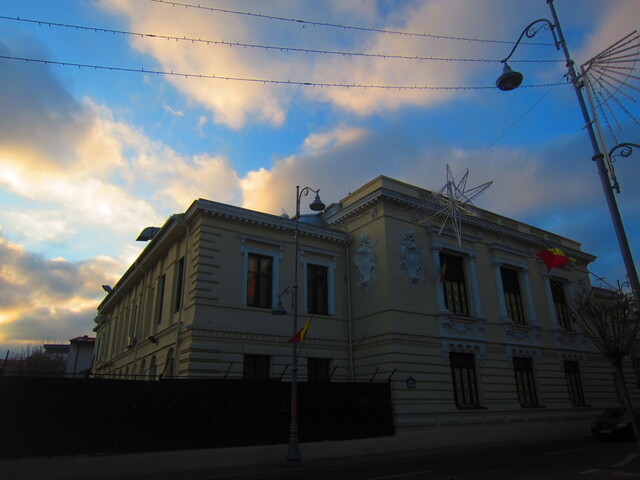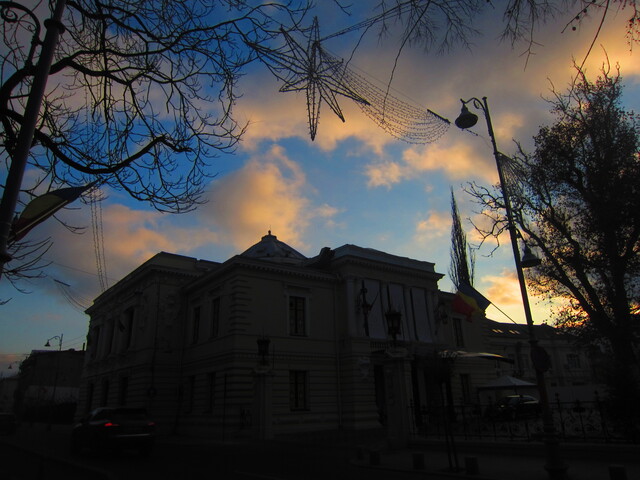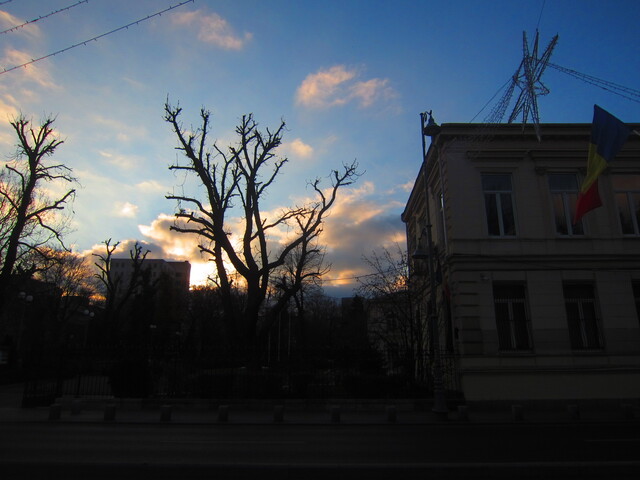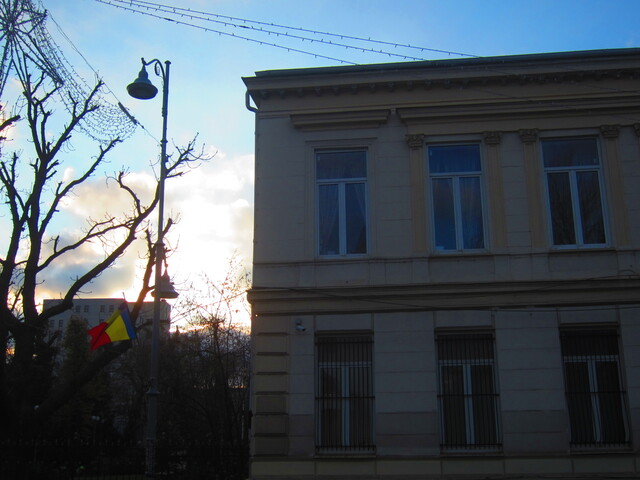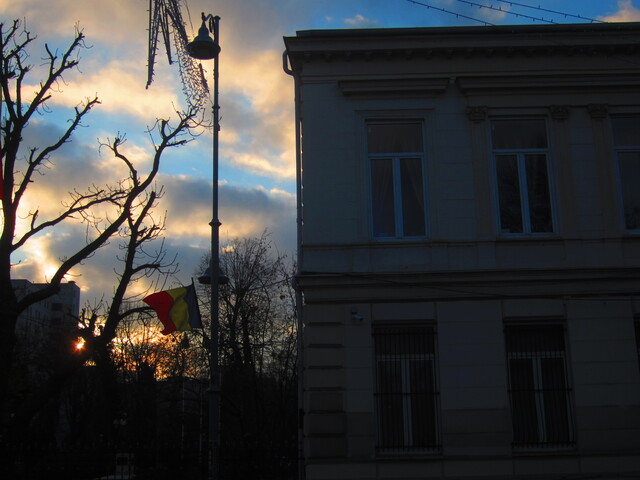 After 1990
it began to live a new youth,
so that in 2014 September 8
this institution in cooperation with
the Academy of Sciences of the Republic of Moldova,
the Astronomical Institute of Romanian Academy and other partners.
organized a symposium dedicated to the jubilee of
the great Romanian astronomer
Nicolae Donici (1864-1960),
whose name is carried by an asteroid
and whose memory is disputed by a few countries.
He was born near Chisinau (now in the Republic of Moldova),
studied in Odessa (now in Ukraine),
moved to Sankt Petersburg (Russia) - where he became a famous astronomer -,
made a private observatory near Chisinau (1908)
among his Moldavian Romanians,
moved to Romania during the interwar times,
and finally emigrated to France
(to avoid the contact with the expansionist Soviet communists who,
only for the reason that he was a Romanian patriot,
destroyed his observatory in Dubasarii Vechi).
Donici was an expert in solar astronomy,
studied 8 total solar eclipses around the world
and had many other merits in the solar system's astronomy,
Since his last years remained unknown for a long time,
this celebration could be complete only after
the admirable recent investigation of Dr. Magda Stavinschi
(former director of the Astronomical Institute of Romanian Academy,
and former president of two commissions of the International Astronomical Union),
who found Donici's tomb in France.
The president of SARM, Valentin Grigore,
took more pictures from this commemoration
very important for Romanian culture.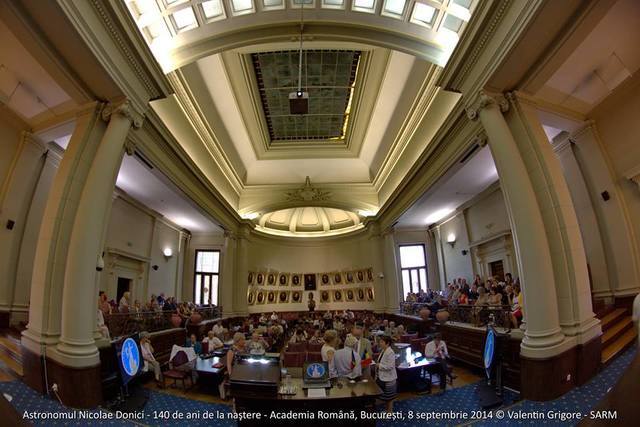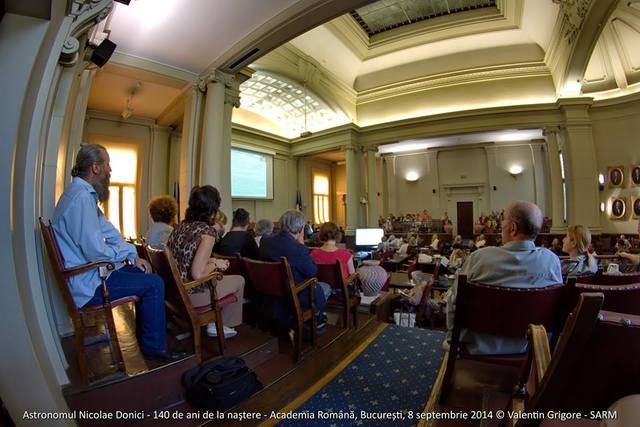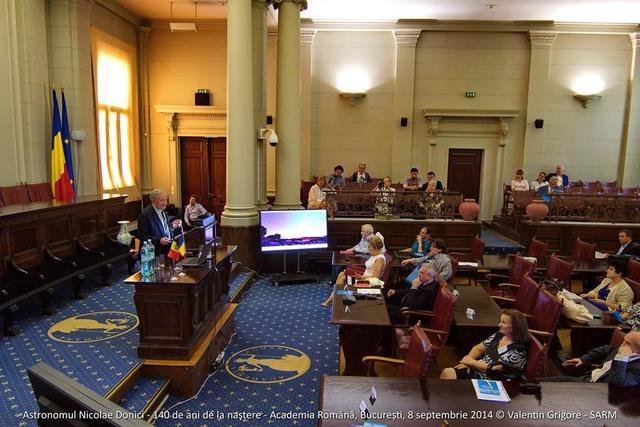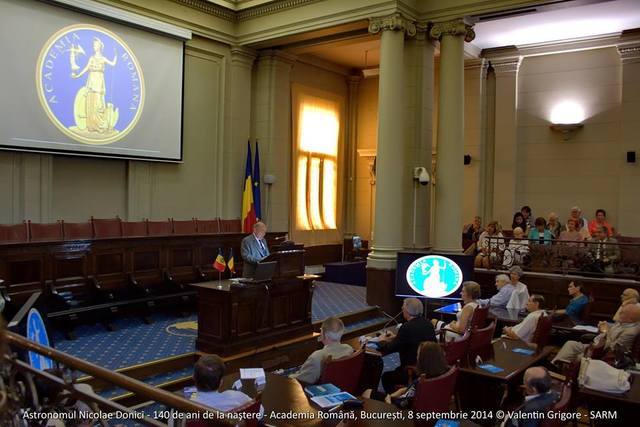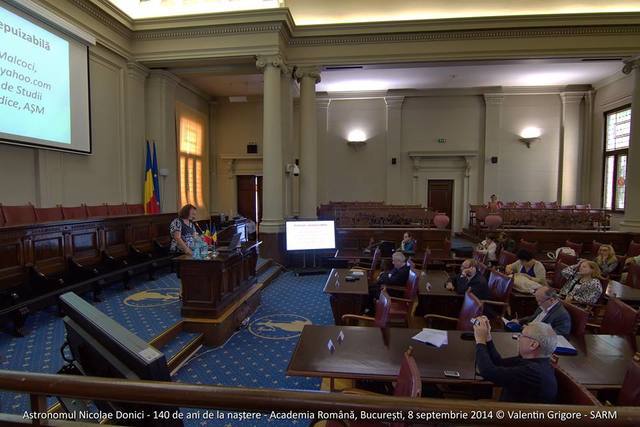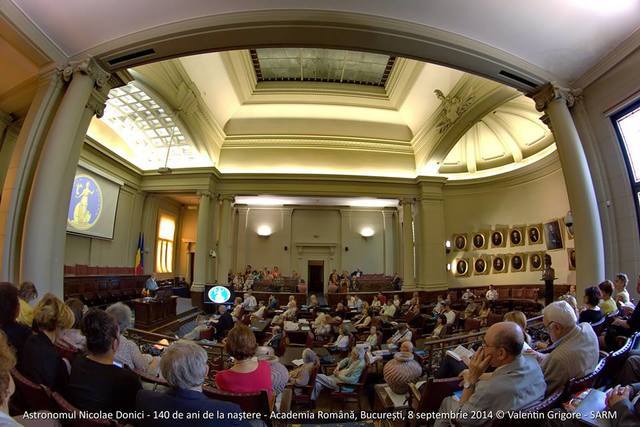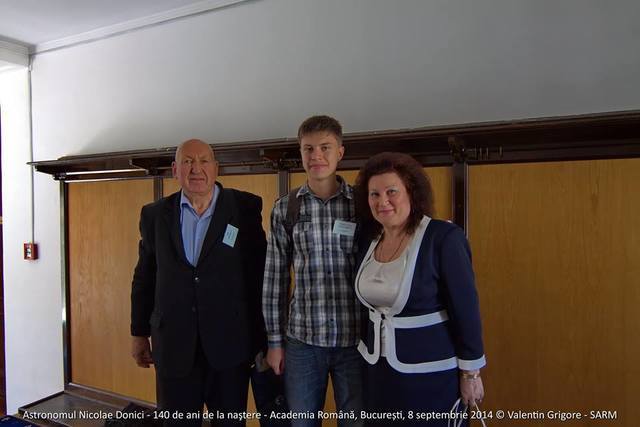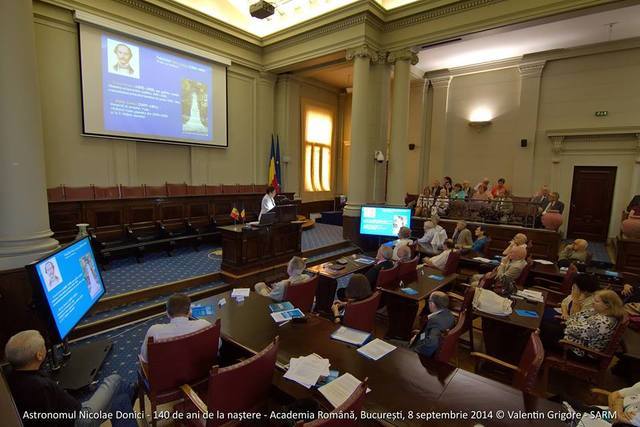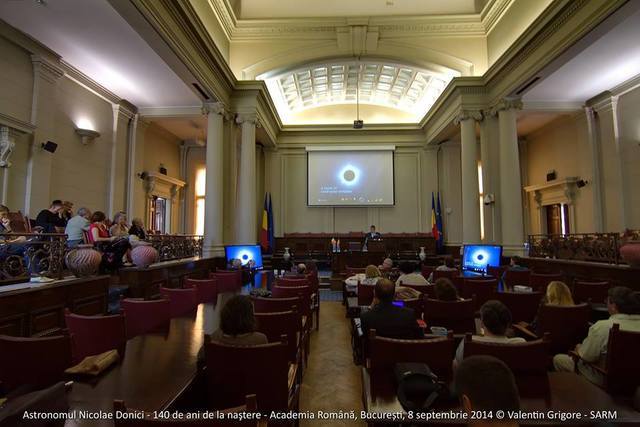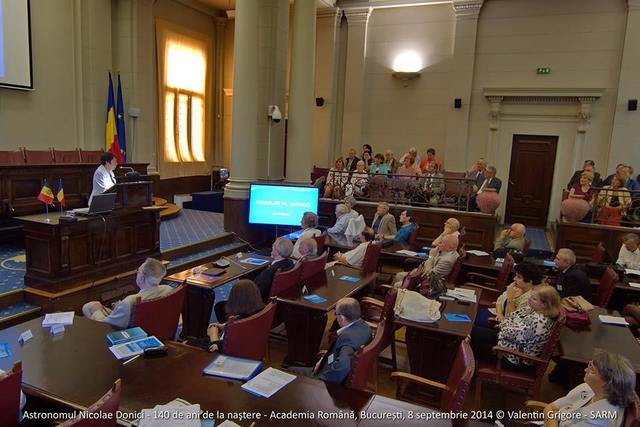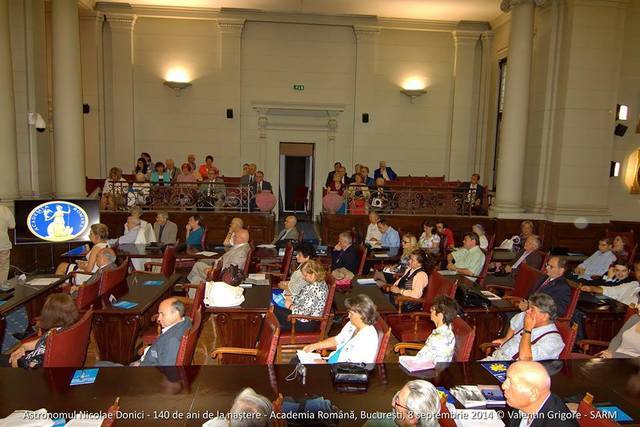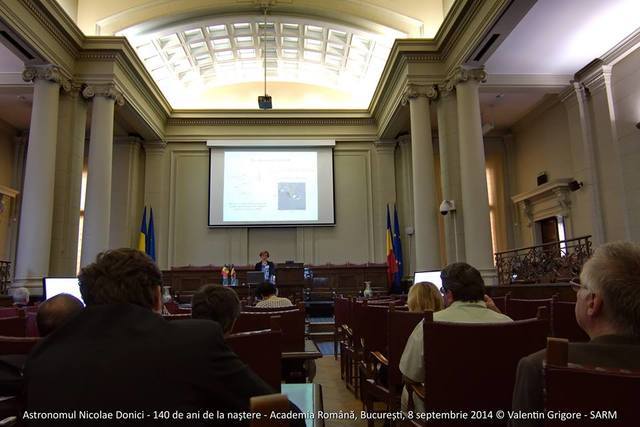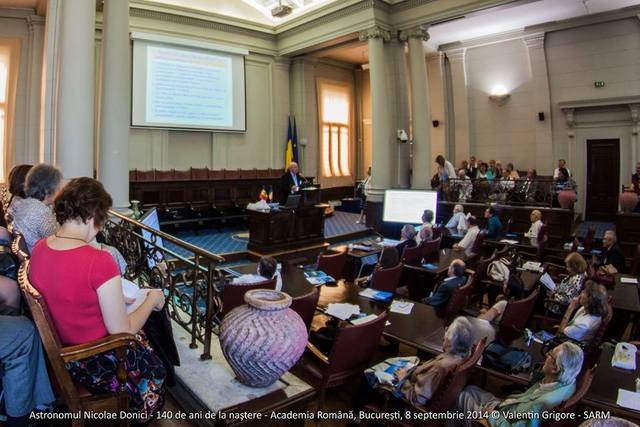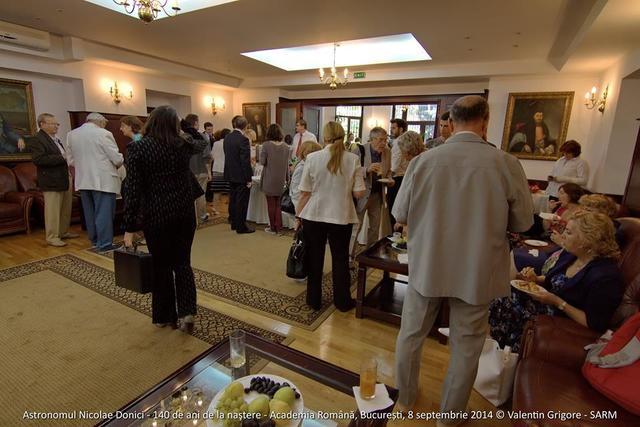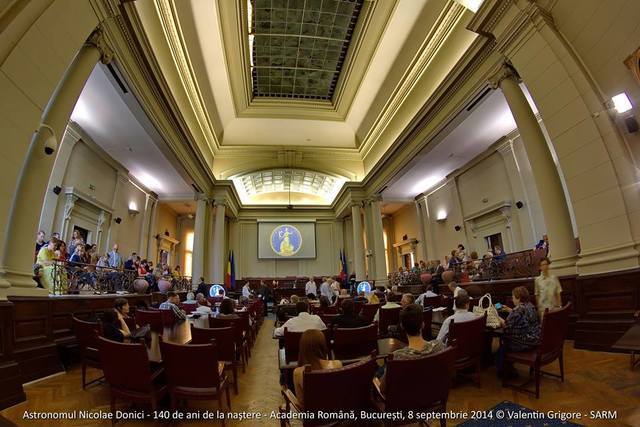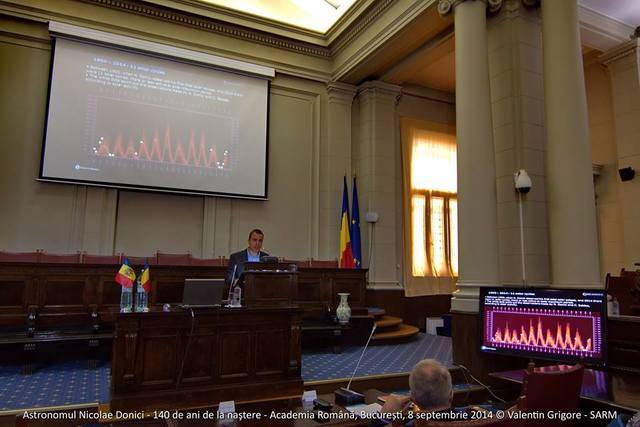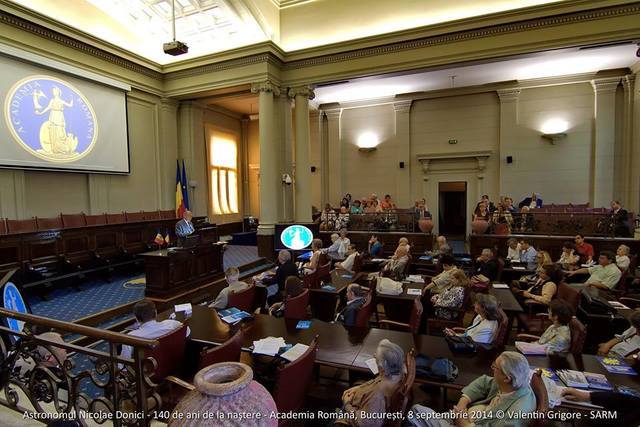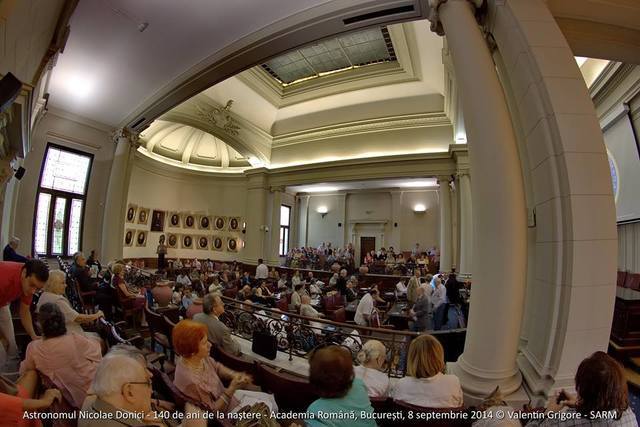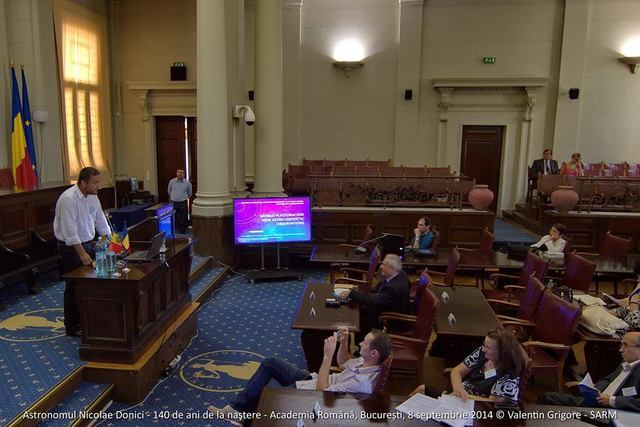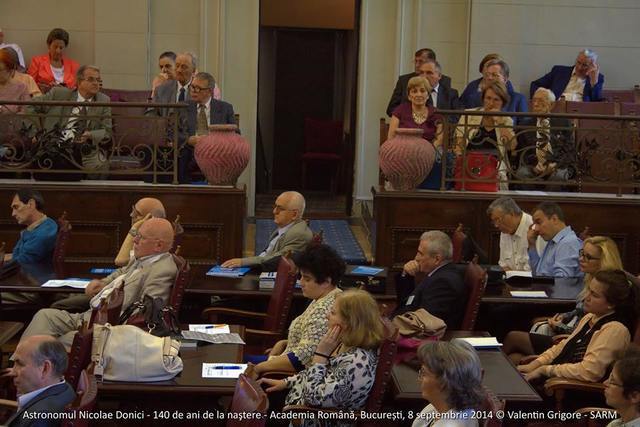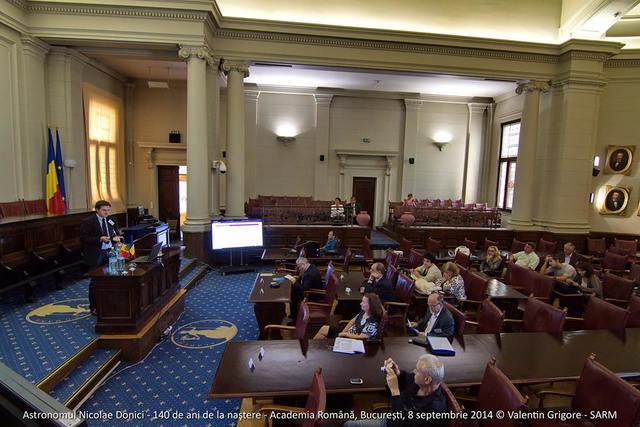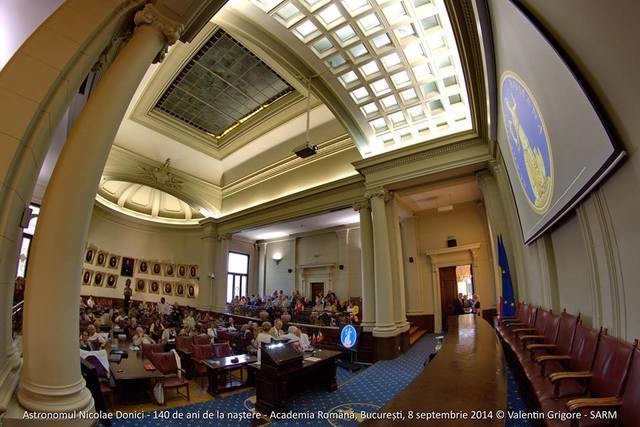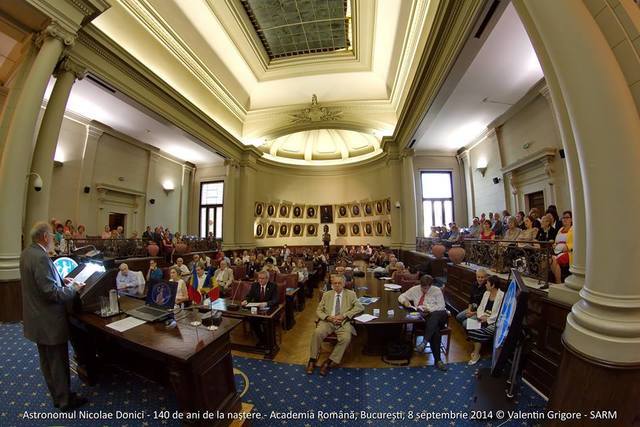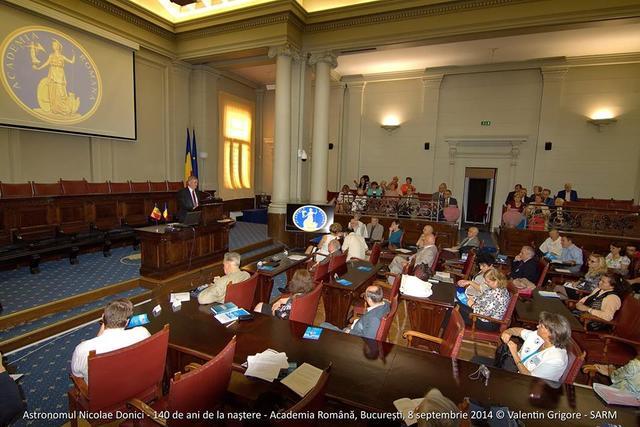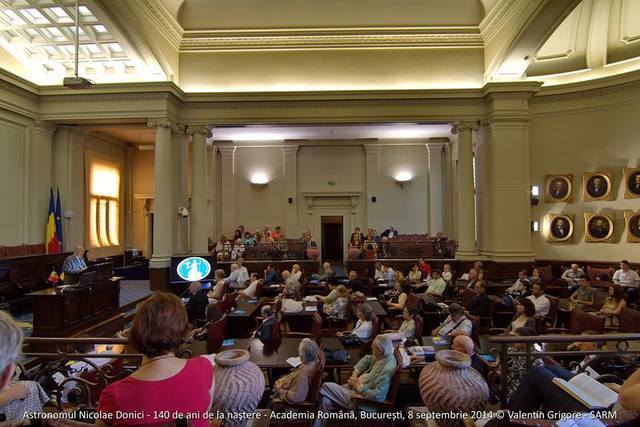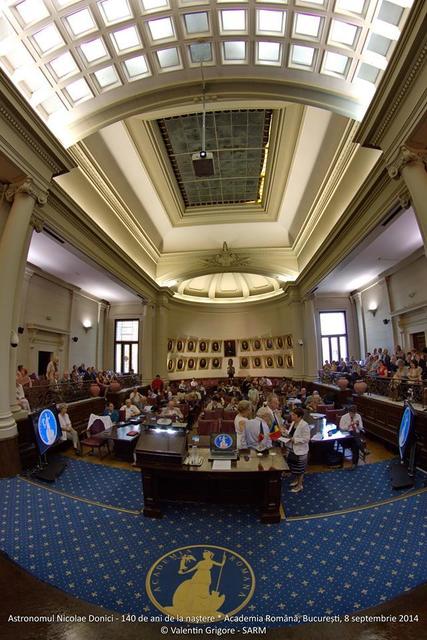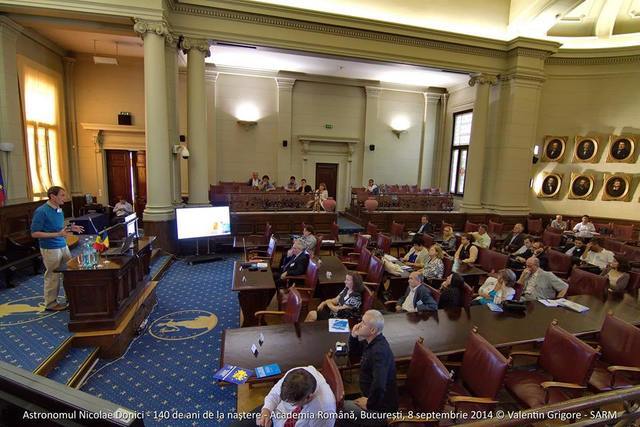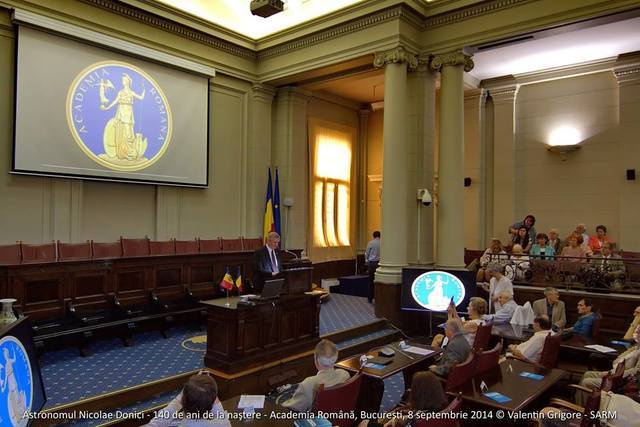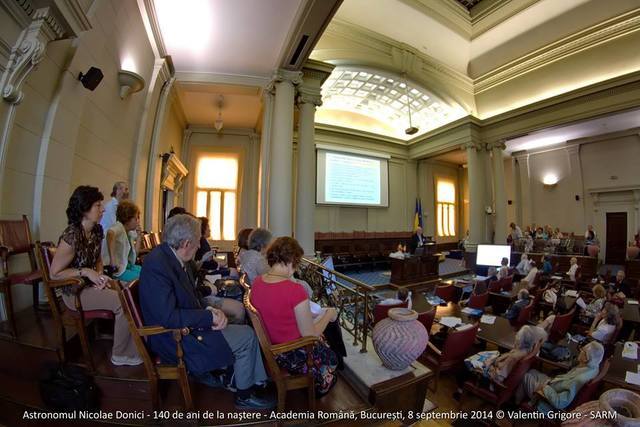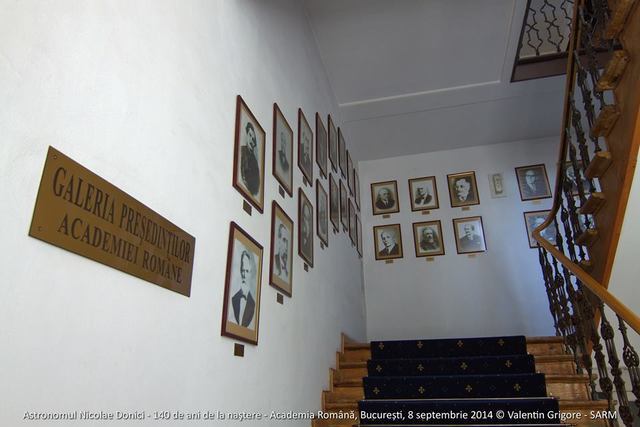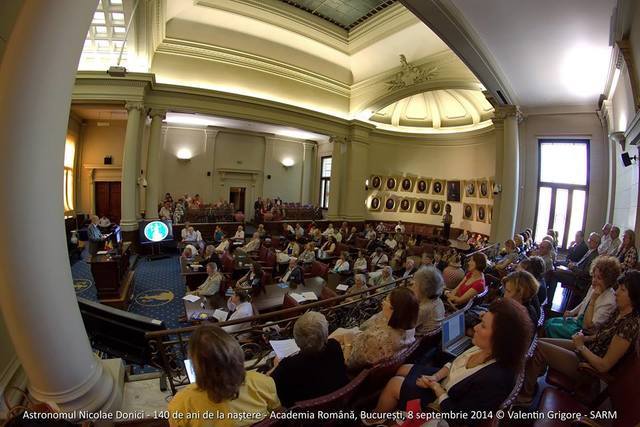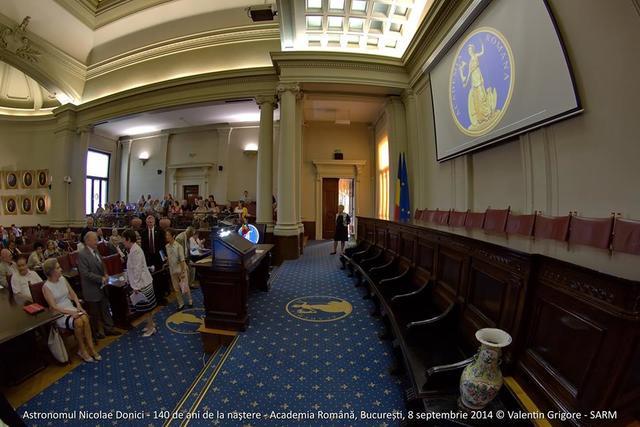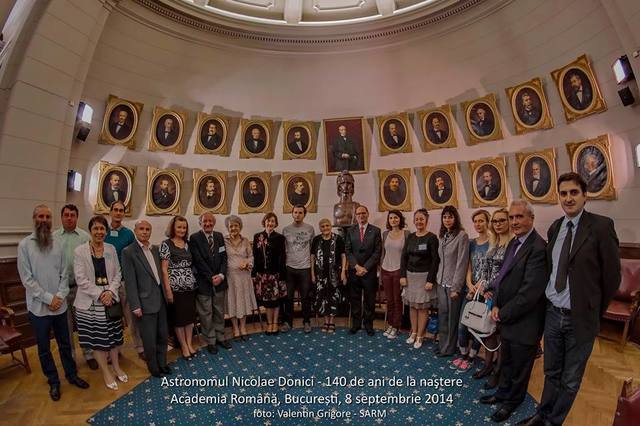 It is to note that in the same year
Dr. Magda Stavinschi wrote and published a book
dedicated to Nicolae Donici,
which was launched during an international book festival in Bucharest.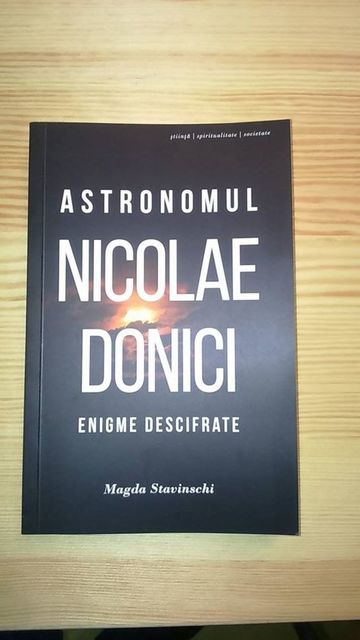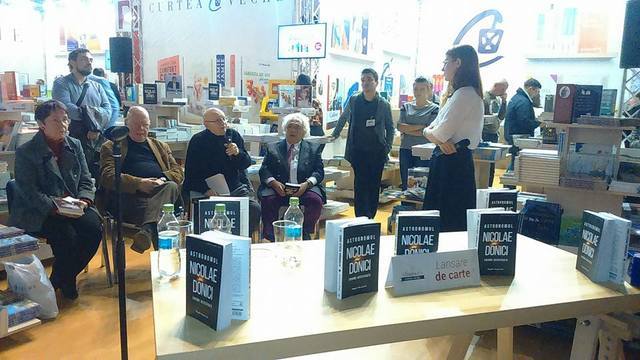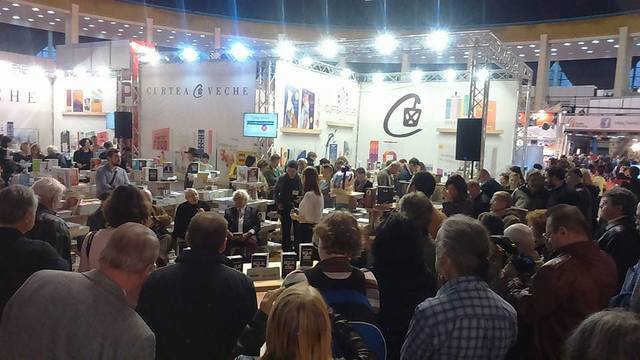 And about me…
just because Nicolae Donici was Moldavian-Romanian
and the coat of arms of historical Moldova
(part of the coat of arms of entire Romania today)
includes the brightest heavenly bodies,
I decided to end this story with them near the Romanian Academy:
the Moon (2017-09-29, from the Victory Way),
the planet Venus (2018-01-20, over the park of the Academy)
and the Sun setting (2016-11-30).
And I wrote:
Hi Nicolae Donici,

You saw 8 total solar eclipses,
I saw only 4,
But it is quite true
That even if I see 100
I could not be like you.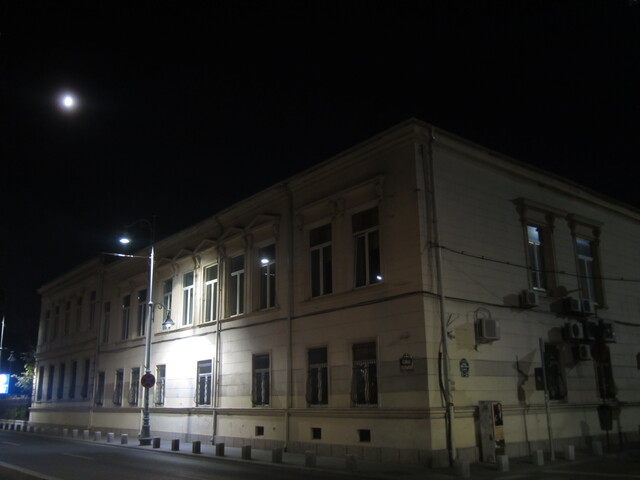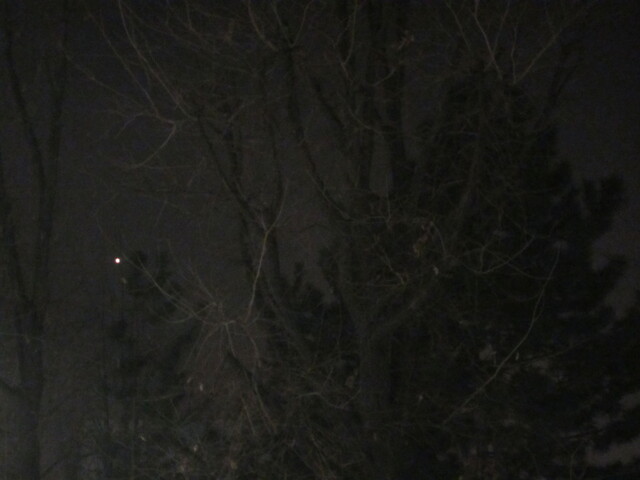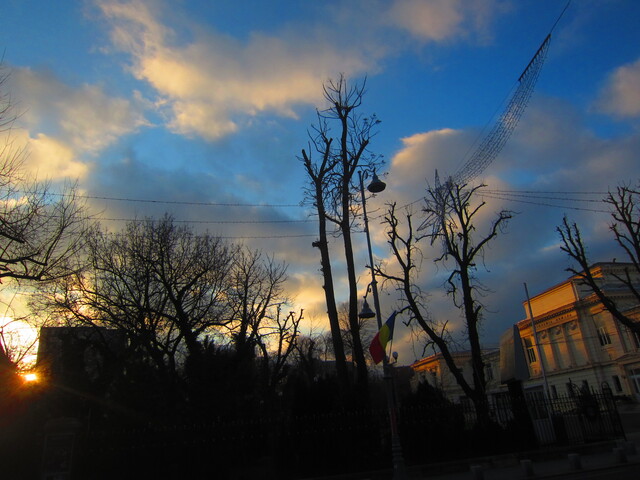 *
© 2019 SARM
(Romanian Society for Meteors and Astronomy)