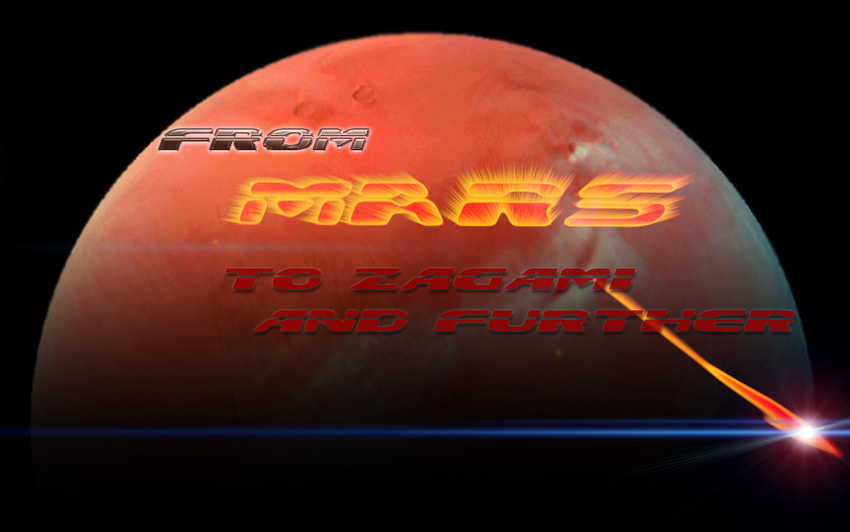 The shergottites as a class were linked with Mars
because of their formation and cosmic-ray exposure ages,
coupled with their mineralogies and the Mars-like gases
trapped in tiny pockets of the rocks"
Alastair McBeath,
UK, Vice-President of the International Meteor Organization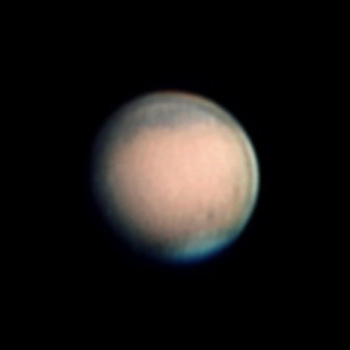 Mars (left behind by a furious stone going to Earth)
Photo: Maximilian Teodorescu
between Mars and Earth
a way of mysteries as
between red and blue
Andrei Dorian Gheorghe
Over the Earth
Photo: Valentin Grigore
*
In old and better times,
one of my grandfathers came from Berlin with a microscope,
which I always use with great pleasure.

A few years ago, I borrowed from a dear friend - Valentin Grigore - a slide
prepared and sent him by two English fellows and sky lovers,
Peter and Alastair McBeath.
In this slide there are a few "rocks" from Mars.
As today is a fine day, I think it would be nice to share their gift with you.

In 1962, October 3rd, a boulder of 18 kg fell in Nigeria,
and was named "Zagami Shergottite" from nearby Zagami Rock.
This meteorite is a Eucrite-Achondrite, rich in Calcium.
The "Shergottites" are friendly meteorites, initially Martian melted rocks,
solidified 1.3 million years ago.

After more calculations of its trajectory and chemical composition,
it was established this meteorite was "expelled" from Mars
as the result of an impact 180,000 years ago.
It contains minerals created by interaction with water,
and gas bubbles similar to the atmosphere of the Red Planet.

I magnified these granules about 250-300x.
As they are often sharp splinters, they have a respectable height under the lens.
This is why only a small part of the images are clearly focused.
The differences in color appear because I took photographs from more angles,
the light being natural (from the Sun)...
Calin Niculae, 2002 April 27

Photo-collage: Calin Niculae
P.S.:
...and someday, when I have a piece of leaf from another world,
I would also send you a few images...
along with other good wishes.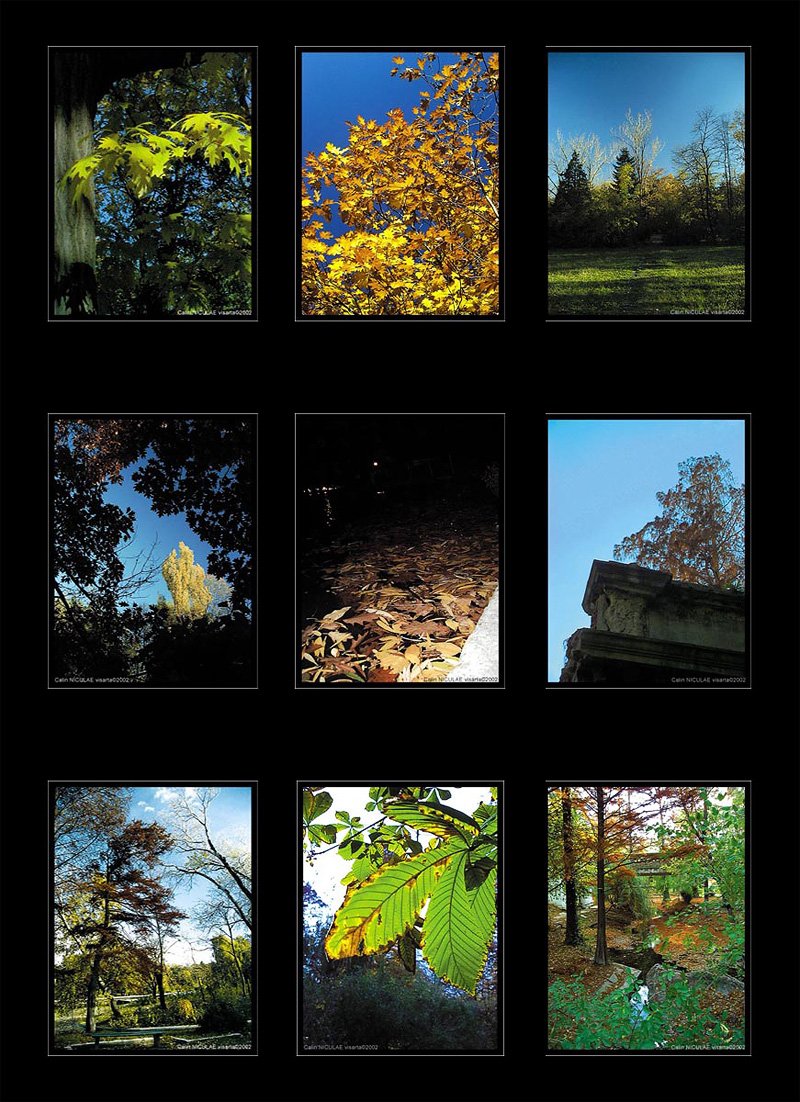 Photo-collage: Calin Niculae
*
Andrei Dorian Gheorghe's Note:
Today we can say that these Shergottite fragments
circulated from Mars to Zagami,
then to Morpeth (Northumberland, U.K.)
and thanks to Peter and Alastair McBeath to Romania
(to Valentin Grigore and SARM's Perseid Event 1995).
After that, this image circulated to Germany, because
Calin Niculae's Zagami Shergottite photo-collage was presented
by the SARM team during the Astropoetry Show (Astroshow)
at the International Meteor Conference in Bollmannsruh, 2003, September.

Sequences from the Astropoetry Show (including
meteoroid-meteor-meterite connections) of the SARM team at the IMC 2003
Photos: Nagatoshi Nogami (Japan) and Casper ter Kuile (Holland)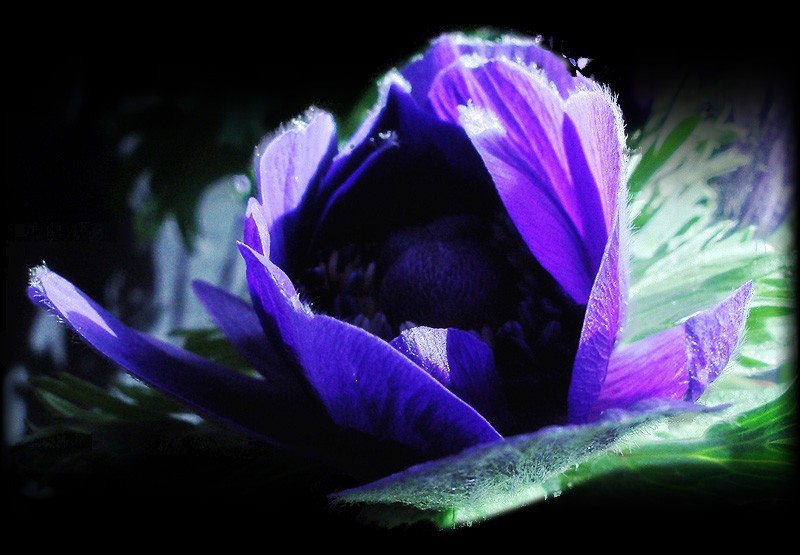 Photo: Calin Niculae
This web site is dedicated to the memory of
Peter McBeath
1923-2004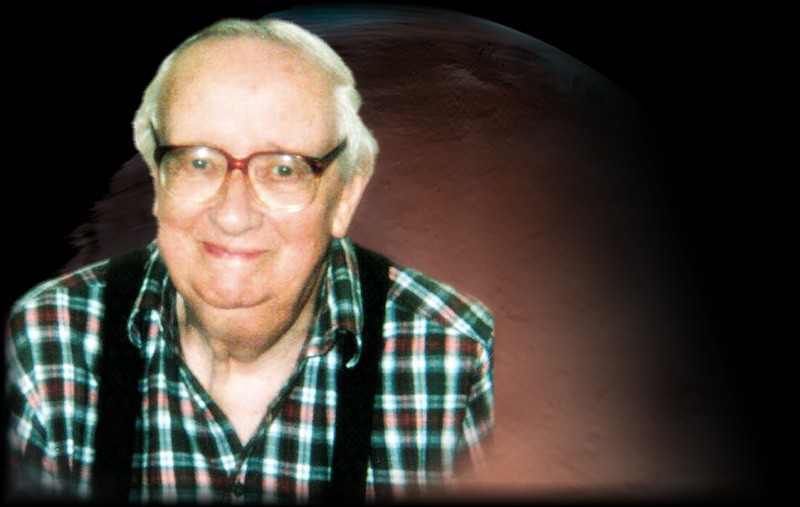 Artwork: Calin Niculae
He loved people, heavenly bodies and plants
and was an unfogettable friend of the
Romanian Society for Meteors and Astronomy - SARM
*
Coordinators: Andrei Dorian Gheorghe and Valentin Grigore
Special guest: Alastair McBeath (Peter McBeath's son)
Design: Florin Stancu
Calin Niculae©visarta2008 & SARM©2008