KNIGHTS OF THE ORDER OF ALUMINIUM
or
THE MONTH OF THE ISS TRANSITS
(or
About An Unofficial World Record In Astrophotography
Made By Romanians)
*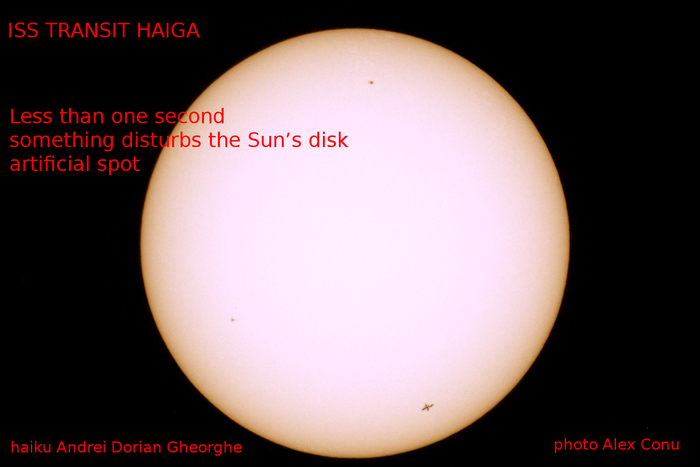 *
ISS TRANSIT, 2011.05.18
-photo by Catalin Paduraru "Sarpe"-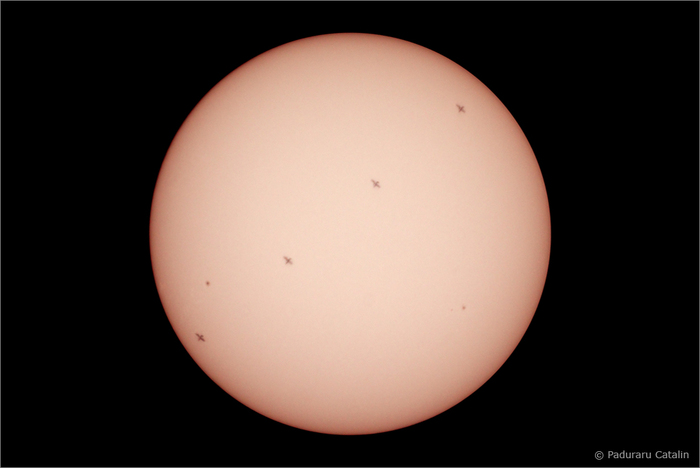 *
INTERNATIONAL SPACE STATION (I)
-by Andrei Dorian Gheorghe-
The ISS is a genial initiative
of NASA, RKA, JAXA, CSA and ESA
through which the human species demonstrates
a perfect concord in the immediate Cosmos.
Practically, all began in 2000
when a "Proton" launched the "Dawn"
("Zarya", the original Russian name).
After that
a lot of other modules and launch systems
have enriched the ISS concept with:
-bases for fundamental researches:
human life in space, physics, astronomy, meteorology…;
-generous names in more languages…
English: Discovery, Endeavour, Destiny, Quest, Harmony…
Russian: "Soyuz" (Union), "Mir" (Peace)…
Japanese: "Kibo" (Hope)…
With an average speed of almost 28,000 km/h,
the ISS rounds the Earth in 91 minutes
and makes 15.7 polar orbits per day,
being a worthy successor of Jules Verne's Phileas Fogg,
who rounded the Earth in 80 days of the 19th century.
The ISS is a genial joint initiative
of NASA, RKA, JAXA, CSA and ESA…
Let's HOPE that soon
people's UNION and ENDEAVOUR
will QUEST for PEACE and HARMONY,
and their DISCOVERY will be a better DESTINY…
and the human species will demonstrate
a perfect concord on Earth.
*
ISS TRANSIT, 2011.05.18
-photo by Alex Conu-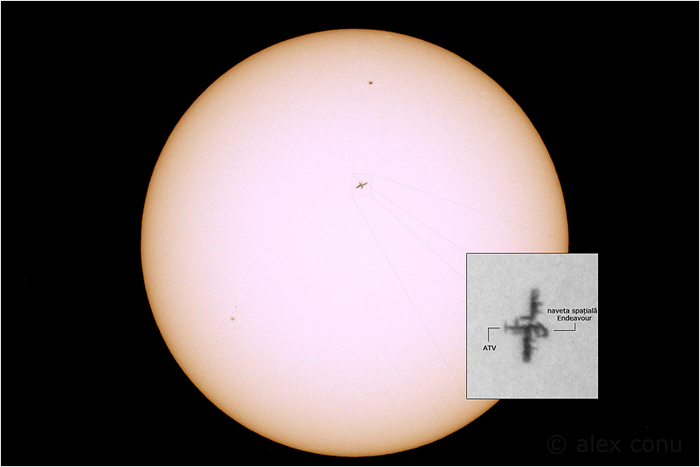 *
INTERNATIONAL SPACE STATION (II)
-by Andrei Dorian Gheorghe-
Bidimensionally talking,
the ISS apparently is the 3rd brightest object in the sky
after the Sun and the Moon,
but before Venus, Jupiter and Sirius.
Paradoxically speaking,
the ISS seems to be faster than all those giants,
but not so fast
and not so bright
like a tiny, ephemeral and… great fireball
(tridimensionally speaking,
one of the smallest objects in the Cosmos).
For many astrophotographers,
a sportive culmination means to be awake
in the very short moment
when the ISS passes over the Sun's disk
and eventually (discretely or enthusiastically) to shout of joy:
"I've got you babe."
*
3 ISS TRANSITS
-photographic poem by Maximilian Teodorescu-
2011.05.18
: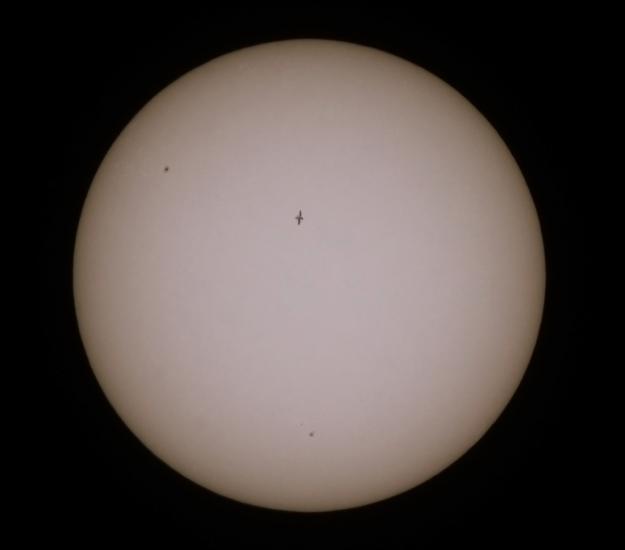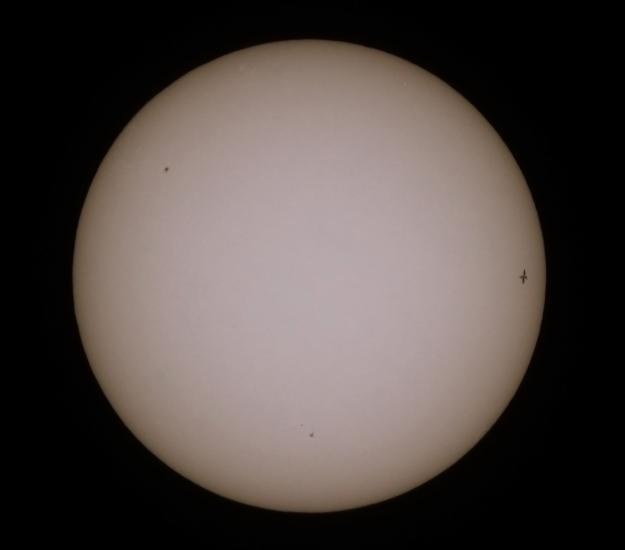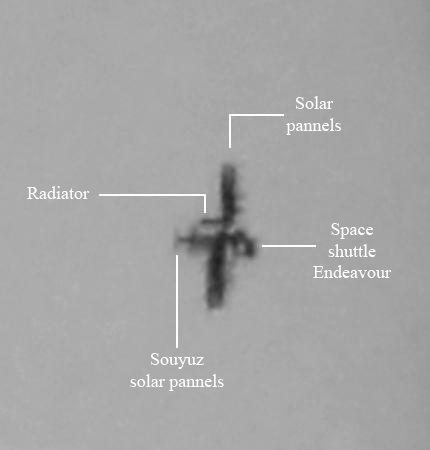 2011.05.20
: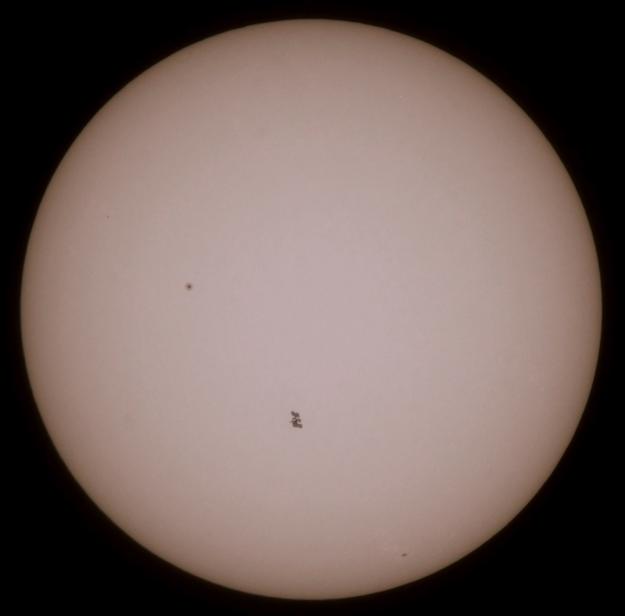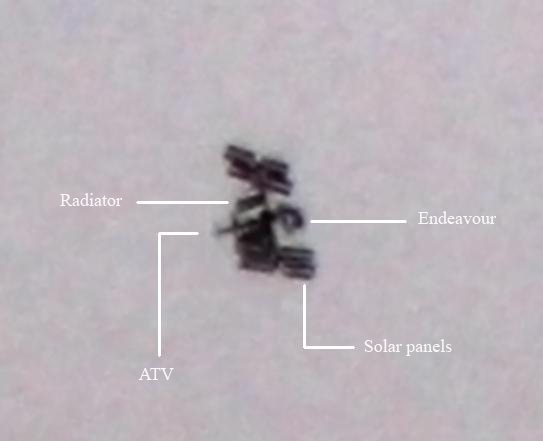 2011.05.22
: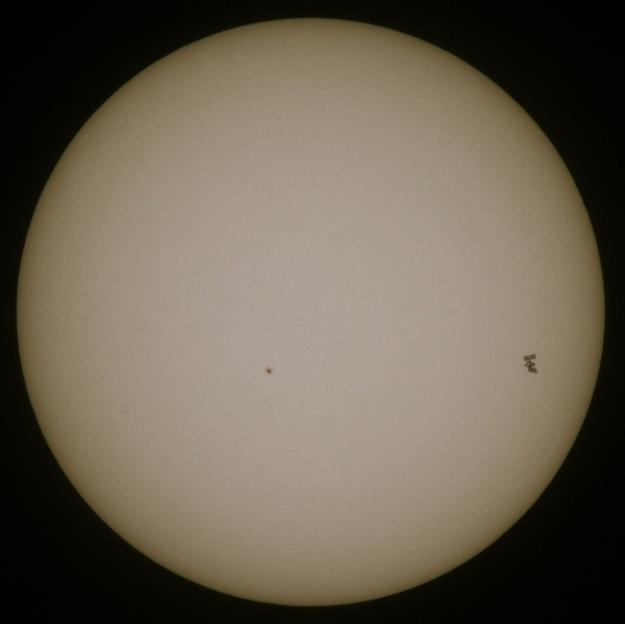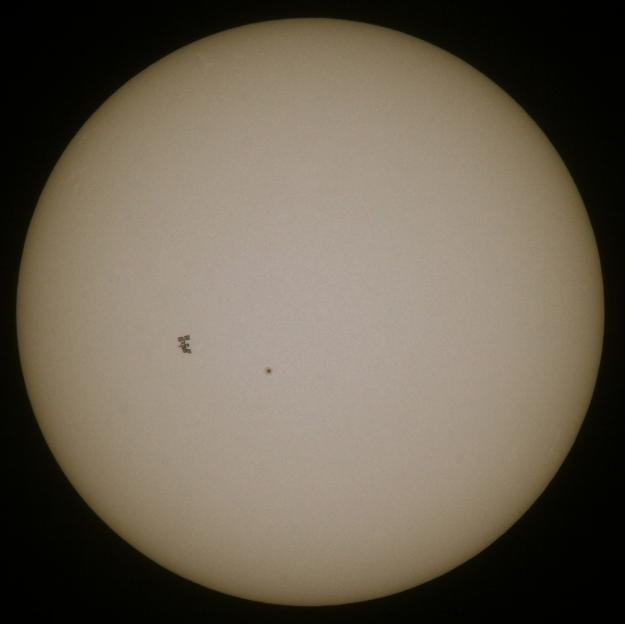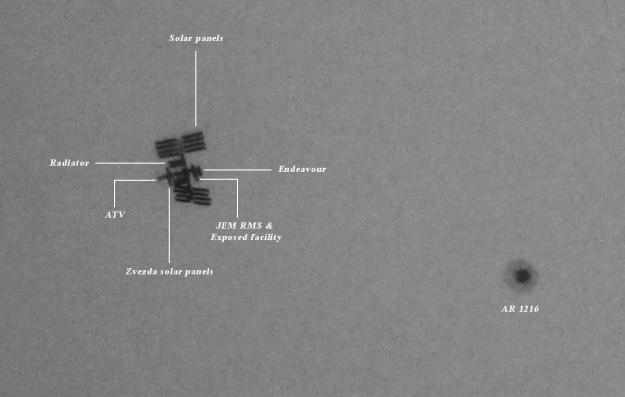 *
KNIGHTS OF THE ORDER OF ALUMINIUM
-astro-photo-poem by Alex Conu-
Today
Four Knights of the Order of Aluminium
were to hunt the International Space Station
somewhere between Alexandria and Furculesti.
The object showed itself in an interesting perspective,
but the turbulence was not friendly
and the definition depended on the luck.
The ISS appeared in two views.
In one of them it does not show proud details.
But in the other it looks acceptable.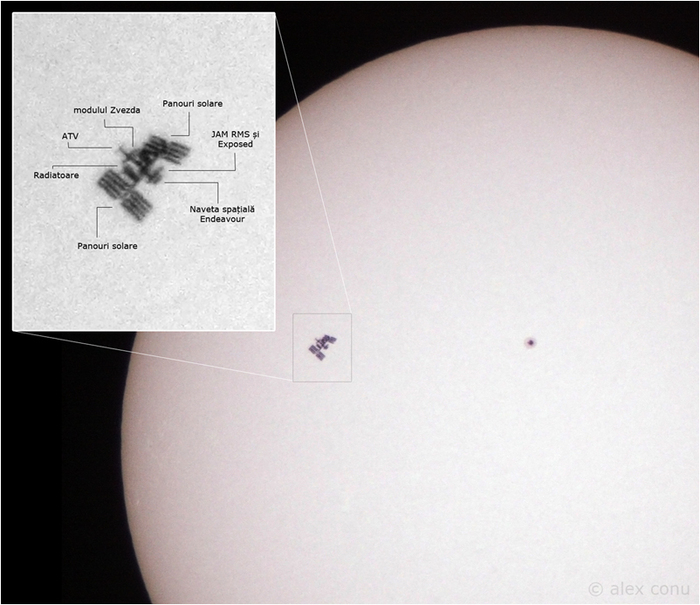 *
A KNIGHT OF THE ORDER OF ALUMINIUM
-photos by Vlad Dumitrescu-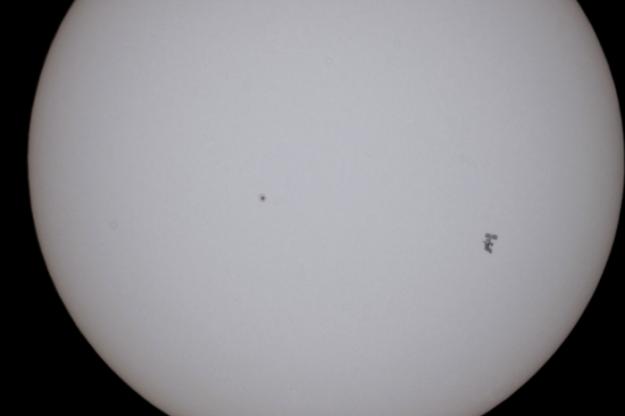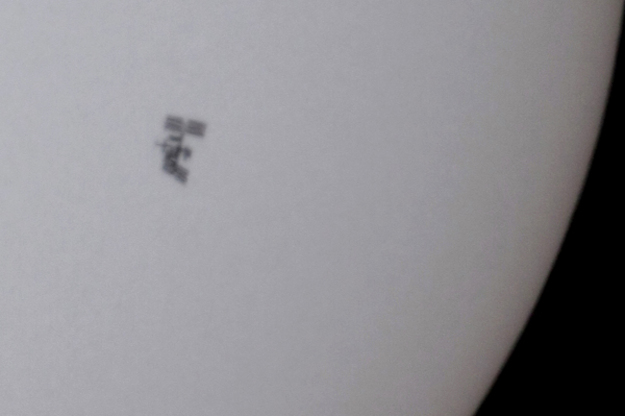 *
TWO KNIGHTS OF THE ORDER OF ALUMINIUM
-photo-collage by Mihai Curtasu and Vlad Dumitrescu-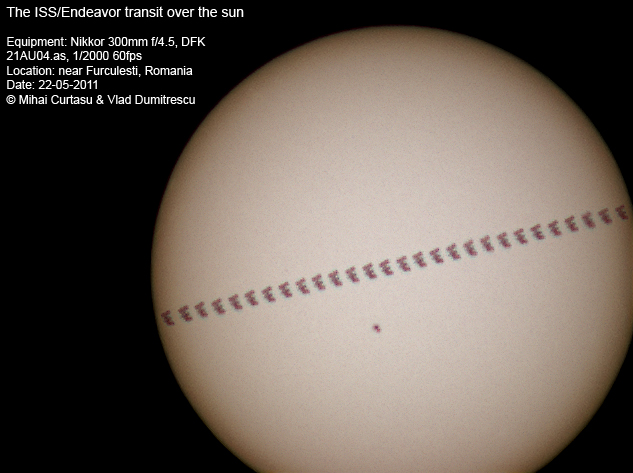 *
FOUR KNIGHTS OF THE ORDER OF ALUMINIUM
-photo by Vlad Dumitrescu-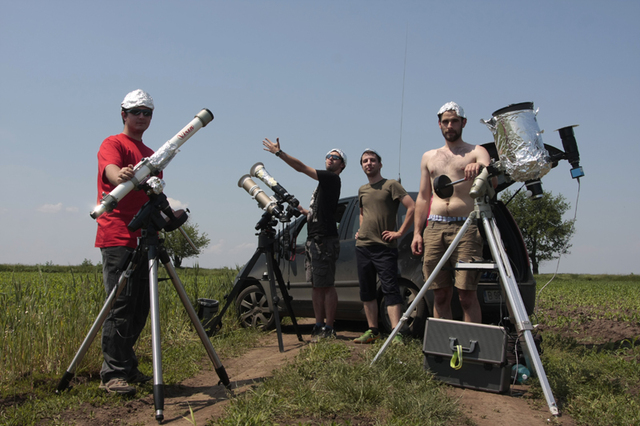 *
TAKING AN ASTROLOOK
-by Radu Gherase-
In this case,
we
(those who sometimes gawk at the sky,
amateurs or professionals,
with cameras or the naked eyes)
wanted just to be sure
that the boys from the ISS
make a good job.
*
ISS TRANSIT, 2011.05.30
-photo by Catalin Fus-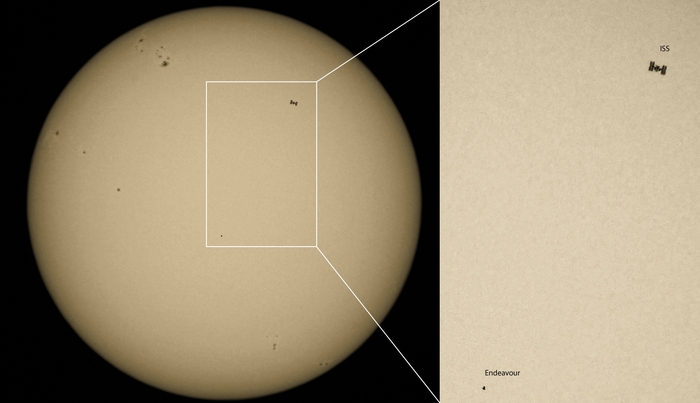 *
Design: Florin Stancu
© SARM
(Romanian Society for Meteors and Astronomy)