MOON AROUND EARTH
RHYMED HAIKU
-by Geoffrey H. Grayer (U.K.)-

Moon, giver of gentle light
Relieving the deep darkness of the night
My spirit rejoices at the sight!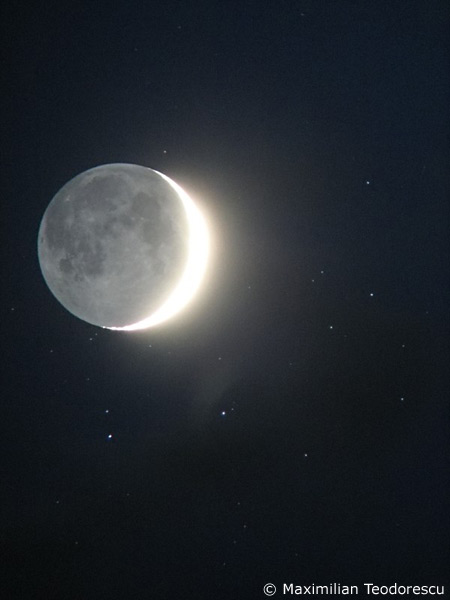 LUNAR HUMOUR
(Admiral "Vasile Urseanu" Municipal Observatory, Bucharest, 1986)
-collected by Danut Ionescu
and poetically retold by Andrei Dorian Gheorghe-

Astronomy Popularizer (to the observatory visitors):
The Moon has four phases…

The Smartest Visitor:
I know this… and certainly much more!

Astronomy Popularizer:
O.K.! What are they?

The Smartest Visitor:
Phase One, Phase Two, Phase Three… and Phase Four!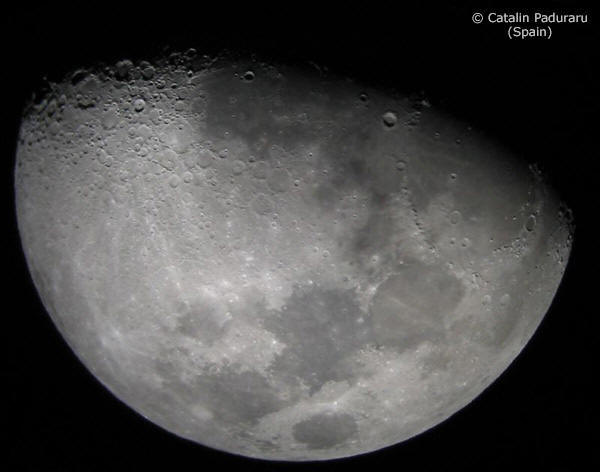 DISSERTATION ABOUT THE MOON
-by Boris Marian-

Only the astronauts can write
about the Moon,
the other people are
wise astronauts of paper.

Believe me, my friends,
the Moon is a heavenly body,
and those who will live there
must register their parcels.

Those who cannot do it
should buy some meteors,
which are not afraid of clouds
or of wise astronauts of paper.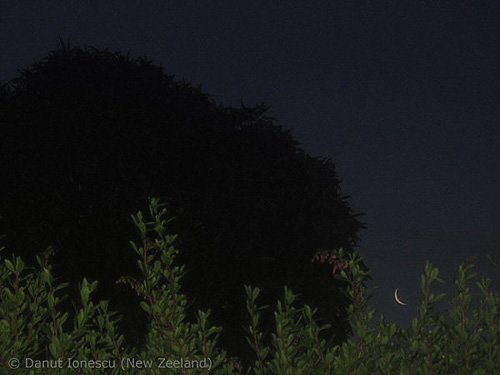 INFINITE WONDER
-by Florian Saioc-

I stay under the Moon,
in a corner of the Universe,
and I know nothing
about the cosmic architecture,
but I know that the Creator
does not accept stock exchange
for the rivers of stars,
and does not perceive V.A.T.
for the light,
He just uses them
in His Space University
as instruments for Creation.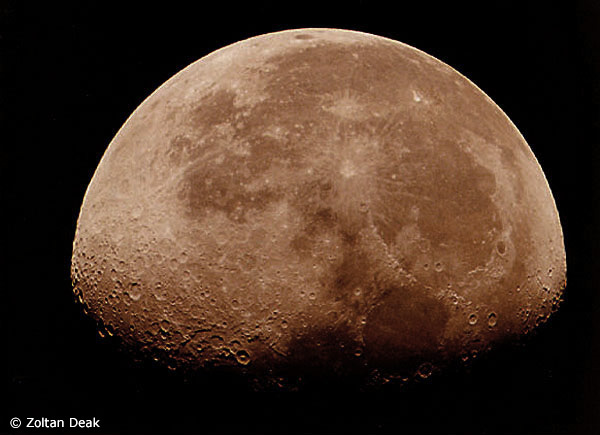 MOON
-by Victor Chifelea-

Once I bathed myself
in the light of the Moon,
and mild arrows
penetrated my body.

I vainly awaited bat wings
to grow on my shoulders.
I vainly tuned up
the wolf's incantation.

My gain was
the golden mantle
of an astral traveller.



A HAIKU WITH A SUPPLEMENTARY AND OPTIONAL LINE
-by Andrei Dorian Gheorghe-

When you lose
your direction,
accost the Moon

…even if she is eclipsed.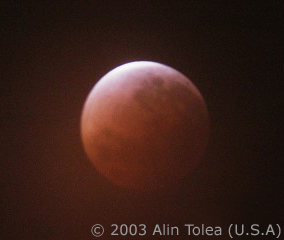 EXOTIC LUNAR HAIKU
-by Alan Summers (U.K.)-

above the mountain
earth's shadow
blocks a moon
(lunar eclipse, Queensland, Australia, May 5, 2004)

the old dunny's roof
no longer holding out the sky -
moonlit cobwebs
(A dunny is an Australian outdoor toilet;
3rd Prize Canadian Writer's Journal poetry competition
Vol 12 No.3 ISSN 0877 293X Fall 1995)

by an old dam
a single ghost gum
glows in moonrise
(a ghost gum is an Australian eucalyptus tree)

moon mountain -
I climb up through gorse
into northern Honshu
(written in Japan)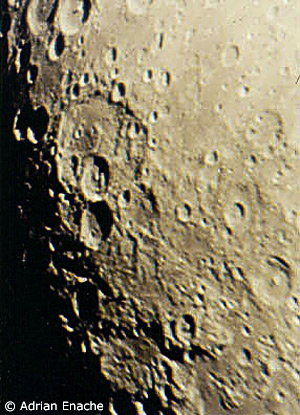 A REAL INCIDENT
(Astronomy Day, Cismigiu Park, Bucharest, 2003)
-collected by Gabriel Voitcu and other SARM astronomers
and poetically retold by Andrei Dorian Gheorghe-

SARM Astronomers
(see the Mayor of Bucharest walking alone and melancholic):
Mr. Mayor, Mr. Mayor,
come to enjoy
the heavenly beauties
through our telescope!

Mayor
(after a few moments, he watches through the SARM instrument
and observes the Earth's satellite):
Young friends, I feel
like in a strange game.
Moon and politicians…
are spotted the same!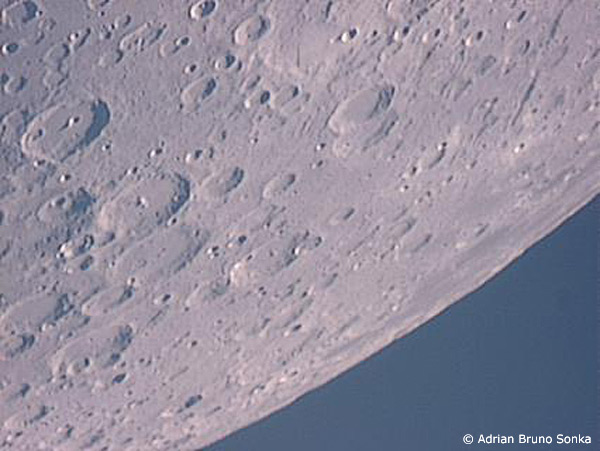 Note: The images of this page were made by some of the creators
of the astrophotography school from
Admiral "Vasile Urseanu" Bucharest Municipal Observatory.
---