CHRISTIAN BRIDGES FROM PELOPONNESE
Text and photos Andrei Dorian Gheorghe
Design Florin Alexandru Stancu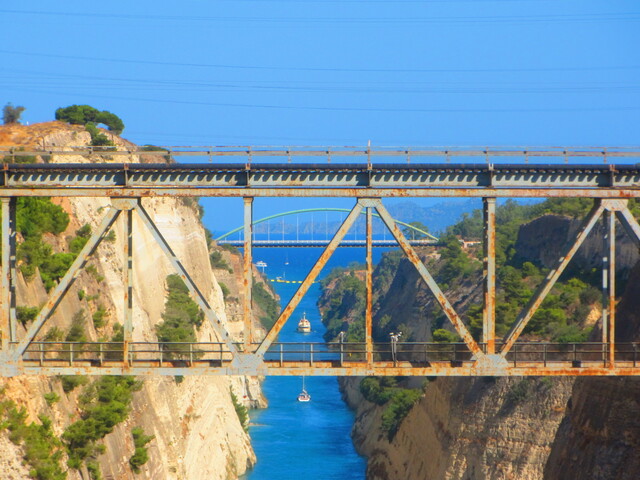 Peloponnese was a peninsula until 1893,
when the making of the Corinth Canal
(only 6 km between the Aegean Sea and the Ionian Sea)
transformed it into an island.
Or, relatively speaking,
it can continue to be a peninsula
if we take into consideration that, soon after,
it was re-connected to Continental Greece
through small bridges over here,
and later through a modern bridge in Patras.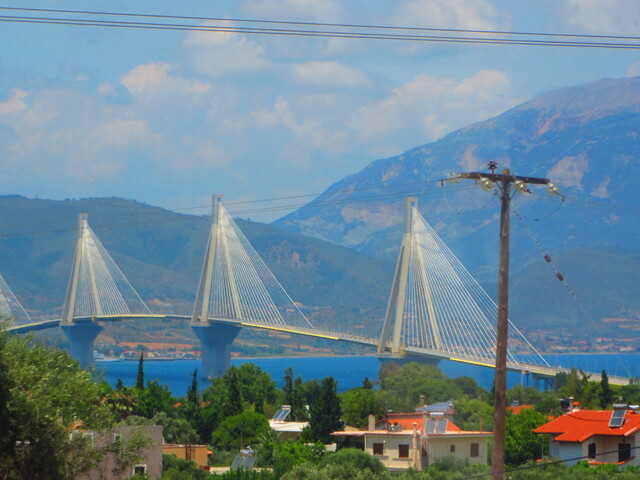 But more than this geographical vision,
Peloponnese is unique for history:
-Famous antique centres (Mycenae, Sparta, Olympia, Corinth, Epidaurus etc.)
flourished here.
-The Isthmian Games (rivaling with the Olympic Games)
took place here (6th century BC - 4th century AC).
-During the Greek War of Independence
(which began in February 1821 on the Romanian territory,
members of the Filiki Eteria organization attacking the Ottoman guards
in the towns of Iasi and Galati),
the Declaration of Independence was made here,
the centre of military coordination was here,
and even the decisive naval battle (Pylos-Navarino, 1827) took place here
(strategically, Peloponnese were better protected
by the superior Greek ships).
But I chose Peloponnese for this project in June 2013
from a reason through which its two bridges may be seen
as symbols of two Christian ways toward the entire world.
Thus, firstly, it is known that Apostles Peter and Paul
are considered founders of Christian Church in Rome,
their successors becoming the Catholic Popes.
In one of his missionary trips,
Saint Paul was in the Corinth zone (North-East Peloponnese)
and wrote his Epistles to the Corinthians,
from which I quote one of the most beautiful paragraphs of humanity:
"And now these three remain: Faith, Hope and Love.
And the greatest of them is Love."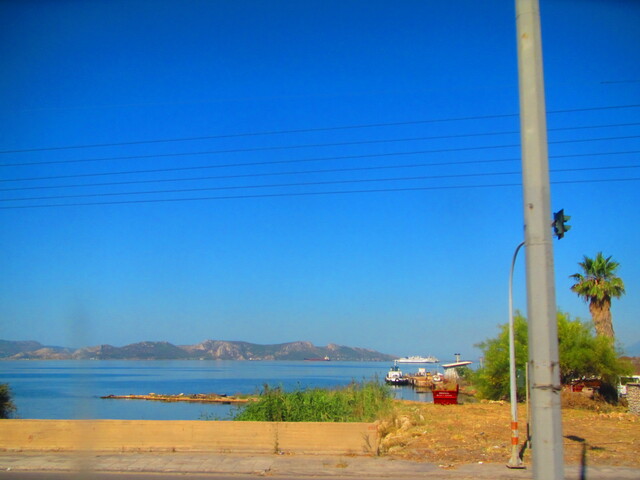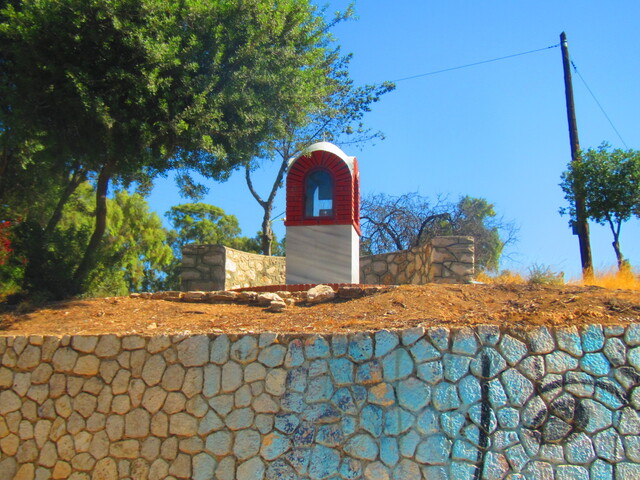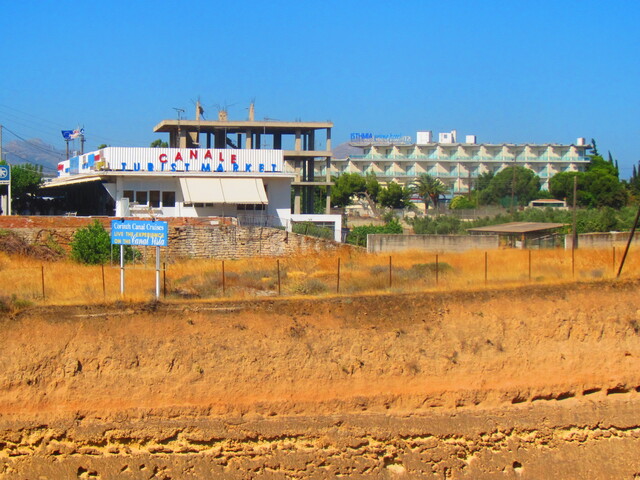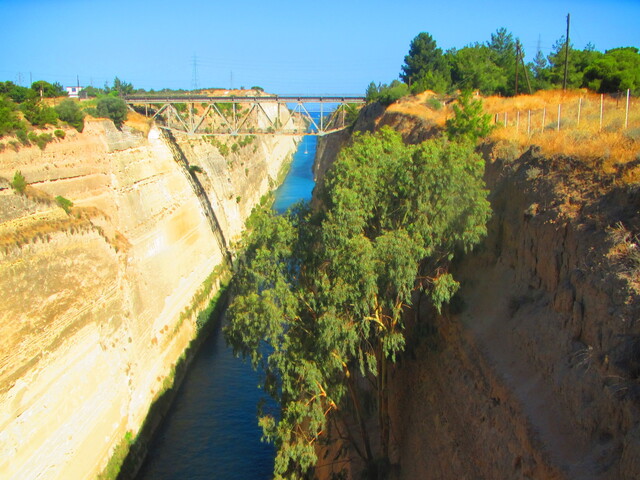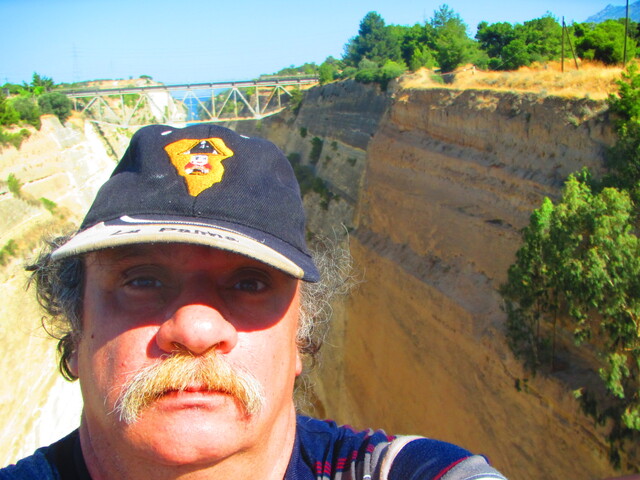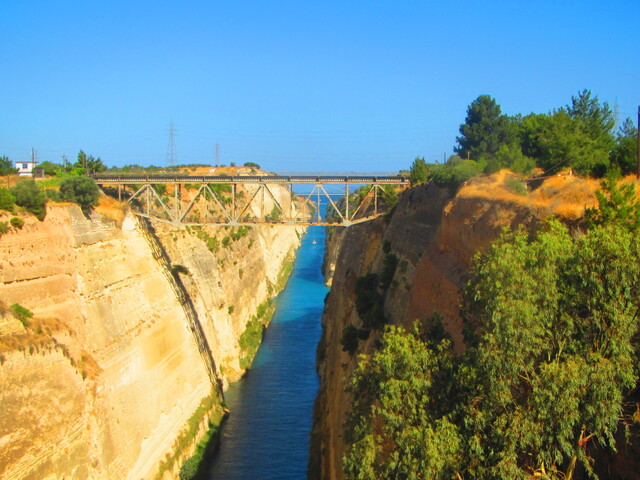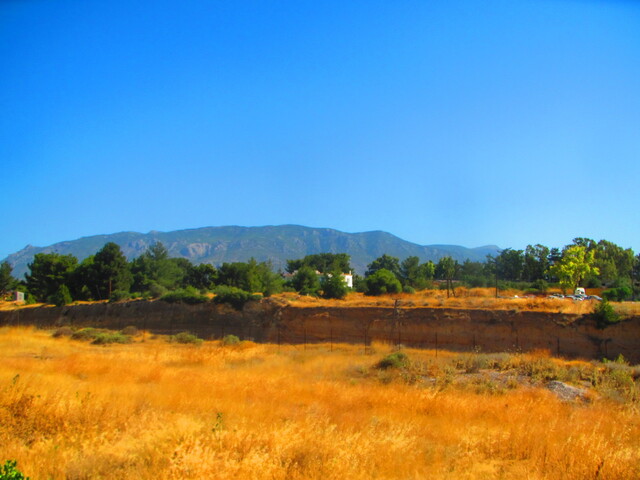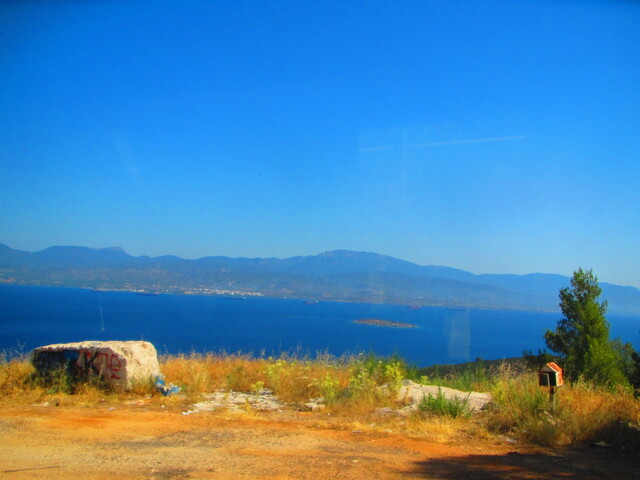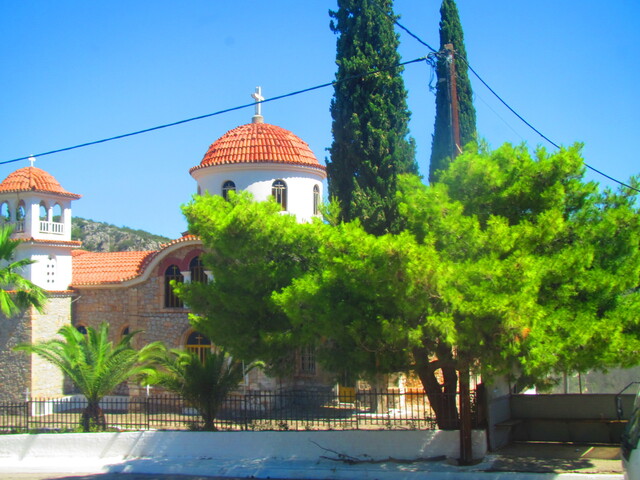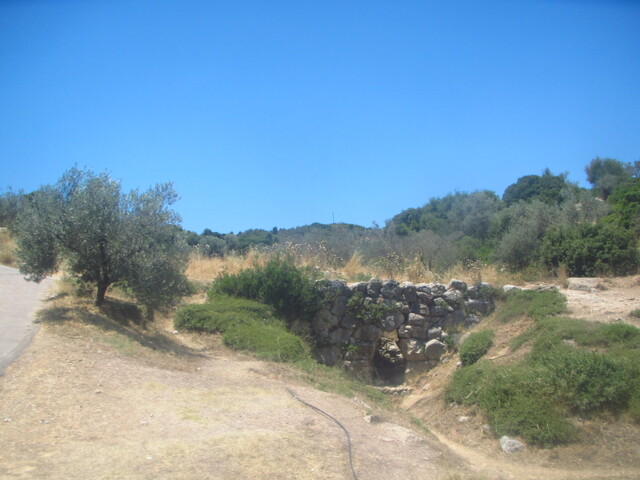 Close to the Corinth Isthmus, on the Aegean Coast,
I visited a small town (about 15,000 inhabitants) with a giant historical load:
Nafplio,
the unofficial Capital of "martial" Greece in between 1821 and 1828,
and the Capital of independent Greece in between 1829 and 1834.
A solitary small fortress on an island,
two big fortresses and a clock tower on mountains,
a delicate church,
nice regular small streets
and a monument with a sculpted star
made me feel in solidarity with this charming place.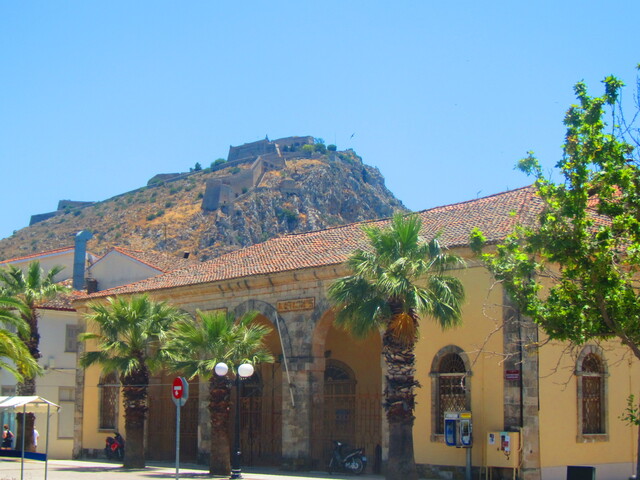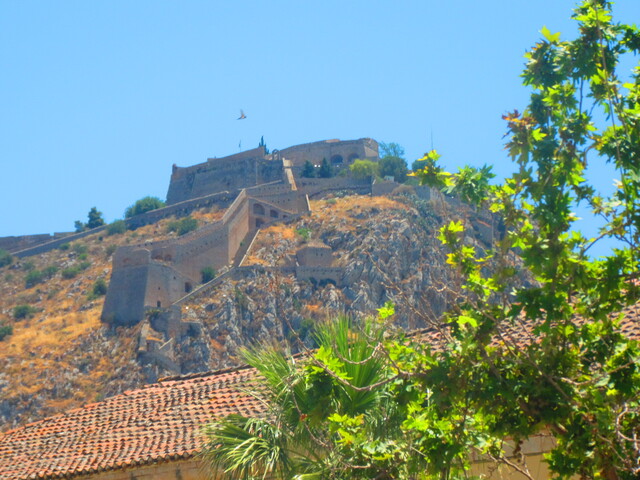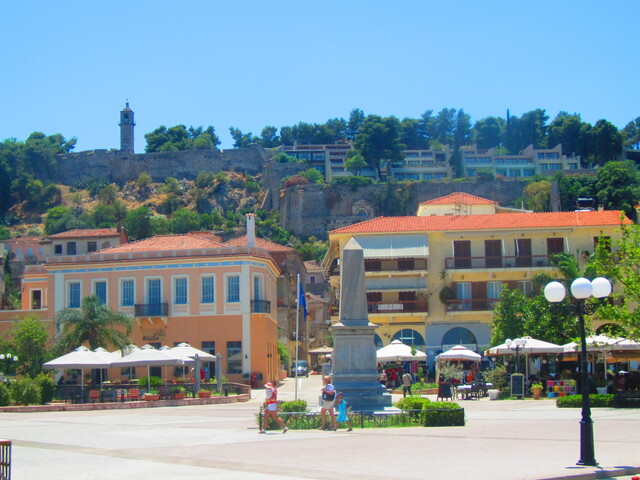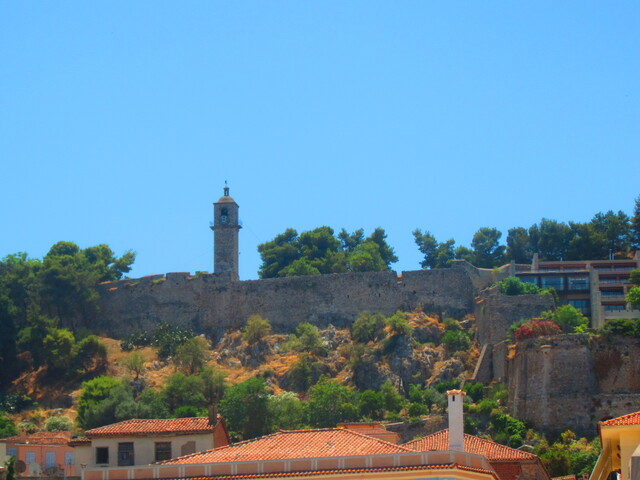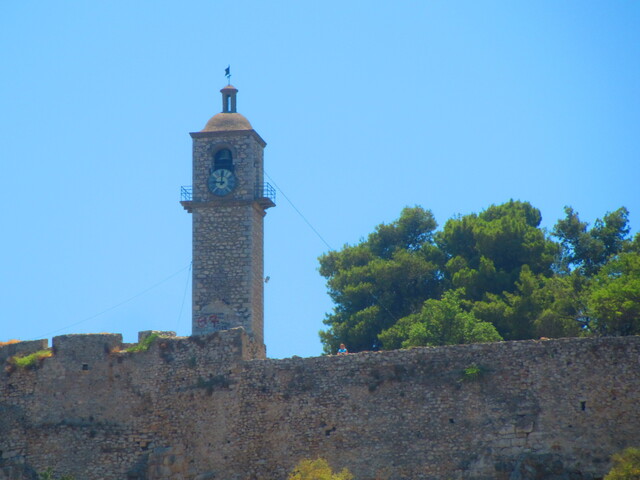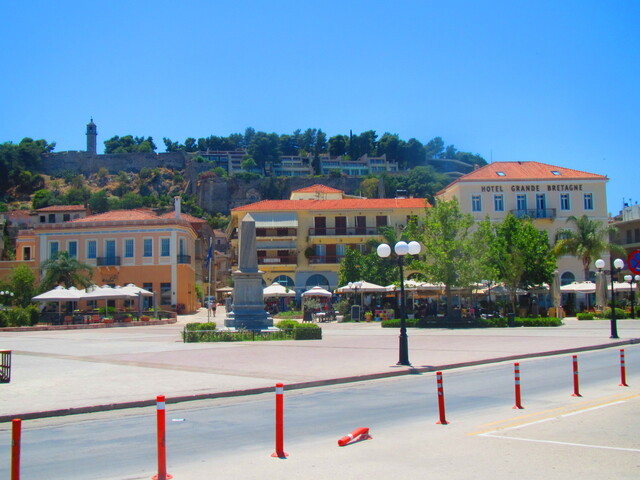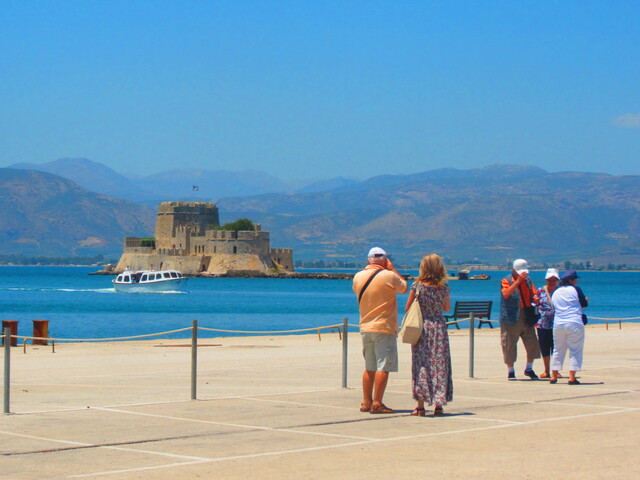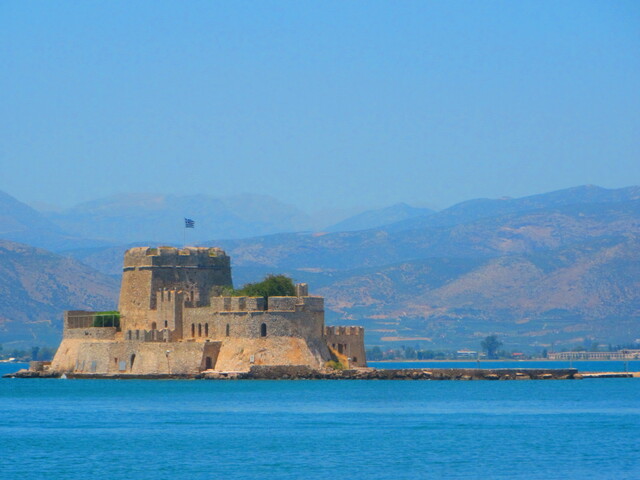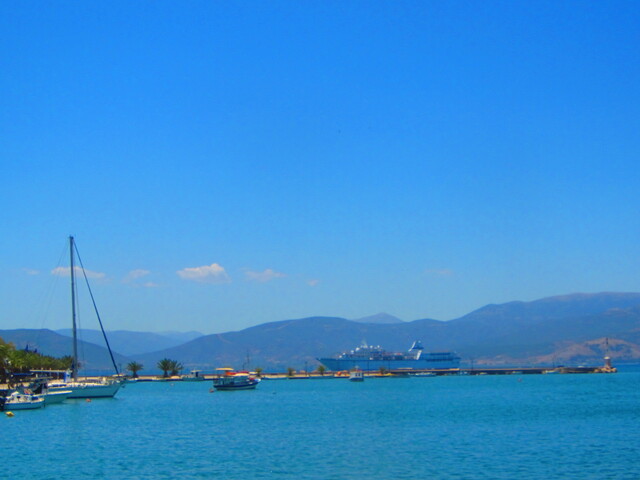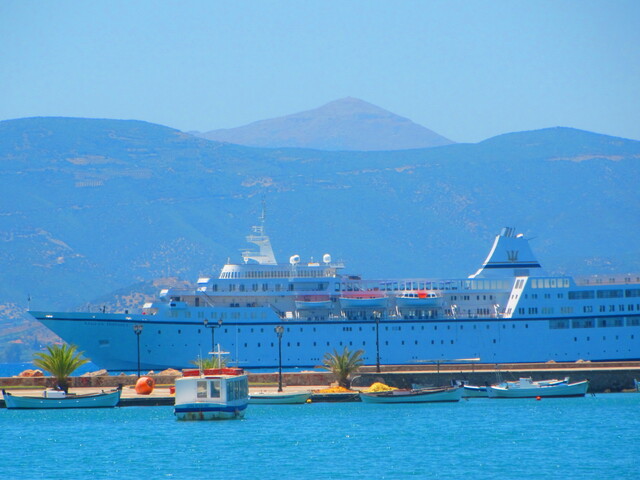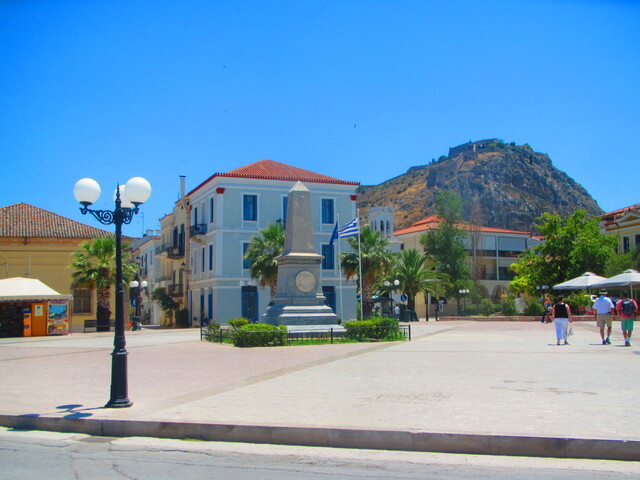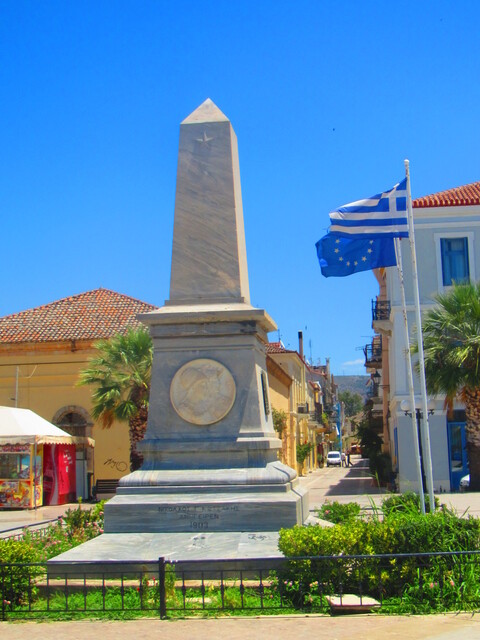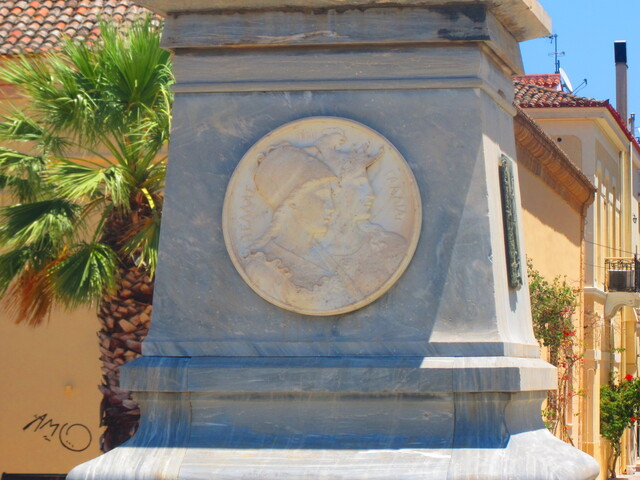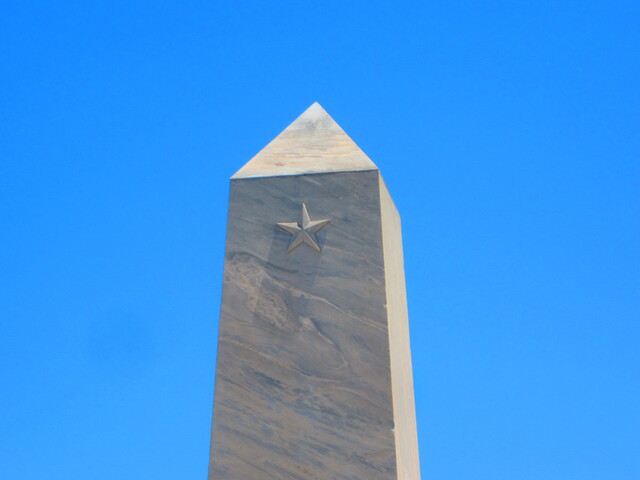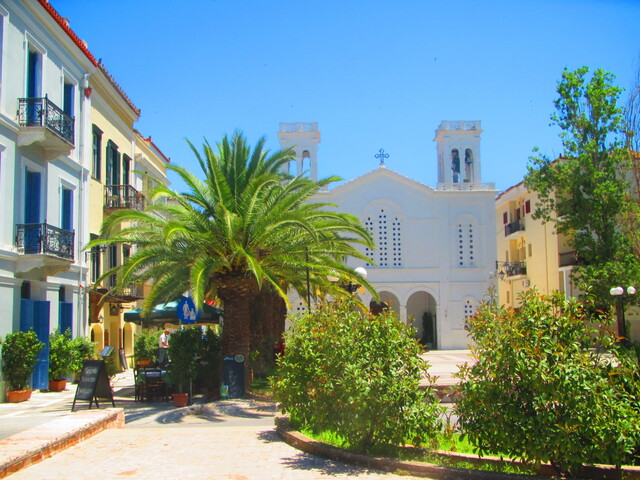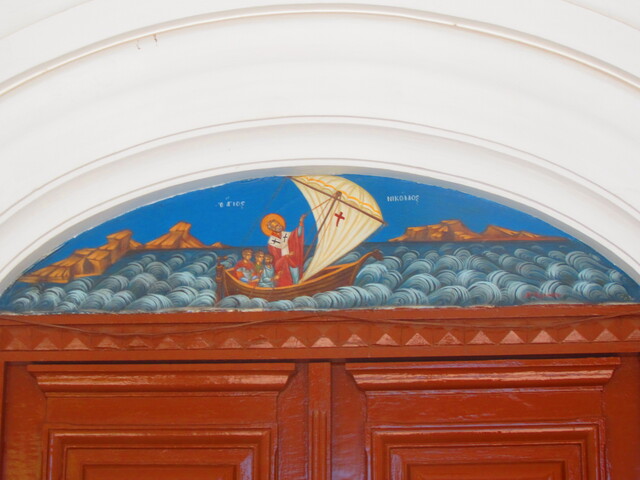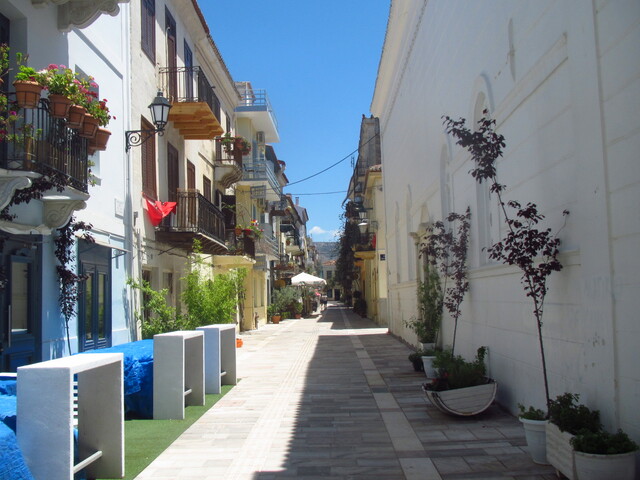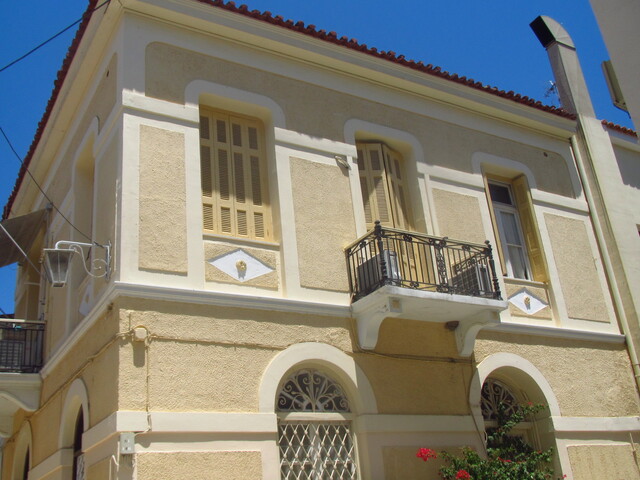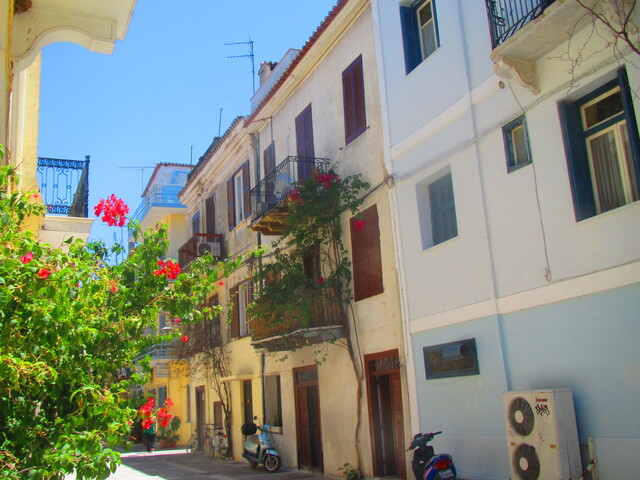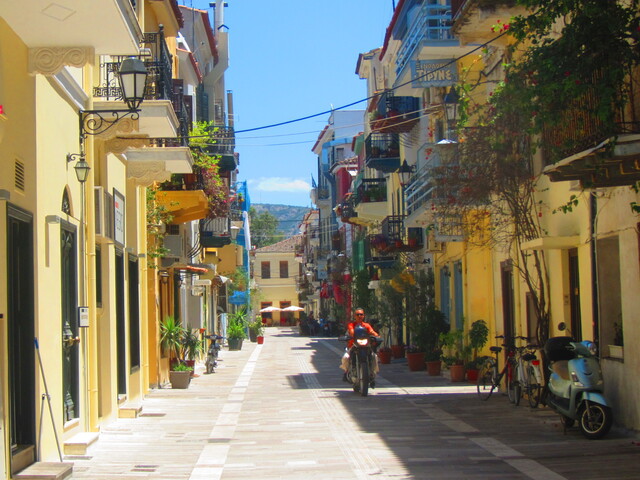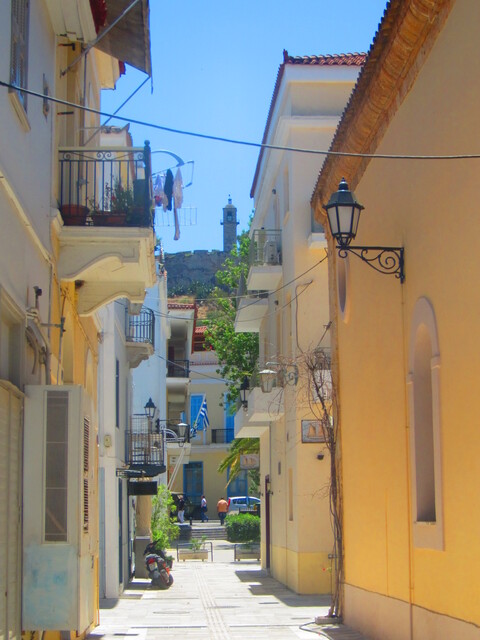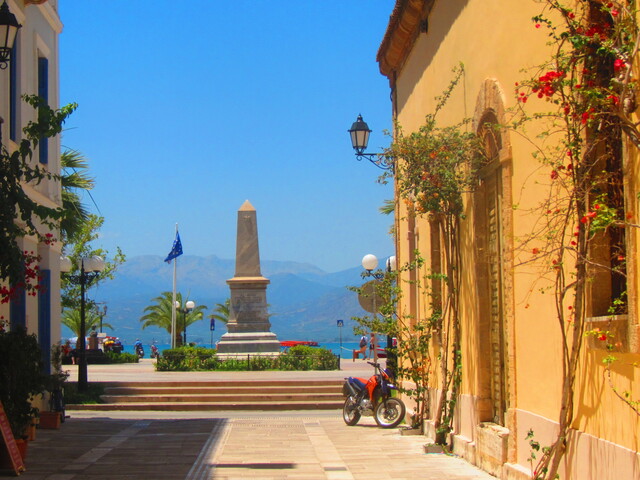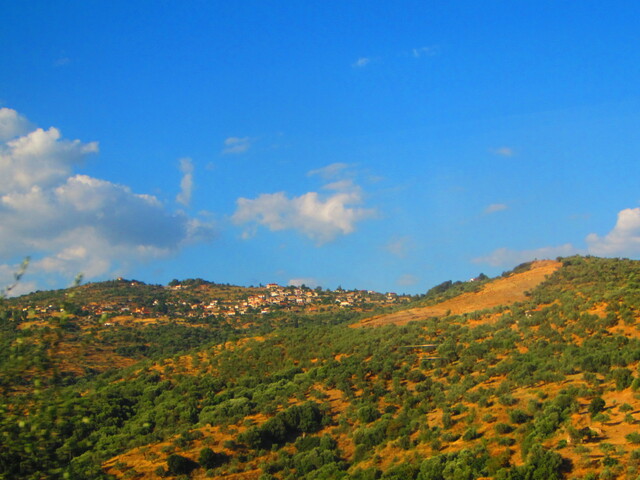 Peloponnesse, Peloponnesse,
A victorious element,
Connected by luminous bridges
To much more than a continent.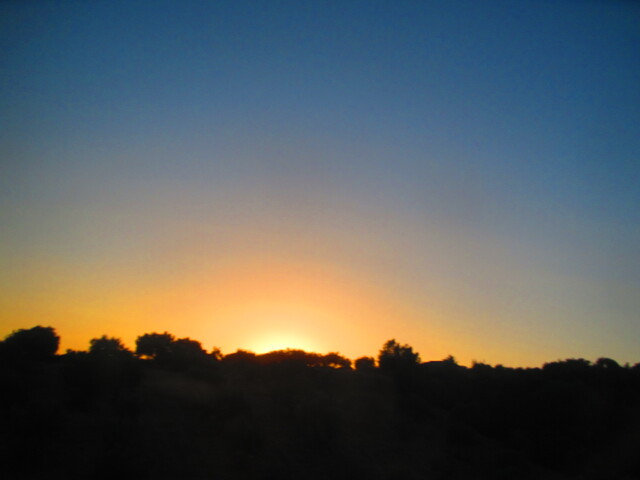 But my incursion into this (pen)insula did not stop here.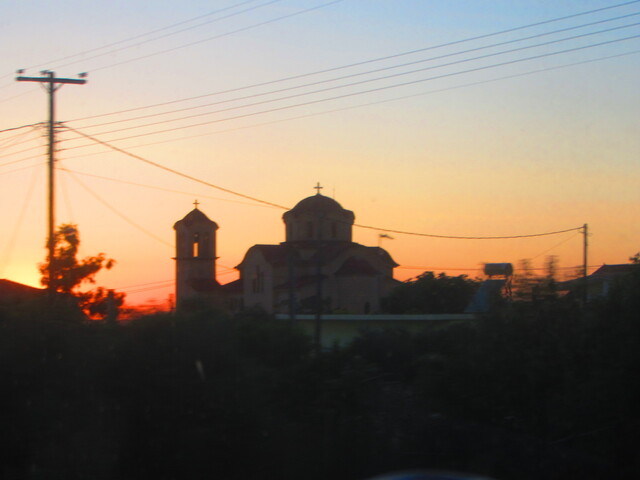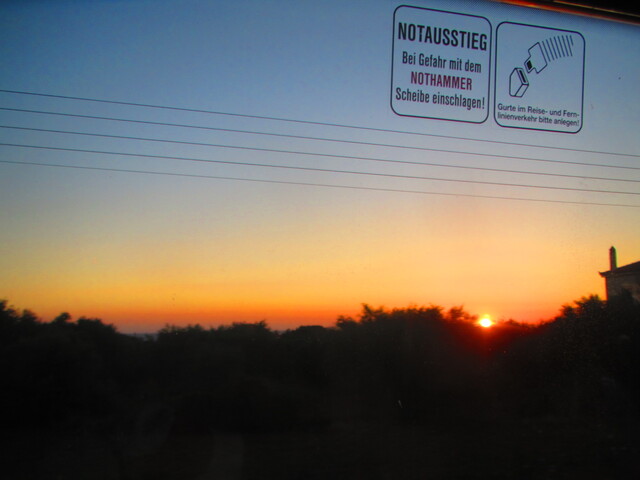 The secondary major Christian way left by Peloponnese
is the sacrifice of Saint Andrew
(the brother of Saint Peter and the "First Called" in Eastern Christianity),
in the Patras zone (North-West Peloponnese),
his successors becoming the Orthodox Patriarchs of Constantinople.
Today Patras (about 160,000 inhabitants) is the largest town in Peloponnese
and its modern Capital,
and in 2004, the Charilaos Trikoupis Bridge was inaugurated over here,
at the Corinth Gulf,
to link Peloponnese to mainland Greece.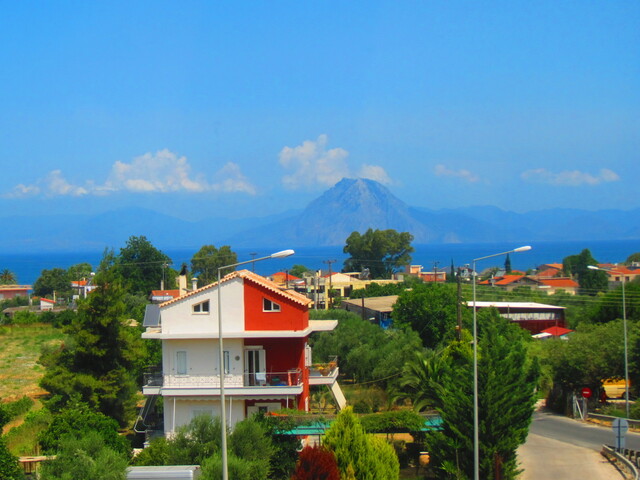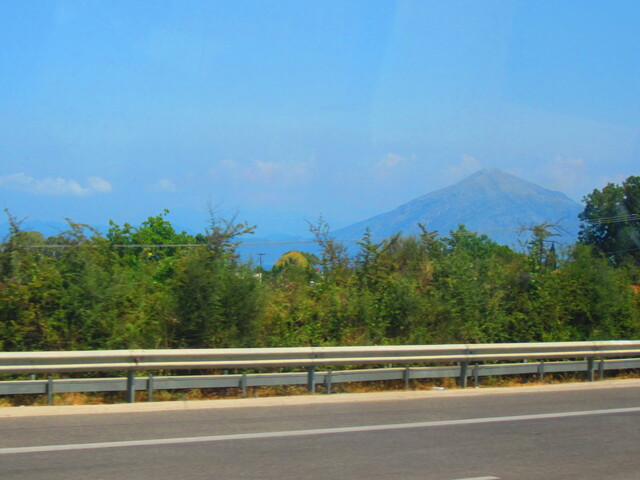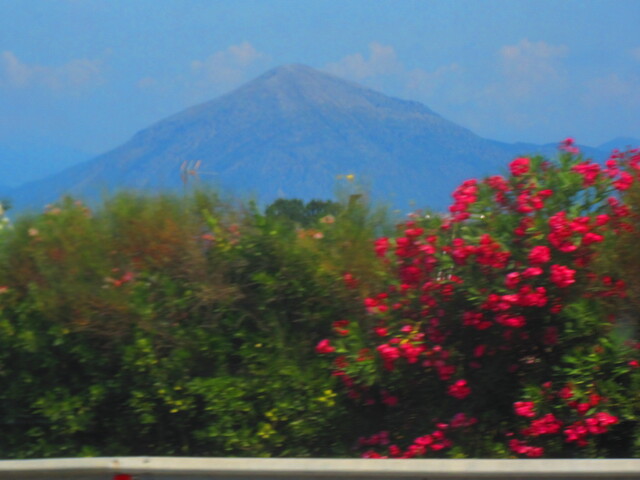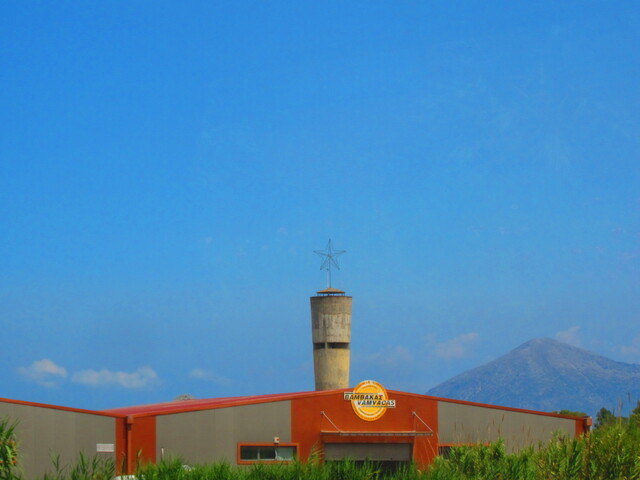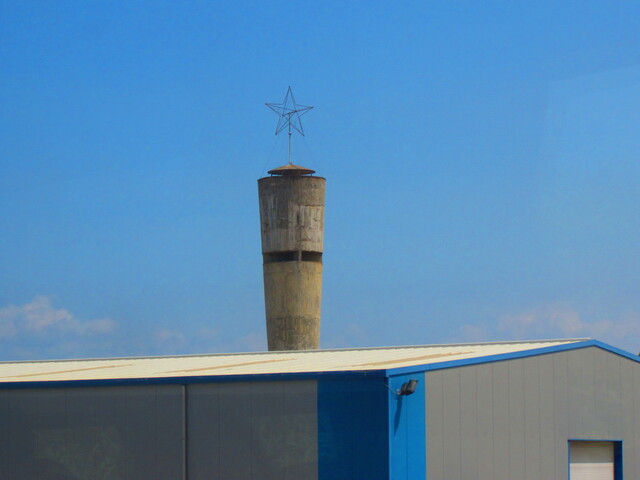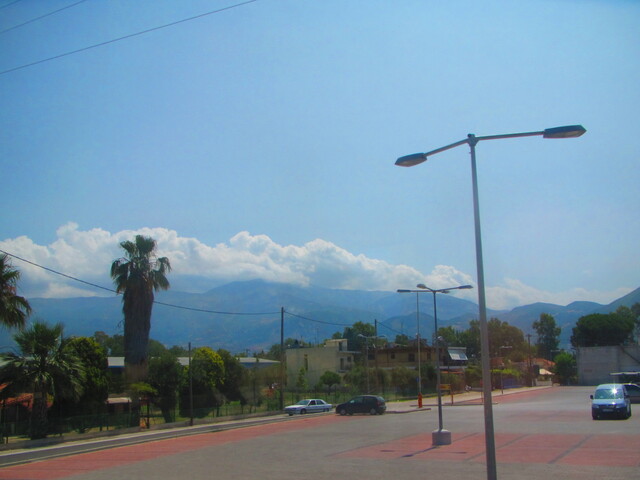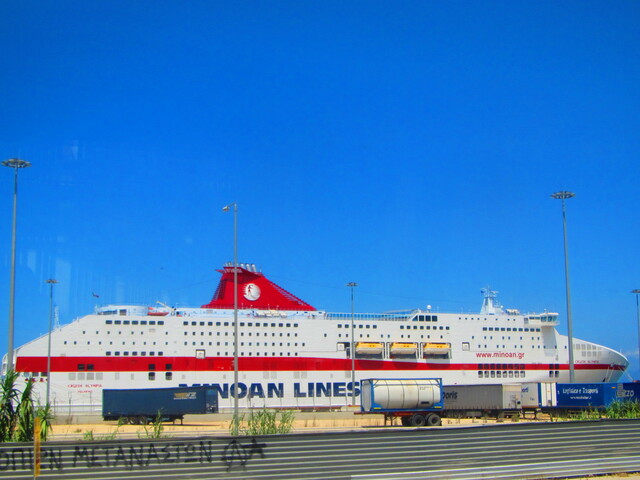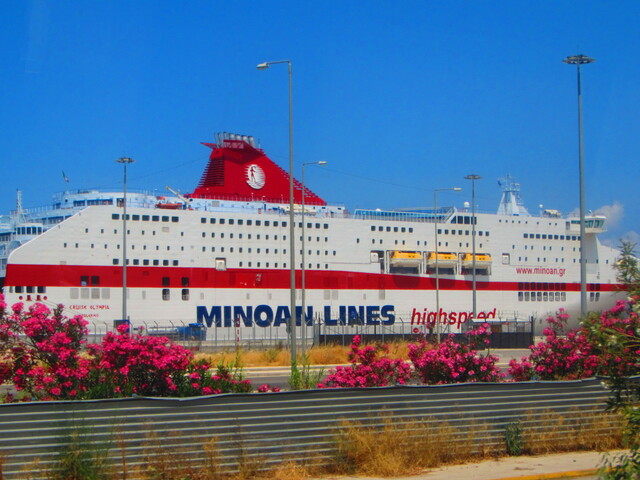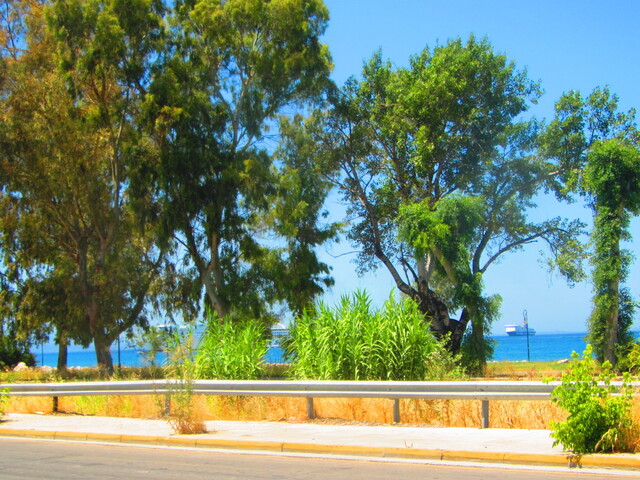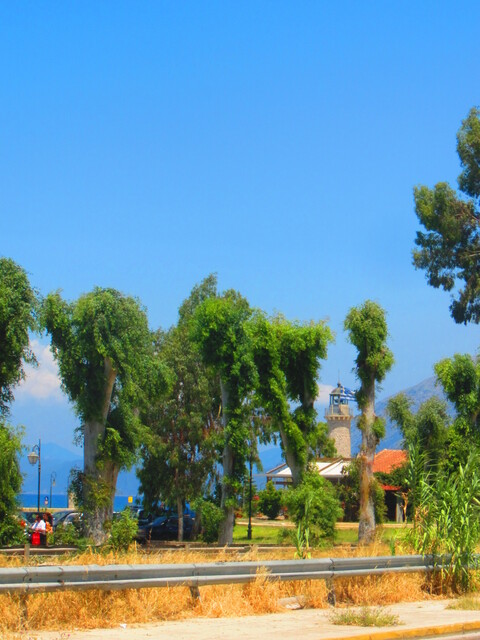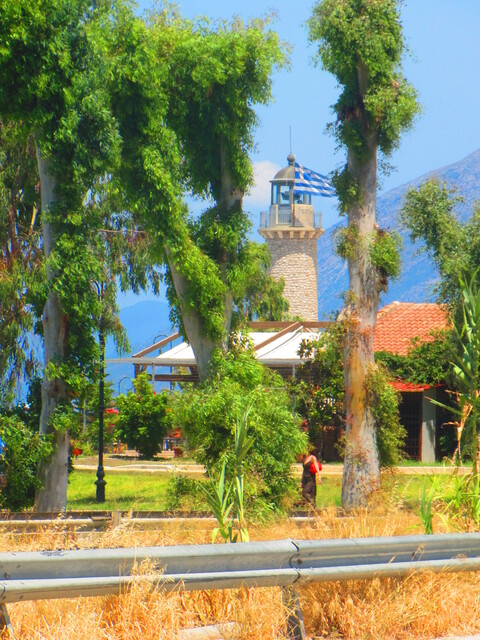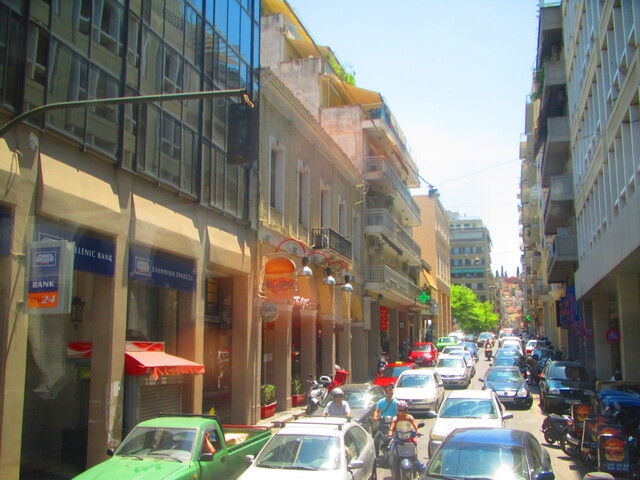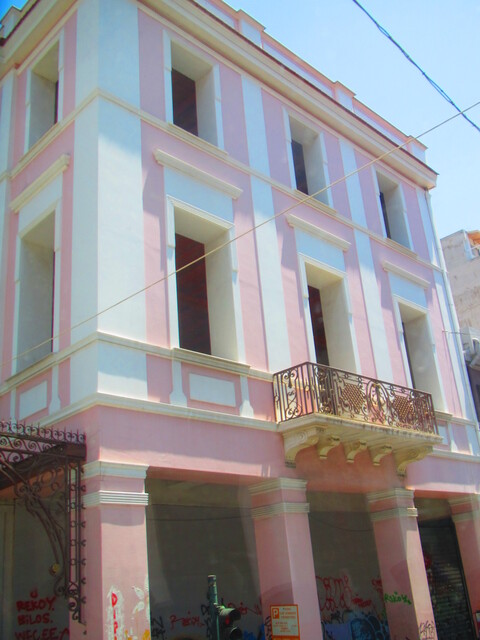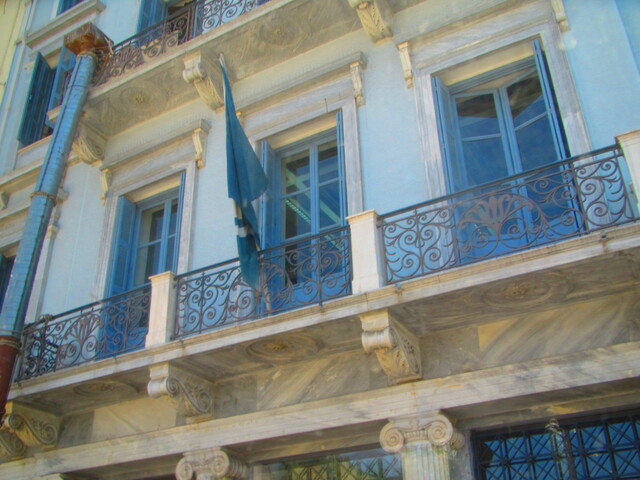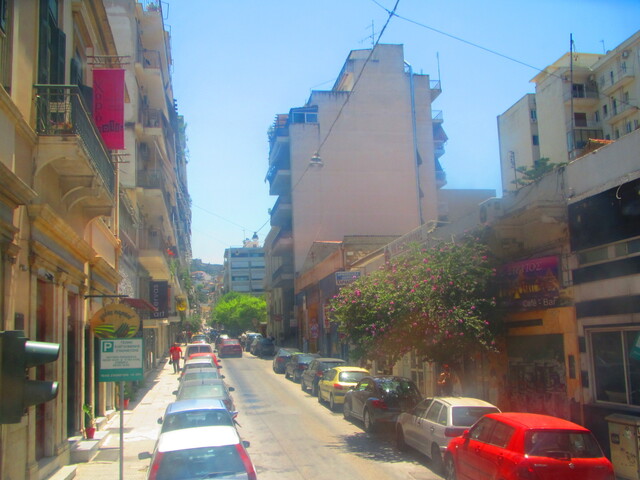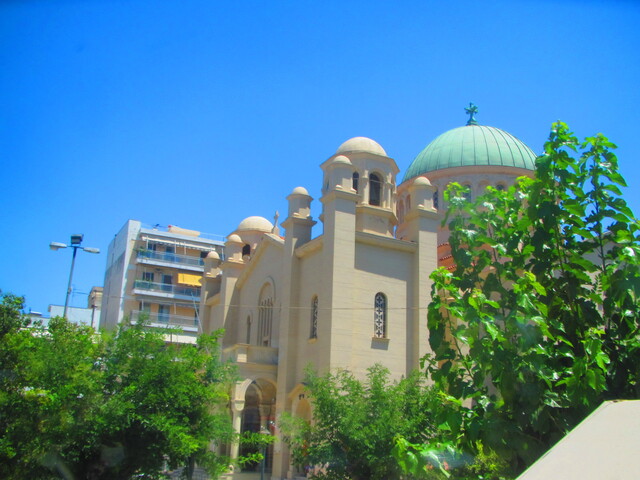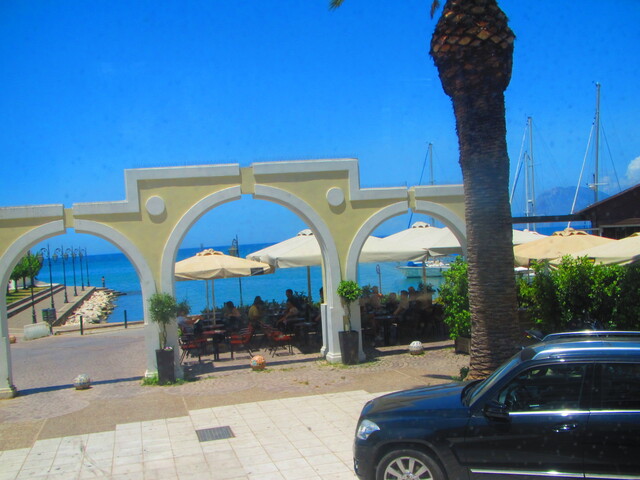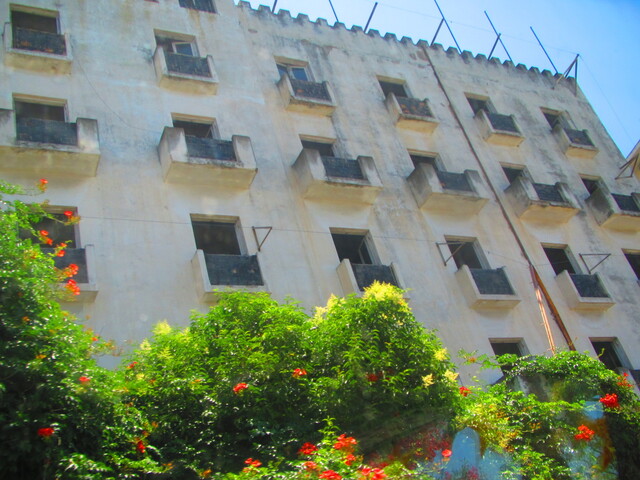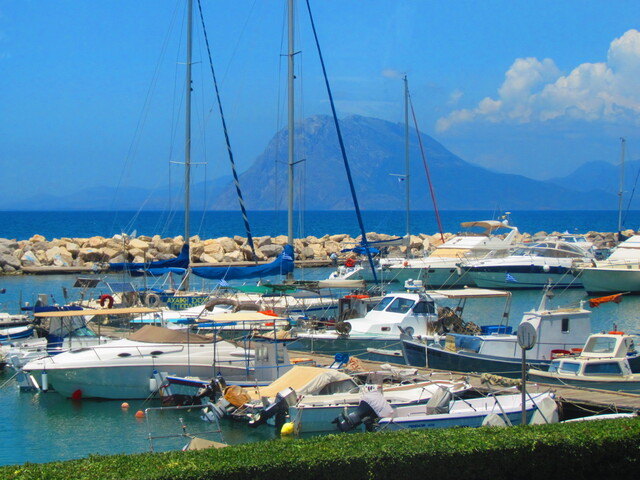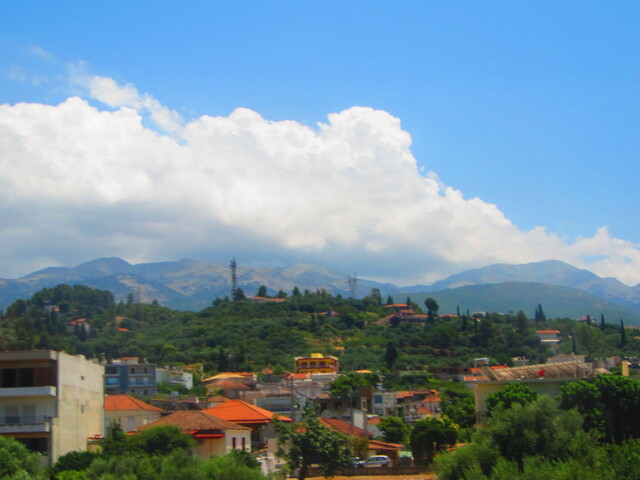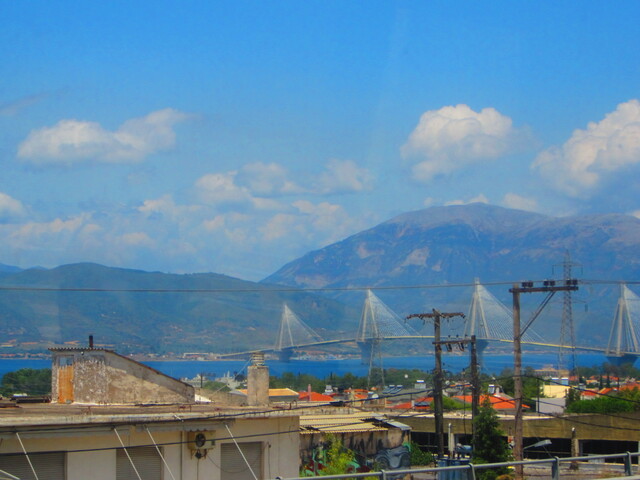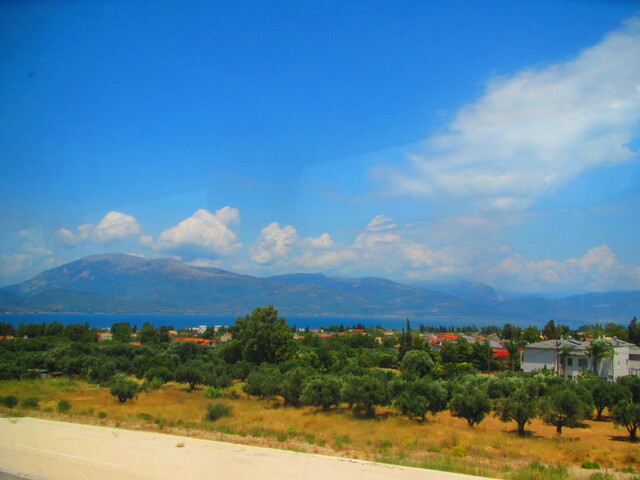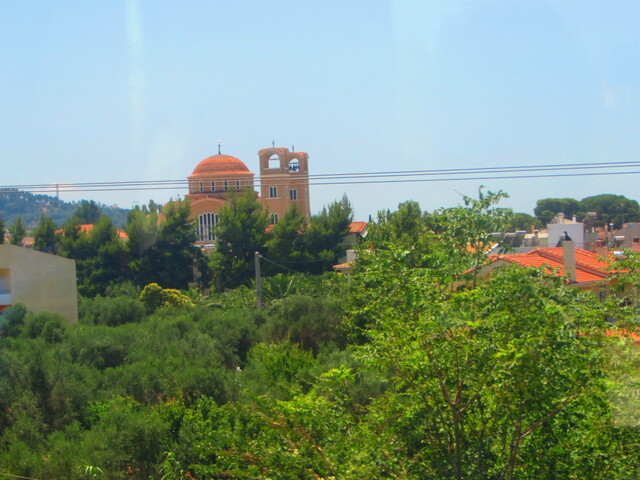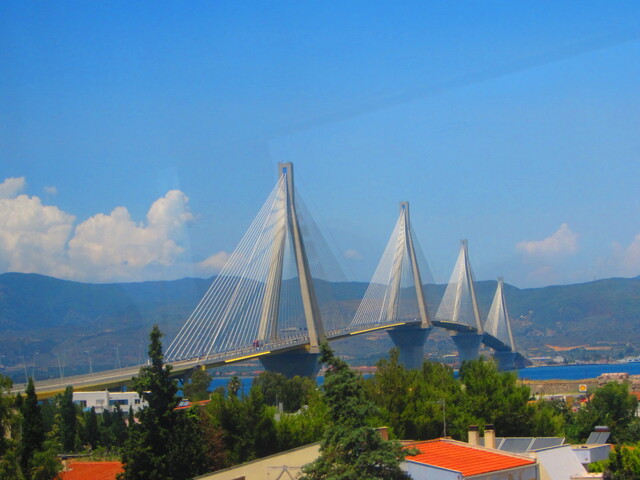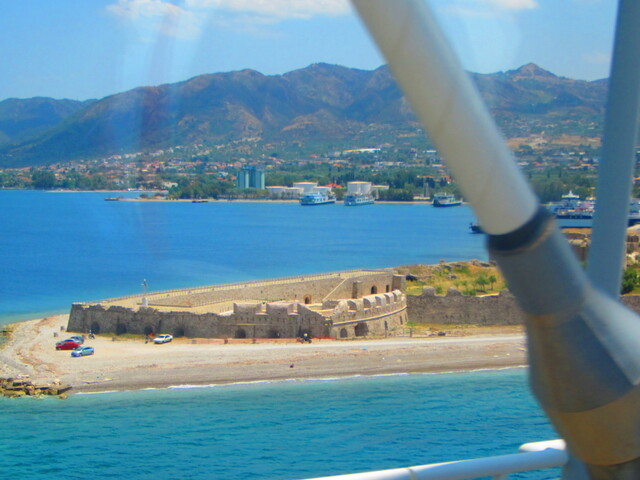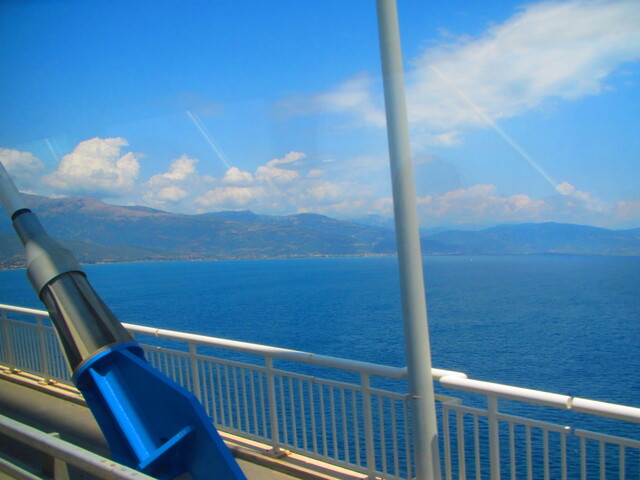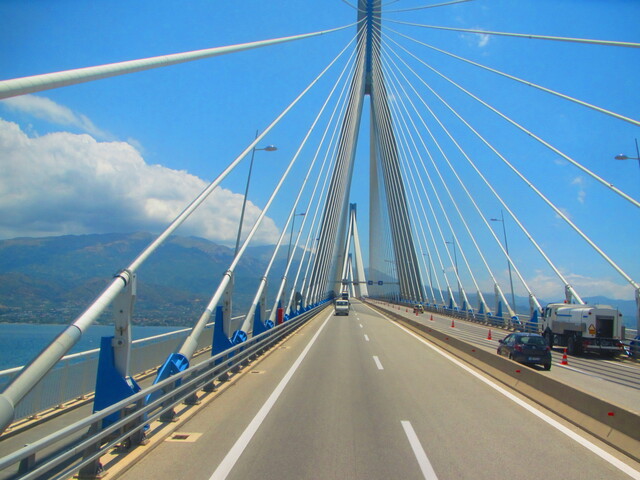 In Patras I visited the two churches dedicated to Saint Andrew:
-the old one, which was made around the 1840s
right on the place where the Apostle was tortured,
on the ruins of an antique temple,
transformed later into a Byzantine church.
-the new one, which was made in between 1908 and 1974,
keeps the relics of the Apostle,
and is the largest church in Greece.
These churches,
where I could enjoy much astral symbolism,
are also pilgrimage places
for tourists from Romania, Ukraine and Russia,
where Saint Andrew was he who brought Christianity.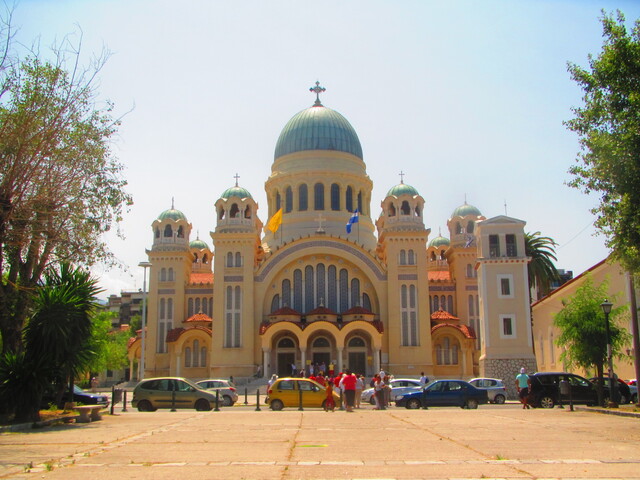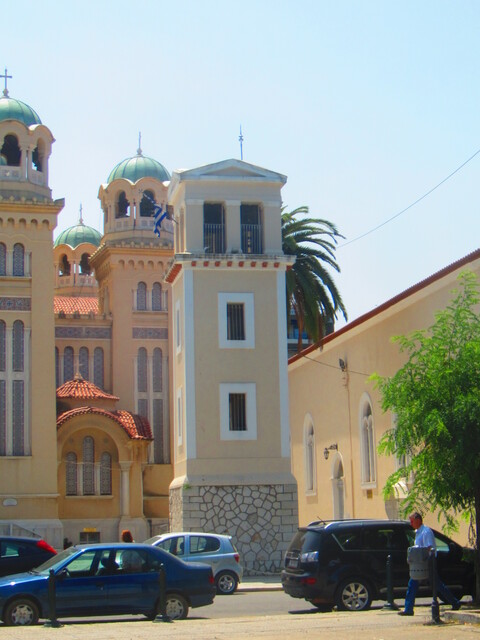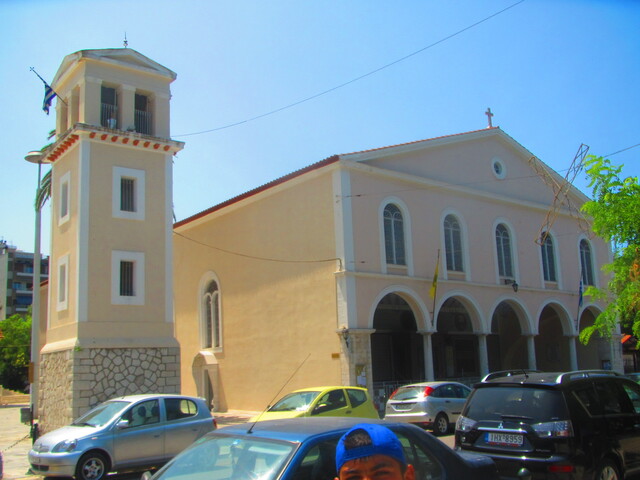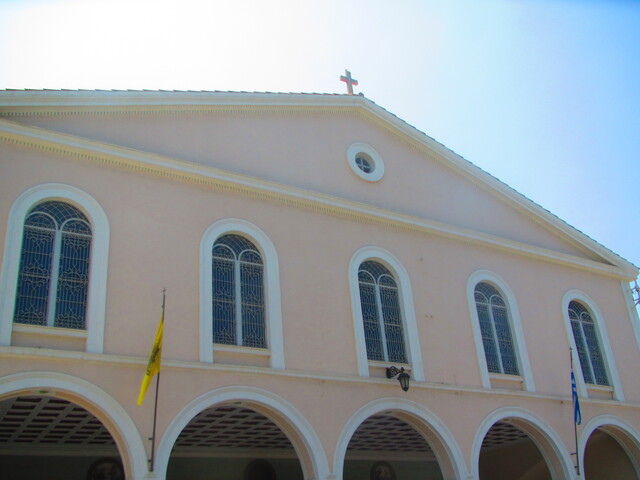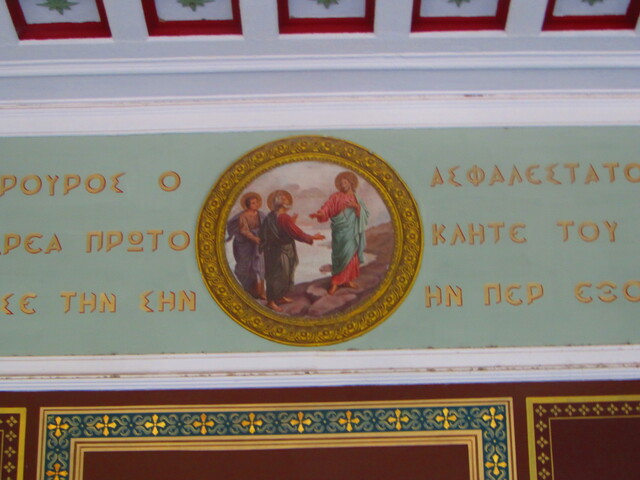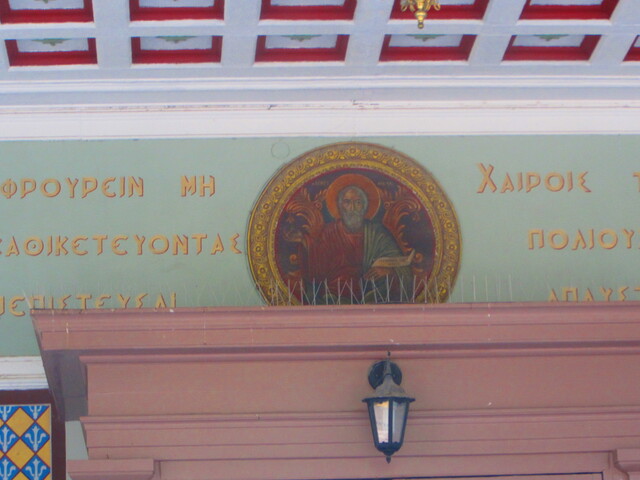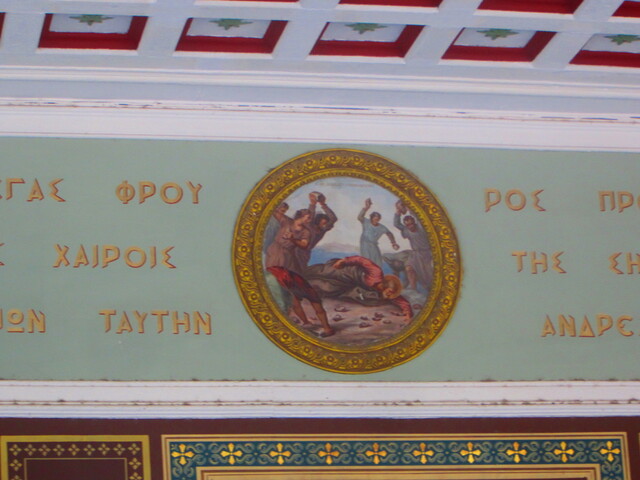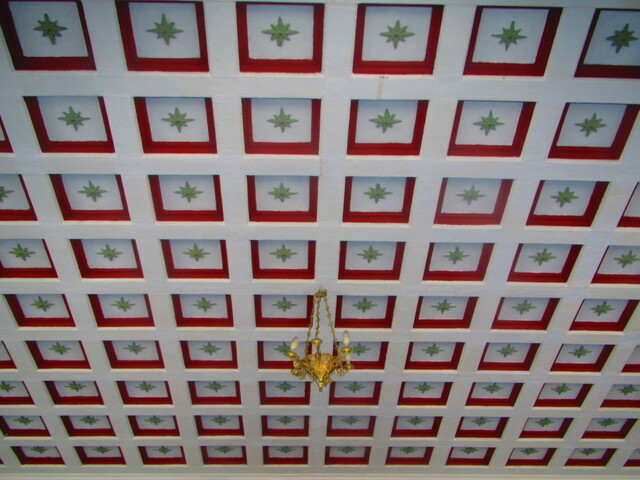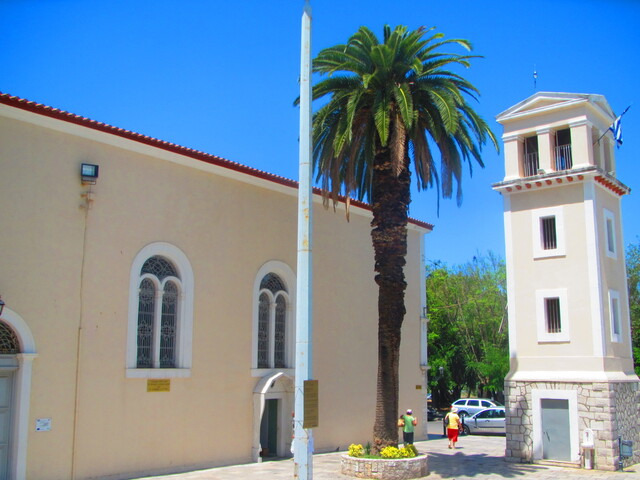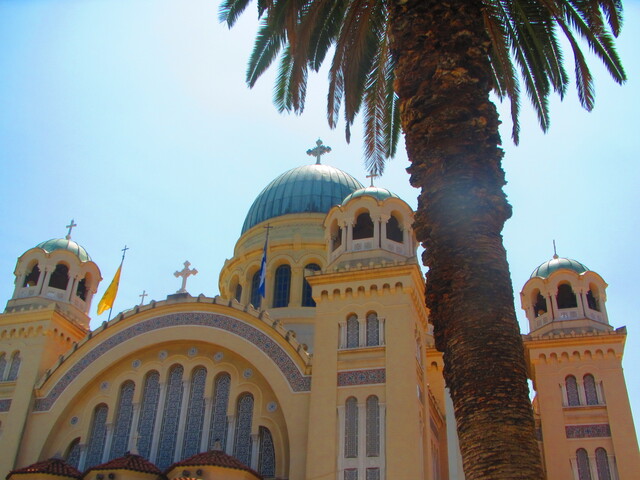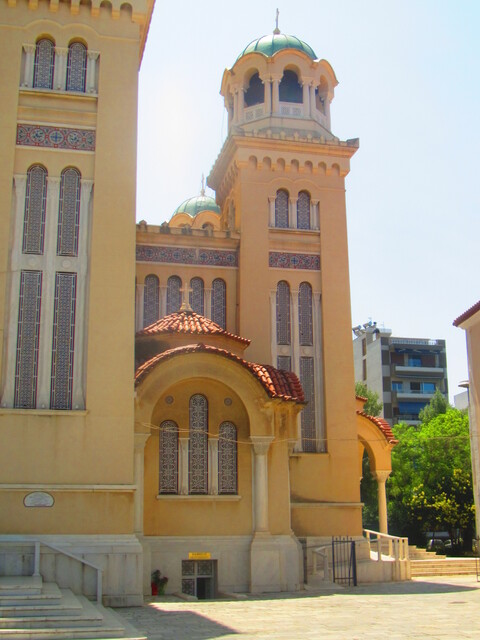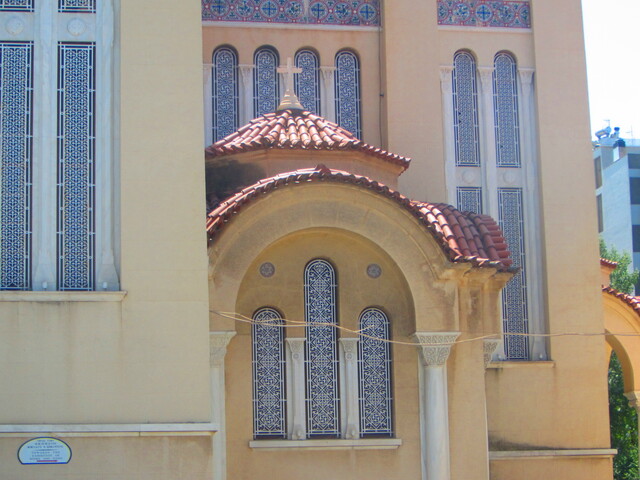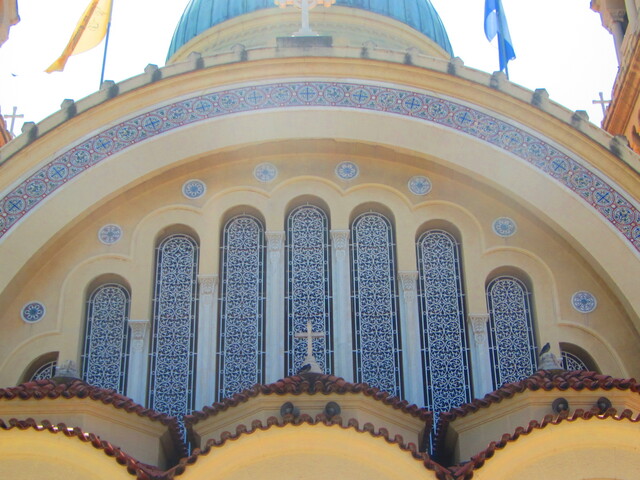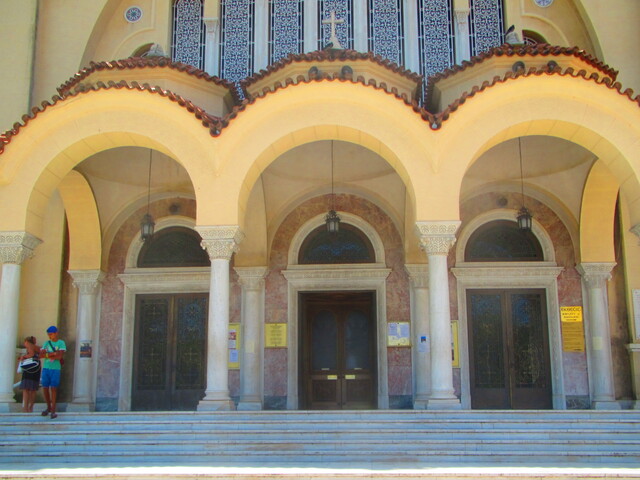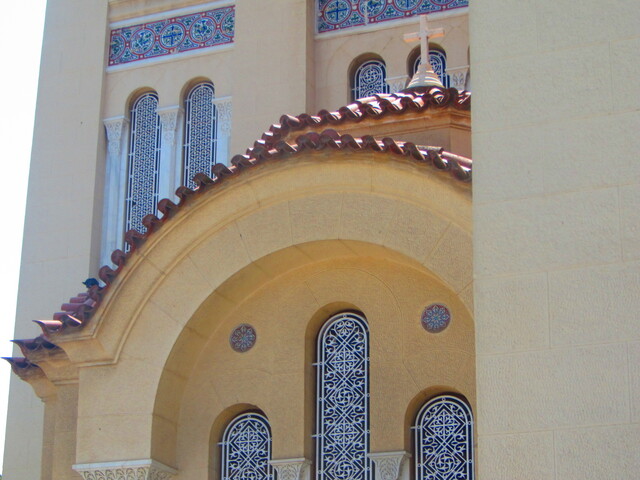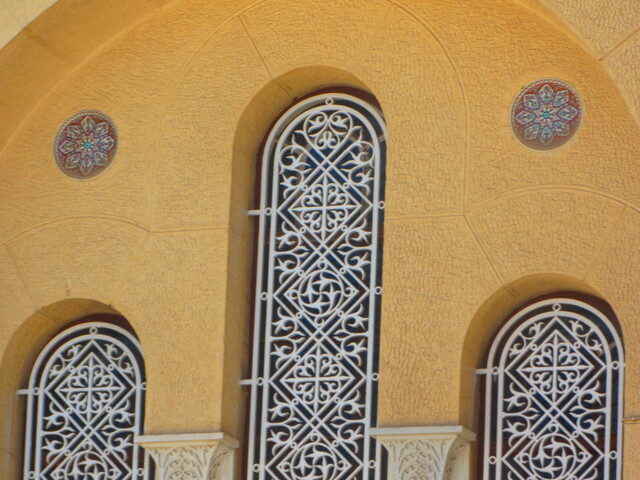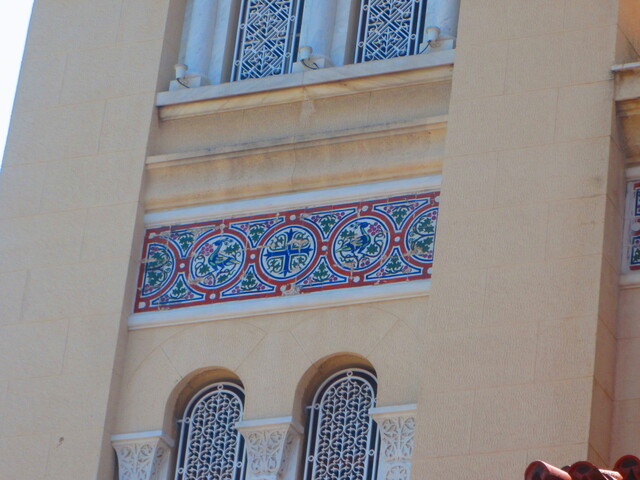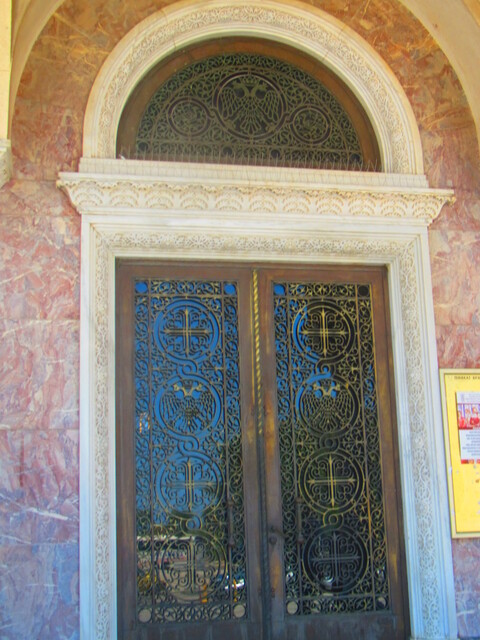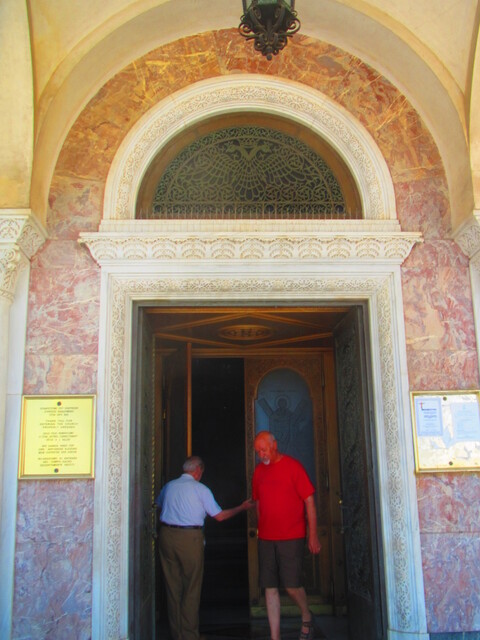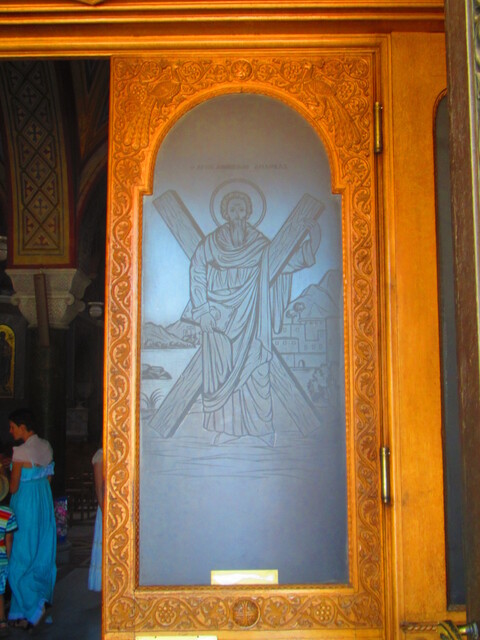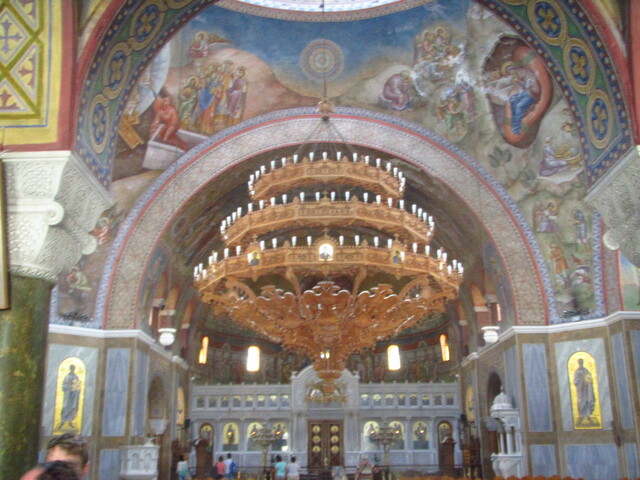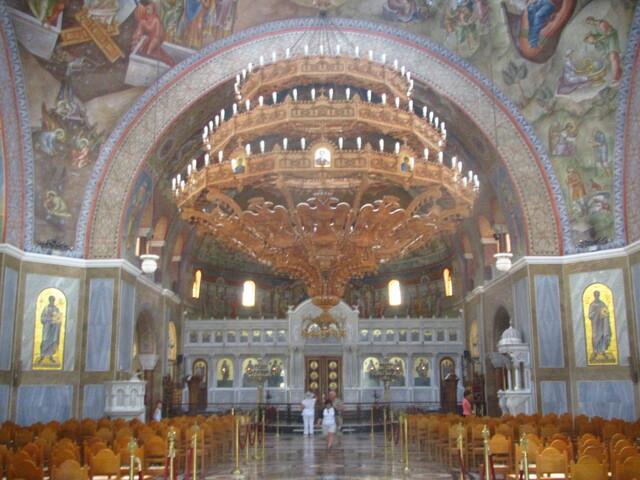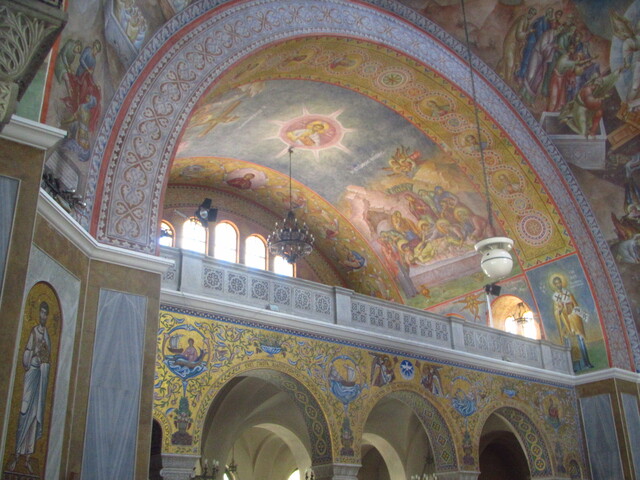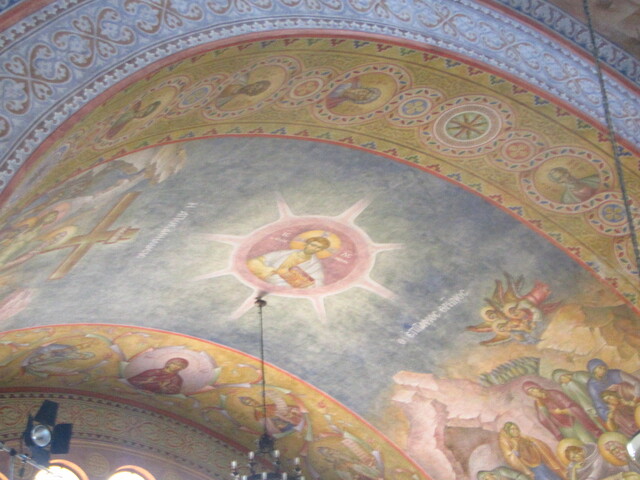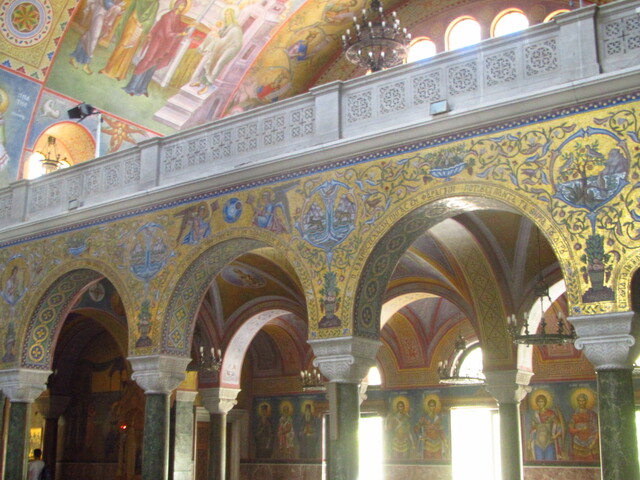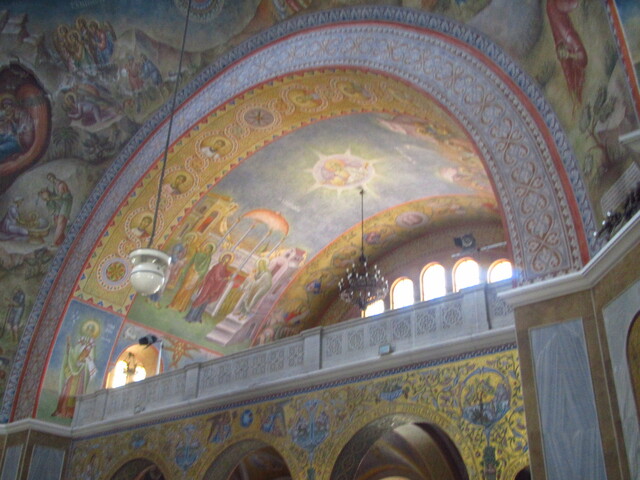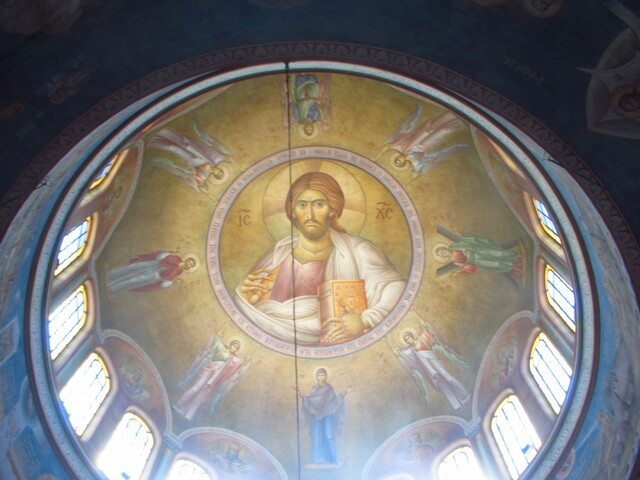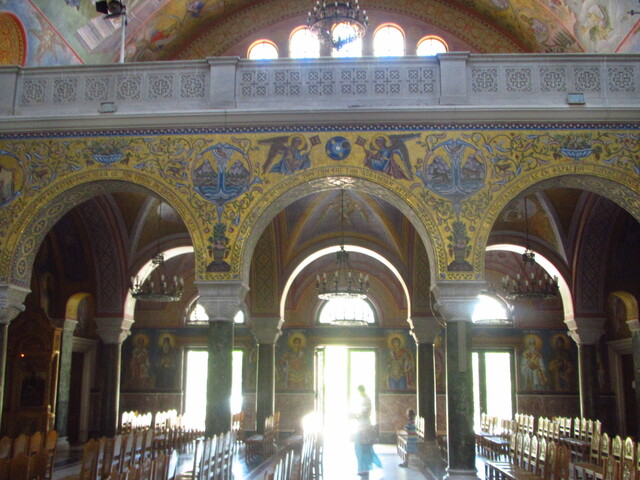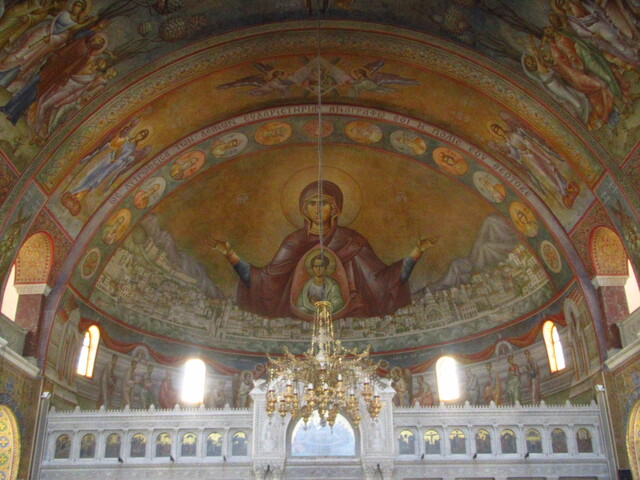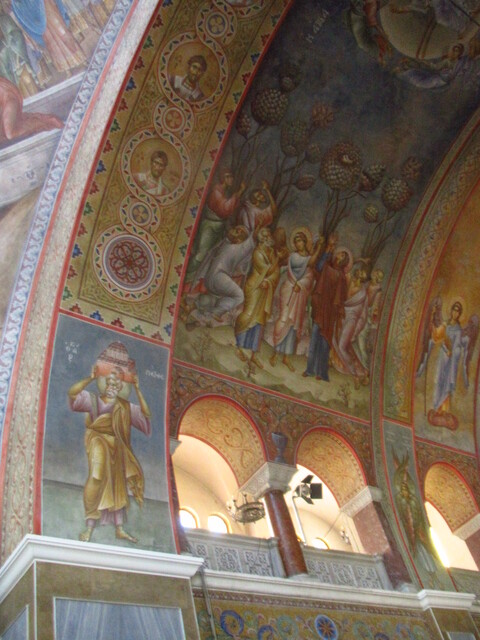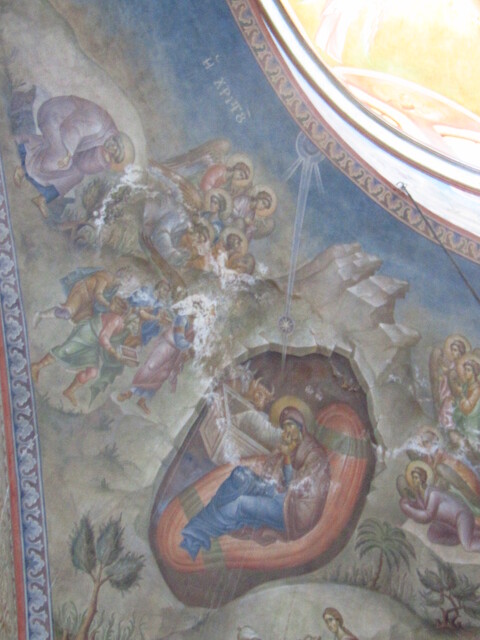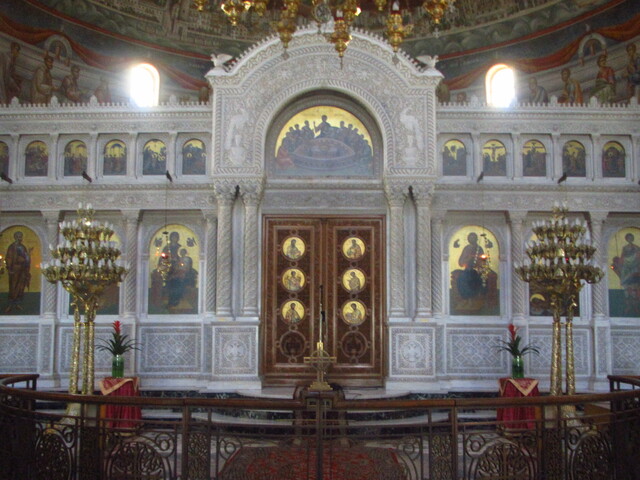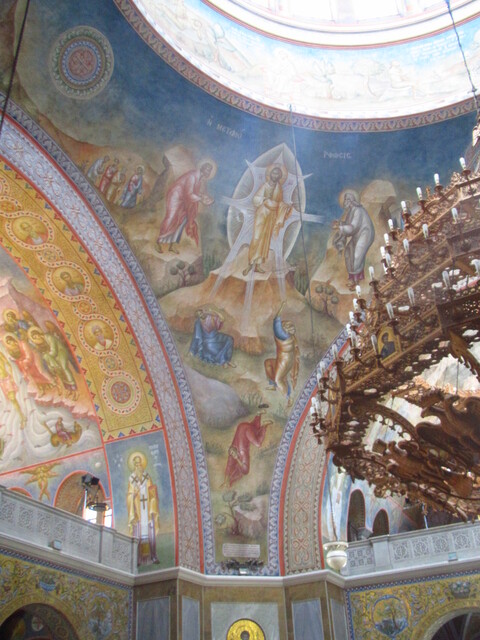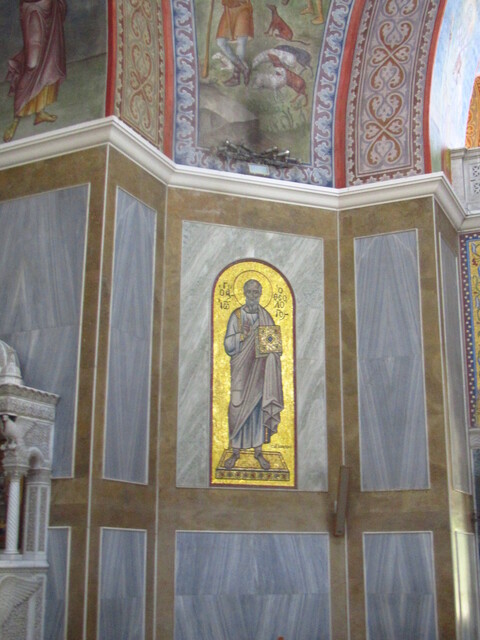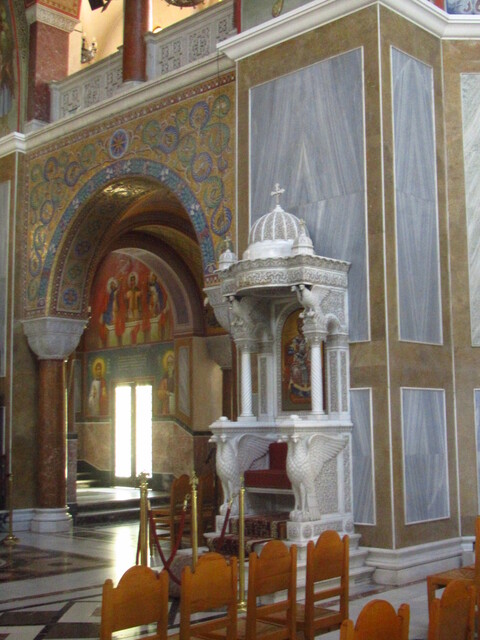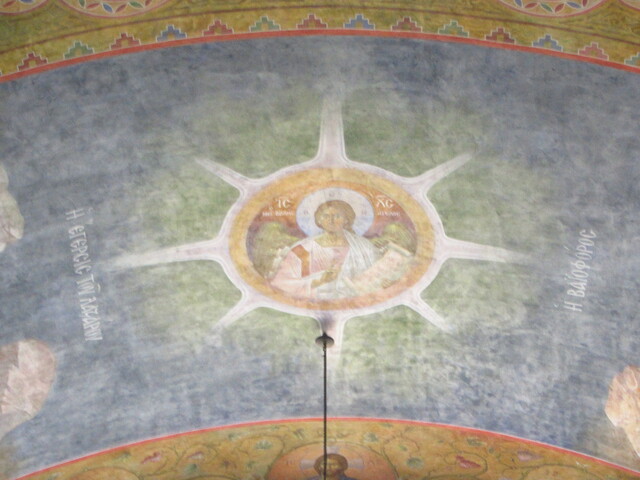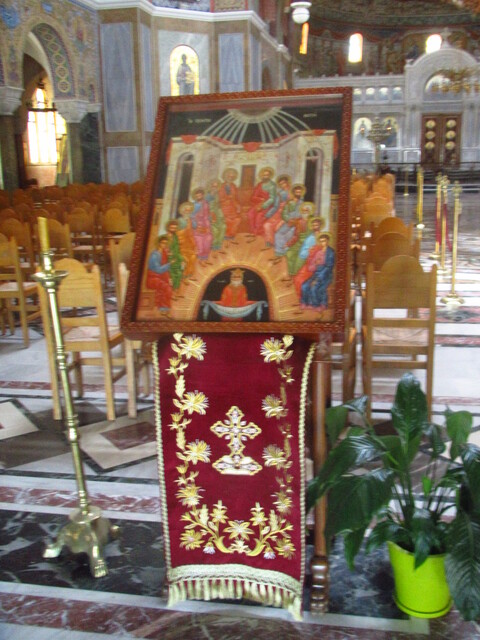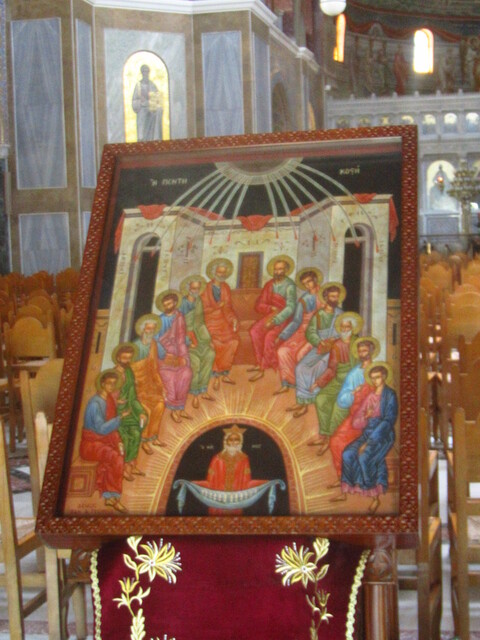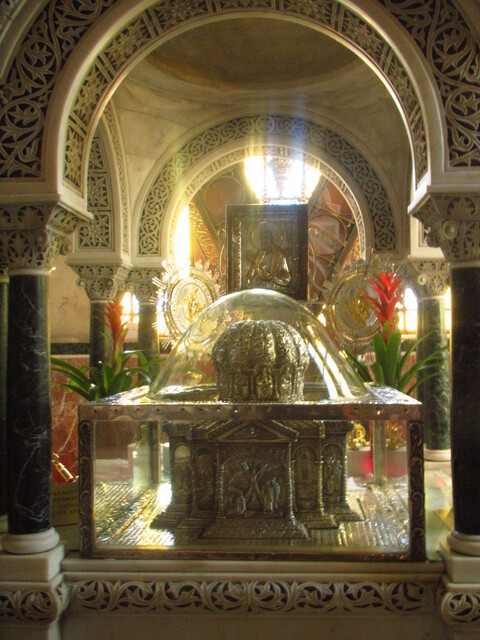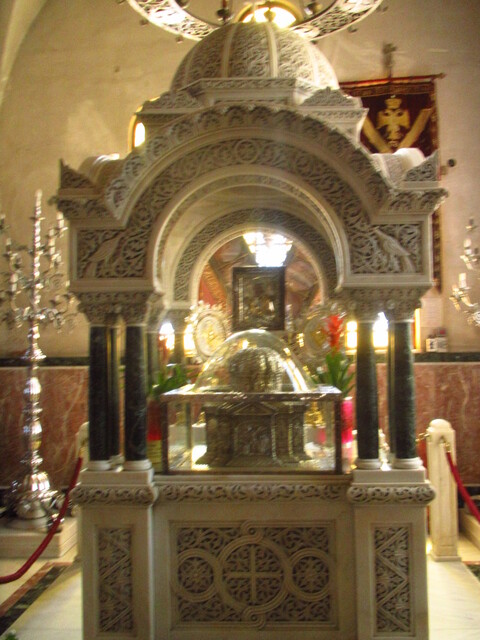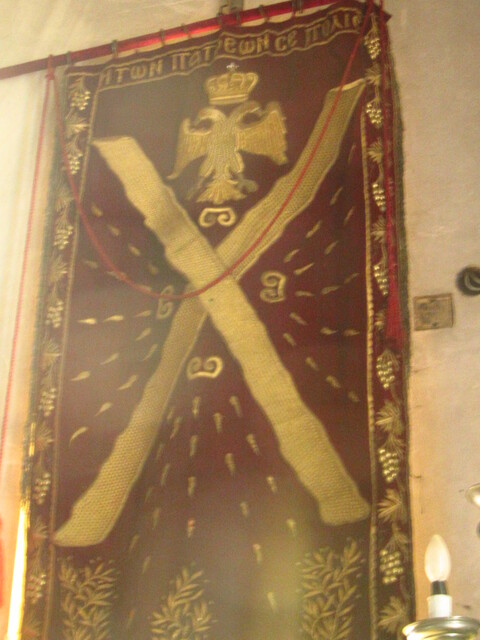 And because Saint Andrew is the spiritual patron of Romania,
I decided to end this project with a photo-poem including 3 images
-a Peloponnesian sunset, the noon sun over the Saint Andrew New Church,
and the sun cross of the same edifice -
and a beautiful Romanian reply to
Saint Paul's Epistles to the Corinthians
and Saint Andrew's sacrifice,
a stanza (in Romanian and in my English translation)
written by a friend of mine.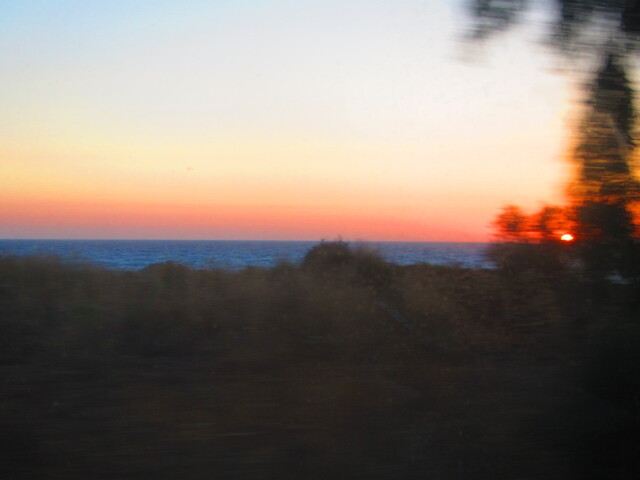 În orice gest iubire respirând
Şi dăruind, cum nimenea nu ştie,
Pulsează, ca-ntr-o zbatere de gând
Înalt, o infinită poezie.

(Dominic Diamant)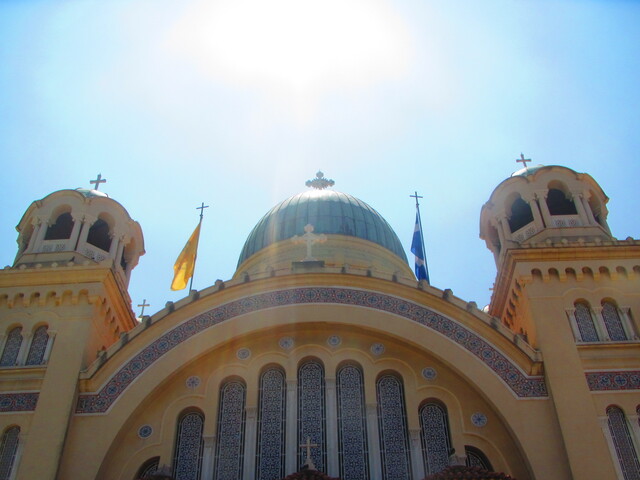 In any gesture breathing and giving love
-A so mysterious reality-
Something pulsates, the struggle of a high thought,
And this is just infinite poetry.

(Dominic Diamant,
English translation by Andrei Dorian Gheorghe)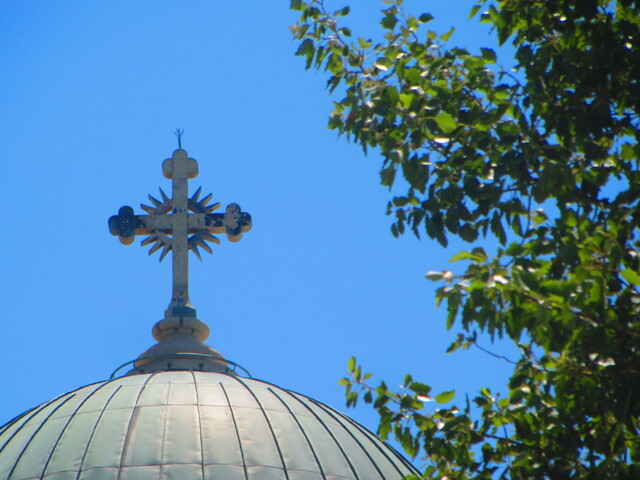 *
© 2019 SARM
(Romanian Society for Meteors and Astronomy)