FROM SAZARTINIA TO DEJHAGASCAR
-commemorating one year since Costica Gheorghe started to eternity-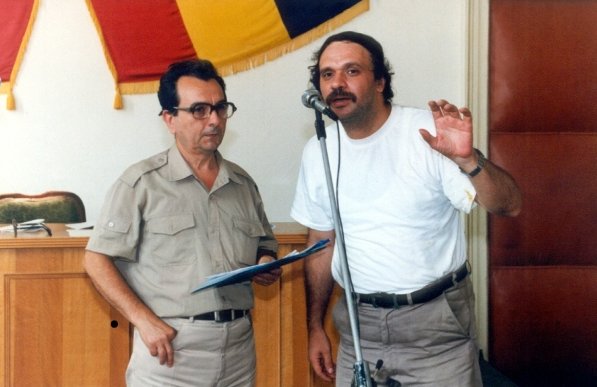 Dominic Diamant and Andrei Dorian Gheorghe in Sazartinia
(SARM's Cosmopoetry Festival 1996, Arts Showroom, Targoviste Mayoralty)
Photo: Victor Bortas

OF LONGING AND BLUE HEART
My friends, if I would be with you
on a way or another, it would be so good!
Would we fly in the sky like an
angelic and fecund swarm? Yes, we would.
Among the stars, we would be
glow-worms thirsty for divine essences,
and our future children would bring up
veiled by lights and by astral dances.
My friends, if I would be with you
where we're called by the high dream,
the Universe will live through us,
conquered by our happy team.
And the Creator would be so proud
of His superb progenies!
My dear friends, someday we shall blossom
as fantastic galaxies.
-Dominic Diamant-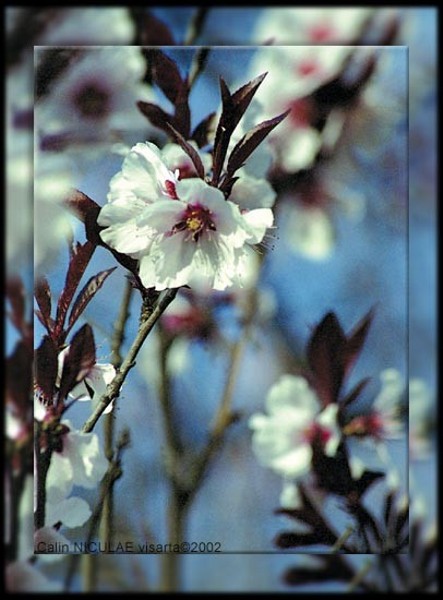 Photo: Calin Niculae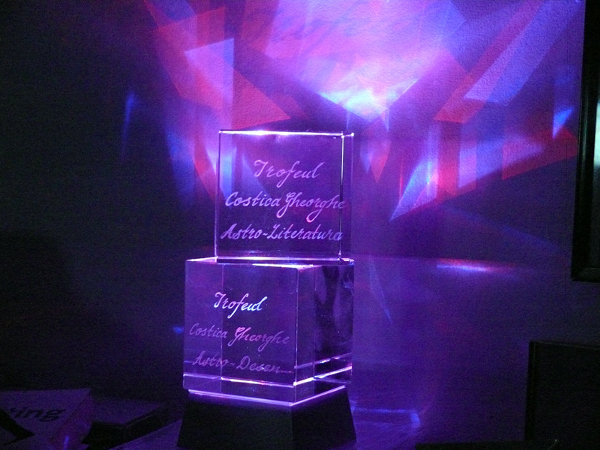 Artwork: Danut Ionescu
(organizer of the Costica Gheorghe contest of astroliterature and astrodrawing
for Romanian children that live in New Zealand)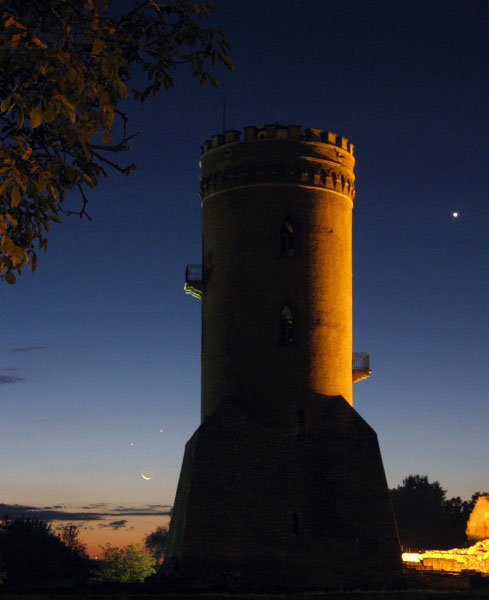 Moon, Saturn, Regulus, and Venus in dance around Tower Chindia in Targoviste
(nicknamed The Tower of Dracula -
Vlad Tepes, "the ruler of justice" in the Romanian Land in the XVth century)
Photo: Valentin Grigore

SPIRITUAL DIMENSION
What if we are connected to Earth,
depending on its atmosphere?
We can pass over this handicap,
and have not reasons for fear.
Venus is our dear sister,
Mercury a friend close to the Sun,
Mars, Jupiter and Saturn are uncles that
happy in space use to run.
The constellations are our aunts
hosting seraphic galaxies,
farer or closer to the Creator
who caresses bright destinies.
And thus, for us, there is always
a real dimension
in which to climb the heavens becomes just
an usual ascension.
-Andrei Dorian Gheorghe-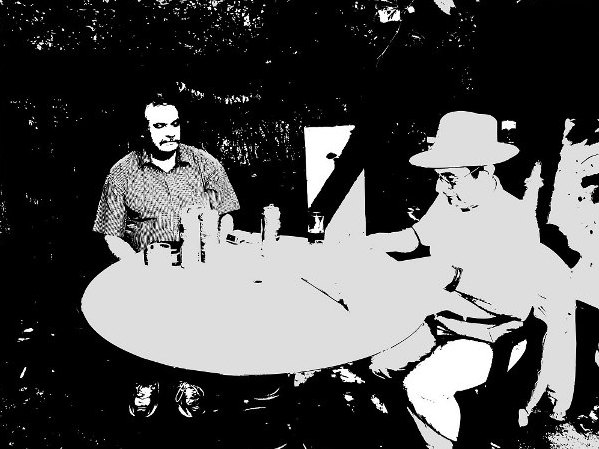 Andrei Dorian Gheorghe and Dominic Diamant in Dejhagascar
(Dominic's garden in Bucharest)
Image: Calin Niculae

ROMANIAN ORIGINAL VERSION OF THE COSMOPOEMS
VERSIUNEA ROMANEASCA ORIGINALA A COSMOPOEMELOR

DE DOR SI INIMA ALBASTRA
Daca eu voi ajunge la voi
Pe o cale sau alta, ce bine,
Vom zbura catre cer ca un roi
Ingeresc, roditor de albine
Printre stele vom fi licurici
Insetati de esenta divina
Si-i vom creste departe de-aici
Pe copiii urmand ca sa vina
Daca eu voi ajunge cu voi
Unde dorul din vis ne trimite
Galaxia trai-va prin noi
Cucerind galaxii infinite
Si ce mandru Divinul va fi
De odraslele Sale superbe!
Dragii mei, va veni acea zi
Sa-nflorim in fantastice jerbe
-Dominic Diamant-
DIMENSIUNE SPIRITUALA
Ce daca suntem lipiti de Pamant
si depindem strict de atmosfera?
E un handicap usor de invins
pentru cei care iubesc si spera.
Dulcea Venus este sora noastra,
Mercur e un amic langa Soare,
Marte, Jupiter si Saturn ne sunt
verisori in fasta alergare.
Constelatiile ne sunt matusi
gazduind serafice galaxii
roind in jurul Creatorului
ce mangaie destine mereu vii.
Si astfel pentru noi se deschide
cea mai tainica dimensiune,
in care a sui catre ceruri
e o uzuala ascensiune.
-Andrei Dorian Gheorghe-
Design: Florin Stancu
© SARM
(Romanian Society for Meteors and Astronomy)