SPACEMAN SAZARTINUS' SPACE HORSES

-To Costica Gheorghe-

Cosmopoetical cycle by Andrei Dorian Gheorghe
Design and images by Gabriel Ivanescu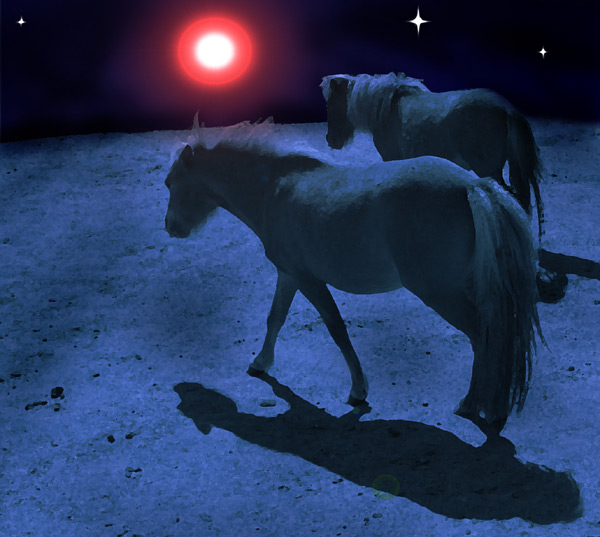 STATE OF SPIRIT

The clothes of old Sazartinus' life
were ragged.
Tired, he understood:
"The finest event
in the Universe's existence
is… Life."

TRINITY

"The Universe has
three major children:
Life, the wonder-progeny,
Freedom, which gives eternal senses,
and Truth, the inflexible judge."

LIFE

"…Kindling
the lights of the sky
and the stars of the soul."

FREEDOM

"A serene jump
towards a fascinating star.
A trajectory
above a restless ocean.
A feeling of flight
in a simple walk.
Or even the possibility of the ocean
to look restlessly for its sun."

TRUTH

"Without Truth,
all would be
an undreamt dream."

SPACE HORSES

"But my supernatural horses
that breathe void
and chew stellar embers?

I abducted them
when they were colts.
I have created a mini-universe
to concentrate happiness for them,
secure from external pseudo-palpitations.

I look at them -
it seems they are material and fully live!
Are they real, however?
Did they feel convulsions of light,
colliding in their flight
the magnetic wall
which surrounds my micro-cosmos
as an invisible anti-sphere?"

INTERMEZZO

Is that a joy
when nobody troubles anything?

Peace looks for formulae
in Sazartinus' zone.
Not even the clatter of space horses
can be heard.
Only sometimes they nervously shake
their own heads,
and their long, colored manes
prick silence.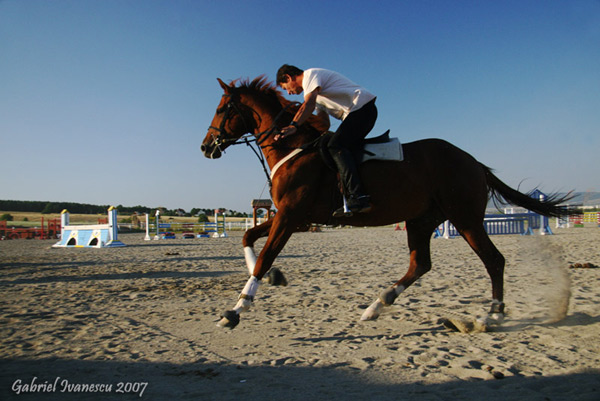 MELANCHOLY

"However,
you are so beautiful,
Life,
candidly playing
in the Empire of Light."

INTERMEZZO

Sometimes Sazartinus' horses
look at the infinite,
open their nostrils
and breathe a remote call -
out of sound, and out of light.

FEELING

Absence of freedom -
drought in their
robust organisms.

SAZARTINUS TO DEATH

"I always thought
there is an end of things,
but, beyond the visible objects,
I found other senses,
always other senses.
Every time I found,
beyond the known stars,
other stars,
each of them with its own mystery.

Now I'm seeing a line
that hides any horizon.
I don't move,
but I'm drawing nearer to it.
Beyond this border
I'll find all."

SAZARTINUS TO HIS HORSES

"I have been an egoist
because I have loved you
keeping you as my prisoners.
Will you feel my gift
as a late footfall
of uncertainty?"

RECEPTIVITY

The space horses looked at him
apparently calm,
chewing sparkles of stars.

Only their eyeballs
became harder -
small planets enriched
by a space dream.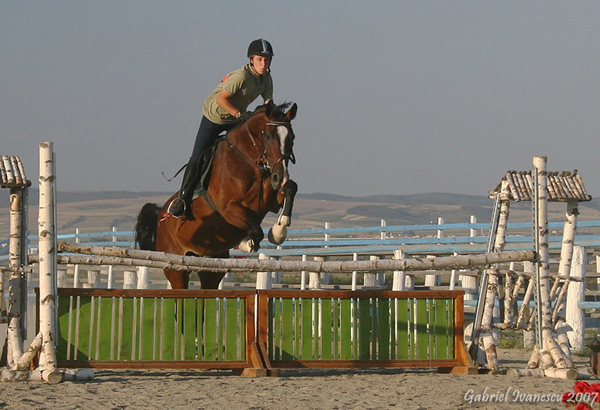 SAZARTINUS' PEACE

"Soon I shall disappear
in the internal memory,
with no address,
of this silent zone.

I never skied
on the orbit of servitude."

SAZARTINUS' LAST THOUGHT

"Only through forgetfulness
you can be happy.
But forgetfulness always comes
by steps of night."

SAZARTINUS' DEATH

Then a few stars signaled
through untidy brilliances
a cosmic unimportant arrear.

LIBERATION

Liberated by Sazartinus,
the space horses didn't know
the sense of freedom,
but enjoyed it,
childishly frisking through space.

VISION

The Universe's coat
covered them quickly.
Afterwards, its buttons -
uncounted stars.

VISION

Their passing into
other knowledge of space -
aesthetic dive
among the reverberations of time.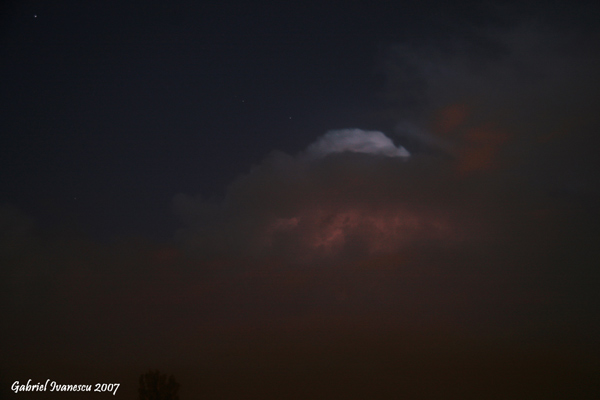 RUSH

Through their fantastic rush,
the flying horses defied the puzzlement
of the Universe, which became
an unexpected hippodrome.

(To be inspected by gallops
out of control -
what an unknown sensation!)

FLOOD

The truth impetuously flooded
through their
unshod hoofs.

VISION

For them, the speed of light
was neither a limit nor a symbol.
(They were much faster than it.)

Space horses -
hurried incandescent spots
in space.

Space horses -
bright atoms
of the universal motion.

FEELING

"Let's run through
that open cluster of stars!"
said the Green.

And they passed through it.

"Let's fly through
that annular nebula!"
said the Red.

And they passed through it.

"Let's stop on
that graceful planet!"
said the Yellow.

"We have not time for this,"
said the White,
"now we are free!"

And they started again.

VISION

So much joy
in their unconditioned jump,
in themselves -
whipped by light.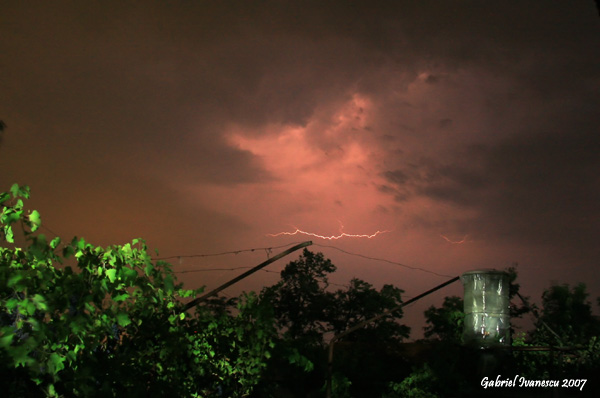 THE MILKY WAY

It seemed like
a passage of fascinations.
(Instinctively, they followed
the inverse road
of Spaceman Sazartinus.)

"What a nice highway!"
exclaimed the horses,
testing its void.

VISION

Their unforeseeable enthusiasm -
storm in the sensors
of the touched worlds.

VISION

"We still have to learn a lot
about the speed!"
said the envy comets.

EARTH

The space horses slowed down
close to the Earth.

"What a spectacular rain of lights
on the celestial terrace,
much faster than
a meteor shower!"
said some people,
delighted for a moment
among their usual terrestrial activities.

CONSISTENCY

"Stop and come to me!
I shall receive you imperially!"
called them
the Great Magician of Orion.
But the space horses
didn't want honors.

"Come with me!
You will be champions in each universal derby!"
called them
the Prince of the Swan.
But the space horses
didn't want triumphs.

"If you come to me,
you will be the pride of the galaxy!"
called them
the Magnate of the Great Chariot.
But the space horses
didn't want mega-shows.

"We don't need
generous masters,
pompous tournaments,
or essential exhibitions!"
replied the thoughtful horses,
accelerating again.

"Now we are free!"
concluded the flying horses,
galloping happy through the infinite.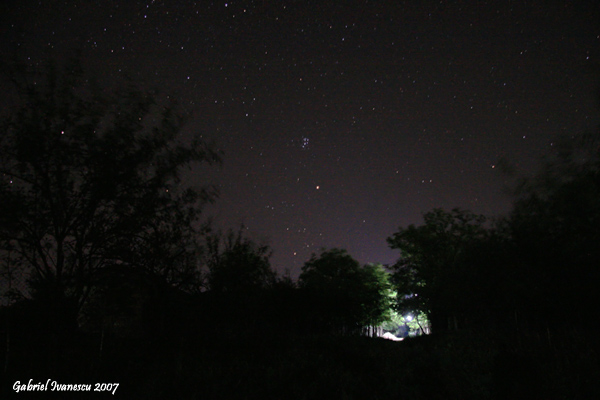 …

Author's Note:
The first Romanian original version was composed in 1983
and published in 1993 (in Spaceman Sazartinus' Space Wild Horses,
Polidor Publishing House, Bucharest).
The first English version was published in
Romanian Contemporary Astropoetry 2000 (SARM supplement)
as Spaceman Sazartinus' Meteor Horses.
The actual version was finalized in 2007.

…



ROMANIAN VERSION



STARE DE SPIRIT

Hainele vietii batranului Sazartinus
erau zdrentuite.
Obosit, acesta intelese:
"Evenimentul cel mai feeric
din existenta Universului
este… Viata."

TRINITATE

"Universul detine
trei copii de seama:
Viata, odrasla-minune,
Libertatea, care ofera sensuri eterne,
si Adevarul, judecator neprelucrabil."

VIATA

"…Aprinde
luminile cerului
si stelele sufletului."

LIBERTATEA

"Catapultare
spre o stea fascinanta.
Traiectorie
peste o apa nelinistita.
Senzatie de zbor
in simplu mers.
Ori poate insasi posibilitatea apei
de a-si cauta soarele - nelinistita."

ADEVARUL

"Fara el
totul ar fi un vis
nevisat."

SALBATICII CAI SPATIALI

"Dar caii mei supranaturali
ce respira vid
si mesteca taciuni stelari?

I-am rapit inca de mici.
Le-am creat un microunivers
in care, feriti de orice
palpitatie exterioara,
sa poata cunoaste fericirea.

Ii privesc -
par vii si materiali.
Si totusi, exista, ei, oare?
Sa fi simtit convulsia luminii
atunci cand se ciocneau
de zidul magnetic
inconjurator al cosmicului meu
ca o invizibila antisfera?"

INTERMEZZO

Aceea poate fi bucurie
cand nimeni nu e tulburat de nimic?

Linistea isi cauta algoritmi
in zona lui Sazartinus.
Nici tropotul cailor spatiali
nu se aude.
Doar uneori acestia
isi scutura nervos capetele,
iar coloratele lor coame, ravasite,
inteapa nealertarea.

MELANCOLIE

"Si totusi,
cat de frumoasa esti tu,
Viata,
jucandu-te naiv
in Imperiul Luminii!"

INTERMEZZO

Cateodata, caii lui Sazartinus
tresar si privesc lung in zare;
isi deschid larg narile
si repira o chemare indepartata,
ascunsa sunetului si luminii.

SENTIMENT

Absenta libertatii -
seceta in
robustele lor organisme.

SAZARTINUS CATRE MOARTE

"Intotdeauna am crezut
ca exista un capat al lucrurilor,
dar, de fiecare data descopeream,
in spatele celor vizibile,
alte sensuri, mereu altele.
De fiecare data aflam,
in urma stelelor pe care le intalneam,
alte stele,
fiecare cu misterul ei.

Acum, insa, vad o linie
ce ascunde orice orizont
si, fara sa misc,
ma apropii de ea.
Dincolo de aceasta granita
voi afla totul."

SAZARTINUS CATRE CAII SAI

"Am fost un egoist fiindca v-am iubit
tinandu-va prizonieri.
Veti mai putea simti, acum,
darul meu
ca un ropot tarziu
al indoielii?"

RECEPTIVITATE

Caii spatiali
il priveau netulburati,
mestecand jaratec de stele.

Doar pupilele ochilor puri -
mici planete imbogatite
de un vis spatial -
devenisera, parca, mai grele.

IMPACARE

"In curand, voi disparea
in memoria interna,
neadresabila,
a acestei zone tacute.

N-am schiat nicicand pe orbita
pe care scrie "servitute"."

ULTIMUL GAND AL LUI SAZARTINUS

"Numai uitand
poti fi fericit.
Dar uitarea vine intotdeauna
cu pasi de noapte."

MOARTEA LUI SAZARTINUS

Indata, cateva stele
semnalizara prin straluciri dezordonate
o neinsemnata restanta cosmica.

ELIBERAREA

Eliberati de Sazartinus,
caii spatiali nu cunosteau
rostul libertatii,
dar se bucurau de ea,
zburdand copilareste prin spatiu.

VIZIUNE

Paltonul Universului
ii inveli rapid.
Apoi nasturii sai -
nenumaratele stele.

VIZIUNE

Trecerea lor
in alta cunoastere a spatiului -
estetic plonjon
printre reverberatiile timpului.

GOANA

Prin fantastica lor goana,
caii zburatori sfidau
mirarea Universului,
devenit un hipodrom nescontat.

(Sa fii inspectat
prin galopuri necontrolabile -
senzatie ce inca nu s-a clasat!)

INUNDARE

Adevarul inunda navalnic
prin copitele
nepotcovite.

VIZIUNE

Pentru ei, viteza luminii
nu era o limita sau un simbol.
(O intreceau de multe ori.)

Caii spatiali -
grabite pete incandescente
in spatiu.

Caii spatiali -
stralucitori atomi
ai miscarii universale.

SENTIMENT

"Sa fugim prin
roiul acela stelar intermitent!" -
spuse Cel Verde.

Si imediat il strabatura.

"Sa fugim prin
nebuloasa aceea inelara!" -
vorbi Roibul.

Si indata o trecura.

"Sa poposim pe
planeta aceea gratioasa!" -
rosti Cel Pag.

"N-avem timp pentru aceasta!" -
raspunse Albul.
"Acum suntem liberi!"

Si iarasi se pornira.

VIZIUNE

Cata bucurie in saltul lor
neconditionat,
in ei insisi -
biciuitii de lumina.

CALEA LACTEE

Li se infatisa ca un
culoar al fagaduintelor.
(Parcurgeau, fara s-o stie,
drumul lui Sazartinus
in sens invers.)

"Ce magistrala frumoasa!" -
exclamara caii,
testandu-i vidul.

VIZIUNE

Imprevizibilul lor avant -
furtuna in senzorii
lumilor atinse.

VIZIUNE

"Avem inca mult de invatat
despre viteza!" -
spusera, invidioase, cometele.

PAMANTUL

Caii spatiali incetinira
aproape de Pamant.

"Ce ploaie de lumini
pe terasa cereasca,
mult mai rapida decat
un curent de meteori!" -
spusera unii oameni
incantati pentru o clipa,
apoi isi reluara activitatile cotidiene.

CONSECVENTA

"Opriti-va, veniti la mine,
va voi trata imparateste!" -
ii chema
Marele Mag al Orionului.
Dar caii apatiali
nu voiau sa stie.

"Haideti cu mine,
veti castiga toate derby-urile universale!" -
le striga
Printul Lebedei.
Dar caii spatiali
nu voiau sa-nvinga.

"Daca la mine veti poposi,
veti deveni mandria galaxiei!" -
ii imbie
Magnatul Ursei Major.
Dar caii spatiali
nu voiau s-asculte.

"N-avem nevoie
nici de stapani generosi,
nici de concursuri tari
si nici de expozitii esentiale!" -
spusera caii ganditori,
accelerand din nou.

"Acum suntem liberi!" -
concluzionara caii zburatori,
galopand fericiti prin infinit.
---
© 2007 SARM
(Romanian Society for Meteors and Astronomy)