THANK YOU, DEJHAGASCAR!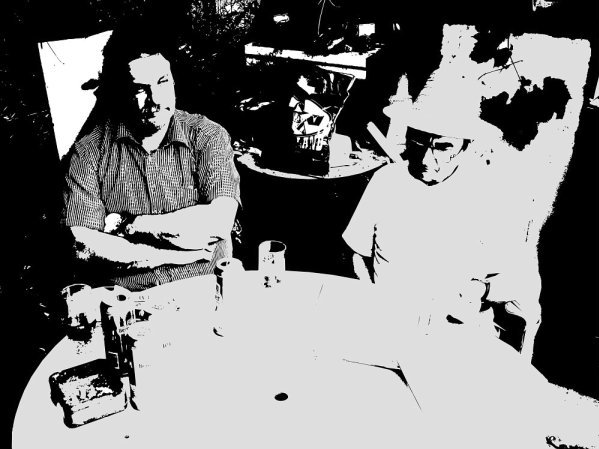 Andrei Dorian Gheorghe and Dominic Diamant in Dejhagascar
(Dominic's garden in Bucharest)
Image: Calin Niculae
OVERVIEW
-by Andrei Dorian Gheorghe-
Nobody is perfect,
all of us make mistakes,
but there are people
who create Sky on Earth.
As the Creator
blesses the Sky,
the people can
bless the Earth.
DREAMING IN DEJHAGASCAR
-by Dominic Diamant
(alias Don Quixote of Dejhagascar)-
1. BIG BANG OF LOVE
When I uselessly ask myself
how much time I can support
the chaotic bombardment
of all the events
when I forebode death
in the fever of each cell
ravaging my solitude
why should I postpone
from my burning fibres
the overflow of the subtle, profound, immortal
essence of life
why should I be fearful
why should I leave you, people,
without the Big Bang of love
2. LOOKING FOR DULCINEA
With my soul burnt by frenzy
I looked for you
in all horizons
in all spheres
sometimes your shadow
seduced me with sweet illusions
at other times I bathed myself in your light
like a radiating stalk of lily
but we never lost ourselves
stunned by fragrances
dampened by dew
on some field
in some Milky Way
3. THE LIVING FLAME OF THE WRITING
From the hearth of a poor house
to the comfort of a pompous palace
the flame of the writing
has continued to vibrate
even if the spectrums
of human virtues
are still in resonance
with spectacular results
even if the brave burning
consumes new elixirs
the striking thirst increasing
with every splendour
the living flame of the writing accompanies,
like the Polar Star,
the mirages of the eternal world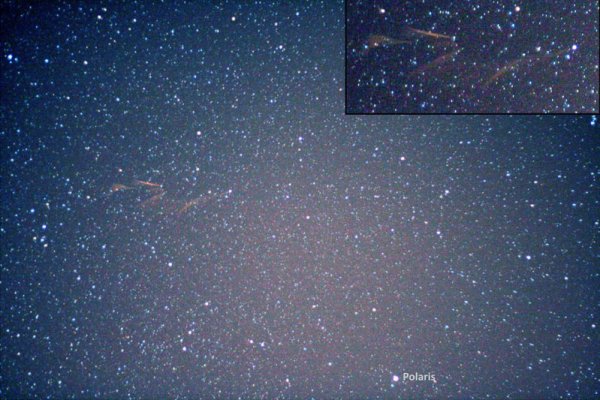 Polaris and the Train of an Ursid Meteor
(December 21-22, 2008)
Photo: Valentin Grigore
ROMANIAN ORIGINAL VERSIONS OF THE POEMS
VERSIUNEA ORIGINALA ROMANEASCA A POEMELOR
SUPRAEVALUARE
-de Andrei Dorian Gheorghe-
Nimeni nu este perfect,
cu totii facem greseli,
dar exista oameni
care creaza Cer pe Pamant.
Asa cum Creatorul
sfinteste Cerul,
oamenii pot sa
sfinteasca Pamantul.
VISAND IN DEJAGASKAR
-de Dominic Diamant
(alias Don Quijote din Dejagaskar)-
1. BIG BANG-UL IUBIRII
Cand in zadar ma intreb
cat o sa pot suporta
bombardamentul haotic
al tuturor intamplarilor
cand moartea o simt si-o resimt
in febra fiecarei celule
devastandu-mi singuratatea
de ce-as amana revarsarea
din fibrele mele aprinse
a subtilei, profundei esente
nepieritoare a vietii
de ce v-as scuti,
timorat,
de Big Bang-ul iubirii
2. CAUTAND-O PE DULCINEA
Cu sufletul ars de nesatiu
te-am cautat frematand
in toate zarile
in toate sferele
uneori umbra ta-nselatoare
m-a sedus doar cu dulci amagiri
alteori ma scaldam in lumina-ti
ca un lujer de crin radiind
dar nicicand n-am ajuns sa ne pierdem
de miresme-mbatati
uzi de roua
pe vreun camp
in vreo Cale Lactee
3. FLACARA SCRISULUI, VIE
Din vatra sarmanei chilii
pana-n confortul aulic
flacara scrisului, vie,
n-a incetat sa vibreze
chiar daca spectrul virtutilor
omenesti rezoneaza din plin
rezultatele dovedindu-se
tot mai spectaculoase
chiar daca bravul nesatiu
se-nfrupta din noi elixiruri
nastrusnica sete sporind
cu fiecare splendoare
flacara scrisului, vie,
ca Steaua Polara-nsoteste
mirajele lumii eterne
*
English translations from the Romanian by Andrei Dorian Gheorghe
Design by Florin Stancu
© 2009 SARM
(Romanian Society for Meteors and Astronomy)