MASTERS OF INTERNATIONAL ASTROPOETRY SALUTE
THE INTERNATIONAL METEOR CONFERENCE 2011
INTERNATIONAL ASTROPOETRY POSTER
(completed down with six works of art by juniors at the
"Balasa Doamna" Art High School,
the class of teacher Carmen Antonescu,
Targoviste, Romania)
-photographed by Victor Chifelea-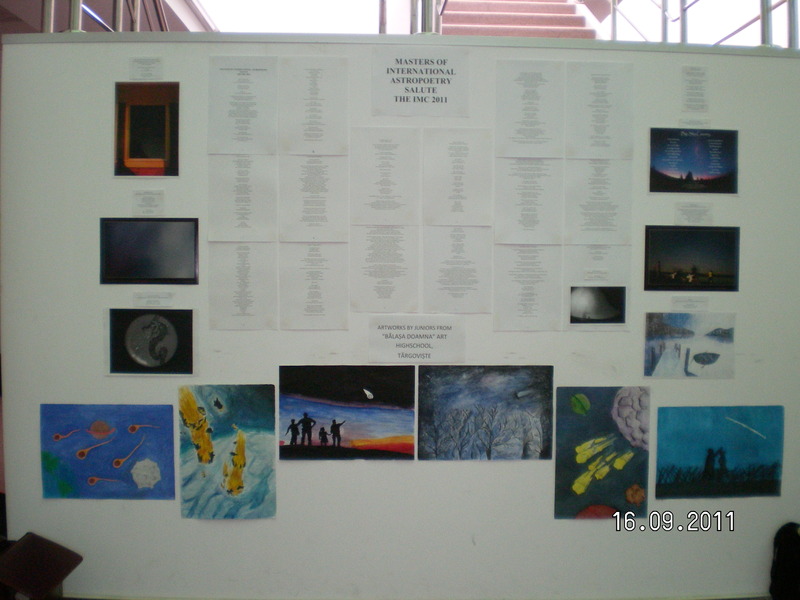 METEOR HAIKU
-by Bruce Boston (USA,
the first Grand Master of SF poetry)-
deep space traveler
the meteor fell to Earth
in a sheet of flame
NOW, US…
-by Victor Chifelea (Romania)-
Sophisticated exposures or extravagant theories
sustained by labyrinthic calculations,
try to lighten the misunderstood.
But the illusions will disappear one after the other
since Magellan, gone with his superluminic ship
to traverse the unidimensional universe,
will never come back,
and only we will remain,
alone with our fantasy and timorous we'll continue
to tell stories to chase the pressure of implacable destiny,
more beautiful stories to induce the mental narcotic,
and thus we'll not find the "zero point" of the universe,
but we'll be closer to the first sparkle of imagination.
THE SOUND OF SILENCE
-by Robert Eklund (USA,
editor of the Astropoetry Blog of Astronomers Without Borders)-
In a warm darkness,
Sprinklers start up with a hiss
As a meteor falls.
"PERSEIDS 2011 IN ROMANIA" POSTER
(by Valentin Grigore)
-photographed by Victor Chifelea-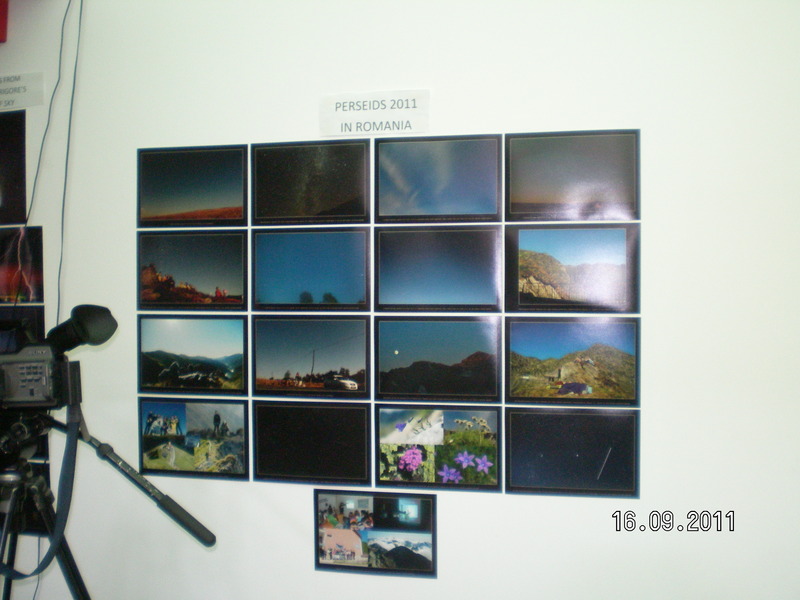 ASTROSTANZA
-by Dominic Diamant (Romania)-
I do not doubt I'll be part of the Great Space Magic,
recovered and embraced by
the universal dust and the cosmic powder
METEOROID
-by Zigmund Tauberg (Romania)-
It's a long time since
he continually wanders through space,
and nobody knows
when his journey will end.
The way is immense
and his flight seems to take an eternity.
But maybe sooner or later
he will meet a heavenly body,
a satellite or a planet,
and will start to that structure.
He will do his best
to unite ardently with her
and thus he will take
the dreamed rest.
METEOR SHOWER B.C.
-by Marge Simon (USA,
editor of Star*Line - the Journal of the Science Fiction Poetry Association)-
On a cold night,
centuries ago, a slave of Thebes
looks out the small hole
that serves as a window.
He's only twenty, but his shoulders
bow like an old man.
Alexander owns his bones.
In the skies a bright light
followed by many more,
as kinsmen following a shining
king across the evening sky.
For him, it is a sign of hope.
A METEOR'S DREAM
-astro-art-poem by Diana Alexandra Ardelean (Romania)-
Dancing with dragons
On Mozart's violin music
Graceful chords as cascades.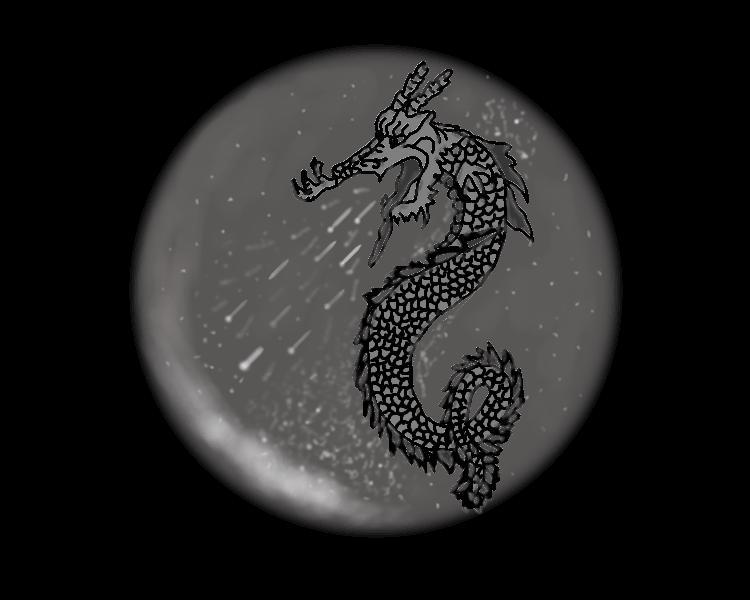 PERSEIDS
-by Dan Mitrut (Romania)-
a road of dust among the acacias
a yellow rain of leaves
twilight
the perseids pass
cutting off the branches
one step
another step
after the mountain
the moon's spot of burnt brick
JULIUS CAESAR
-by Alfredo Caronia (Italy,
discoverer of asteroids)-
You were within the ages,
fragment of time,
unwitting creator
and wise projection,
static sign
of time contingent
or signal
of universal approaches;
Caesar,
you have marked the time,
instrument of your empire,
making the months
synonyms of your power
but you have lined
to flow sidereal
stages of your yearly cycle.
What talent wise
or enlightened vision
projected
you over a table cosmic,
more updated
and for what purpose,
sublime, intimate
or supreme,
you chose
to be a disciple of an astronomer ?
The sky led you to discover
tides of Brittany
and the magnetic fluxes of the moon;
Julius Caesar,
you have put your signature
over the time of any modern astronomer
which estimates the time and date
of motion of each body
synchronizing to Universal Time
the daily date
in relation to
Julian date.
Caesar,
you were within the ages,
now you are the voice of an empire forever
with no ambitions and limitations.
You, who were
destruction of blood
on the altar,
heartbroken
between the seats of the Curia
"Julia"
that was yours,
betrayed
for conspiracy,
hurt by injury,
victim
in the time limit,
of an impious strategy,
now you are
universal temple
of astronomy.
METEOR HAIKU
-by Iulian Olaru (Romania)-
berries of stars
seeds of light
astral wheat
BIG SKY COUNTRY
-astro-photo-poem by John Goldsmith ( Australia,
member of The World At Night
and producer of Celestial Visions)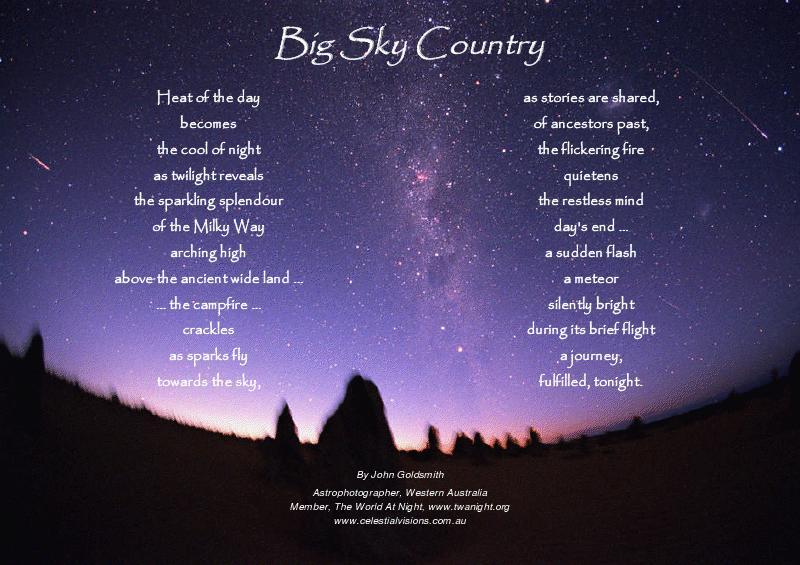 CRAZY SKY
-by Andrei Dorian Gheorghe (Romania)-
"The Lyrids…
A so hoarse meteor shower
from a so musical constellation!
The Perseids…
A so peaceful meteor shower
from a so martial constellation!
The Leonids…
A so artistic meteor shower
from a so bestial constellation!
The Geminids…
A so various meteor shower
from the constellation of two twin brothers!
The Quadrantids…
A so important meteor shower
from an unrecognized constellation!
Certainly, the northern sky is crazy,
so I'm happy I can produce myself
in a much more quiet sky!"
said the Phoenicid meteor shower
in the southern hemisphere.
METEOR RAIN
-artwork by Corina Chirila (Romania)-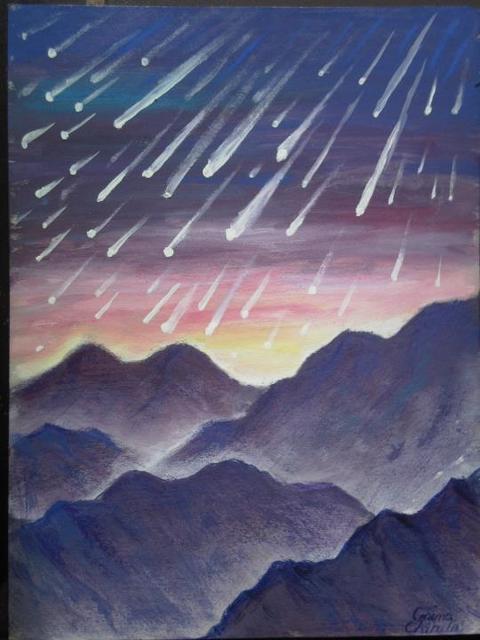 STAR NURSERY
-by Kim Goldberg (Canada,
laureate of national awards for poetry)-
there is no solitude in the summer garden - mobbed
by nebulae of backlit bugs, woozy dustmotes
with jurassic minds dancing
loosey-goosey above my black-eyed susan vine
an ever-sliding galaxy of half truths
and moot replies like that night last spring out on
dumont road before you
left for good (certain as a solar flare
that this would be the last time) - you held my shoulders
tight, our faces tilted to the sky, as you showed me
the stellar nursery in the wild duck cluster
while I quacked into the gut-smooth
shroud of night binding us together in habit
and past life until something snapped
splashed, quacked back from the enfolded
dark grazing our bare arms with the wobbly paradox
of a laughter filled with heart yet hollow enough
to hold a parting
METEOR STANZA
-by Dominic Diamant (Romania)-
You can't imagine how much the meteor showers thrill me,
stimulating an immense nostalgia
after the origins lost in the murk of time.
MY WINDOW WITH SOUTHERN STARS
-astro-photo-poem by Danut Ionescu (New Zealand,
Auckland Astronomical Society;
born in Romania)-
My window with southern stars
is a poem
this is my gift for you
and I'm still waiting
to see up in a corner
a tiny meteor
FALLING STAR
-by Nicoleta Georgiana Coman (Romania)-
A star chose to fall from the sky of my love
Breaking the ties much too early to go
It fired the world in a purple haze glow
It shined in my heart, enlightened my soul...
The flame purified the trails of star's fall
Now even the sky will miss it a while
Cause the star is now gone on my emerald isle
Shining in me every time I recall...
Now as I'm watching the stars in the night
None seem like the one that shined right above,
None seem to have power to turn darkness off;
Now I find the place empty where it used to be light...
RADIANT POINT
-by Stephen M. Wilson (USA,
editor of "microcosms")-
Our planet showers
in celestial glory -
angels from Heaven?
METEORS
-by Mircea Pteancu (Romania)-
We love with so much power
things which are not visible,
so how could we not love the meteors,
which, for enlightening our moment,
burn until they become ashes.
CRISTIAN DANIEL GRIGORE'S ARTWORK POSTER
-photographed by Victor Chifelea-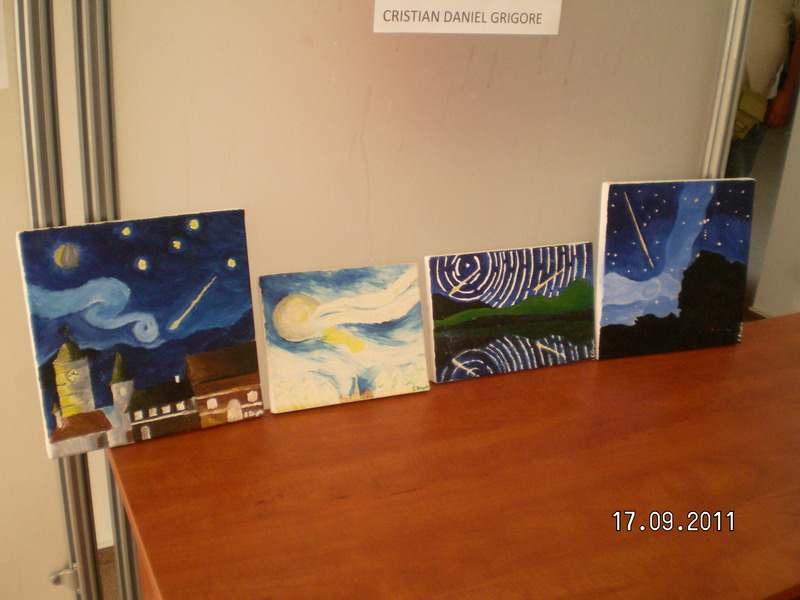 CHILDHOOD
-by Pompiliu Alexandru (Romania)-
When I was a child,
during the wintertime,
I threw matches to a hot kitchen range
and savoured the flashes which suddenly appeared,
new sparkles consuming their tiny lives.
My little meteors,
human creations for dreams of gods.
METEORS
-by Steve Sneyd (UK,
director Hilltop Press)-
These messages so
secret they burn before we
can read them keep right
on coming declaring we
wish to think a shy, shy love
COSMIC PARTICLE
-by Dumitru Mihaiescu (Romania)-
What a chaos,
I am so ruthless
that I've lost the contact
to the good inspiration of the Earth…
How should I go on?
In this perfect chaos
I feel like a
defective Hyperion.
THE SOLDIER AND THE UNIVERSE
-by Marge Simon (USA,
editor of Star*Line - the Journal of the Science Fiction Poetry Association)-
_His eyes are black, hidden within rings of tattoos.
His legs are mountains, his arms sequoias;
a thousand histories in the lines of his face.
His signals ripple the sky.
Yet he remains human.
And the universe remains unimpressed._
PERSEIDS 2011
-astro-photo-poem by Flavius Gligor (Romania)-
Many thin meteors
bathed in the placid light
of the (almost) full moon.
I saw about 30 in 6 hours.
Fortunately,
one of them let itself caught in a picture.
It ended in the constellation Draco.
So it was
not a dashed meteor,
but a "draco"ed one.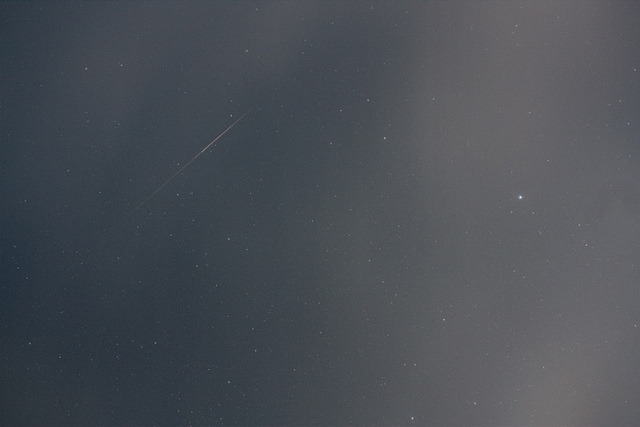 METEOR
(paradoxist quatrain)
-by Florentin Smarandache (USA,
founder of Paradoxist Literary Movement;
born in Romania)-
A luminous point
Extinguishes on the canopy
Like a hope which dies
Before being born
MEMORIES ABOUT THE PERSEIDS AFTER 50 YEARS
-by Virgil V. Scurtu (Romania)-
I began to study astronomy in 1955
and between July 1957 and January 1959 there was
a great international cooperation named the International Year of Geophysics,
in which the Romanian magazine "Science and Technique"
organized national contests for amateur astronomers,
occasions for me to win a few awards.
The meteor showers were some of the objects recommended for studies,
and I began to read up on them.
The most seductive seemed to be the Perseid shower,
with a maximum of activity in August, during the holiday,
when the weather was warm and pleasing, but the night was too short.
In 1959 I found an article, "About the determination of the radiants
of the meteor showers" by Ioan Corvin Sangeorzan,
who proposed a new method by using maps in stereographic projection,
which did not deform the constellations at their edges,
in contrast to the maps of the Brno Atlas,
which were made in central (gnomonic) projection.
Sangeorzan exemplified on the Geminid meteor shower,
and I decided to check his method on the Perseid meteor shower.
So using formulas and logarithms, calculating the coordinates for 47 stars,
observing the Perseis for four nights in 1960,
then processing the data, I produced a work paper,
"The Determination of the Perseid Radiant through the Method
of the Stereographic Map" which was published in October 1961
in "Gazette of Mathematics and Physics" (a magazine for
the university environment), although I was just a high school student.
Thus, 50 years ago, when I was 19, due to that work paper about Perseids,
I was characterized as "the most precocious astronomer in Romania"…
Later I couldn't escape from the Perseids:
after 1990 I was solicited a few times as an instructor for the
annual Perseid Camp of the Romanian Society for Meteors and Astronomy (SARM)
and, as a miscellaneous fact, I found that
a few other Romanian personalities in science made Perseid observations:
Grigorij Abramovici Shain (astronomer and academician),
Vintila G. Siadbey (whose doctorate contained a thesis about the meteor motion),
Varujan Pambuccian (mathematician and parliamentarian)…
Thus, related spirits met over the years…
METEOR HAIKU
-by Iulian Olaru (Romania)-
twinkle furrowing
the silence of twilight -
a memory
WHO ARE THE STARS
-astro-photo-poem by Dan Mitrut (Romania)-
All the things I know
can find room enough
in an out-of-use box of the Atlantis space ship
it's hard to go rifling the equal sign
all the breath in us flies on perfect orbits,
so to move the moon from its road
is a delusion
if you have a good destiny
you can wake up when
your child treads words and asks about stars
a new world is born
the Perseids fall
in every season
METEOR STANZA
-by Dominic Diamant (Romania)-
Overwhelmed with the magnitude of cosmic harmony,
the old fireball exploded,
provoking a luminous symphony from the greatness of liberated powder.
SURPRISE
-by John Francis Haines (UK,
leader of Eight Hand Hang - British netwotk of SF poets)-
Tumbling, silent, invincible in the void,
The deadly lump of iron and rock
Begins to glow as it touches atmosphere.
Heads look up. Faces, flushed
With wonder and excitement,
Turn white with terror
And the distant rumble
Becomes a deafening roar.
ABOUT METEORS
-by Boris Marian (Mehr), Romania-
I cannot write more about meteors
because I don't meet them on the street
but I know that nothing is incidental
not even love
so I would say that no meteor showers
would be dangerous to the poets
because they are similar… a little.
"NIGHTS OF PERSEIDS" FESTIVAL IN HORODNIC
(poster made by Dimitrie Olenici)
-photographed by Victor Chifelea-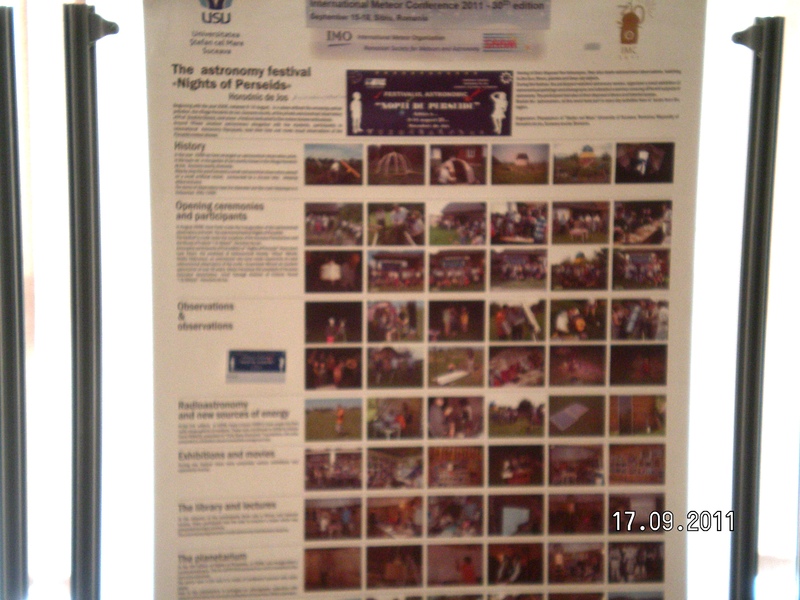 METEORITE
-by Steve Sneyd (UK,
director of Hilltop Press)-
From field - fall onto
altar meteorite told
tribe "bend to wonder"
METEOR STANZA
-by Dominic Diamant (Romania)-
Do not laugh at us because we haunt the atmosphere in burning flocks.
At any time we can transform you into ash,
and anywhere we can start outlandish enchantments.
A TWO-LINE POEM
-by Galina Ryabova (Russia,
professor at Tomsk University)
Glimmering star-beads, bugles of meteor light -
Nice embroidery on a gown of Night.
METEOR HAIKU
-by Iulian Olaru (Romania)-
I see the sky field
with brilliant furrows
of light
METEORPOLIS
-by David Kopaska-Merkel (USA,
Editor of Dreams and Nightmares,
President of the Science Fiction Poetry Association)-
I flew, I did.
Time passed,
my passengers
did not remark upon it,
asleep in their city,
burned, then frozen,
the fabled low-g gardens
not visited now
in their 4K home
by tourists or any others.
This point of light, this speck,
growing by slow increments,
It seems, but my approach
is the cause
of its engorgement.
A star, I think, golden
like my erstwhile home
we'll come, I deem,
in a great whoosh
the gardens will bloom
then, in a terrifying burst
of light.
VALENTIN GRIGORE'S "STATE OF SKY" POSTER
-photographed by Victor Chifelea-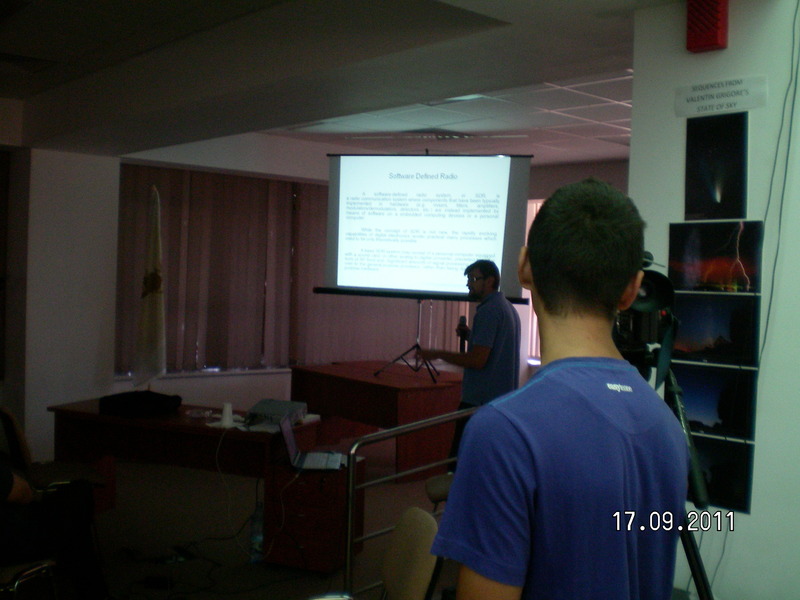 PERSEIDS 2011
-by Mihai Rusie (Romania)-
Recently I read in a Romanian central newspaper
a stupid article about the Perseid meteor shower
and I selected a few "pearls" of imbecility:
1. "The peak hour is 2:30am."
2. "On the occasion of the meteor rain, luminous trains of
thousands of cosmic particles can be observed per hour."
3. "Most of the detached pieces are the size of a grain of sand
(the largest is as big as a bean.)"
4. "The particles that touch the Earth are called meteorites,
and those which perish after friction with the atmosphere are called meteoroids."
5."The meteor bodies are 9.7 km in diameter".
6. "Swift-Tuttle, by comparison with other comets from the same family,
was pushed to a new trajectory many years ago by the gravity of a travelling star."
7. "On the night of 12-13 August 2011 on the canopy of heaven full of stars
you can observe a luminous train once or twice per minute."
Congratulations for such a popularization of astronomy.
This time the queen of sciences was lucky.
THE PERSEIDS IN TURKEY 2011
-by Arlene Carol (USA,
residing in Turkey)-
In other years, it's often been a struggle
To rouse myself from a good night's sleep
To go outside and watch the meteors fall.
This year, the Perseids coincide with Ramadan,
The Moslem holy month of fasting during daylight hours.
At approximately 3:15am each night, the Imam climbs the minaret
And calls us all to wake.
Though not fasting, I still get up and trundle outside
To await the setting of the moon
And the falling of the stars.
…
When I was a child,
My parents taught me
'Twinkle-twinkle little star,
How I wonder what you are.'
Do children today 'wonder' anymore?
I suspect they know and can relate
Things we never knew back then.
METEORS
-by Irina Cristescu (Romania)-
The colors of the city
closed in the rains of August,
concentrating to travelling points.
Now the colors radiate
from heights, from stars,
as a recourse,
to waters and dreamy people.
PERSEIDS 2011
-astro-photo-poem by Cristina Tinta-
Sometimes the Moon
kills falling stars…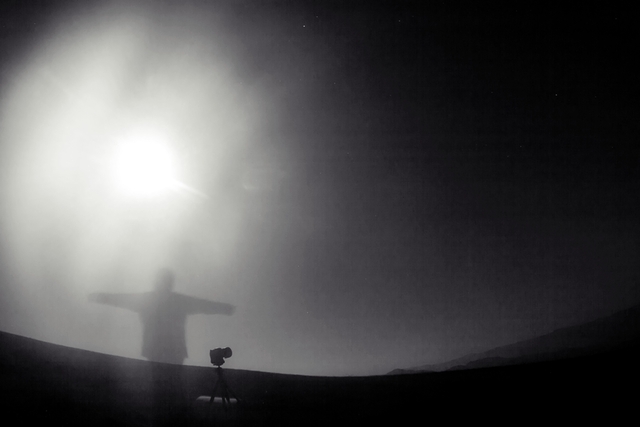 EURONEAR AND PERSEIDS
-by Ovidiu Vaduvescu (La Palma, Canary Islands, Spain,
leader of the EURONEAR project;
born in Romania)-
A few weeks ago I made an observing run
on the famous American "Victor Blanco" telescope in Chile
together with two of my former Chilean students
(who observed right in Tololo, being in direct contact
with me - placed in La Palma)
and four Romanians
(who reduced in a few days the images received through the Internet from Chile).
I consequently re-checked and re-reduced ten sets of difficult images,
and last night I finished the reduction of data.
In this mission we could discovered 14 asteroids
(potential hazardous asteroids and virtual impactors),
most of them at the second opposition and very slim,
so potentially dangerous for Terra
and hardly detectable by smaller telescopes.
This was my first official EURONEAR run
obtained on a four meter telescope after a contest for Chilean observing time,
and I'm glad for the four Romanian volunteers.
I wish all of you clear skies from La Palma, where this morning,
when I finished my work for today at the Roque de los Muchachos Observatory,
a few Perseid meteors and a even fireball
saluted me in a hurry…
HAIKU
-astro-art-poem by Diana Alexandra Ardelean (Romania)-
My whole life
Meteors carried by the wind
And a dance in the rain
METEOR EXPEDITION
-by Ion(ut) Moraru (Romania)-
We went by car to the muddy volcanoes,
veiled by a lunar color,
to see the Perseid maximum in a spectacular landscape.
A rain accompanied our road,
the drops sketched craters on the windscreen,
falling just like fire boulders
on the moon without atmosphere.
Then I lowered myself, seeped,
with them on Earth,
another kind of meteor shower,
through luminous, atmospheric, concentric circles.
INSTALLATION ART
-by Kim Goldberg (Canada,
laureate of national awards for poetry)-
rolling swagger of a space pirate
glaucous-winged gull patrols
low tide, plucks loosened star
from rock-strewn brine
sails up on flawless square-rigged wings –
bluish tongs clutching knobbled loot
to be hung with the rest (in the shape of
medusa's head this time)
for public viewing
METEOR STANZA
-by Dominic Diamant (Romania)-
If my misfortune is to die devoured by atmospheric space,
at least I have to leave a luminous train
as great as the dark canopy.
PERSEIDS 2011
-astro-photo-poem by Mihai Curtasu (Romania)-
In the last years there have been a lot of reports about the Perseids…
but in 2011 it seems that the moon was an obstacle
and the observations were not so productive.
I made observations close to Bucharest, in Darvari.
The meteor activity was modest
and the moon was criminal,
allowing only 1-2 photographic fields
to the "ferocious" zones of
Taurus and Ursa Major.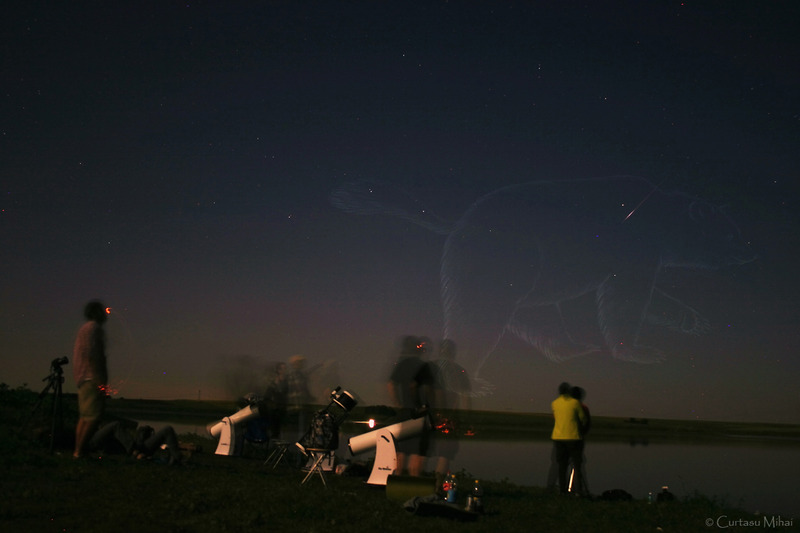 THE PERSEIDS
-by Marge Simon (USA,
editor of Star*Line - the Journal of the Science Fiction Poetry Association)-
Lay low, watch the night,
tears of the gods shall shed their light
as a meteor passes by.
AUTUMN OF ORIONIDS
-by Dan Mitrut (Romania)-
The dragon of the astropoems has eyes
injected by insomnia
he doesn't eat
he doesn't drink
he just stays parked on a celestial idea
on an astrolab
(probably my heart)
he flutters a sigh from his right wing
and smokes silk from his left nostril
this autumn during the orionids
the beast crams into my heart again
biting fresh falling stars
haunting my childhood
from this pain I've found
that I'd never be able to
choose another destiny
I feel withered
connected by the mane full of stars and tales
and I see the morning again
giving birth to me
THOUGHTS
-by Pompiliu Alexandru (Romania)-
Our thoughts are the meteors
of our mind.
They appear transcendently
or from seeming abysses.
They lose immediately
their luminous, revelatory aura
and become words,
raw and black matter.
ANDREI DORIAN GHEORGHE PROUDLY SHOWS
THE INTERNATIONAL ASTROPOETRY POSTER
AT THE IMC 2011
-photo by Victor Chifelea-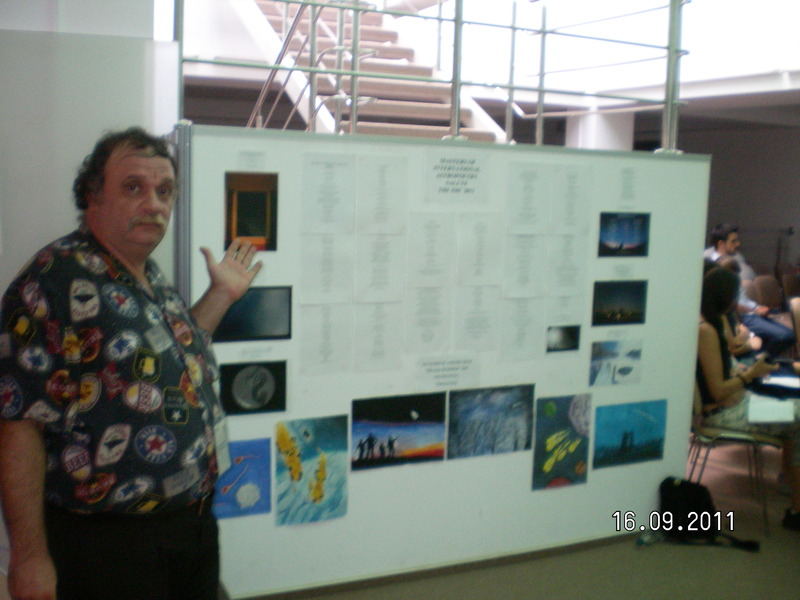 HOME
NEXT