THE BALLAD OF A METEOR FALLEN IN LOVE
BALADA METEORULUI INDRAGOSTIT
-by Dan Mitrut-
*
In September 2000, at the Culture House of Pucioasa (Romania),
during the 4th Astropoetry Show
(which this time had the form of a
real international meteor poetry festival)
of the International Meteor (Organization) Conference,
SARM presented another original act:
a meteor musical drama,
which totalized 10 minutes,
directed by Andrei Dorian Gheorghe
and based on The Ballad of a Meteor Fallen in Love,
an astrofolk song by the cant-author Dan Mitrut
(also Technical Vice-President of SARM).

Thus, Dan Mitrut began that act by singing in Romanian
the first two stanzas of his song.
Then Andrei Dorian Gheorghe (in the role of Meteor)
and Gelu-Claudiu Radu (in the role of Narrator)
recited in English the text of the song
(translated by Andrei Dorian Gheorghe)
on guitar accompaniment by the same Dan Mitrut,
who continued with improvisations on a pan pipes and a whistle
made by himself.

In the last (and the most intense) part of the act,
Dan Mitrut sang his whole song in Romanian,
while Andrei Dorian Gheorghe (as Meteor Fallen in Love)
and Cristina Tinta-Vass alias Tina Visarian (as Beacon-Star)
performed the content of the text as a dumb show.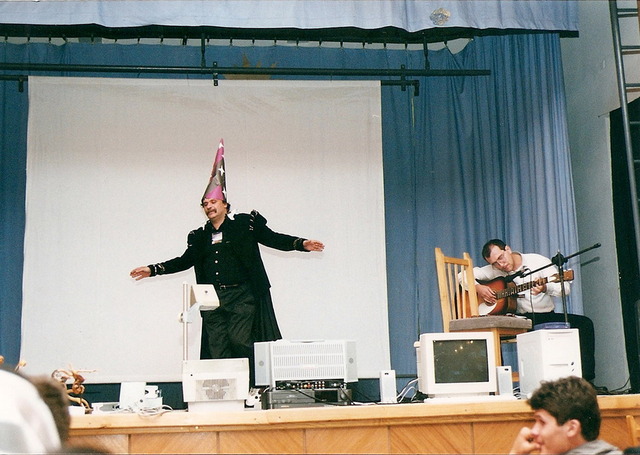 Andrei Dorian Gheorghe and Dan Mitrut in the beginning of the musical act
Photo: Yasuhiro Tonomura (Japan)
ENGLISH VERSION OF DAN MITRUT'S LYRICS
METEOR:
How much I want to arrive,
To come down in flight on Earth
Just for her,
The logo-starry light.
Me, a poor grain of fire,
I want to show…
Oh I want to show my love
To her.
And my life would be
A short morning,
My longing has stayed
Too much forgotten.
I am a flying being in the night,
My world is cold,
So I want to be
Your mortal.
I am a sacrifice,
I am a thought,
I am a dream carried by the wind,
Hey-hey…
I am burning
In the air,
But my soul is hotter,
Hey-hey…
Close to the stars
I was born,
Close to the stars
I fell down.
Close to the stars,
Bad heart,
Close to the stars,
My love.
NARRATOR:
When he arrived on Earth,
The star was
Just a beacon in the night,
Just a beacon…
The entire Universe cried
His despair
In the night,
Fallen in love.
Butterflies of sparkles
Lightening the canopy,
Meteors were falling
Over the flavoured dawn.
And us too,
We are a prey for skies,
Hearts of embers,
Life of measles.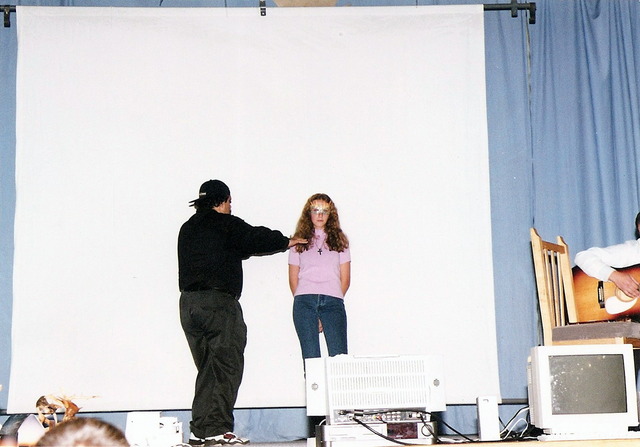 Meteor (Andrei Dorian Gheorghe) and Beacon-Star (Cristina Tinta)
during the musical act
VERSIUNEA ORIGINALA ROMANEASCA
A VERSURILOR LUI DAN MITRUT
METEORUL:
Cat… cat as vrea sa ajung,
Sa cobor in zbor pe Pamant
Doar pentru ea,
Lumina logo-stea.
Eu, biet graunte de foc,
Sa-i arat as vrea,
Sa-i arat
Dragostea mea.
Si-o sa-mi fie viata
Scurta dimineata,
Prea mult a stat
Dorul meu uitat.
Zburator in noapte
Lumea mea e rece,
Sa fiu doar eu
Muritorul tau.
Eu sunt jertfa,
Eu sunt gand,
Eu sunt vis purtat de vant,
Hei-hei…
Fierb in aer,
Fierb si ard,
Dar mi-e sufletul mai cald,
Hei-hei…
Aproape de stele,
Acolo-s nascut,
Aproape de stele
Am cazut.
Aproape de stele,
Inima rea,
Aproape de stele,
Dragostea…
POVESTITORUL:
Cand a ajuns pe Pamant,
Doar un far aprins in noapte
Steaua era,
Doar far in noapte.
Tot Universul plangea
Deznadejdea lui
In noapte,
Indragostit.
Fluturi de scanteie
Luminand pe bolta
Ard meteori
Peste dalbe zari.
Noi suntem asemeni
Cerului o prada,
Inimi de jar,
Viata de pojar.
*
© 2009 SARM
(Romanian Society for Meteors and Astronomy)