ASTRONOMERS, ROMANIAN UNIONS
AND A VISION OF
GLOBAL ASTRONOMY MONTH 2018
DURING THE CENTENARY YEAR OF
THE GREAT ROMANIAN UNION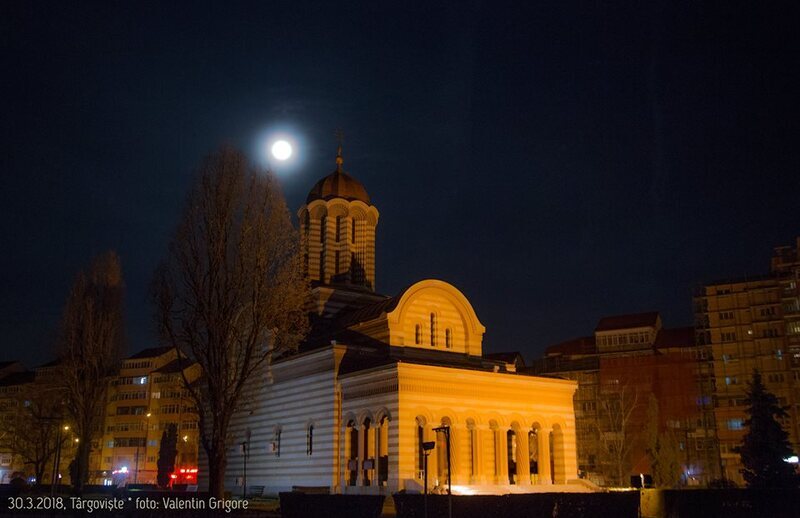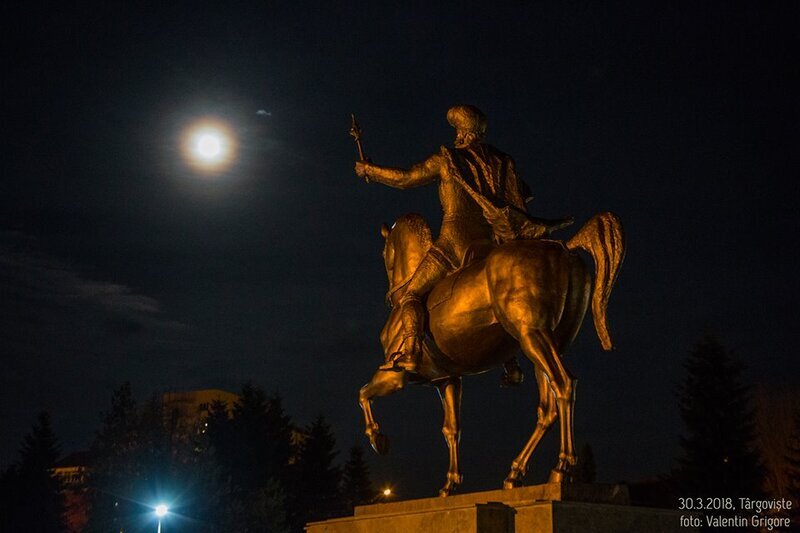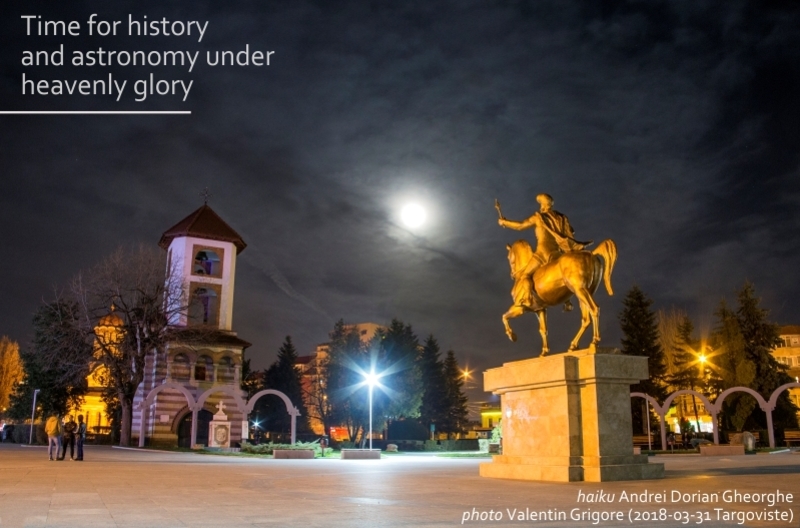 Three introductory photos Valentin Grigore
Text and photos Andrei Dorian Gheorghe
Design Florin Alexandru Stancu-
*
In 2018 March 30
the president of SARM, Valentin Grigore,
took in Targoviste (the former Capital City of the Romanian Land or Wallachia)
the first two pictures from above,
with the Crowned Moon over
the former Mitropoly (Metropolitanate) of Wallachia
and the statue of Mihai Viteazul (Michael the Brave);
one day later he photographed the Blue Moon
over the same statue of Michael the Brave,
the first unifier of Wallachia, Transylvania and Moldova (in 1599-1600).
It was a short-lived union because,
although Mihai Viteazul had stopped for a while the Ottoman attacks,
he was assassinated, after more opinions of historians,
from the verbal order of the Emperor of the Holy Empire.
But he created for centuries
the Romanian national ideal,
which was achieved in steps between 1848 and 1920.
This project is a dedication to the astronomers
connected to the Romanian Unions
(1859: Wallachia + Moldova = Romania;
1877-1878: the Independence War + the Union with Dobrogea;
1916-1920: World War I + the Unions with Basarabia, Bucovina, Transylvania,
Satmar and Southern Maramures, Eastern Crisana,
Central and Eastern Banat),
and includes:
a short commemoration of their merits,
along with a photo-poetic series of astro-pilgrimages
and visions about the unique time of the Global Astronomy Month
during the Centenary Year of the Great Romanian Union.
ASTRONOMERS AND THE ROMANIAN UNIONS
FOLLOWING THE DECREASING MORNING MOON
HEAVENLY BODIES IN AN ELECTRIC PARK
HEAVENLY BODIES AT A FESTIVAL OF ARTIFICIAL LIGHT
AN EXPEDITION TO UNIONIST MONUMENTS
A DAY UNDER THE TRANSYLVANIAN SKY
FOLLOWING THE INCREASING EVENING MOON
ASTROPILGRIMAGES IN BUCHAREST
*
© 2018 SARM
(Romanian Society for Meteors and Astronomy)