METEOR MURPHOLOGY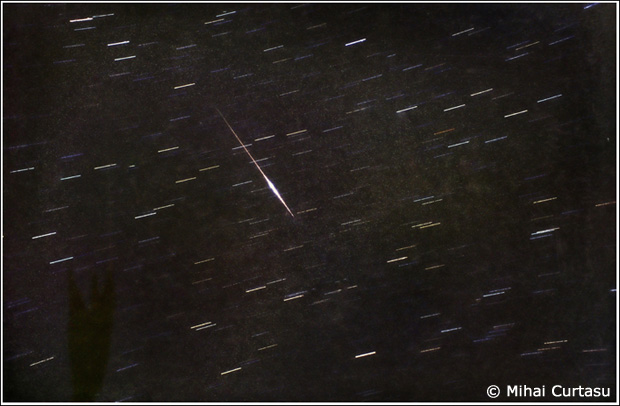 During SARM's Perseid II Camp 1994 on the Voievodes Hill
near the town of Targoviste, Romania,
Marian Mitroi launched his Murphy's Laws on Meteors.
Three years after, an enriched variant of them
was exhibited during SARM's Perseid V Event.
Murphy's Laws on Meteors were also exhibited
at the International Meteor Conferences
in 1997 (Petnica, Yugoslavia) and 1998 (Stara Lesna, Slovakia),
and published by the International Meteor Organization
in Proceedings of the International Meteor Conference -
Cerkno, Slovenia, 20-23 September 2001,
as a part of Andrei Dorian Gheorghe's essay
"Meteor Art at the IMCs before the IIIrd Millennium".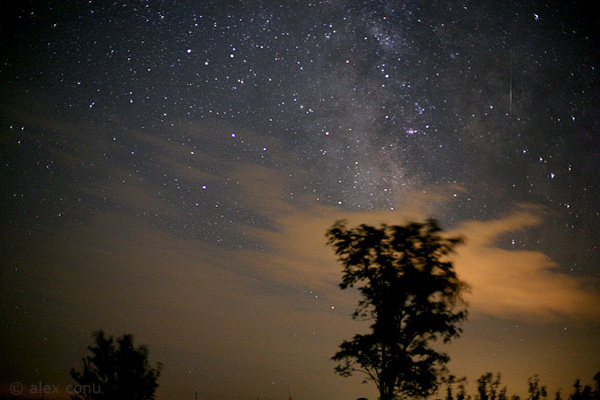 Murphy Laws on Meteors
-by Marian Mitroi-

1

The most beautiful meteors appear
when the observers take a short repose.

2

All the fireballs will appear in the
small part of the sky uncovered by cameras.

3

a.
If a fireball passes through the field of a camera,
that camera is not released.

b.
If the camera is released,
its clarity is not regulated.

c.
If the clarity is regulated,
the object lens is steamed.

4

If a fireball is very bright,
this is not a condition for being imparted on the negative.

5

The first luminous fascicle from a lantern starts slowly and surely
to the first camera which is open.

6

The clearest sky appears
in the time of the sweetest sleep.

7

If the maximum of a meteor shower is approaching,
the chance that the clouds will cover the sky is growing too.

8

Every spectacular fireball will be seen
by a minimum number of observers.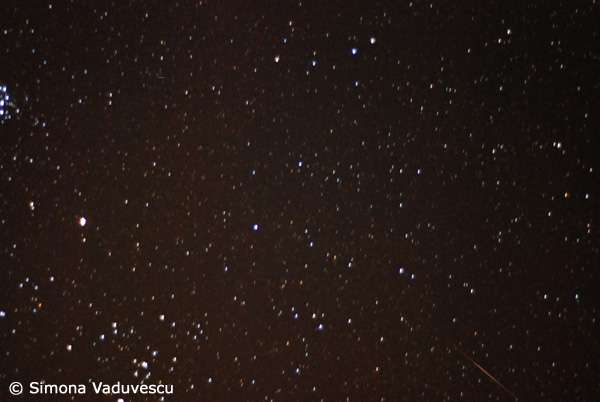 The Law of Alin Tolea:

If the number and duration of the photographic exposures are big,
the possibilities that the camera will not have film inserted are big too.

The Principle of Gelu-Claudiu Radu:

Every time when my fellow Ovidiu Cioroianu comes
to make astronomical observations, the sky becomes cloudy.

The Usual Consolation of Ovidiu Cioroianu:

I tried to observe a meteor shower
and I could study various types of clouds.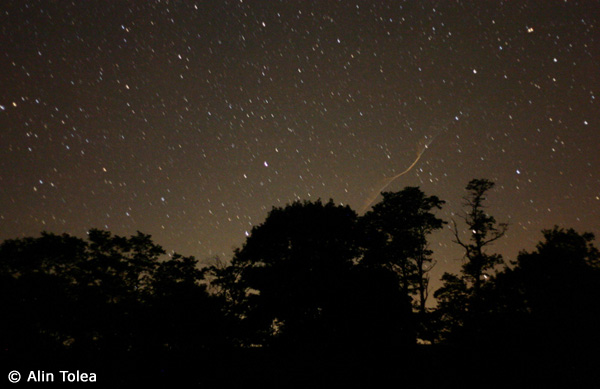 The 2007 Fire Proverb of Andrei Dorian Gheorghe:

He who sees only light pollution
says that the fireworks are more beautiful than the fireballs.

The 2007 Tipuritura of Andrei Dorian Gheorghe
for Unlucky Meteor Observers:

Though it finely shines alone,
It is just an ugly stone.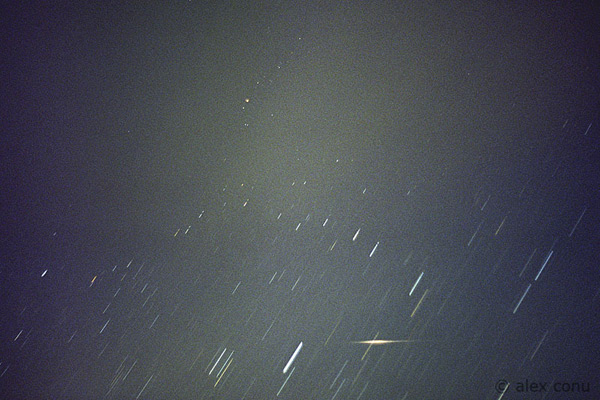 ---
Note:
The photographs were made around
the Perseid meteor shower maximum 2007
by Mihai Curtasu (1) and Alexandru Conu (2,5) in Romania,
Simona Vaduvescu (3) in Hawaii and Alin Tolea (4) in U.S.A.
The last two astrophotographers participated at the first editions
of SARM's Perseid Camp.
Design: Gabriel Ivanescu
© 2007 SARM
(Romanian Society for Meteors and Astronomy)