SUNSET IN GIULESTINA
COSMIC ROMANIA 3
-text and photos by Andrei Dorian Gheorghe;
design: Florin Stancu-
The Big Bang launched a lot of spheres,
which seem to be now
balls of a superior game,
maybe just a cosmic football.
And our Sun is one of them,
giving birth to a lot of picturesque stories…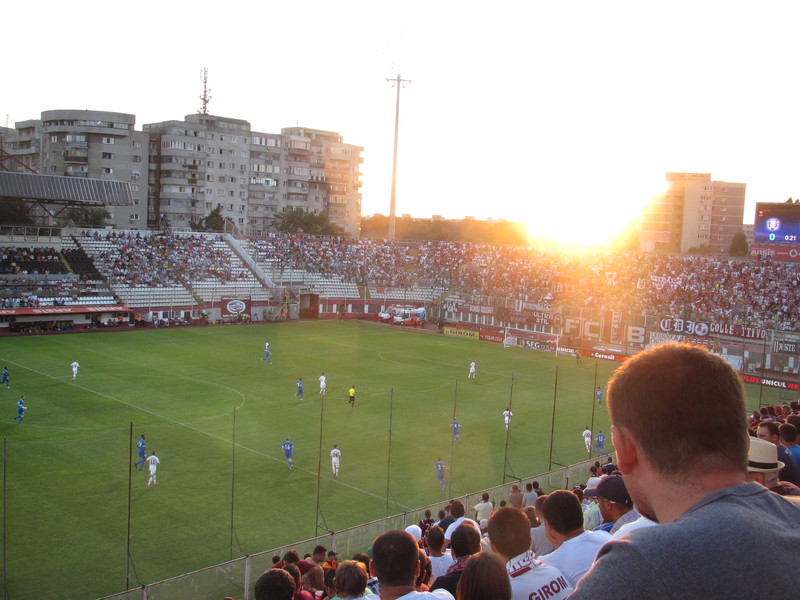 One day I wanted to watch an association football match
in the Giulesti stadium,
which was built in between 1936 and 1939,
being the biggest in Romania at that time.
(I said association football - which is named "soccer" by Americans - to set apart
this classical football
from other kinds of football: rugby, American, Gaelic, Australian…)
Why just in "Giulestina",
the sacred territory of the Rapid Bucharest football club
(which was founded in 1923 by a group of railway employees as a
"cultural and sporting association"
and which had to become one of the most
original, poetic and non-conformist clubs,
beloved both by simple workers and progressive intellectuals)?
Because this is a stadium of wonders,
and any good patron and manager would make it become
a temple of South-East-European football
(unfortunately, it is not the case of those who manage it now:
they say there is not money, so this stadium goes to rack and ruin).
Let's see some samples of amazing deeds happened on its turf.
In the capitalist era:
-In 1938, after 1-4 at Budapest and 0-0 after the first round in Giulestina
(which was not completely finished yet)
with Ujpest in the Central Europe Cup
(a kind of Champions League of those times),
Rapid Bucharest marked 4 goals in only 45 minutes
and eliminated this multiple winner
of that competition and of Hungarian championship,
a team that included a half of the Hungarian national representative
that had became world vice-champion a few weeks ago!
-In 1939, even King Carol II and Prince Mihai
attended the official inauguration of the Giulesti stadium
(and from then on, Rapid Bucharest was nicknamed
the "royal football club of Romania")!
In the communist era (1948-1989):
-A famous goal-keeper of Rapid was extremely enthusiastic,
so that he was caught in off-side, took corner kicks
and marked goals from penalty kicks!
-A forward of Rapid was extremely nervous,
so that he sent the ball into lateral out from…
a penalty kick!
-The gallery of Rapid dared to shout rhymed and rhytmhical slogans
against the Communist (and dictatorial) Party.
(The same amazing gallery went 60 km by foot
from Ploiesti to Bucharest after a decisive match,
celebrating in this original manner
the first national title of Rapid in 1967).
In the post-communist era:
-A midfielder of Rapid was extremely merciful,
so that he refused an obvious penalty kick decided
by the referee of a match
just because he was moved by the inferiority of the opponents!
-A former junior of Rapid, loaned to other team,
came back to Giulestina as an opponent
and was so shocked by this new position
that he died on the grass of his beloved stadium!
-For an important match, Rapid had all its goal-keepers with medical problems,
but even the vice-president of the club, a former goal-keeper,
decided to replace them,
so Rapid won that match and that national championship!
-In 2001, in a match with Paris Saint German,
the nocturnal reflectors failed and could not be repaired,
and Rapid was disqualified just because the UEFA board did not understand
the poetic invitation of Giulestina
to continue that match under the light of the stars!
-In 2006, only with Romanian players,
Rapid Bucharest defeated (2-0) and eliminated in the UEFA Cup
the famous multinational team of Hamburger SV,
that had a 25 times bigger budget!
The original spirit of this stadium was also favourable
to some of the most incredible victories of Romanian sport:
-In 1980, in a rugby match,
Romania defeated France (the best team in the Northern Hemisphere at that time)
with 15-0!
-In 2004, in a football match,
Romania defeated Germany (the vice-champion of the world)
with 5-1!
It is said that the American writer Mark Twain's destiny
was connected to Comet Halley:
he lived in between 1834 and 1910,
just when this comet, having a period of around 76 years,
passed close to Earth.
In its turn, Rapid Bucharest's destiny
seems to be connected to another periodical tailed star,
Comet Tempel-Tuttle
(the parent-body of the Leonid meteor shower),
which has an orbital period of around 33 years.
Let's demonstrate this.
Around 1932
(when Comet Tempel-Tuttle was not seen,
but it passed!):
-Rapid promoted into the first Romanian league in 1932,
won 7 times the Romanian Cup (1936-1942),
reached the final of the Central Europe Cup 1940
(annulated because of World War II),
and won the Basarabia Cup (the national championship during the war).
-Among the teams defeated by Rapid Bucharest (in official or friendly matches):
Hungary (B), Maccabi and Hapoel Tel Aviv, Levski Sofia, Genoa 93,
Olympique Marseille, Admira Vienna, Fenerbahce and Galatasaray Istanbul,
HASK and Gradjanski Zagreb, Ujpest and Hungaria Budapest, SK Bratislava…
Around 1965
(the second passing of Comet Tempel-Tuttle
in the existence of this club):
-Rapid won the Balkan Cup in 1965 and 1966,
then the magnificent Leonid meteor outburst in November 1966
stimulated this team to win for the first time the Romanian Championship in 1967,
to reach the round of 16 in the European Champions' Cup
(and here, a dramatic 0-1 and 0-0 with Juventus Torino) in 1967/68,
to win the European Railways Cup in 1968
and the Romanian Cup in 1972 and 1975,
and to reach the quarter-finals of the Cup Winners' Cup in 1972/73.
-In 1963, Rapid represented Romania in a match won (2-1) at Belgrade
against Yugoslavia, the current Olympic champion.
-5 players of Rapid contributed to the best results
of the Romanian national team till those times,
classified in the first 12 teams at the World Championship 1970 in Mexico
and in the first 8 teams at the European Championship 1972.
-Among the teams defeated by Rapid Bucharest in official or friendly matches:
Besiktas Istanbul, Dinamo Tirana, Lokomotive Moscow, OFK Belgrade,
AS Napoli, Legia Warsaw, AS Roma, FC Bangu Rio de Janeiro,
FC Curitiba, Alemannia Aachen, Widzew Lodz,
Hungary (olympics), Senegal, Liban…
-In 1971 Rapid played in Brazil, obtaining ties with
Vasco da Gama Rio de Janeiro and Internacional Porto Alegre,
and in 1977 Rapid played in China, defeating the Chinese Army football team.
-In the Cup Winners' Cup 1975/76, the unique team that defeated
Anderlecht Bruxelles (the winner of that edition)
was… just Rapid (1-0 at Bucharest)!
After that the communist party punished Rapid
by sending it to play in the second league
because it signified a too free spirit and had a too big gallery.
But the passing of Comet Halley in 1985/86 enlivened a little
the international results of Rapid Bucharest
(as if Mark Twain interfered from the heavens):
victories against Arsenal Cairo, Real Celta Vigo, Panathinaikos Athena,
Gwardia Warsaw, Lokomotive Leipzig, Orgryte Goteborg, Bulgaria (youth),
Leicester, Charleroi, Eintracht Frankfurt, Karlsruhe…
the 1st place at a 1993 "octagonal" in Medan (Indonesia)
with a final victory against Republic of Moldova,
and 3 times the 2nd place in the groups of the Intertoto Cup (1989, 1991 and 1997).
The 3rd passing of Comet Tempel-Tuttle (1998)
gave new wings to Rapid Bucharest,
which won the Romanian Cup in 1998
(when the Leonid meteor shower gave a fantastic outburst of fireballs),
2002, 2006 and 2007,
the Romanian Championship in 1999
(the year of "the total solar eclipse of the century",
with the best visibility in Romania)
and 2003
(the year of the transit of Mercury across the Sun),
and 4 times the Romanian Supercup,
reached the quarter-finals of the UEFA Cup in 2005/06
and the groups of the Europa League in 2011/12,
and won more international tournaments:
a "hexagonal" in Antalya in 2004
(defeating Grazer AK in the final),
a "triangular" in Montreaux in 2005
(defeating Udinese Calcio and Panionios Athena),
Dan Coe Trophy in Giulestina in 2008
(defeating the champion of France, Olympique Lyonnais),
the Estonian Federation Cup in 2011
(defeating the champions of Poland and Belgium, Wisla Krakow and Genk),
plus it was the runner-up in the "octagonal" Kadyrov Cup 2012.
And more, Rapid Bucharest won a group of the UEFA Cup in 2005
right in the night of the Geminid meteor shower maximum.
Other teams defeated by Rapid in those times:
Dundee United, FC Aberdeen, Feyenord Rotterdam, Shakhtar Donetsk, PAOK Salonic,
Rosenborg Tronheim, Rennes, NK Gorica, Vardar Skopje, FC Sarajevo,
Madeira, Hapoel Haifa, Victoria Plsen…
And some memorable ties:
0-0 with FC Liverpool (the unique draw on Anfield Road
in the UEFA Cup 2000/2001, won by this team),
1-1 in 2000 with Galatasaray Istambul (the holder of the European Supercup)
in Giulestina,
1-1 with Ajax Amsterdam in 2010…
It is also to add that more Romanian players of Rapid
were transferred to other (stronger) championships,
one of them becoming a champion of Turkey,
one becoming a champion of Ukraine and a winner of the UEFA Cup,
one being invited to play in a world team, Christmas Stars, in Italy,
one becoming a champion of Portugal and a winner of the Europa League…
Finally, I'd like to remind some moments in which Rapid Bucharest
thrilled the entire world:
-In 1972, for the first time in history, the two important teams named Rapid,
one from Vienna and one from Bucharest,
officially confronted in the Cup Winners' Cup
(obviously, Rapid Bucharest was the winner: 1-1 and 3-1).
-In 2004, the match Romania - All Star World Team 3-2 at Craiova
included 11 former, current or future players and trainers of Rapid Bucharest.
-In 2005, another unique case, this time in a match in the UEFA Cup,
Shakhtar Donetsk - Rapid Bucharest 0-1,
in which the first team was trained by Mircea Lucescu,
the father of Razvan Lucescu,
who, at that moment, trained just Rapid!
-In October 2006, after a series of 15 victories, 6 ties and 3 losses
in the UEFA Cup plus other good results,
Rapid Bucharest climbed on
the 5th place in the world ranking of the clubs,
made by the International Federation of Football History and Statistics!
(Then Rapid Bucharest finished the year 2006 on the 10th place in the world,
after Sevilla FC, FC Internazionale Milano, AS Roma, Milan AC, FC Barcelona,
Liverpool FC, Arsenal FC London, Olympique Lyonnais,
and SC Internacional Porto Alegre, but before
Sao Paulo FC, Chelsea FC London, FC Bayern Munchen, Ajax Amsterdam,
River Plate Buenos Aires, Real Madrid etc.,
an unique position for a team with an annual budget of only…
3.5 million Euro!!!)
A dear friend of mine and sky lover from Spain, Antonio Martinez Picar
(who used to admire matches with Real Madrid and FC Barcelona),
visited me in 2011,
and I proudly informed him:
"Rapid Bucharest just defeated Austria Vienna in an international tournament,
one week after Austria Vienna had celebrated its centenary
defeating a world team!"
"It means that Rapid Bucharest is the best team in the world!"
concluded (and smiled!) Antonio.
Anyway, I am optimistic that
around the next passing of Comet Tempel-Tuttle in 2031,
Rapid Bucharest will win the Champions League,
the European Supercup and the FIFA Club World Cup.
And believe me, friends, these are not astrological connections.
Only astronomical enthusiasm!
That's why I regret that, traditionally,
the comets can be named only after their discoverers,
and Comet Tempel-Tuttle will never become
Comet Tempel-Tuttle-Rapid Bucharest.
But we all are creations of the solar system,
and I would have another option in the world of asteroids,
which are named after freer rules:
since Rapid was the 5th team in the world in October 2006
(just in the year when the first Romanian-international project for discovering asteroids
was founded)
I will ask my friend Ovidiu Vaduvescu
(who leads the EURONEAR project)
for proposing the name of one of the asteroids discovered by his team
after… Rapid Bucharest!
And I will make the following cosmopoetical suggestion
to the International Astronomical Union,
in order to accept Ovidiu's proposal:
Rapid Bucharest is a myth
That would warm even the void
If its name would be just given
To a boring asteroid!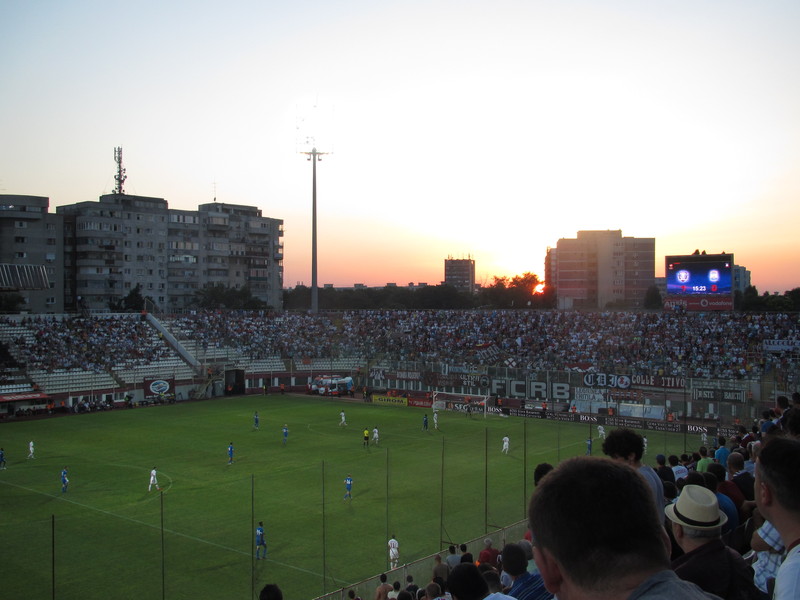 In the meantime the Sun has set,
but his light is imitated
by the reflectors of the Giulesti Stadium
for a new international victory of Rapid Bucharest.
So let's watch the football match,
an inertia of the Sun!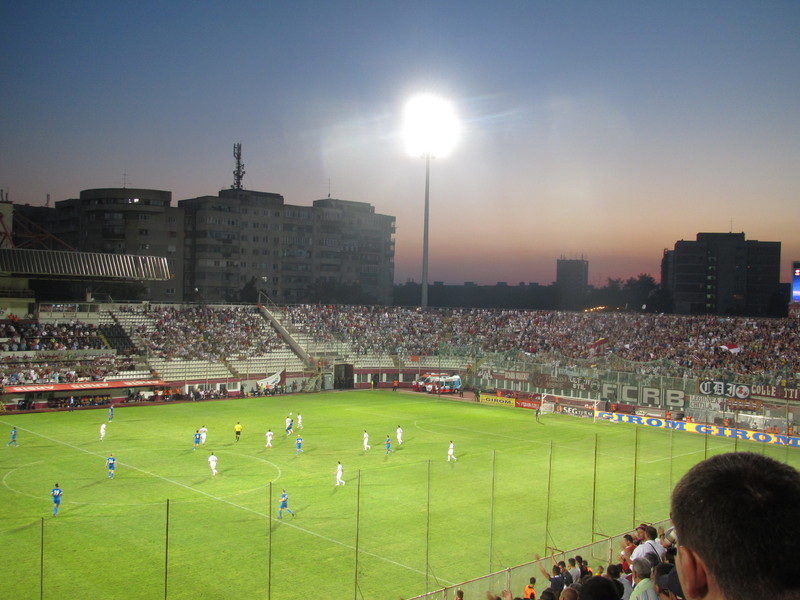 *
© 2012 SARM
(Romanian Society for Meteors and Astronomy)