SUPERPOSED ASTROMYTHOLOGIES
Cosmopoems by Andrei Dorian Gheorghe
Artworks by Arlene Carol
Design by Florin Stancu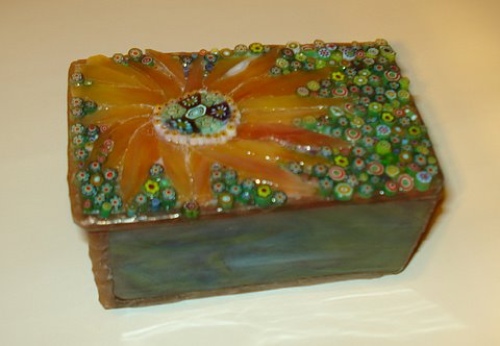 SUPERPOSED MYTHOLOGIES
"I'd drink some blood of a god!"-
said the dragon-man,
crushing with his fire tongue
a lost hero.
"Silence," I shouted,
"don't blend the things!"-
and I hit his face
with my angel wings.
"I'd drink some blood of a poltergeist!"-
said the dragon-man,
killing with his bright mace
an innocent vampire.
"Shut-up, fool," I shouted,
"it would be a cosmic disaster!"-
and I thrashed his hide
with my devil horns.
"Oh, I want blood of ponderous matter!"-
said the dragon-man,
scratching abominably its palms
by my void knees.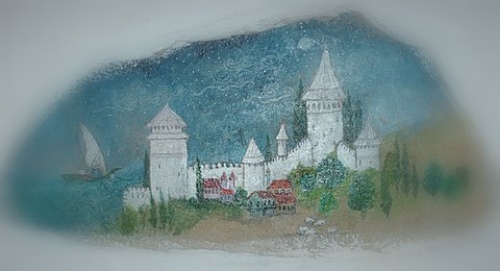 GARUDA THE KING BIRD OF INDIA
I'm a giant faster than any wind.
I often make cosmic tours
and don't like to see
bad things around me.
Sometimes I go to the Polar Star
where my father thinks and flies,
and I ask him for something to eat
(a big portion, not a bit).
Now I'm passing besides the moon,
which seems to be very good
(it is small like an egg)
to become a knick-knack for my leg.
But the gods are worried
and admonish me:
"Your soul is quite black.
Let the moon back."
"Shut up, small beings," I furiously say,
"or I whip you stronger than any solar ray."
But I cannot see suffering,
it disturbs my consciousness,
and the moon is too fragile,
and the gods are not agile.
O.K.! I'll leave the moon in peace
and I'll forgive the gods.
(This is my own ethic
for I'm sympathetic.)
NEAR RA OF EGYPT
I have been invited
on the boat of Ra.
Normal people sigh:
"It's extremely hot."
Astronomers think:
"That is a sunspot."
ENOCH'S INVESTIGATIONS IN THE MIDDLE ORIENT
Enoch looked
for his lost cosmic flight.
He put a plate on his head,
but nothing happened
and he furiously broke it.
He put a table on his back,
but not a chance to rise,
and he destroyed it.
"Enoch is a wise migratory bird",
"Enoch is a cosmic element",
say the fearful objects,
wings in settlement.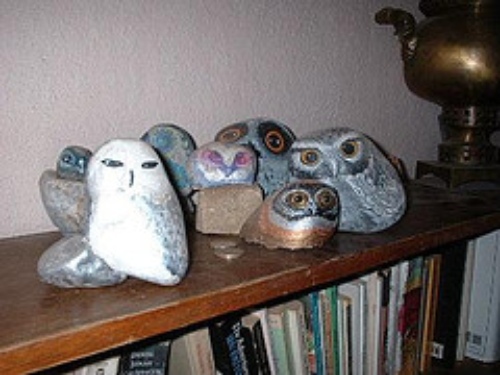 CHINESE INSPIRATION
Every meteor is a brick
in the Great Atmospheric Wall
between us
and the sacred zone
of the Sun and Moon -
Pangu's eyes.
TOWARDS ZEUS OF OLYMPUS
An astronaut fell in time
and stopped right in Olympus.
If so, he went directly to Zeus
and expressed his enthusiasm.
"Oh, Holy Deity, as I am here
in this ancient and famous place,
please put your servants to honor me
through divine hospitality.
I'd like a legendary lunch
with ambrosia and alcohol in nectar,
and the dance of goddesses,
and the chorus of muses…"
But Zeus looked at him surprised
(the astronaut seemed the mummy
of a pharaoh returned to life),
such a thing never happened before,
perhaps only Bellerophon and Prometheus
had dared to be so incredibly cheeky.
"What shamelessness!"
said Zeus, throwing his terrible lightning
towards the false pharaoh,
but that was an inoffensive hit
because the astronaut was protected
by a resistant suit.
"Revenge! Fools' weapon? Or gods' pleasure?"
said the disappointed astronaut and this time he started
towards Olympus Mons on Mars
and then towards other star systems,
looking for other glows,
super-gods, wonders and shows.
VISION ON AMATERASU OF JAPAN
Amaterasu the Sun-Goddess
is daily magic and rich.
Seduced without hope, people
go happy to the beach.
Perhaps today I tan myself
if luckily some godlike dress flies.
Irresistible celestial striptease,
too pure and bright for our eyes.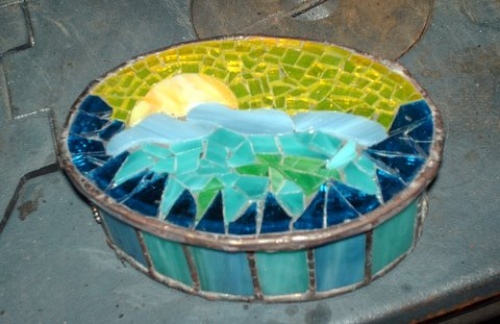 COSMIC CELTIC SOUL
(To Britain's Society for Popular Astronomy -
which announced this poem in the October 2000 issue
of its Popular Astronomy magazine)
Midday.
Lightened by solar Dagda,
he thought:
"Maybe the Universe
hides other dimensions
out of time."
Twilight.
Protected by supreme Droyn,
he thought:
"Maybe Anun,
the chaotic abyss,
was matter
for the strange Big Bang."
Midnight.
Inspired by poetic Brigit,
he thought:
"Maybe Abred,
the fire zone,
is matter
for the noble stars."
Suddenly a fireball passed over Stonehenge
like a divine omen.
And he started again
towards Infinity,
towards Gwynfyd,
towards Paradise.
PRE-COLUMBIAN NAHUAL
The nahual is the people's ego
among the beasts,
a spiritual protective animal.
For instance,
the nahual of my brother
is an alerted chimpanzee,
the nahual of my best fellow
is a hypocritical jackal,
and the nahual of my girlfriend
is a dangerous viper.
But for me it is very hard
to find my own nahual
because I have not special affinities
to any species.
Only sometimes in the night
I dream I am
an unknown extraterrestrial flying animal
and hear growing in me
an alpha-cygni-pterix.
ODIN THE ONE-EYED GOD OF THE NORTH
Like a fruit which accomplishes
in the front of a look,
I stayed nine days hung to Yggdrasil,
the tree which fixes the Universe.
Like a child at his mother's breast,
I sucked the knowledge water.
I gave an eye
for wisdom.
Was it
an equitable pact?
Wisdom sees more
than a simple look.
An eye is not
the half of a look.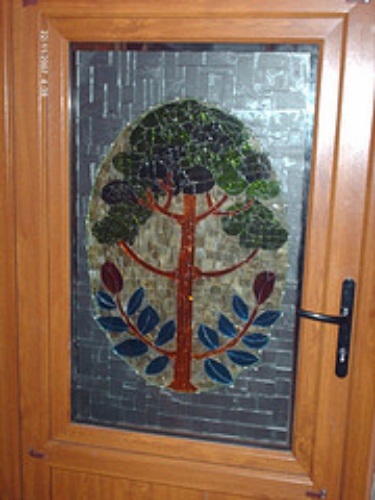 Andrei Dorian Gheorghe composed most of these mythological cosmopoems
in 1984-1986,
and published them for the first time in the Romanian language in 1997,
in a supplement of SARM's magazine "Noi si Cerul / Us and the Sky".

Arlene Carol is an artist and poet with Turkish-Romanian origins,
born in U.S.A., and is today established in Turkey, south of Troy.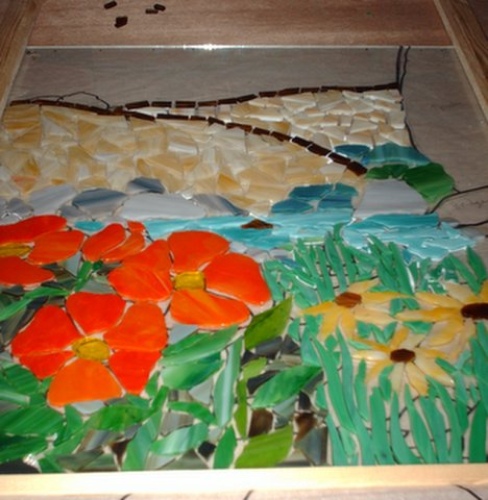 ROMANIAN ORIGINAL VERSION OF
ANDREI DORIAN GHEORGHE'S MYTHOLOGICAL COSMOPOEMS
VERSIUNEA ORIGINALA ROMANEASCA
A COSMOPOEMELOR MITOLOGICE DE ANDREI DORIAN GHEORGHE
MITOLOGII SUPRAPUSE
"As bea sange de zeu!"-
spuse zmeul,
zdrobind cu limba sa de foc
un Fat-Frumos ratacit.
"Liniste," am strigat,
"nu tebuie sa amesteci lucrurile!"-
si i-am izbit chipul
cu aripile mele de inger.
"As bea sange de poltergeist!"-
spuse zmeul,
ucigand cu buzduganu-i lucitor
un vampir nevinovat.
"Taci, nemernicule," am strigat,
s-ar produce un cataclism cosmic!"-
si i-am scarmanat pielea
cu coarnele mele de diavol.
"Ah, vreau sange de materie ponderala!"-
spuse zmeul,
zgariindu-si abominabil palmele
in genunchii mei de vid.
GARUDA, PASAREA REGE A INDIEI
Urias se pare ca sunt,
intrec in zbor vant si cuvant,
nu-mi place sa vad rele prin jur
si-n Cosmos fac ades cate un tur.
Uneori trec pe la Steaua Polara
unde tata gandeste si zboara
si-i cer cate ceva de mancare.
(De regula, o portie mare).
Uite, acum trec pe langa luna
care imi pare tocmai buna
(mai mare nu e ca un ou)
spre a-mi servi drept bibelou.
Dar zeii striga la mine,
cica sa-mi fie rusine
si sa le-o dau inapoi.
Vreti sa ma supar pe voi?
Sunteti cam obraznici, hei,
va bat ca pe niste pigmei.
Dar vai, nu pot sa vad suferinta,
imi sapa gropi in constiinta,
iar luna e mica si bleaga,
nu poate sa ma inteleaga.
Ho ca te las la locul tau
sa nu zici cumva ca sunt rau
si o sa-i iert si pe zei
fiindca mi-e mila de ei.
LANGA RA AL EGIPTULUI
Am fost invitat
pe barca lui Ra.
Oamenii simpli spun:
"E cald, suntem in plina vara."
Astronomii gandesc:
"E doar o pata solara."
INVESTIGATIILE LUI ENOH IN ORIENTUL APROPIAT
Enoh a pornit in cautarea
zborului cosmic pierdut.
Si-a pus o farfurie in cap,
dar n-a reusit nimic
si de necaz a spart-o.
Si-a pus masa in spinare,
dar nici vorba sa se inalte
si a distrus-o.
"Enoh este o pasare inteleapta."
"Enoh este o pasare migratoare."-
spun obiectele intimidate,
aripi in decontare.
INSPIRATIE CHINEZEASCA
Fiecare meteor este o caramida
in Marele Zid Atmosferic
dintre noi
si zona sacra
a Soarelui si a Lunii -
ochii lui Pangu.
SPRE ZEUS DIN OLIMP
Un astronaut alunecase in timp
si ajunsese tocmai in Olimp.
Se duse la Zeus direct si
cu siguranta in glas ii vorbi:
-Prea-Sfinte, daca tot m-am nimerit
in locul acesta atat de vestit,
pune-ti subalternii sa ma cinsteasca
prin ospitalitate zeeasca,
spune-le sa-mi astearna un pranz legendar
cu ambrozie si alcool in nectar,
pune zeite prin dans sa ma-ncante,
ordona, de vrei, muzelor sa-mi cante.
Dar Zeus il privi cu semetie
(il credea un faraon, o mumie
care tocmai inviase),
asa ceva nu i se mai intamplase,
poate doar Belerofon si Prometeu
au fost atat de-obraznici cu cel mai mare zeu.
-Ce nesimtit e-acest avorton! -
zise, izbind pe falsul faraon
cu fulgerul sau zdrobitor si viclean.
Insa lovitura-i se pierdu in van
caci, din fericire, era protejat
cosmonautul de un costum blindat.
-Razbunarea! Arma prostilor? Sau placerea zeilor? -
isi spuse dezolat acesta si porni in zbor
spre Muntele Olimp de pe Marte
si inca mai departe,
spre alte sisteme stelare si alte dimensiuni,
cautand alti superzei si alte minuni.
VIZIUNE DESPRE ZEITA AMATERASU A JAPONIEI
Amaterasu, Zeita-Soare,
radiaza zilnica-i vraja.
Sedusi fara speranta, oamenii
se-ndreapta spre plaja.
Azi vreau sa ma bronzez si eu,
Amaterasu renunta la rochii.
Prea pur si lucitor, stripteasul ceresc
nu-l putem duce cu ochii.
SUFLET COSMIC CELTIC
Amiaza.
Luminat de Solarul Dagda,
el gandi:
"Poate Universul
ascunde alte dimensiuni
in afara timpului."
Crepuscul.
Protejat de supremul Droyn,
el gandi:
"Poate Anun,
abisul haotic,
a fost materie pentru
straniul Big Bang."
Miazanoapte.
Inspirat de poetica Brigit,
el gandi:
"Poate Abred,
zona focului,
a fost materie
pentru nobilele stele."
Deodata, un meteor trecu peste Stonehenge
ca un semn divin.
Si el porni din nou
spre Infinit,
spre Gwynfyd,
spre Paradis.
NAHUALUL PRECOLUMBIAN
Nahualul este corespondentul omului
in randul animalelor,
este eul lui animal protector.
De pilda,
nahualul fratelui meu
este un gibon alertat,
nahualul prietenului meu
este un sacal ipocrit,
iar nahualul iubitei mele
este o vipera periculoasa.
Mie personal insa
mi-e mai greu sa imi aflu nahualul
pentru ca nu am afinitati deosebite
cu nici o specie.
Doar noaptea uneori
visez ca sunt
un animal extraterestru zburator si necunoscut
si aud crescand in mine
un alpha-cygni-pterix.
ODIN, ZEUL CHIOR AL NORDULUI
Ca un fruct ce se implineste
in fata privirii,
am stat noua zile agatat de Yggdrasil,
arborele ce fixeaza Universul.
Ca un copil la sanul mumii,
am supt apa cunoasterii.
Mi-am dat un ochi
pe intelepciune.
A fost oare
un targ echitabil?
Intelepciunea vede mai mult
decat privirea.
Un ochi nu este
jumatatea privirii.
***
© 2008 SARM
(Romanian Society for Meteors and Astronomy)