COSMOPOETRY INTERNATIONALS XIX:

THE INFINITE
-a project by
SARM'S Astropoetry / Cosmopoetry Master Club
and Friends-
CONSTANTIN BRANCUSI'S INFINITE COLUMN
-photographic poem by Maximilian Teodorescu-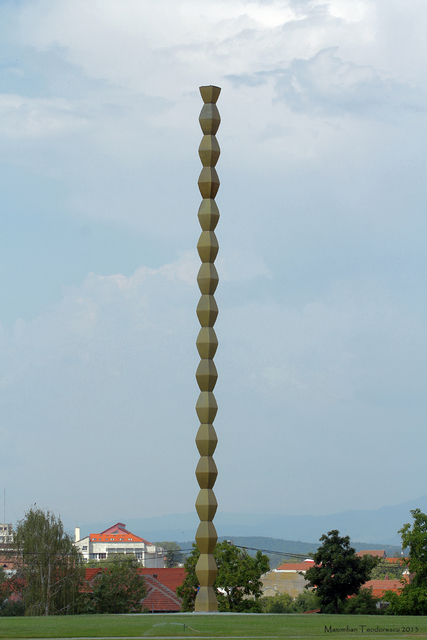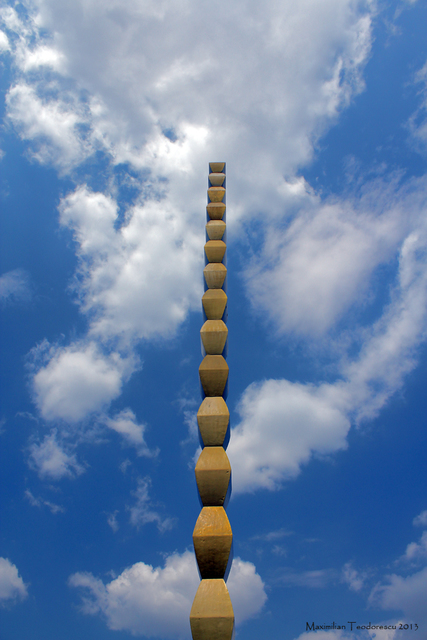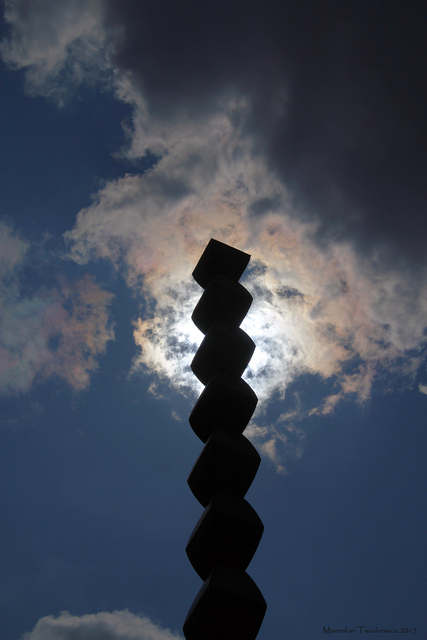 *
Constantin Brancusi (1876-1957),
a genial Romanian artist
(as well as a world pioneer of modern sculpture),
lived in France for many years,
becoming famous.

In the Romanian town of Targu Jiu, his
exceptional metallic sculpture (part of a monumental ensemble)
entitled the Infinite Column, was erected in 1938.
This work inspired me to initiate this project.

This sculpture has also remained
as a symbol of freedom
(surviving a totalitarian regime
that wanted to destroy it
and turn it into machinary).
The infinite can be
neither taken prisoner
nor demolished.

And about us
I think that not touching the infinite
is important,
but our infinite will to create.

-Andrei Dorian Gheorghe-
*
ASTRO-ARTISTS OF TODAY IN TARGU JIU
-1. photo by Marian Lucian Achim (Horsehead Nebula, Orion)
2. verses by Florian Saioc
3. artwork by Ramona Achim (M92 Galaxy)-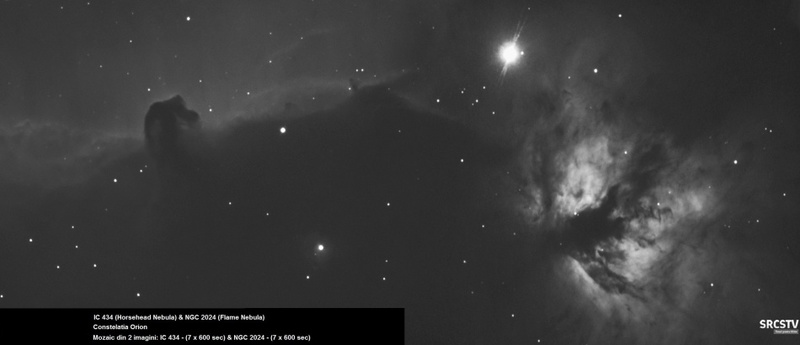 I am fascinated by
this amazing, infinite flow
of skies and stars,
and life… and glow!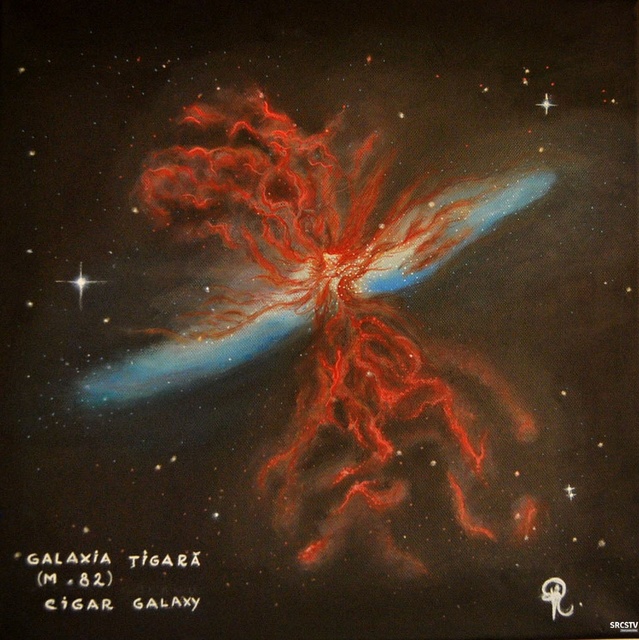 THE BRAVE HUNTER
HUNTED BY:
1. Maximilian Teodorescu - Orion and Jupiter
2. Valentin Grigore - Orion, the Winter Triangle and an admirer
3. Catalin Paduraru "Sarpe" - Orion and a Quadrantid 2014 meteor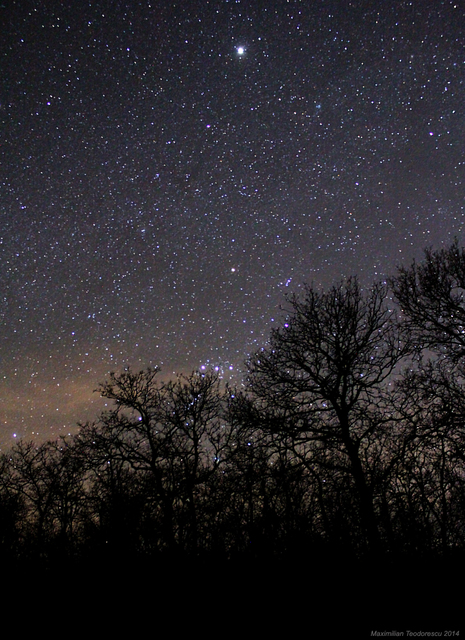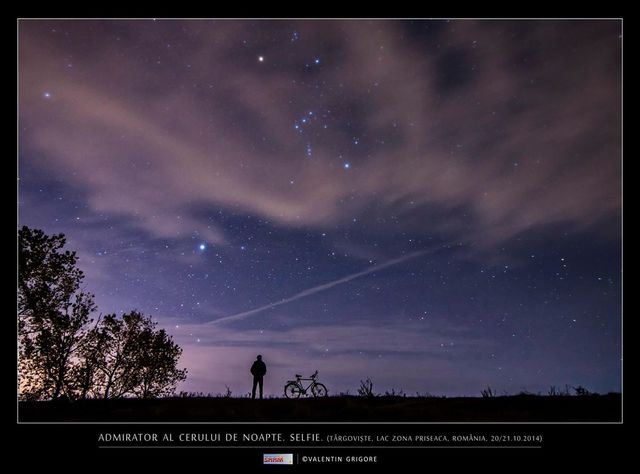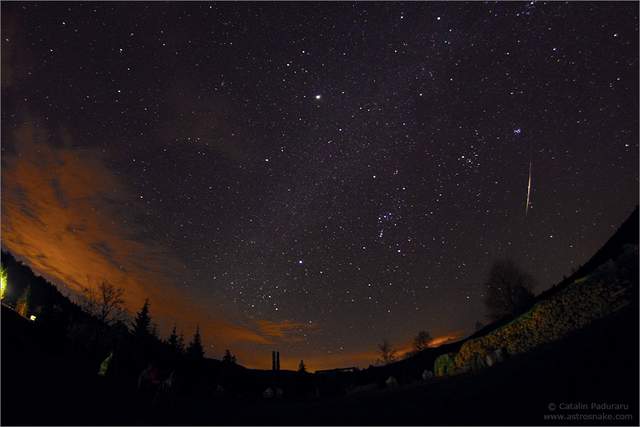 THE INFINITE?
-by Dominic Diamant-
Nothing simpler:
It is the finite composed of
infinity of finites
with an identical, raving and indestructible
structure.
YOUNG ROMANIAN ASTRO-ARTISTS
-during the Global Astronomy Month 2014,
"Youth for Future" Romanian Cultural-Scientific Society-SRCSTV,
with the headquarters in Targu Jiu and led by Marian Lucian Achim,
organized a national astroart contest for children,
with the following laureate works:
Images 1-3. Grades I-IV:
Third Place Teodora Adam; Second Place Miruna Meche; First Place Ana Maria Mischiu;
Images 4-6. Grades V-VIII:
Third Place Andreea Ilie; Second Place Evelin Maria Oprea; First Place Laura Georgiana Popescu-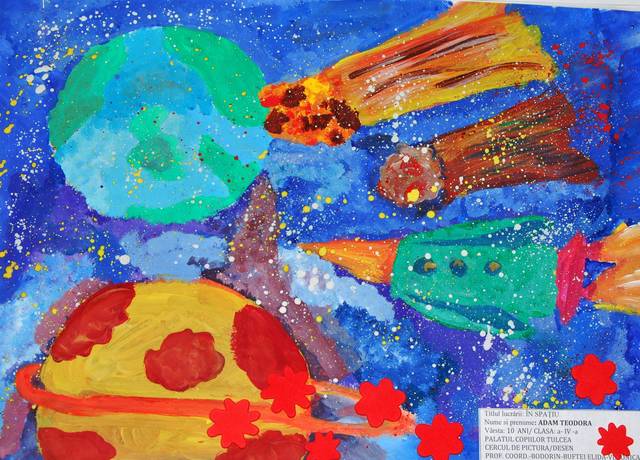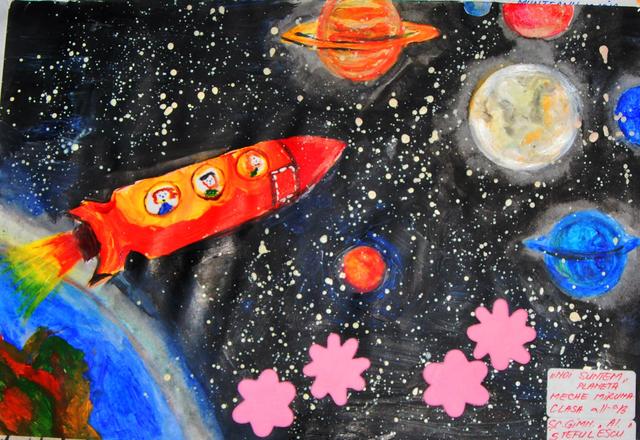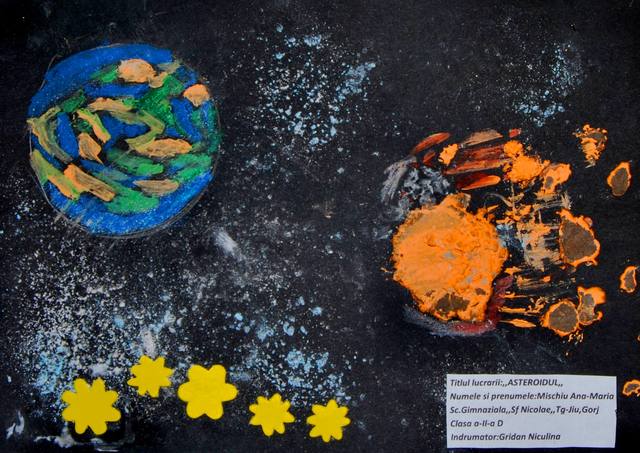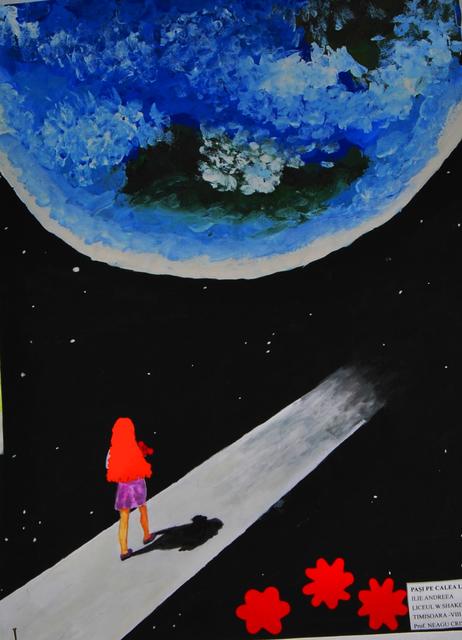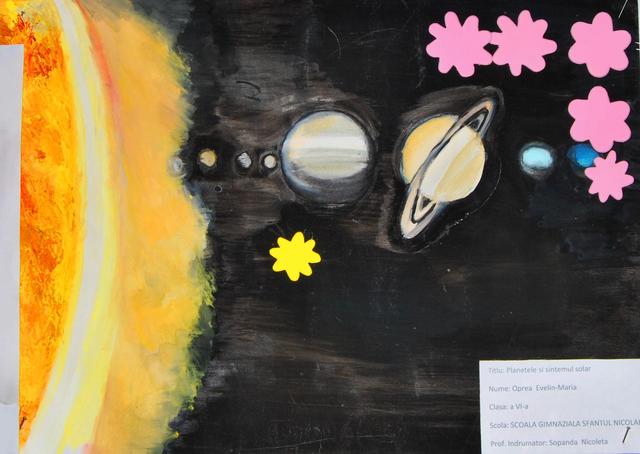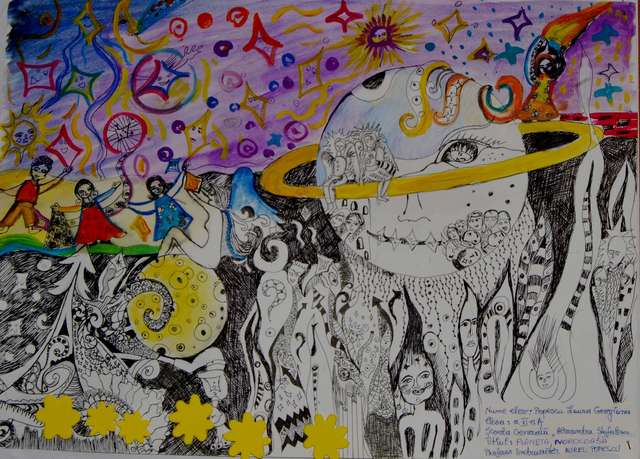 "GETTING TO KNOW YOU"
-by Bob Eklund (USA,
Editor of Astropoetry Blog - Astronomers Without Borders)-
As nights grow longer,
There's more time to get to know
An infinite sky.
SRCSTV ASTRO-PHOTO-GROUP
-1. Marian Lucian Achim (Crescent & Soap Bubble)
2. Sabin Fota (Witch Broom Nebula)
3. Emil Pera (Vulture Head)-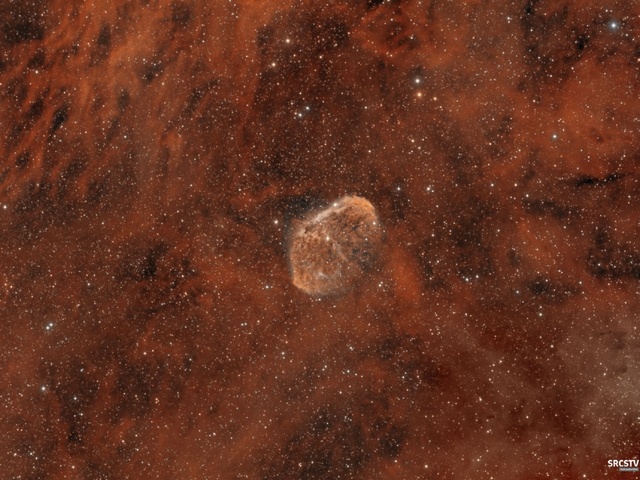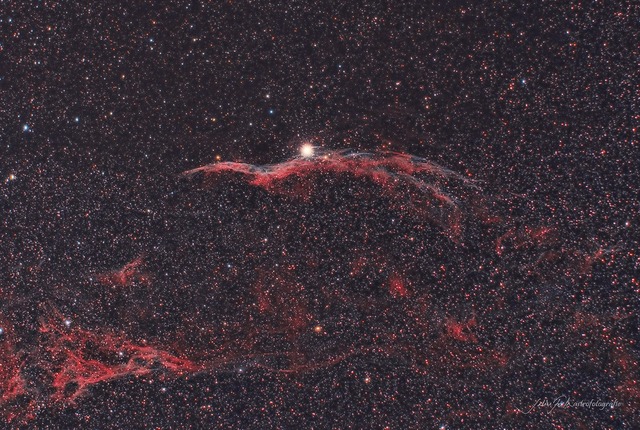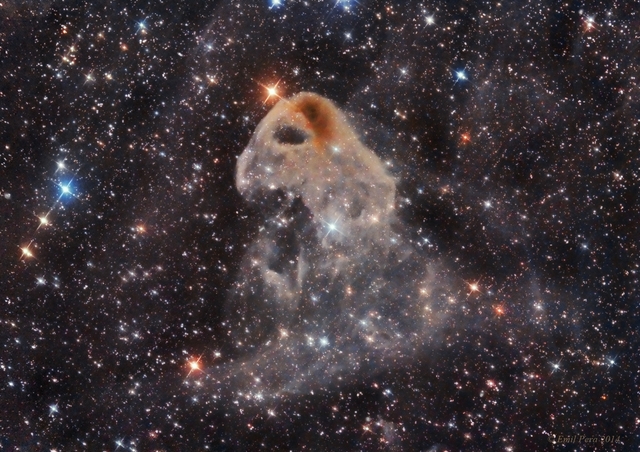 PERFUME OF SPRING
-astro-photo-poem by Valentin Grigore
(blossom photos taken in Targoviste, April 2014;
star photos taken in Fagaras Mountains, May 2013
during the "astronomy.ro" meeting;
May 2013 morning photos taken near Targoviste;
lunar halo with Mars, and Venus, taken in April 2014,
solar halos taken in May 2014)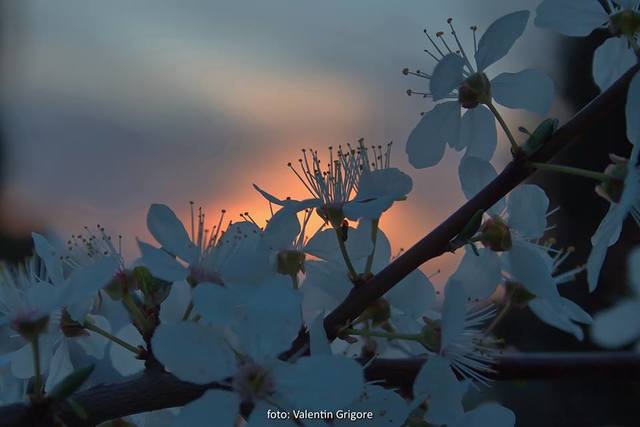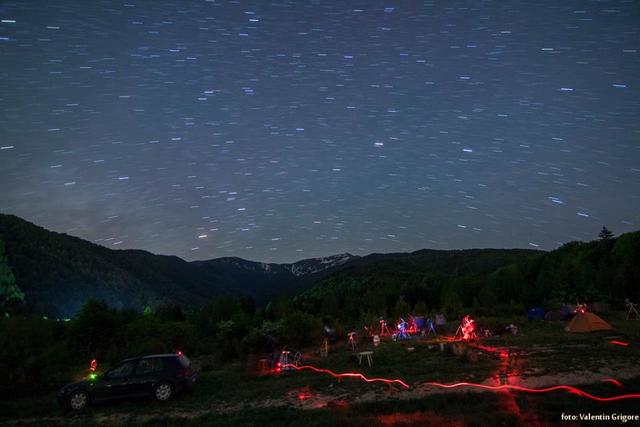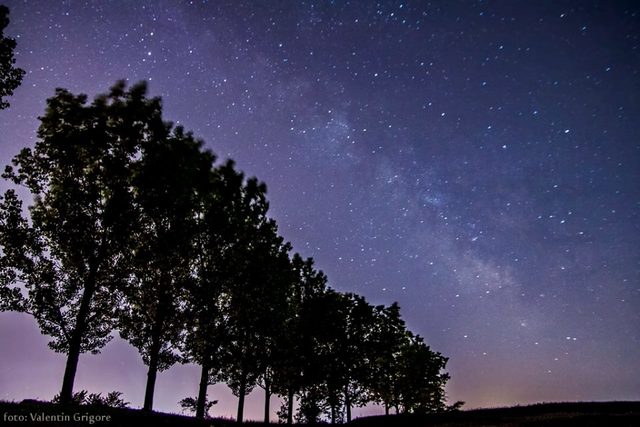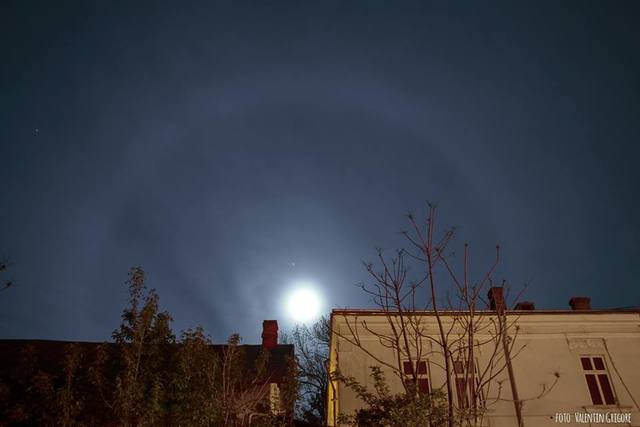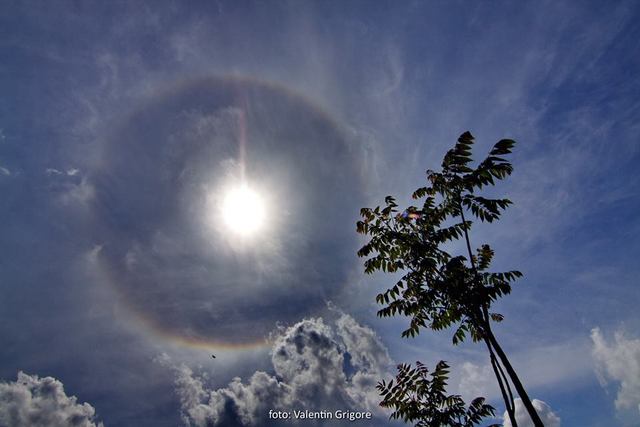 Blossoms and stars
are wonderful.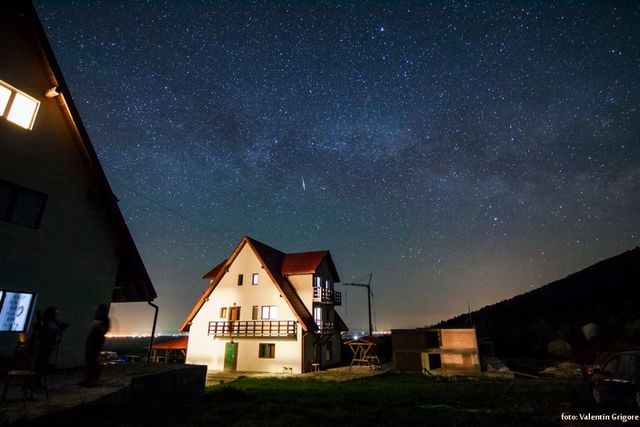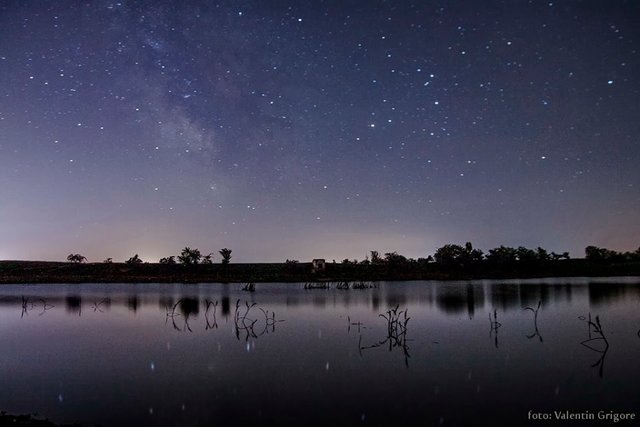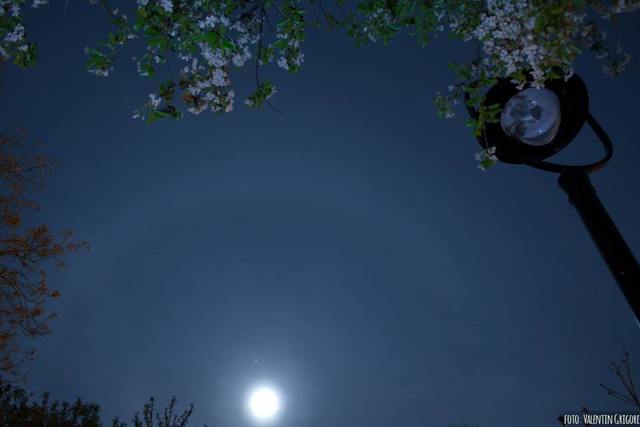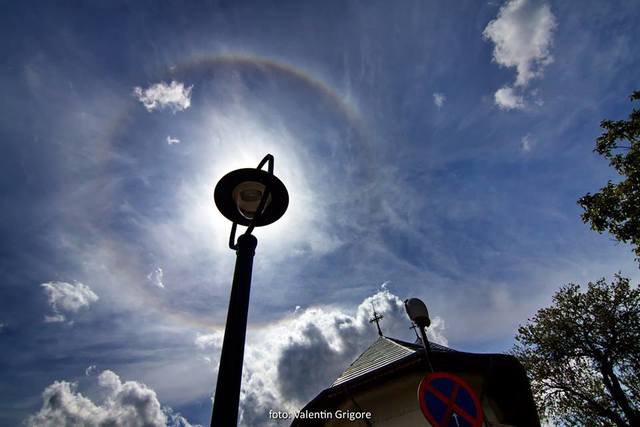 Colors,
perfume…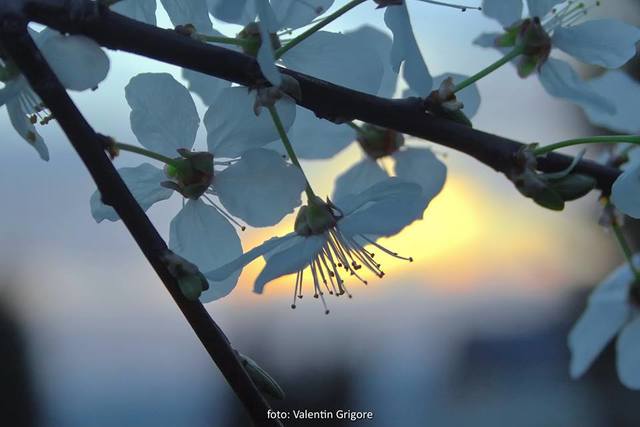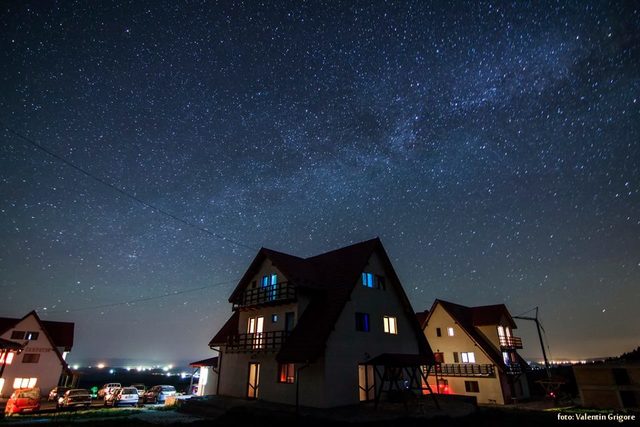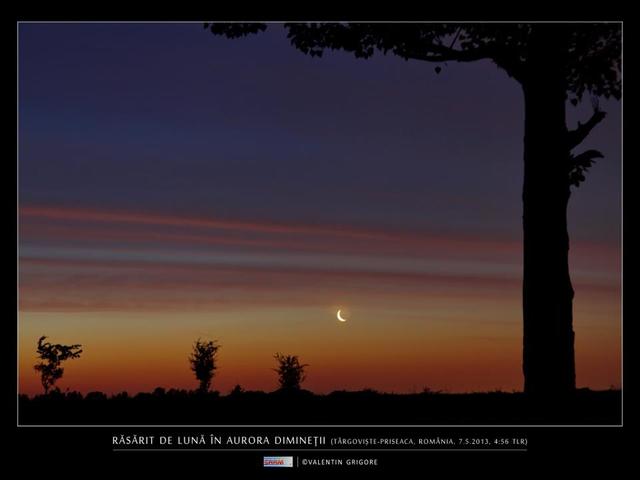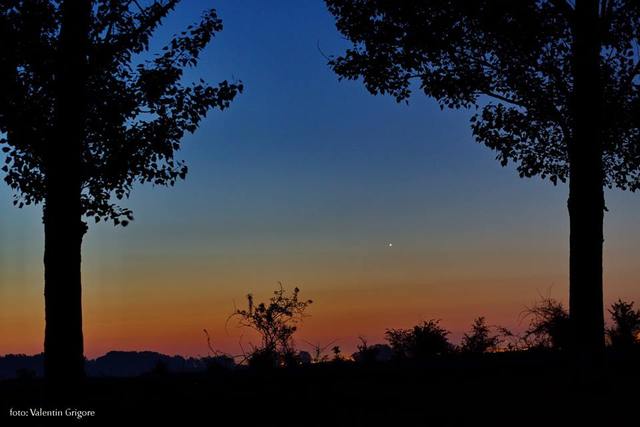 Real perfection in these jewels:
the first of them disappear in a few days,
the others walk after seasons.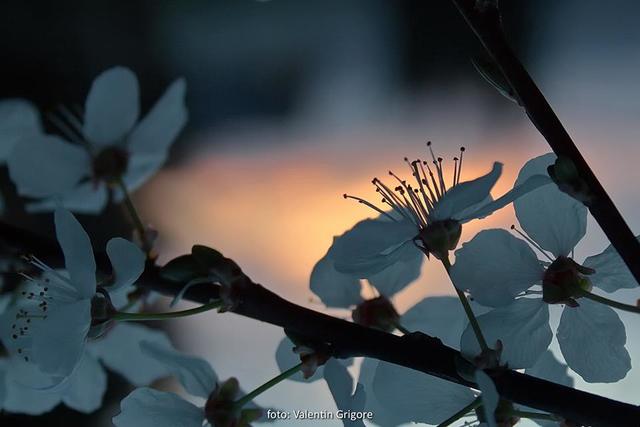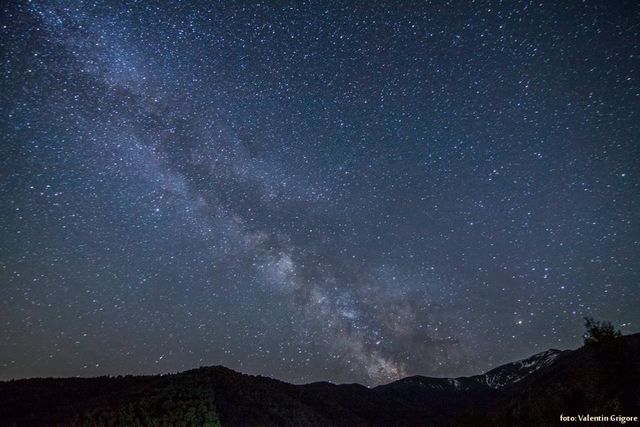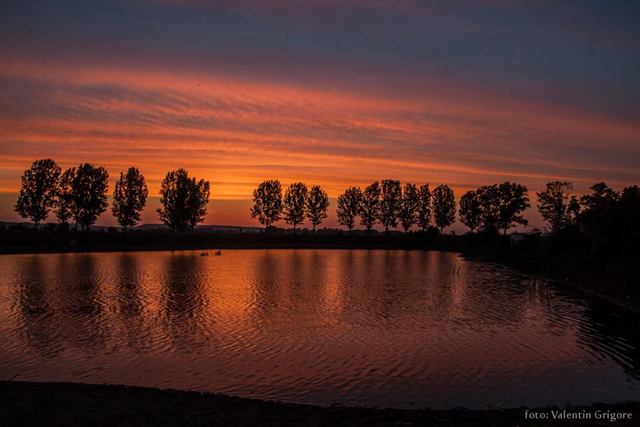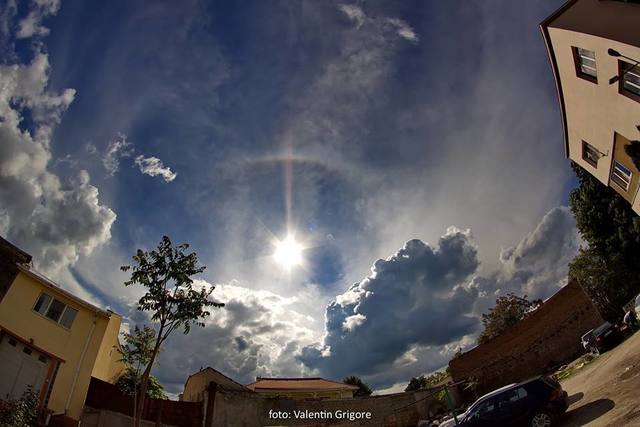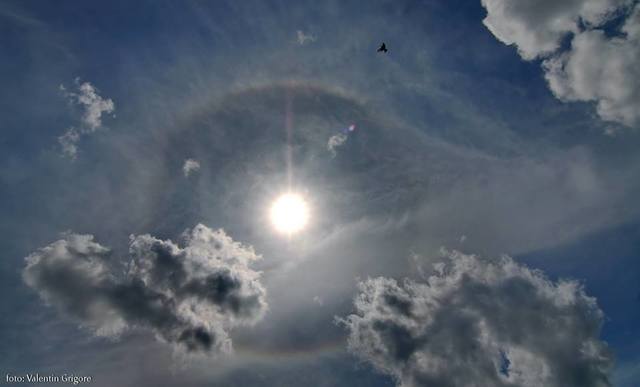 These are the miracles
that should inspire the people.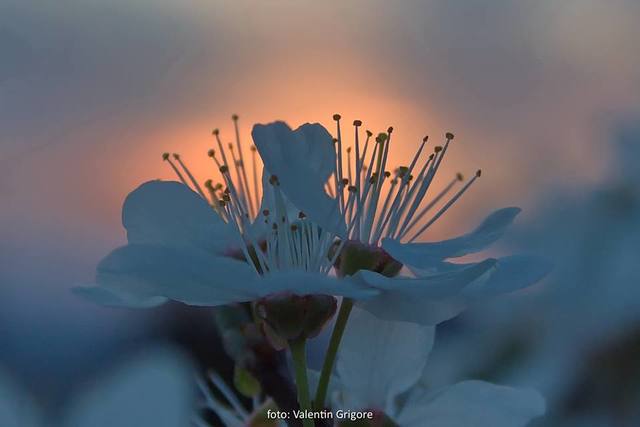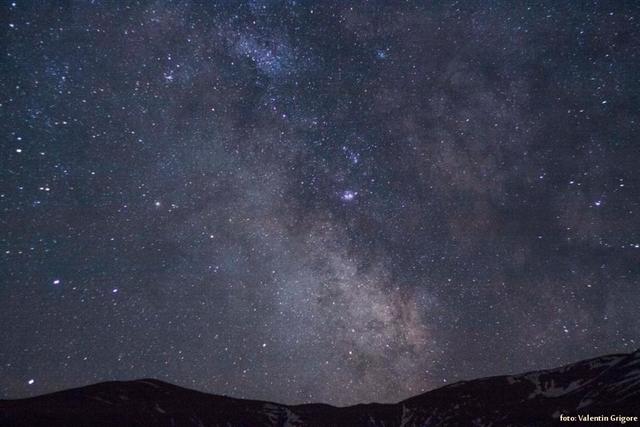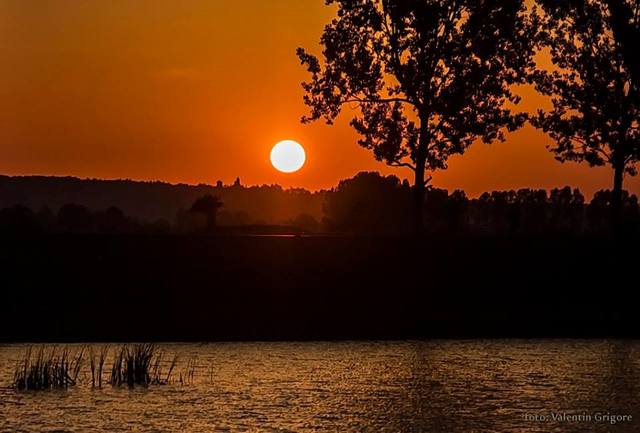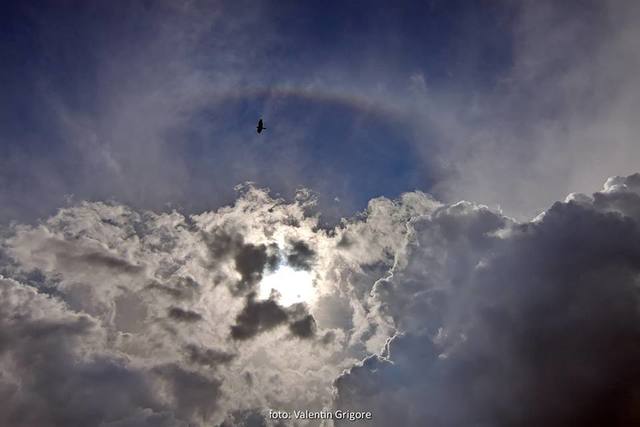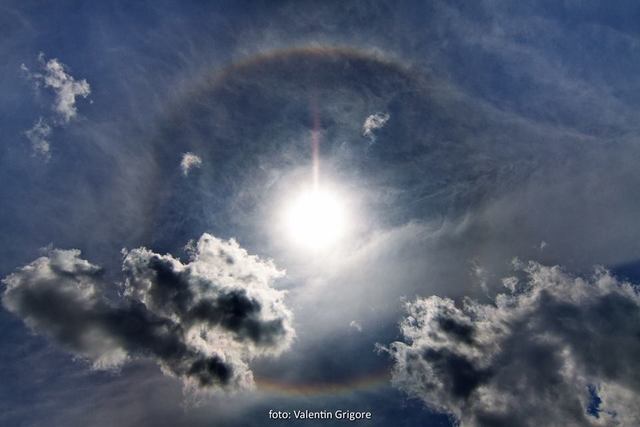 SITTING ALONE
-astro-photo-poem by Johannes Stubler (Austria,
ambassador and national coordinator for Astronomers Without Borders)
SITTING ALONE
OBSERVING THE SKY
SIMPLE EQUIPMENT
BREATHING THE STARS
HAVING FUN WITH FRIENDS
TAKING IMAGES
TECHNICAL STUFF
ACTION
I LIKE BOTH WORLDS
LIFE IN BALANCE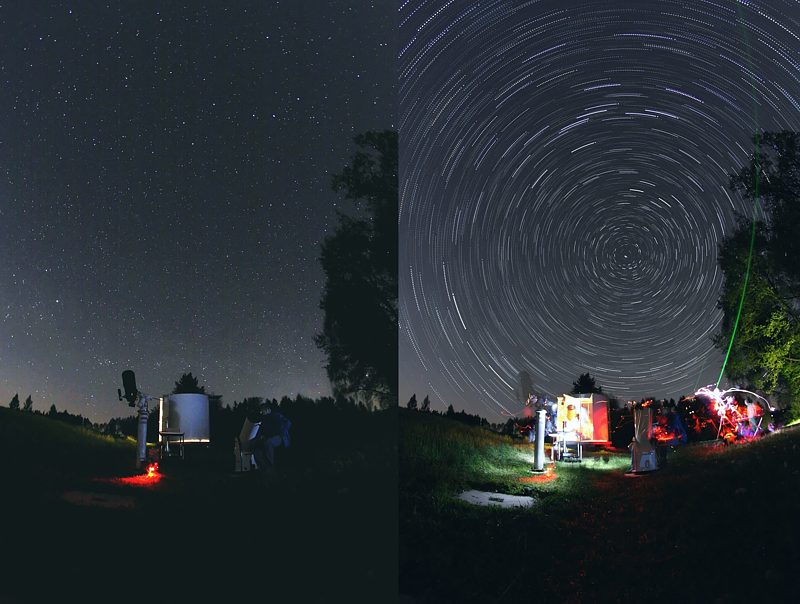 (Observing at the outpost of our astronomical association - half an hour away from the city
Photo Credit: Johannes Stübler)
CHILD'S HAIKU TRILOGY
-astro-photo-poem by Iulian Olaru-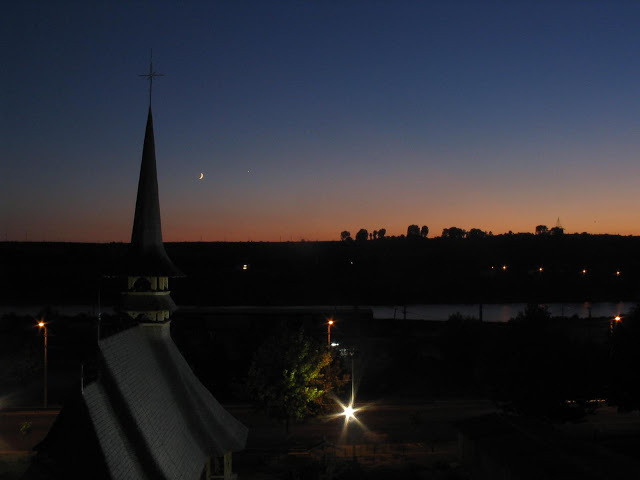 Infinity
in small steps:
"Father, I see the Moon!"
Lesser infinity
to greater infinity -
a child under the sky.
Berries of infinity -
enthusiastic child:
"Watch the stars!"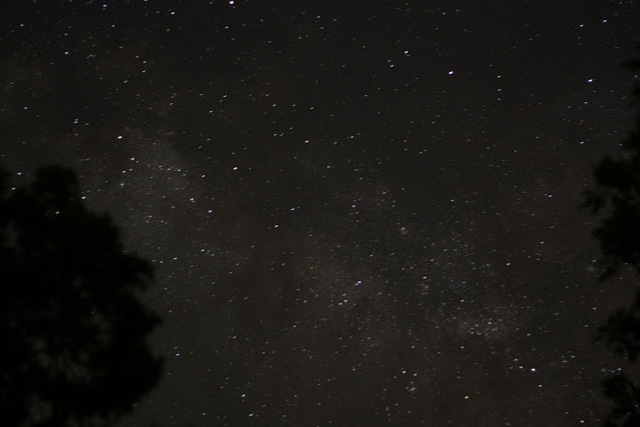 THE FLATTENED ROCK
-poem by Tony Berendsen (father)
and photo (lunar eclipse of October 2014) by Ryan Berendsen (son),
both from Tahoe Star Tours (USA)-
A quiet pond ahead
After a long day's walk
And wander through the woods
To skip across the water
A flattened rock in hand
But no matter how I toss
The unknown succumbs
With the slightest sound
And wimpy ripple gone
My mind wonders out beyond
The closeness of infinity
Whether Moon or Sun and stars
Under rocks, and yes;
The depth of ponds
Of all we cannot see
Then take a breath
For we even wonder who we are
But let us see
Another flattened rock in hand
To skip across the pond.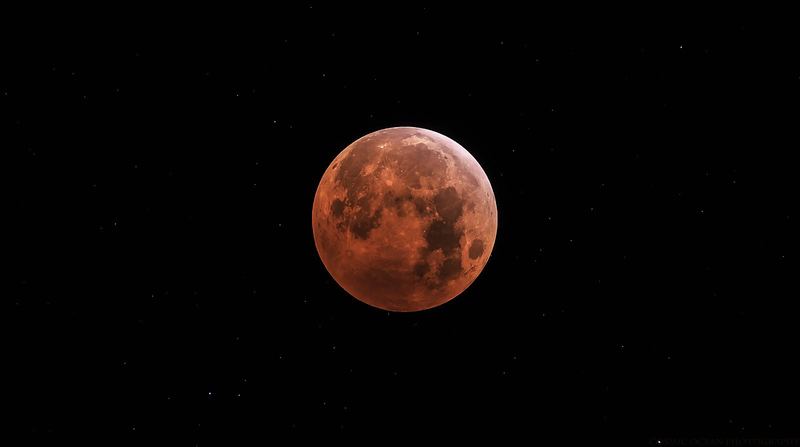 PERSEVERENCE
-by Andrei Dorian Gheorghe-
Someone wandered through the Universe
and many reasoning creatures asked him:
"Where do you go?"
"Toward the infinite."
he always responded.
"When do you hope to arrive there?"
"Certainly, next time."
he always responded.
SKY REPERTOIRE
-photos by:
1. Maximilian Teodorescu - Veil Nebula
2. Klaus Lowitz (born in Romania, residing in Germany) - Sunspots
3. Minodora Carmen Lipcanu - Conjunction: Jupiter-Venus-Mercury
4. Danut Ionescu and Paul Taylor (New Zealand, Auckland Astronomical Society) -
Magnus Crater (taken at Auckland StarDome Observatory)
5. Mihai Curtasu - Storm of Lightning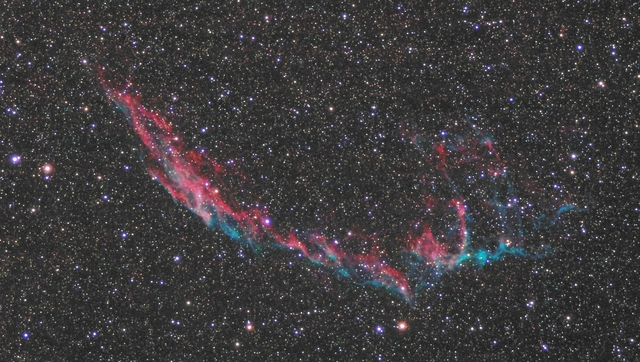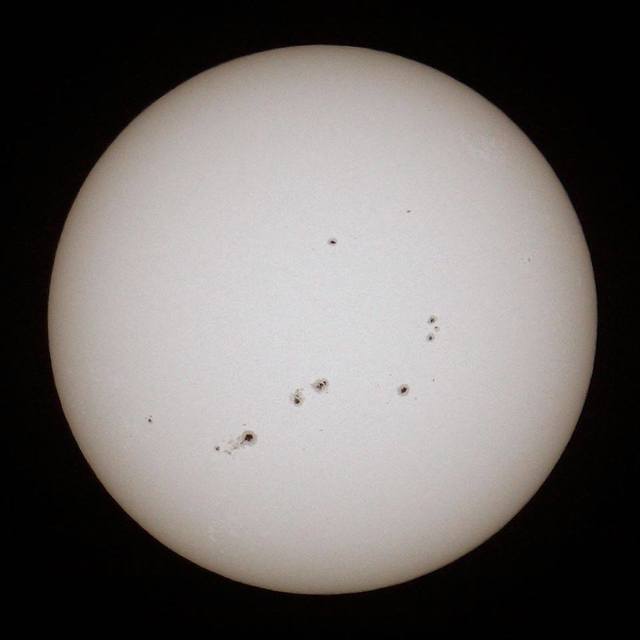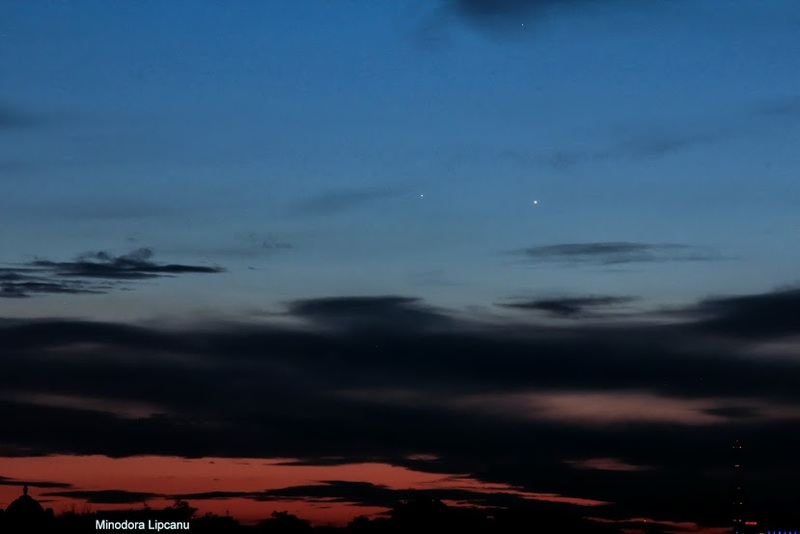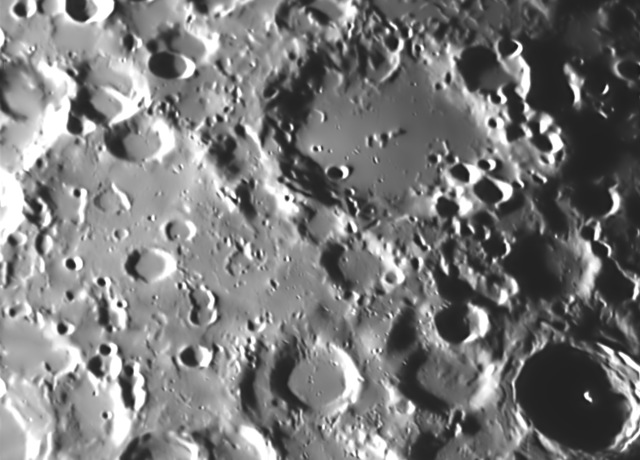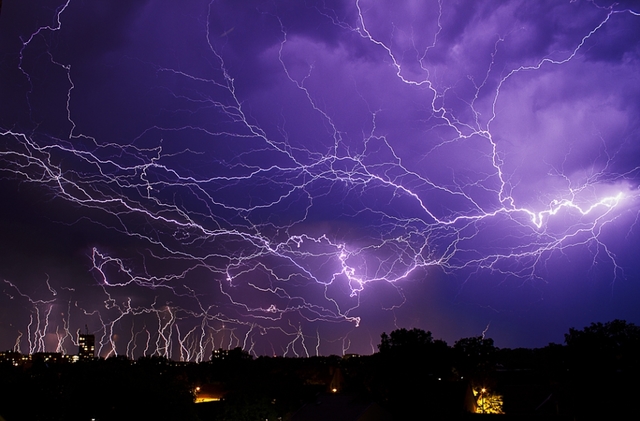 EDEN 2350
-by Marge Simon (USA,
laureate of the Rhysling Award)-
I am the product
of the new monasticism,
a test tube child
of same sex parents
from one of many private Eden's.
They chose isolation
on a parcel of undesirable land
to create an ecology,
a dome world ecosystem,
carefully controlled
and dedicated to achieve
their niche in Paradise.
They taught me the history
of the ruined world beyond,
no more than an abstraction
in my sheltered life.
Since their deaths,
I've created alternating configurations,
a plentitude of enigmatic life forms.
I've generated an experience
purely instinctual,
as an artist like Rousseau
must have felt in his attempts
to pull a third dimension from the canvas.
It is a micro-world of wonder,
un-amenable to words of any kind
where all solidifies, disappears, reforms,
a continuum of colored mists,
an ephemeral ecosystem
in constant change:
winged lizards dissolve
to reform again as blackbirds
in the blue eyed grass.
oleander pods dehisce
and from them pour a myriad
of rainbowed mollusks.
Sunset may be any time,
or moonrise follow dawn.
My Eden would cajole the eyes
of yet another age to come.
My creations are my purpose.
There's no better life
beyond this dome.
I should desire no more.
I am a child of the True Faith.
Yet my belief falters, for I know
there will be no future generations here.
I'm not an immortal.
I'm prisoner in a dome,
creator of a wasted masterpiece
that none will ever know.
SPECIALS
-photos by:
1. Ciprian Grigorescu - Torsion
2. Adrian Apostol - Solar Kiss
3. Thilina Heenatigala (born in Sri Lanka,
where he served as national coordinator for Astronomers Without Borders;
currently an educator for the Galileo Teacher Training Program in Europe)
4. Catalin Timosca - Vision-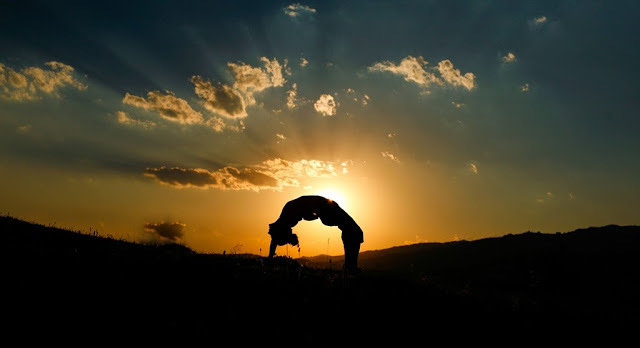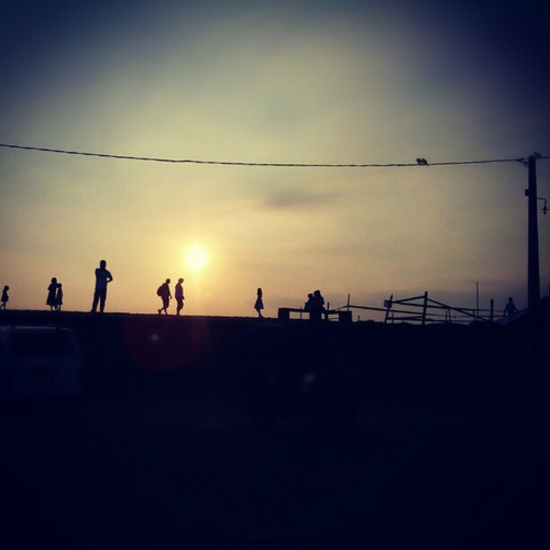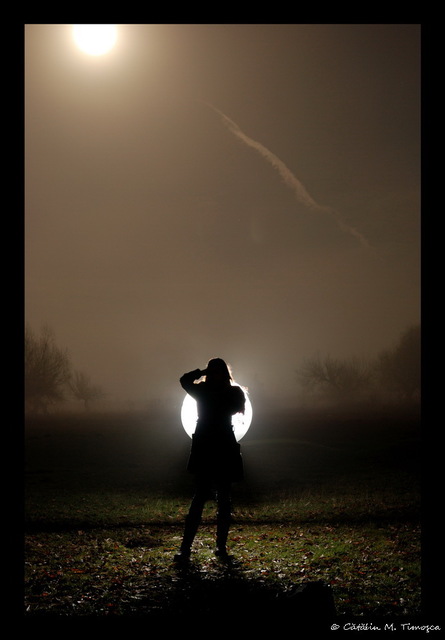 HESITATION
-by Gelu Claudiu Radu
(born in Romania, living in Germany)-
Searching for the Universe's periphery,
specialists stop for a minute
and then they start to find fault to divinity
that just their brain has a limit.
VISIONS OF THE MILKY WAY
-by Catalin Paduraru "Sarpe"-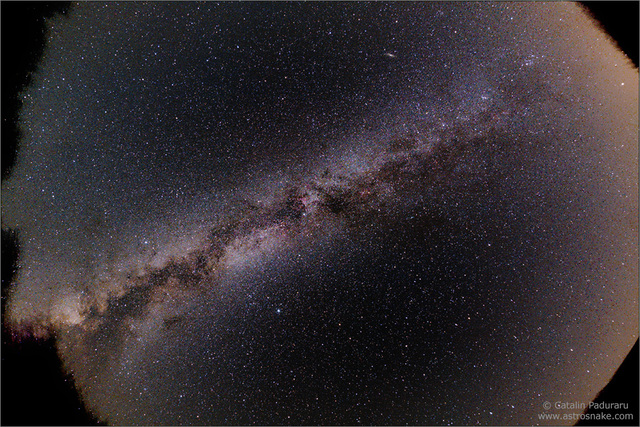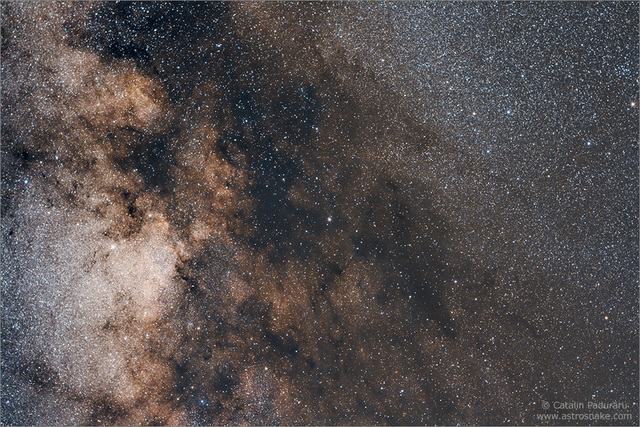 MILKY WAY OVER THE LA PALMA TELESCOPES
-photographic poem by Valentin Grigore-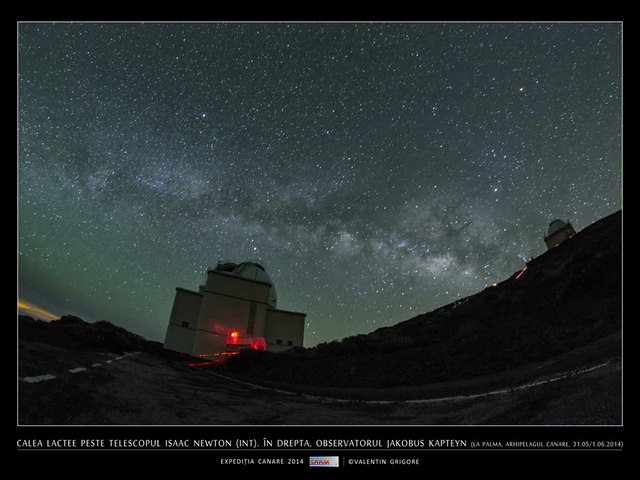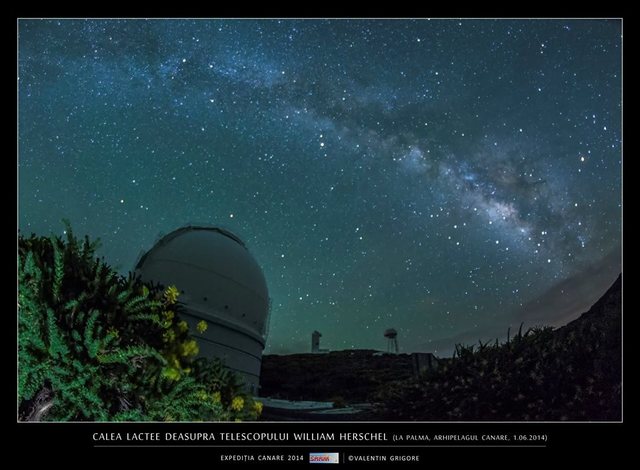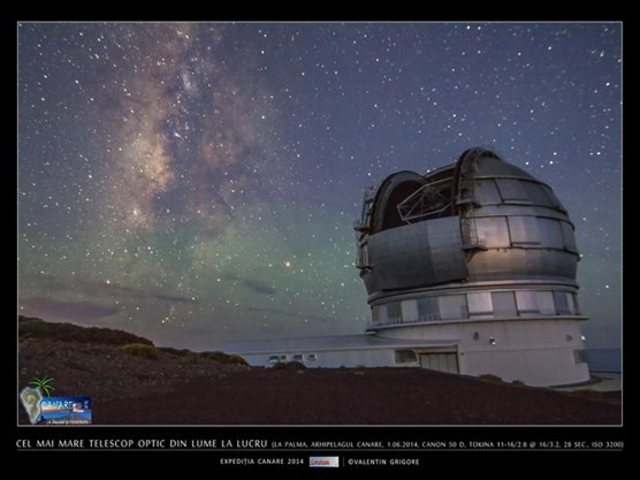 INFINITE HAIKU
-by David Asher (born in Scotland,
residing in Northern Ireland, astronomer at Armagh Observatory,
discoverer of asteroids and predictor of meteor shower maximums)
Visiting comets
Appear from infinity
Then fade, back to space.
COMET PANSTARRS
-photos by:
1. Catalin Paduraru "Sarpe" - May 2013;
2. Maximilian Teodorescu - June 2013-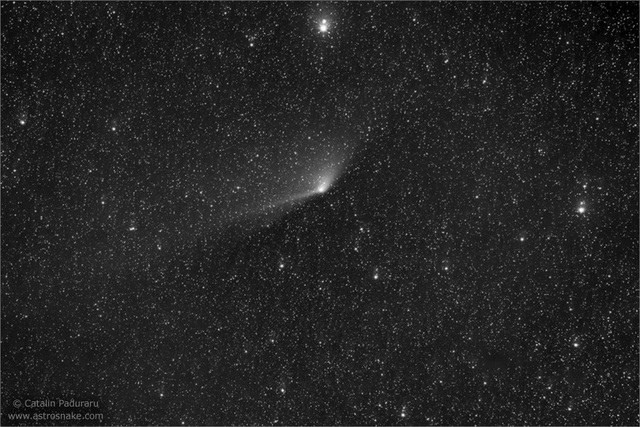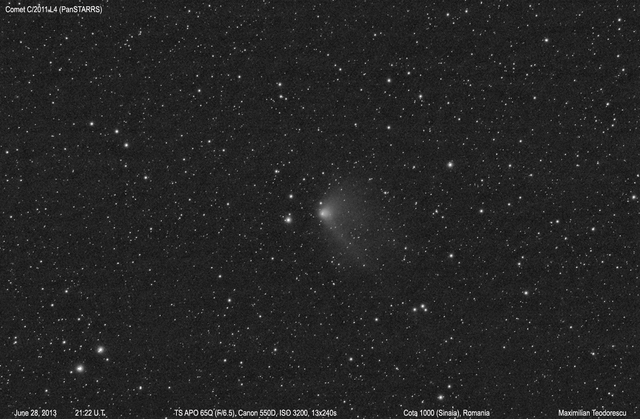 ASTROHAIKU
-by Steve Sneyd (England, UK,
laureate of the Peterson Trophy,
director of Hilltop Press,
editor of Data Dump-
throwing salt over
her shoulder for luck, didn't know
last comet tail spread
THE MORNING OF THE COMETS
(Lovejoy, ISON, Encke and Linear on 9 November 2013)
-photo-collage by Maximilian Teodorescu-

SARM EXPEDITION 2013 IN LA PALMA
AND AN APPOINTMENT WITH COMET LOVEJOY AND M44
-photographic poem by Valentin Grigore-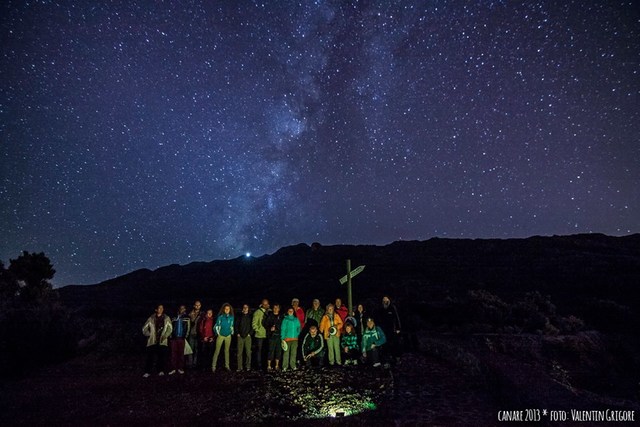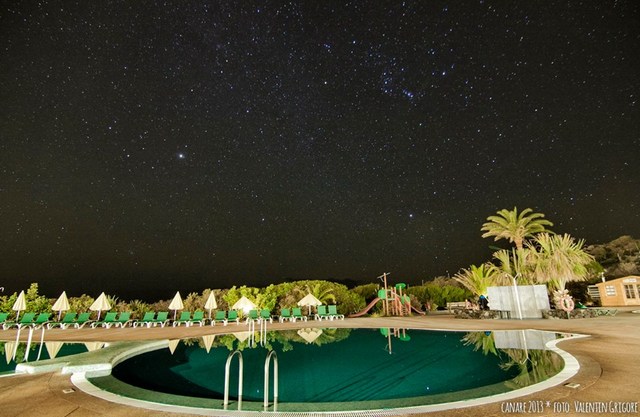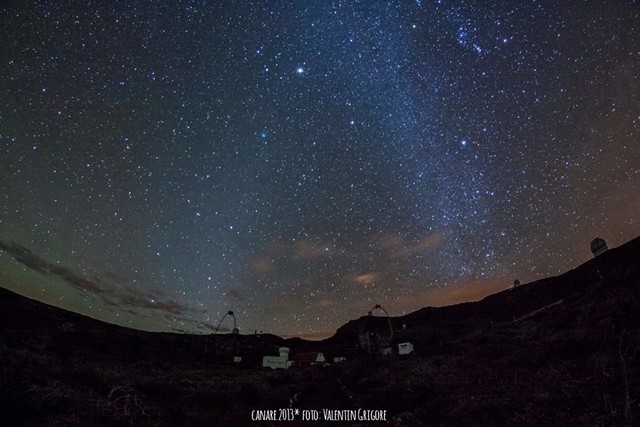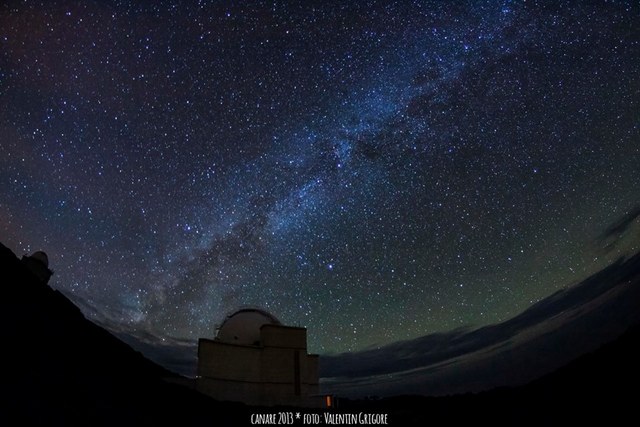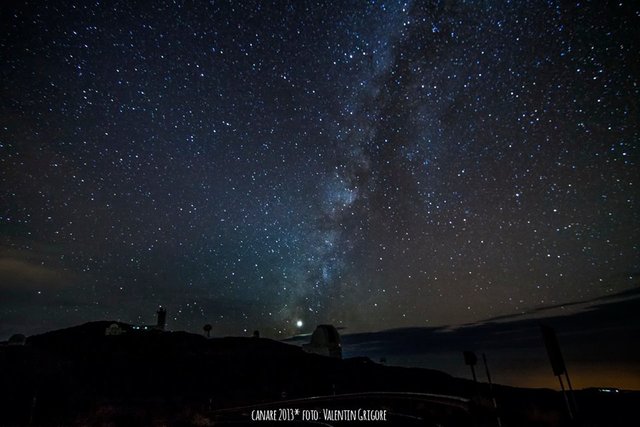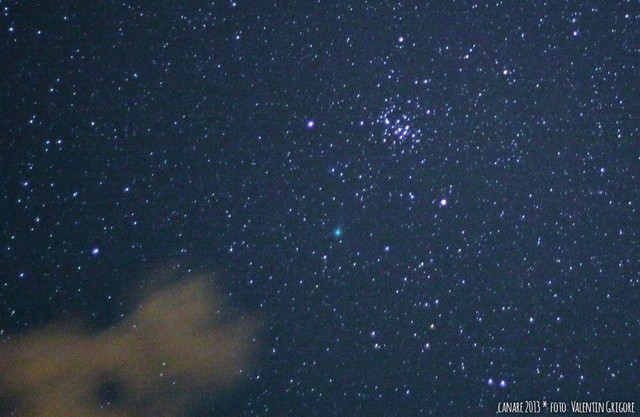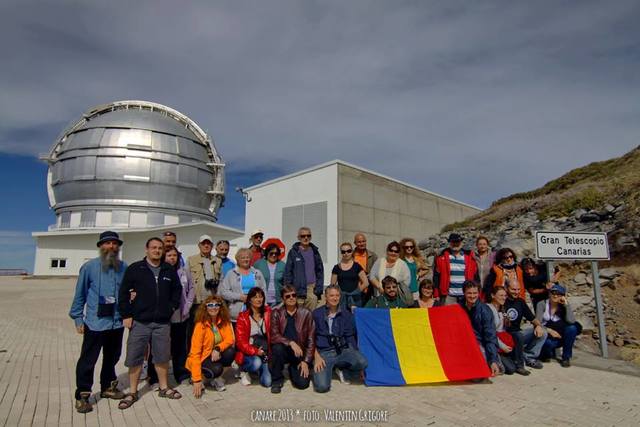 UNIVERSE AND SPACE
-by Zigmund Tauberg-
Through studies and observations
Great scientists have determined
That the Universes dilates,
So it is clearly finite,
Occupying new spaces
Across time and beyond it.
Thus, that spatially never-ending immensity
That comprehends, maybe,
Other formations in other abysses
Is everywhere, is infinite.
ASTRAL LANDSCAPES
(1. Venus-Stork Conjunction
2. Milky Way over My House
3. Startrails in the Bicaz Gorge)
-photos by Attila Munzlinger-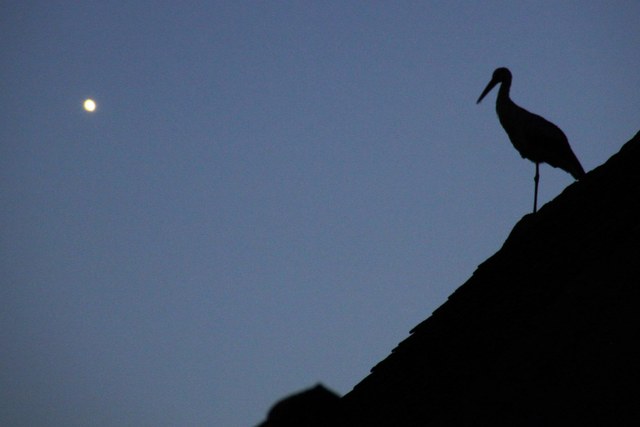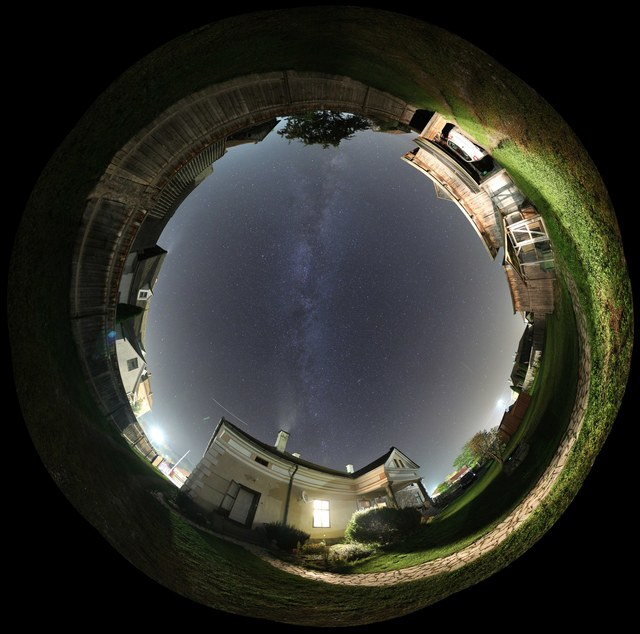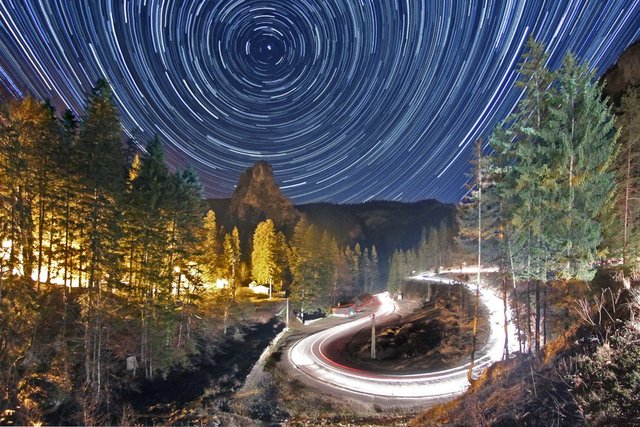 THE LIMIT OF SIGHT
-by David Kopaska-Merkel (USA,
former president of the Science Fiction Poetry Association
and former editor of Star*Line - the Journal of the SFPA)-
at such a point
where objects recede at the speed of light
we feel the burden of the infinite
gravitons fly much faster than light
pulling us outwards forever
SEQUENCES OF INFINITY
-photo-collages by Maximilian Teodorescu-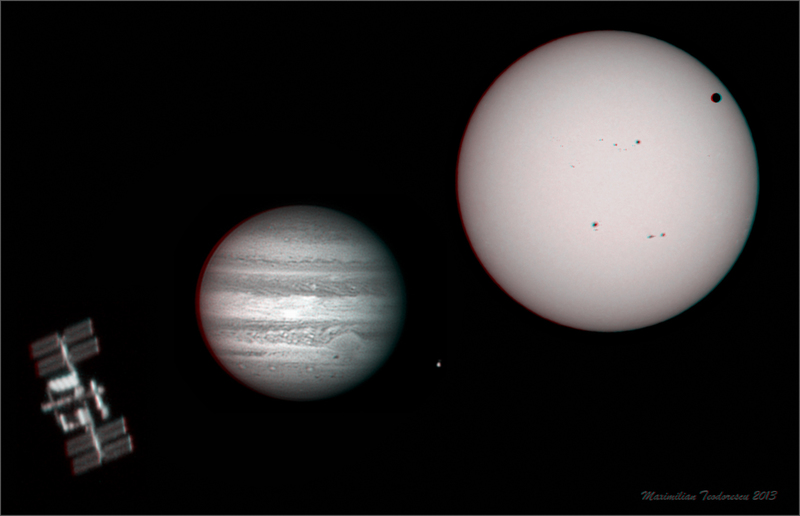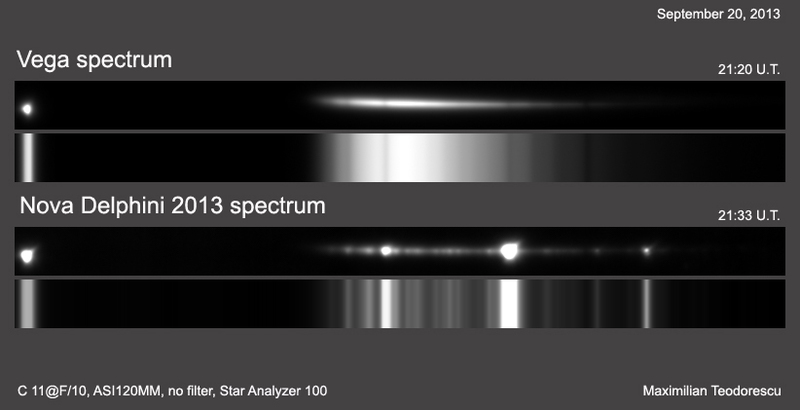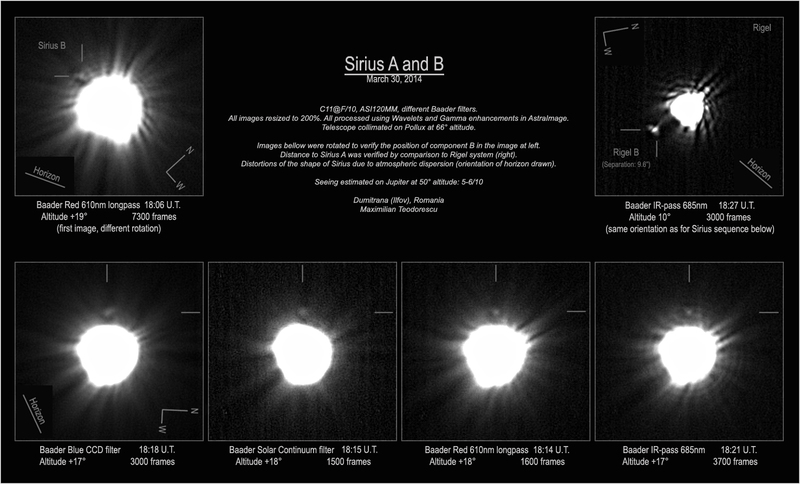 INFINITY
-by Victor Chifelea-
In the corner of a street from nowhere
with the sense toward anywhere
I met the trader of infinity.
He seemed like a fugitive
who sold stolen goods
and, sadly smiling,
he called me to buy something.
But what kind of infinite
could I choose,
as time as I had money for only one?
To take the great infinite of space?
Or that discrete infinite
of the absurd world?
Or maybe that of the grass fibres,
of the sand berries,
of the water drops?
To decide myself
I had to search all of them!
"For doing it,"
said the trader to me,
"you should posses that of time -
eternity!"
"But I have money
for only one,
the situation is at least strange!"
Smitten, forlorn and tortured
by this dilemma,
I decided to take that which
will help me to eliminate easier
the burden of existence:
the sublime unlimitation
of dreaminess!
END OF THE PROGRAM
-photographic poem by Ciprian Grigorescu-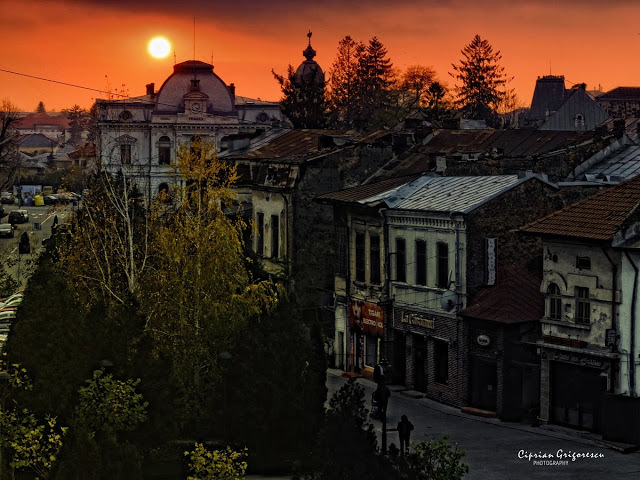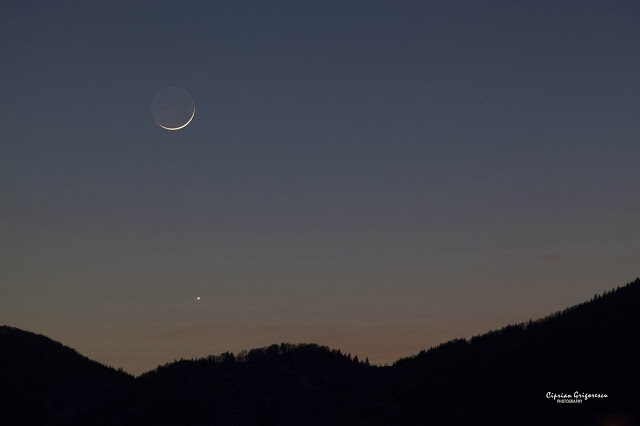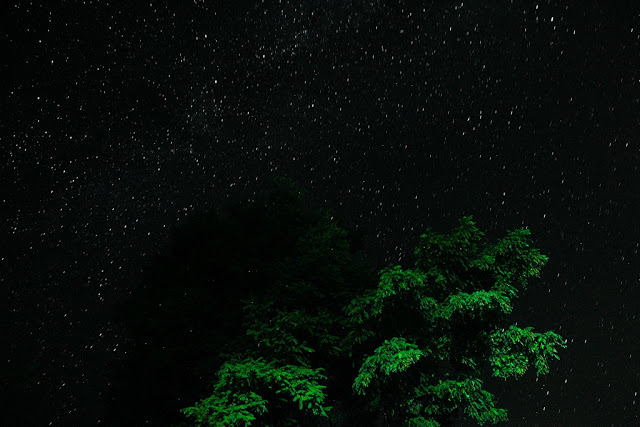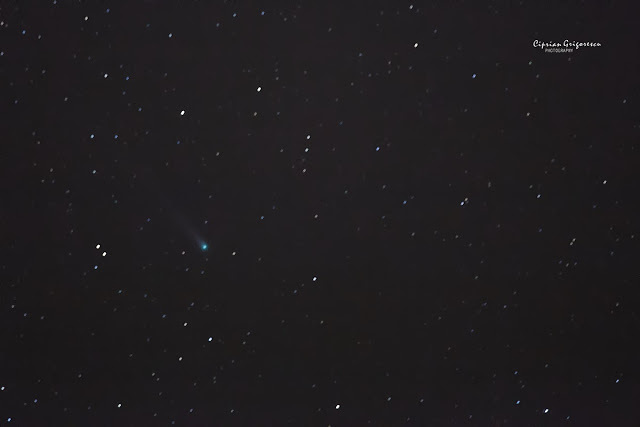 THE EXPERIMENT
-Gerald England (UK,
editor of New Hope International,
honorary member of the International Writers and Artists Association,
laureate of the Ted Slade Award)-
The experiment
was conceived
out of two minds
not as a game
like chess
to give further excitement
exactness
two minds
so tuned together
they gave birth
to a single thought of death
And when one died
the other knew
not only the thoughts
of the dying
but for just a moment,
after the heart stopped,
before the blood of the brain
congealed,
the first telepathed thoughts
from beyond the point of death.
For a long time
he did not stir.
Did not
then
speak
but before he went
into the sleep that became
non-recovering coma
he left two scribbled sheets,
the result of the experiment,
the sight of infinity.
She knew the content of the notes
even before they were removed
to her handbag.
Some weeks later a car
crashed on the motorway
the driver having fallen asleep at the wheel.
Some charred pieces of paper were found
in the burnt-out wreckage.
There was a half-smile on her face.
DANUBIAN SUN
-photographic poem by Ana Maria Damsa-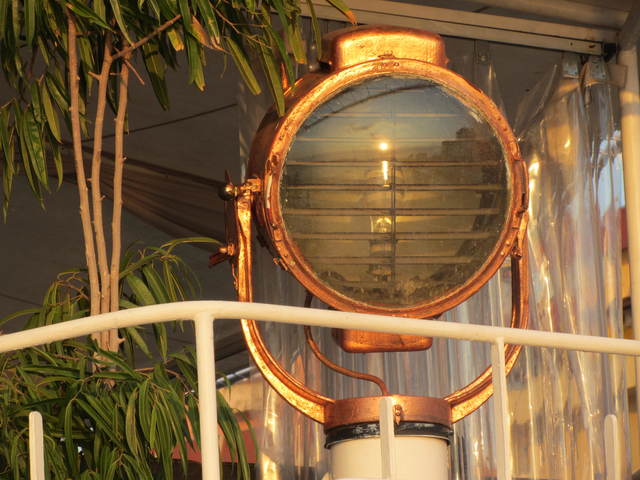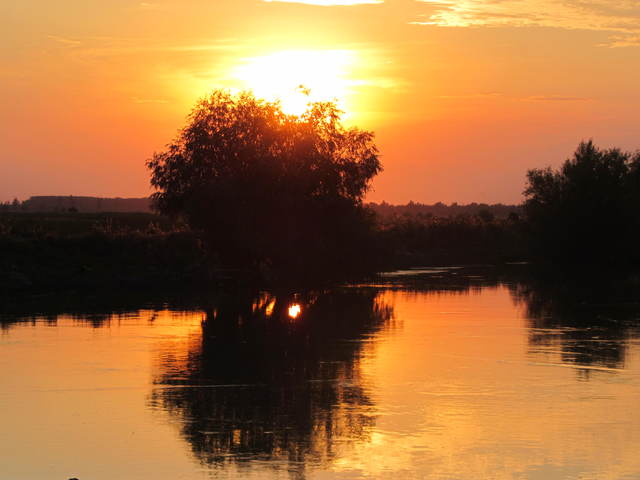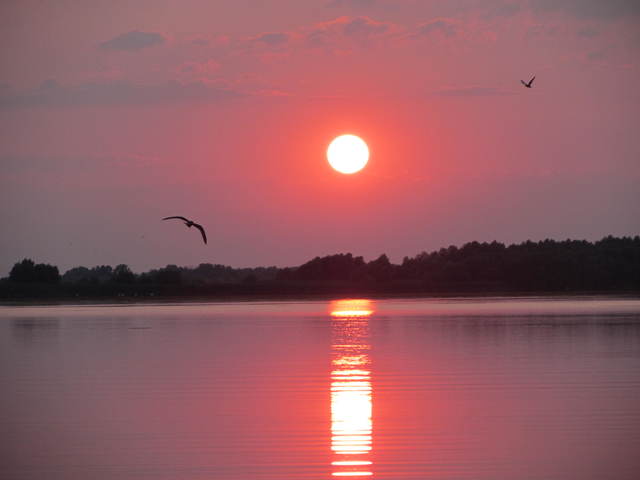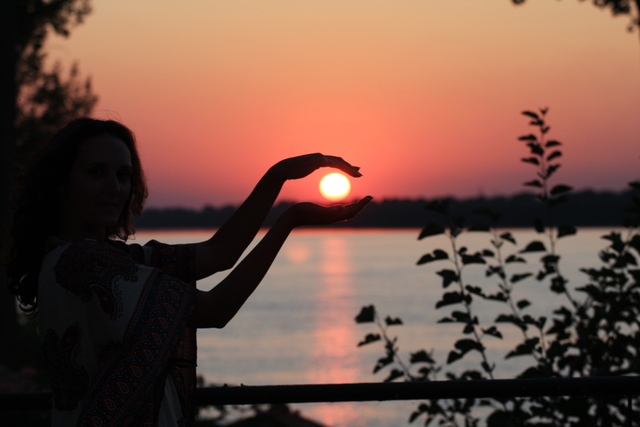 MUSIC FROM THE INFINITE
-by Irina Cristescu-
If we would tell about the limits of the universe
unveiled from the coat of time,
we would hear the music of the transparent cosmos
from the stars where the tones are in resonance
with the creative souls,
the music of the universe which always invents itself
among clusters of stars, galaxies, planets and suns,
when some of us dare to find its limits.
FROM HEART AND SOUL TO IC1396
-photos by Catalin Paduraru "Sarpe"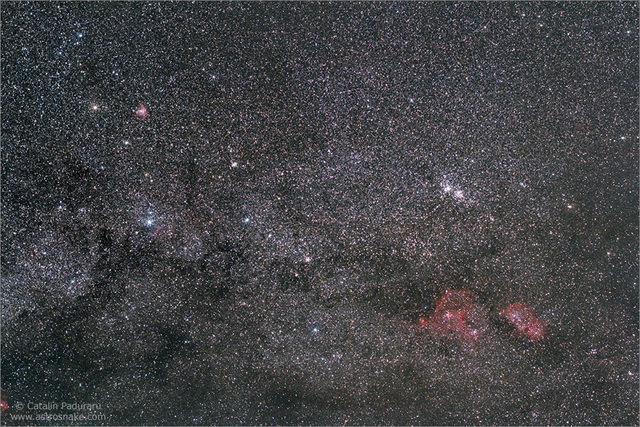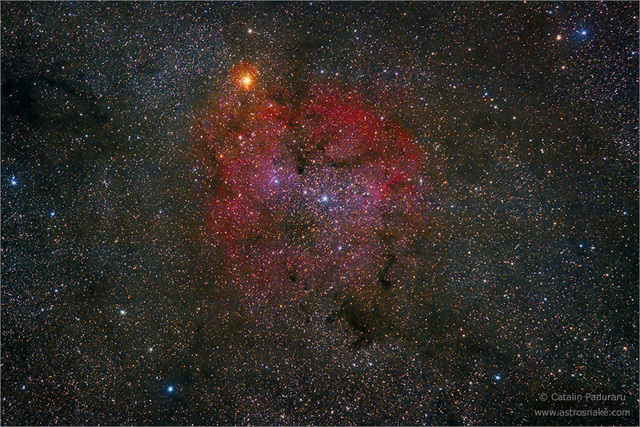 INFINITE THOUGHTS
-astro-photo-poem by Jos Nijland (the Netherlands,
member of the International Meteor Organization)
Infinite thoughts

Infinity stops when fantasy ends.
So why not use an all sky (night) camera
to tickle your fantasy
as a source for infinite thoughts.

Jos Nijland
The Netherlands
October 27th, 2014

TRANSITS
-astro-photo-confession by Maximilian Teodorescu-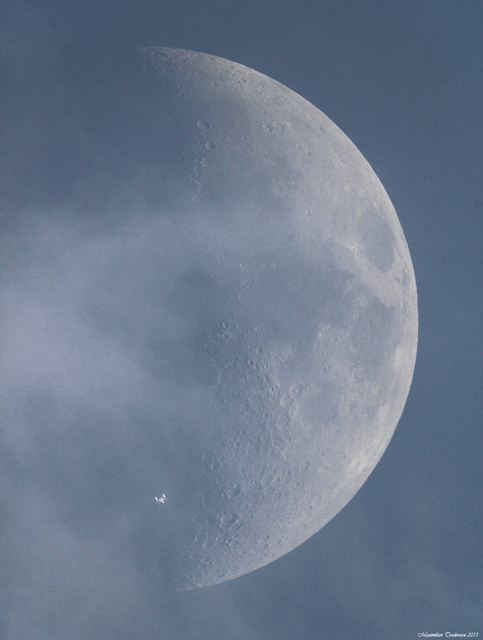 The transits of the International Space Station
over the disks of the Moon or of the Sun
are not rare,
but to catch them pertains to more factors:
-the passing to the place of the "maximum";
-the atmospheric conditions;
-and… the infinite "unforeseeable"!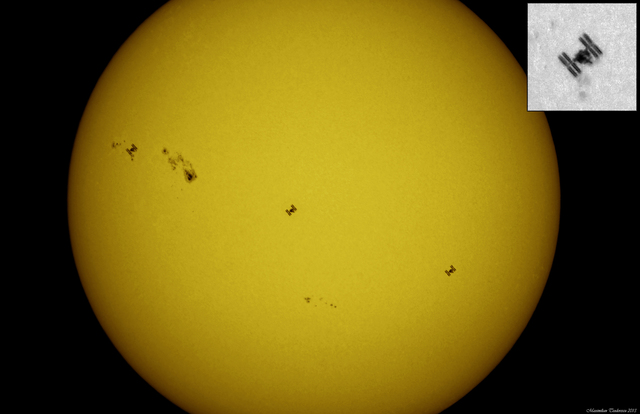 HAPPY PEOPLE
-astro-photo-poem by Alex Conu
(born in Romania, living in Norway)-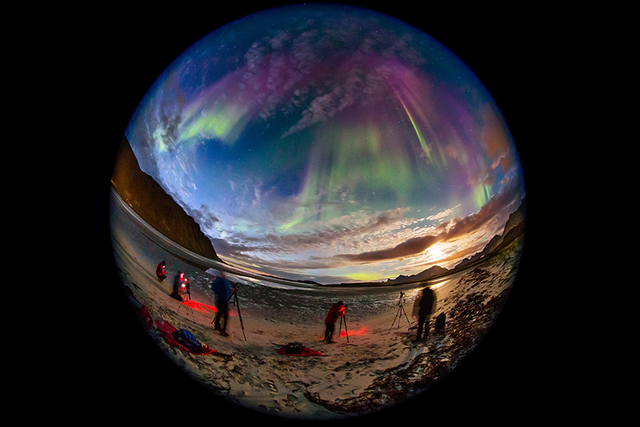 Aurora stretched
her green skirts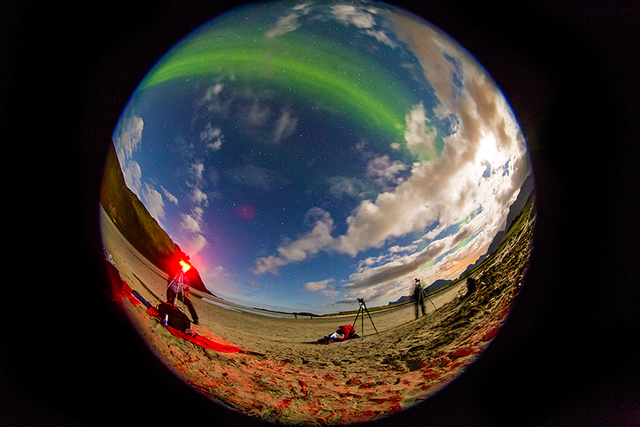 from a horizon
to another…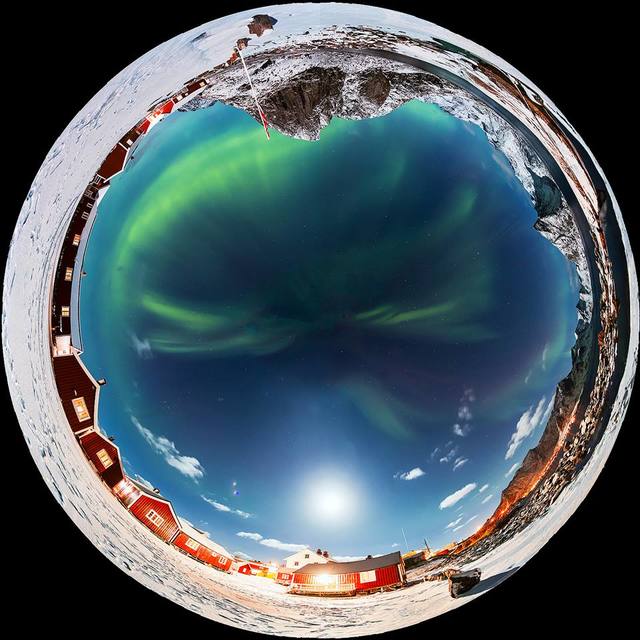 INFINITY
-astro-photo-poem (cosmopoem) by John Goldsmith (Australia,
Celestial Visions producer,
member of The World At Night)-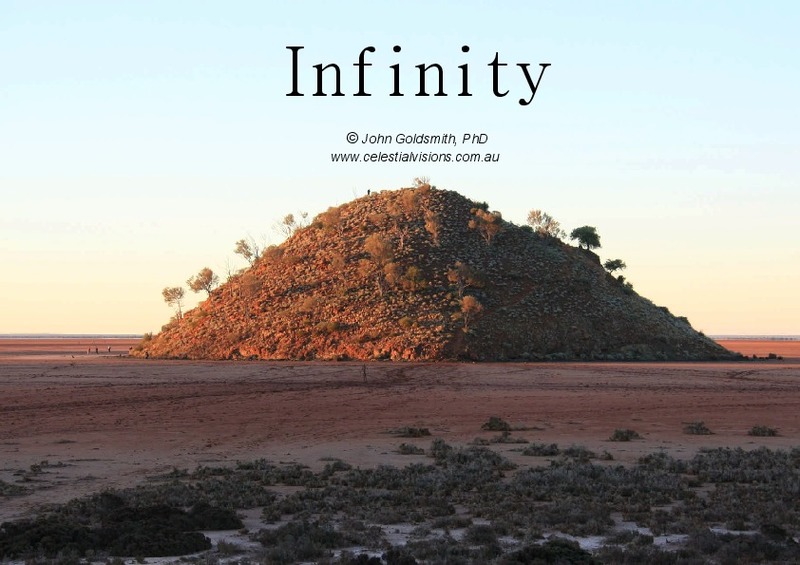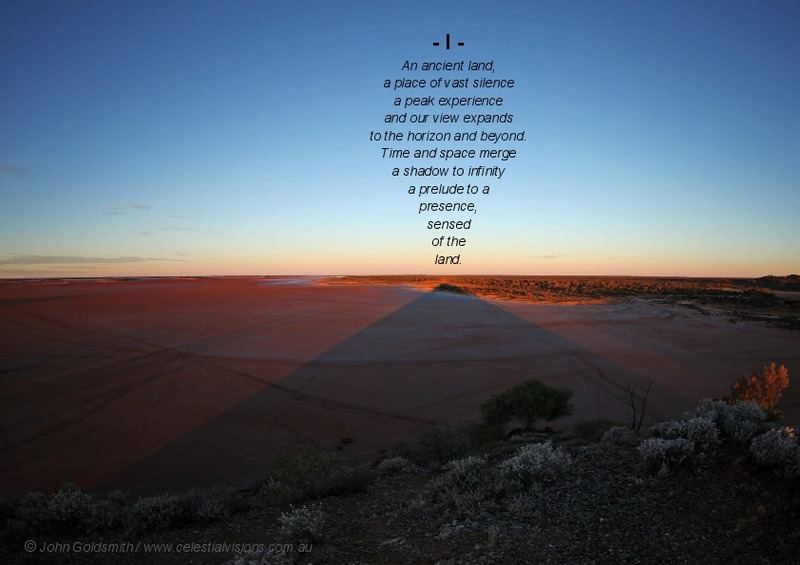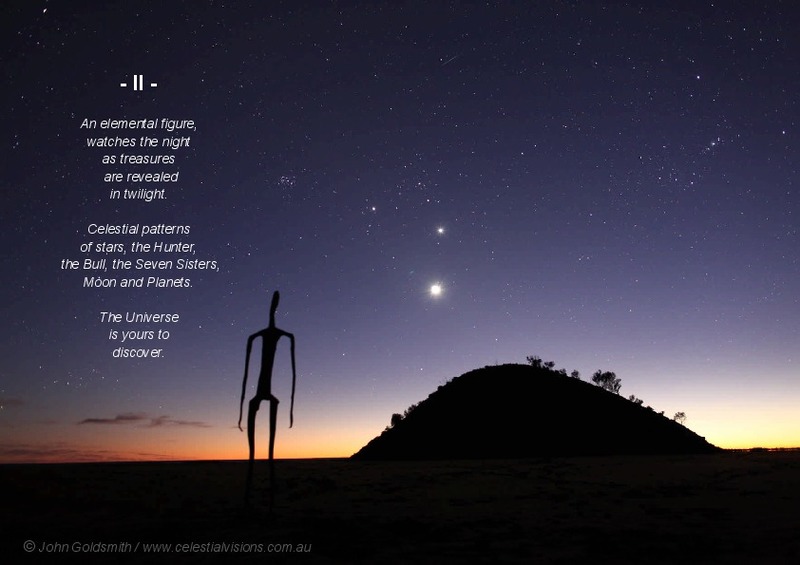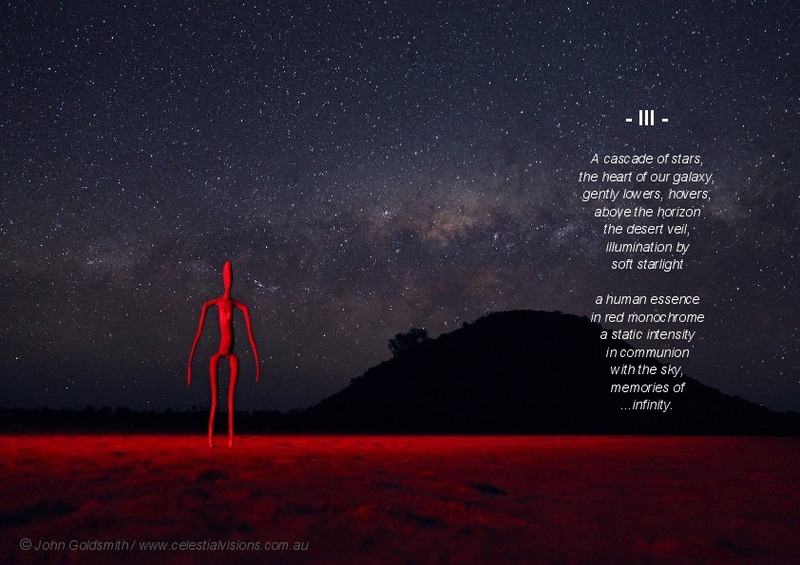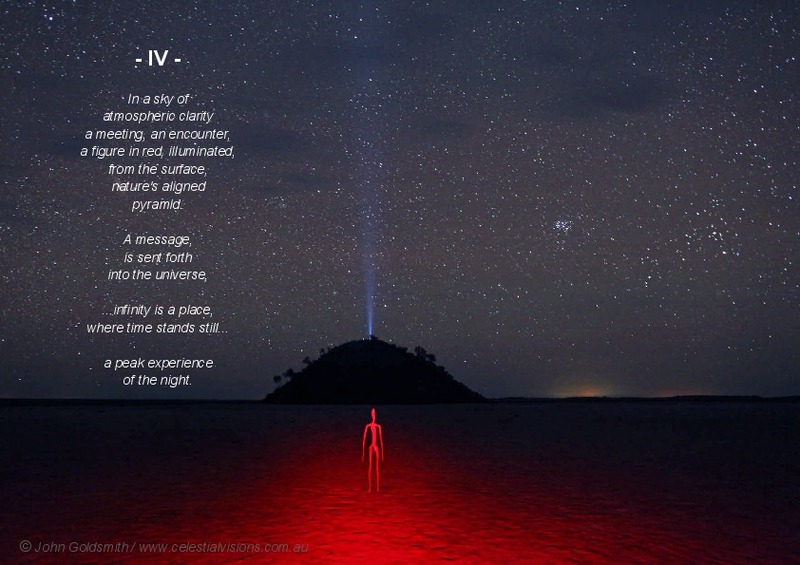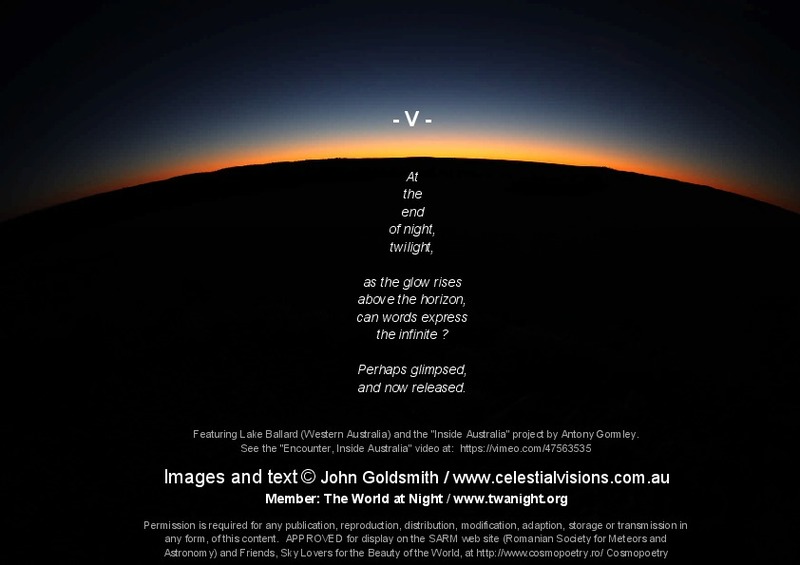 C/2013 R1 LOVEJOY
-astro-photo-confession by Eugen Florin Marc-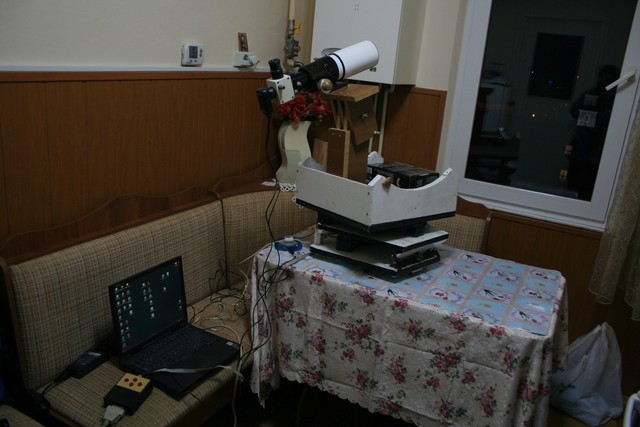 After more failures
because of the bad weather,
I photographed Comet Lovejoy
not like other fellows, from the ground,
but preferring to stay behind the window,
an improvised "work point"
with an equipment ready for "fight"…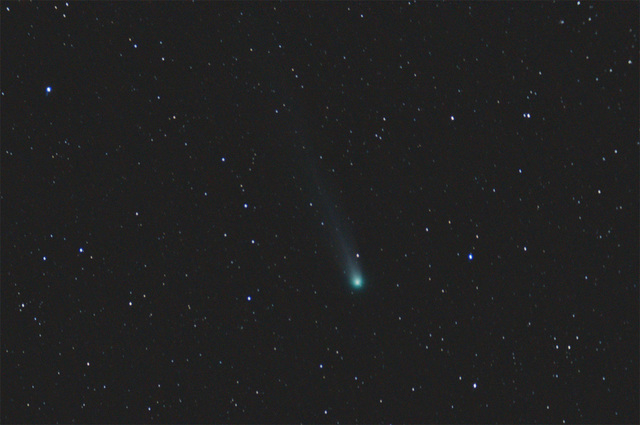 QUESTIONS UNDER THE SOUTHERN CROSS
-astro-photo-poem by Danut Ionescu
(born in Romania, residing in New Zealand;
photos 2 and 3 were made at Auckland StarDome Observatory)-

Recently I was ill
and I wrote a few questions: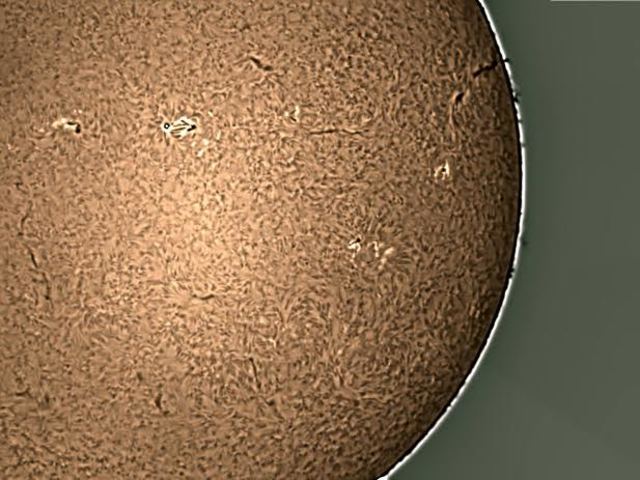 1. How many infinities are inside the Infinite?
2. How many little infinities are inside the largest Infinite?
3. How does it look - the intersection between two infinities?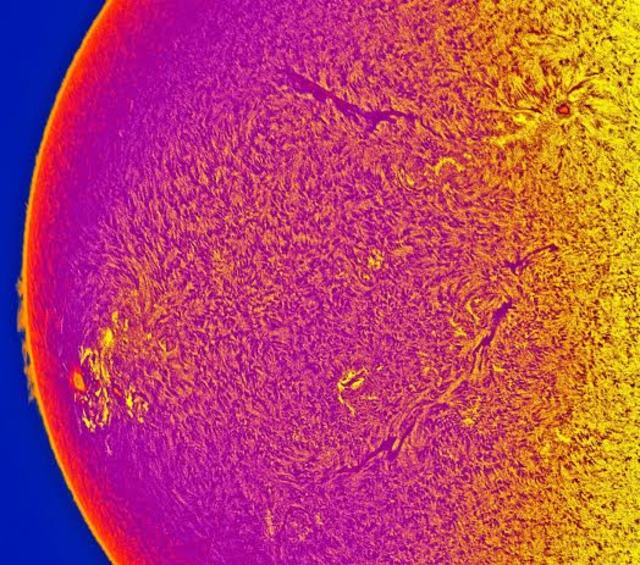 If the fever of creation touches me again,
I'll continue soon.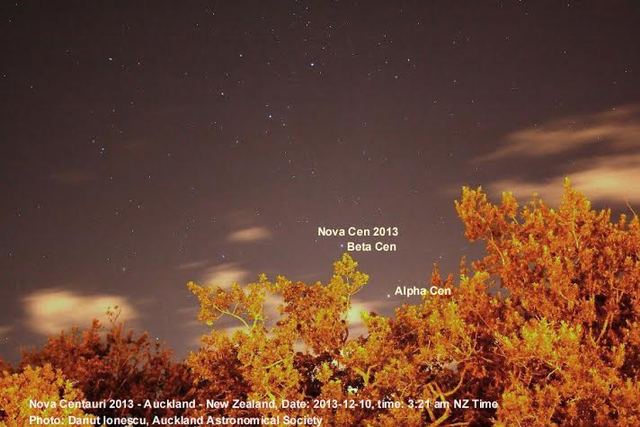 SHORT NIGHTS
-astro-photo-poem by Johannes Stubler (Austria,
ambassador and national coordinator for Astronomers Without Borders)-
SHORT NIGHTS
SEARCHING THE STARS
IN A BRIGHT SKY
FIGHTING AGAINST LIGHT
ENDURANCE
TOUGHNESS
NEVER GIVE UP
THE FATE OF A
CITY – BACKYARD – ASTRONOMER
SUMMER IN THE CITY!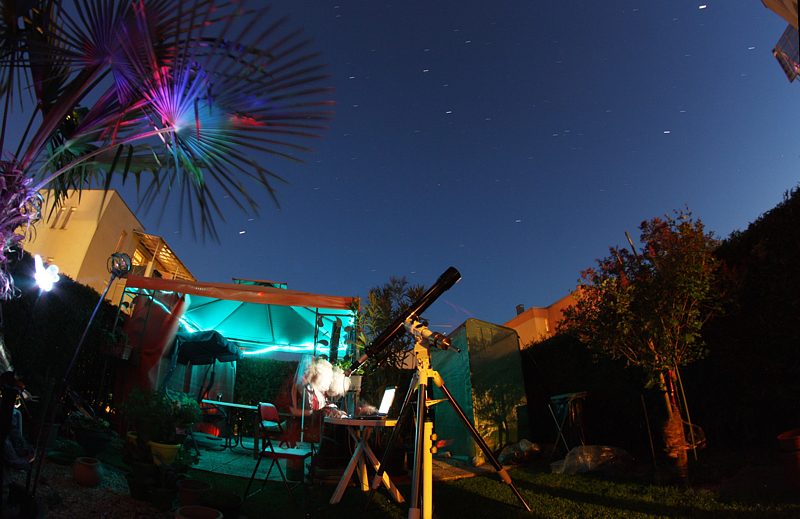 (
Tropical summer feeling in a backyard in the city when most of the people are sleeping.
Photo Credit: Johannes Stübler/AUSTRIA)
QUESTIONS
-astro-photo-poem by Iulian Olaru-
Childhood -
why does the Sun set?
Short questions.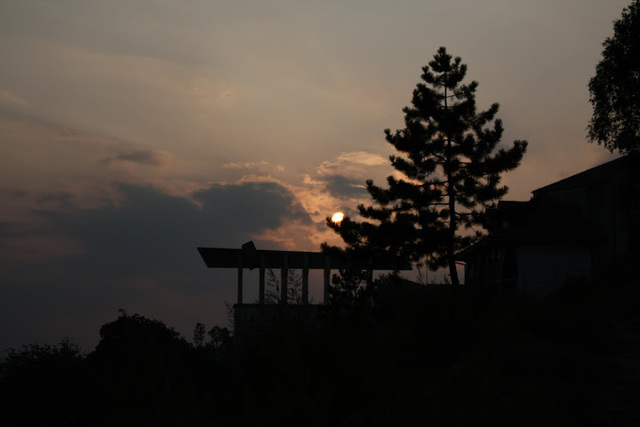 Why does he set?
Infinite questions,
unripe age.
SUN
-photographic poem by Maximilian Teodorescu-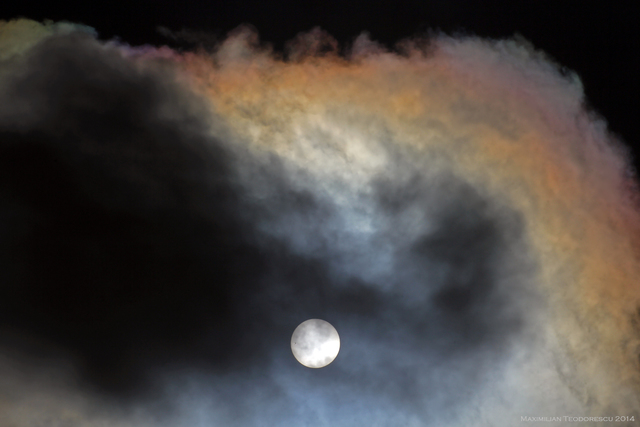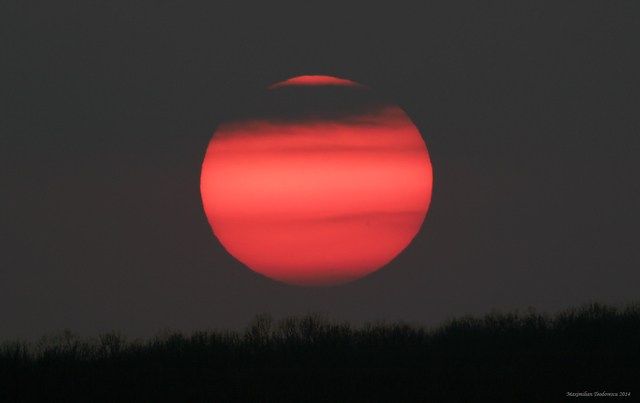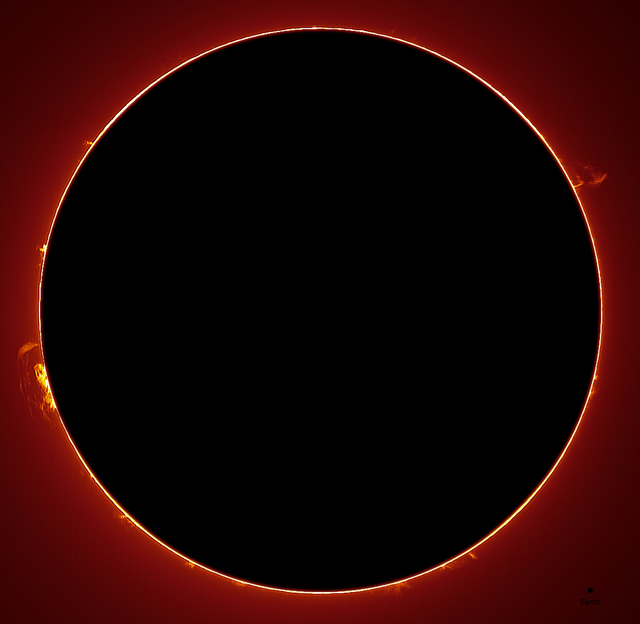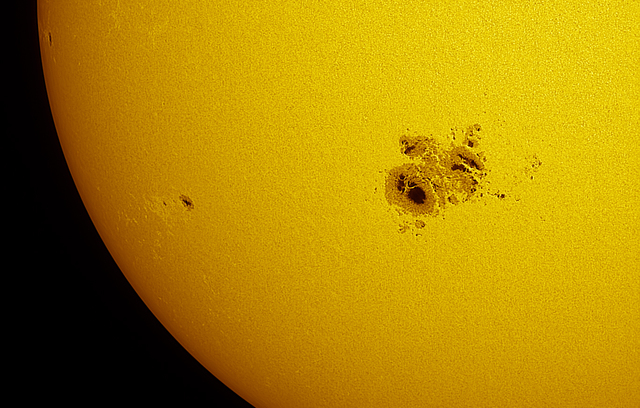 INVITATION
-by Andrei Dorian Gheorghe-
A friend of mine had made
a performing rocket.
"Come with me toward the infinite!"
he invited me.
"Sorry, I cannot do it,"
I replied,
"I already live in the infinite."
SARM'S PERSEID EVENT 21 - 2013
-photographic poem by Valentin Grigore-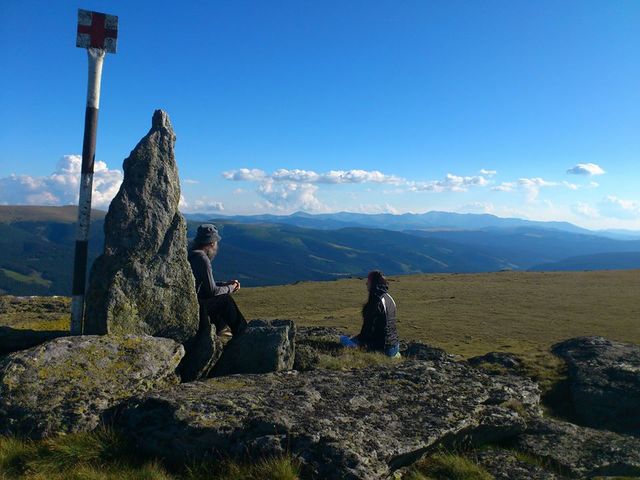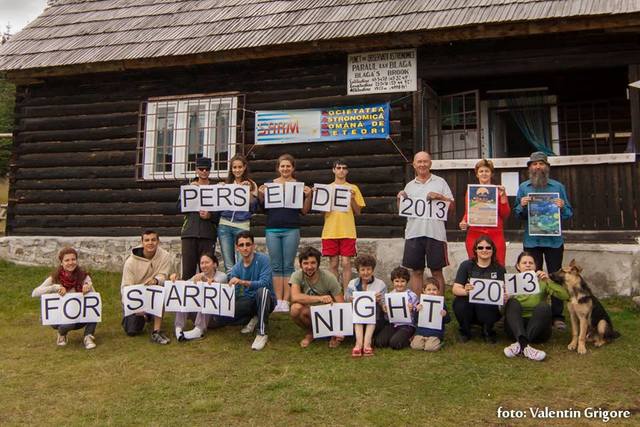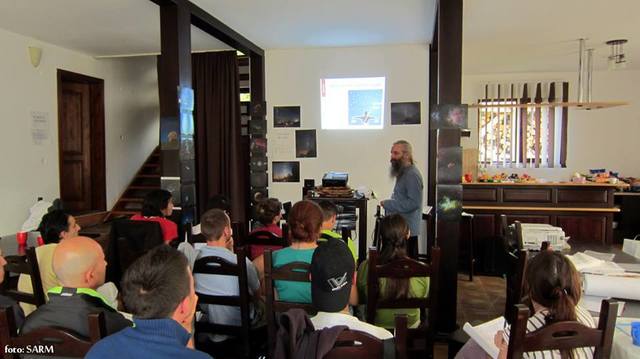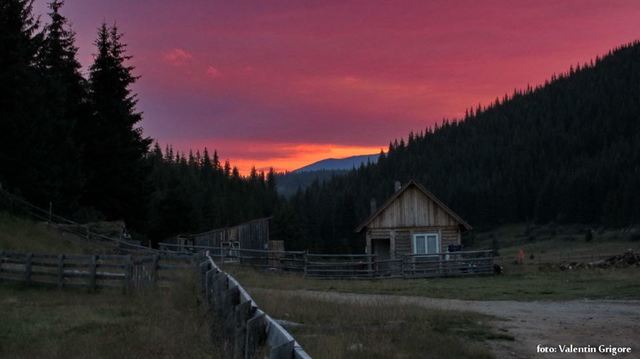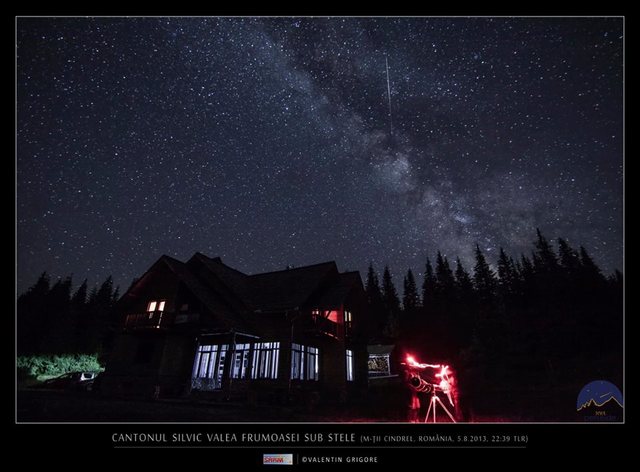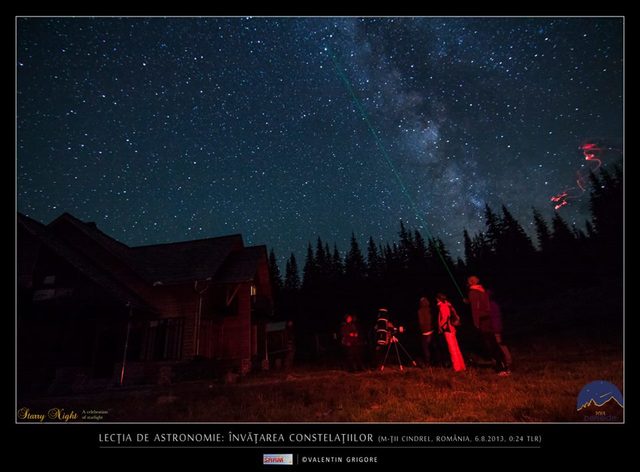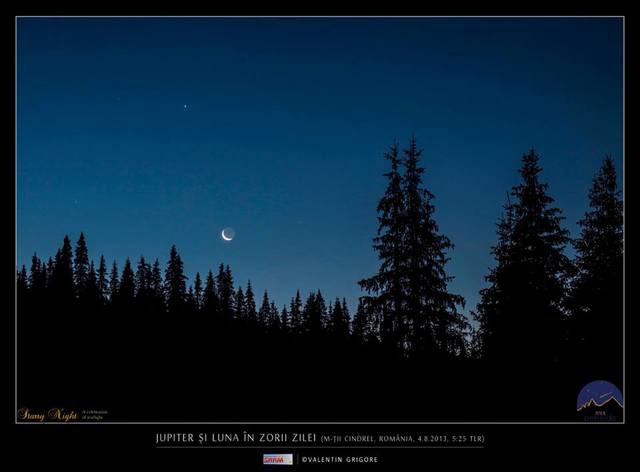 ASTRONOMY AND FOLKLORE IN HORODNIC
DURING "NIGHTS OF PERSEIDS 2013"
-photos by Dimitrie Olenici;
comment by Mihai Rusie-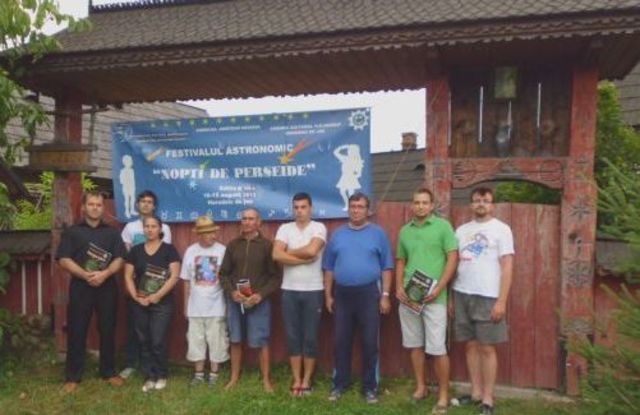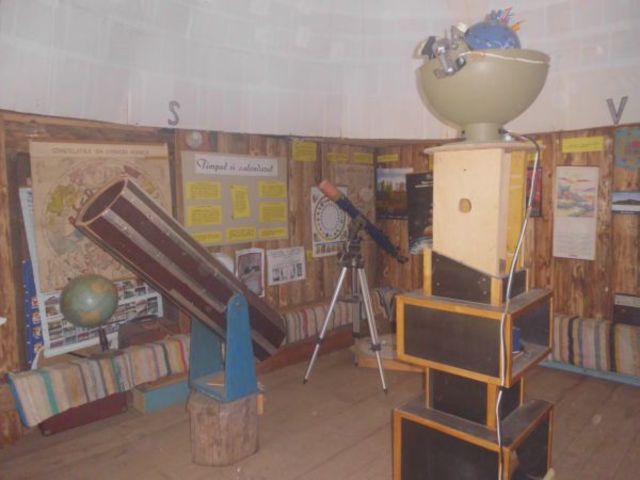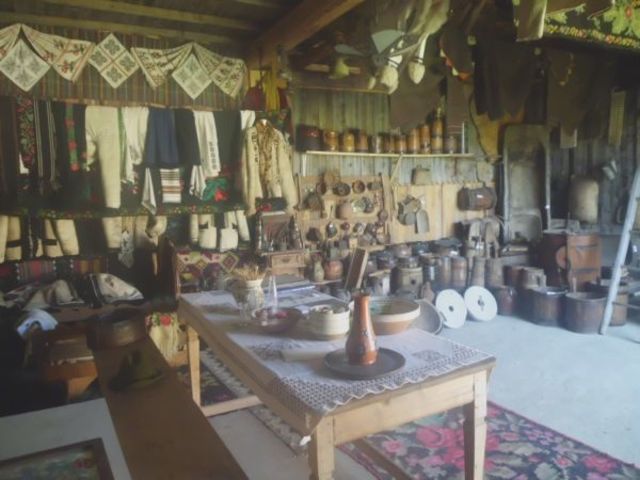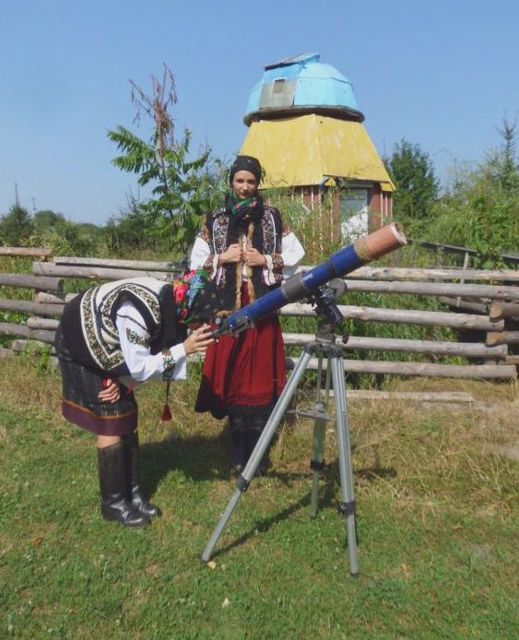 I think that the picture with the girls
watching the Sun through a lunette
is extraordinary.
I don't know if "responsible" is
the folkloric vestment,
or the original design of that particular observatory,
but I feel I hear crickets, birds, wind, cocks, caws
and other elements of that natural milieu
for astronomical observations -
something which is still a dream for many…
FURROWING THE SKY
-photographic poem by Eliza Teodorescu-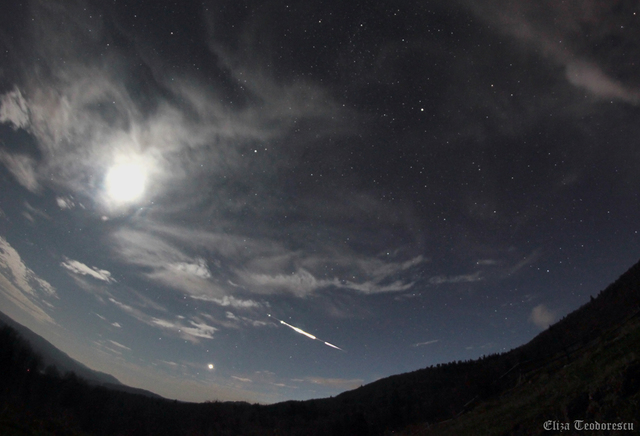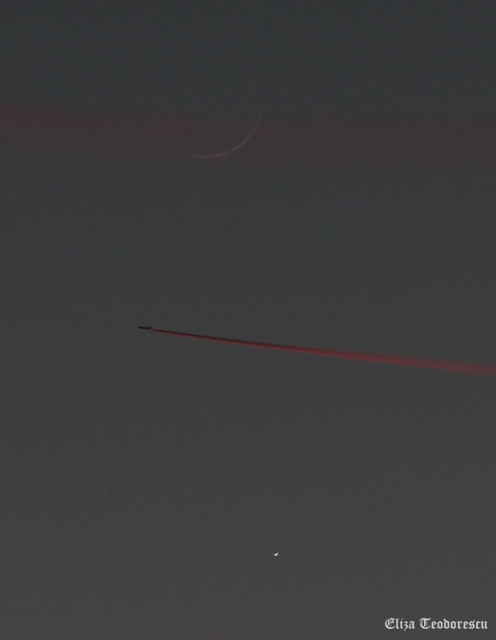 CIRCUMZENITHAL ARC OVER SIGHETUL MARMATIEI
-photos by:
1. Alin Iosif
2. Sorin Hotea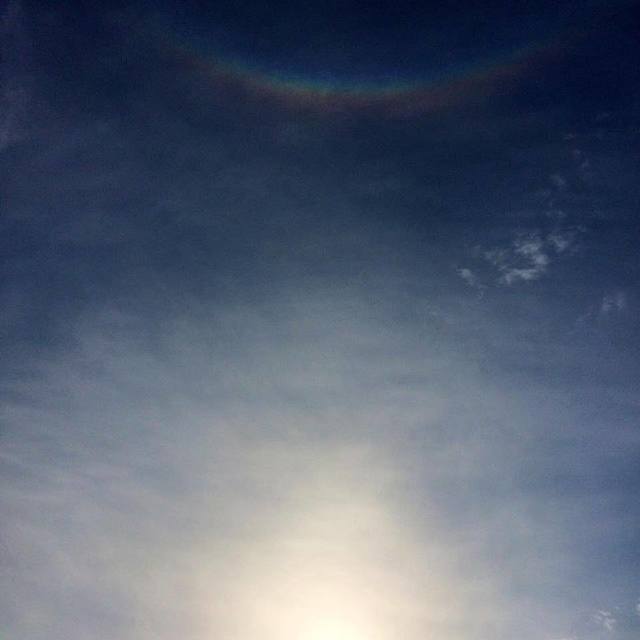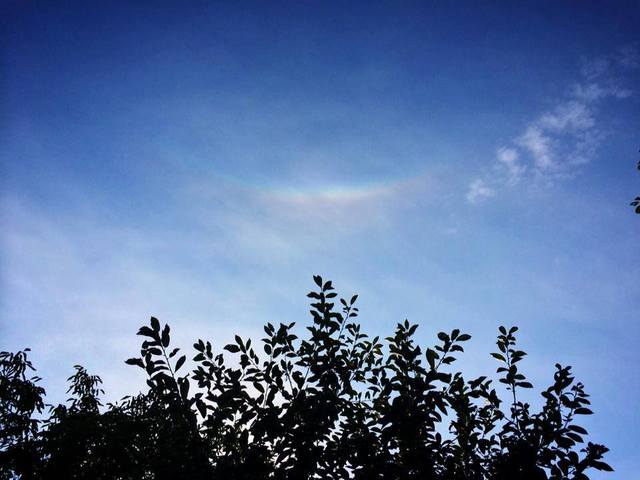 SCORCHED FEATHERS
-by John Francis Haines (UK,
leader of Eight Hand Gang - the British network of SF poets)-
Comet ISON flew
Too close by the Sun, and burned,
Just like Icarus.
COMET ISON
(20.10.2014)
-photo by Galati Observatory
(Jan Ovidiu Tercu, Alex Dumitriu and Aurel Chirila)-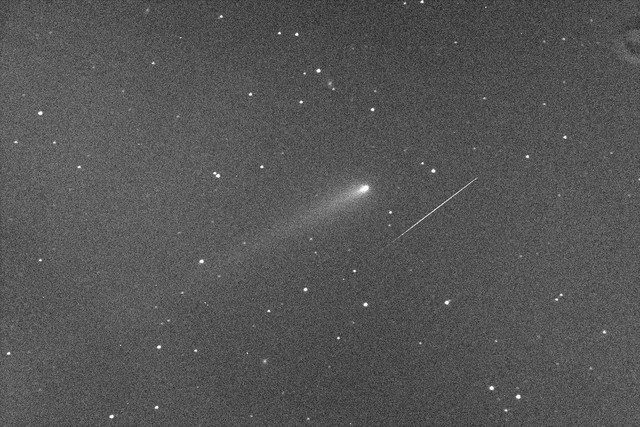 COMET ISON
-Romanian collective sketch-
Felician Ursache:
Announced as the "comet of the century",
ISON did not pass the perihelion,
disintegrating close to the Sun.
Valentin Grigore:
However,
it seems that something has remained…
Radu Gherase:
That is the phantom of the comet…
Sorin Hotea:
This comet will certainly remain in history:
thanks to its evolution,
many new things will be found
for the comet theories.
Ovidiu Vaduvescu:
Yes indeed,
it was a comet disintegrating under our eyes.
Peace to its ashes!
Andrei Dorian Gheorghe:
And rest in solar peace!
COMET ISON
(16.11.2014)
-photo by Maximilian Teodorescu-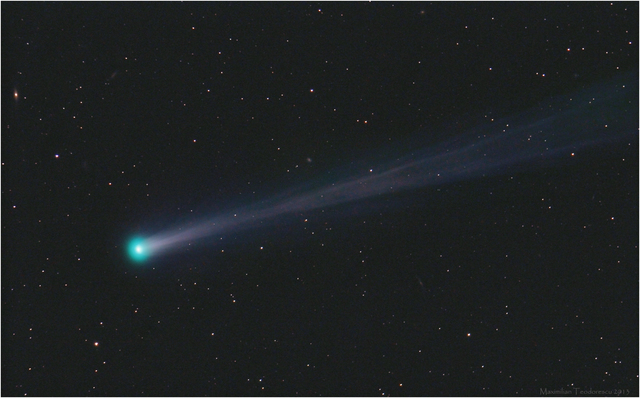 ASTROHAIKU
-by Steve Sneyd (UK,
laureate of the Peterson Trophy,
director of Hilltop Press,
editor of Data Dump-
watched, in instant her
eyes go dark to bright to dark
again, meteors
GEMINIDS 2013 AND COMET LOVEJOY
-photo by Catalin Paduraru "Sarpe"-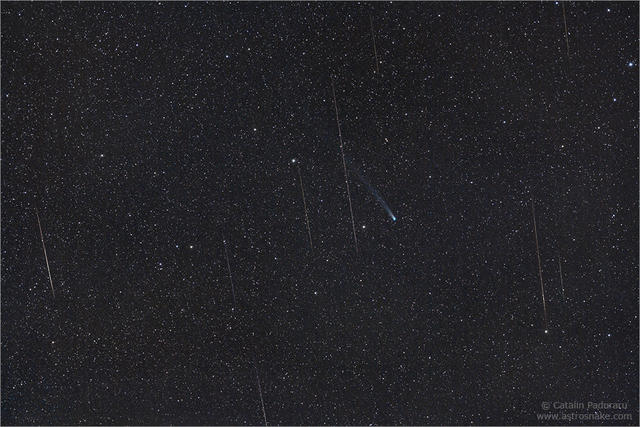 INFINITY
-by Boris Marian (Mehr):
Time untiringly passes,
The clock falls from the tower,
From lamentations to infinity
You respect the sin in love.
This poem will be read
by millions of hands,
all was written,
we will sleep on the backbone
of the computer,
it's important to paddle
during the slumber,
you can fall in love
with a comma
forgotten in a phrase,
you can cry with
the speed of light,
allow your hands to fly
to Andromeda,
your thoughts must be right
like the shout of a border.
ANDROMEDA GALAXY IN ANDROMEDA CONSTELLATION
-photo by Attila Munzlinger-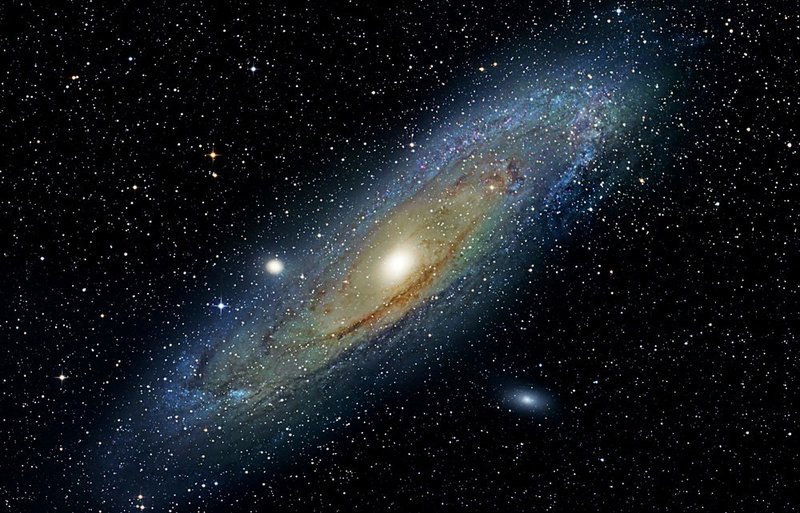 DSO
-photo-collage by Maximilian Teodorescu-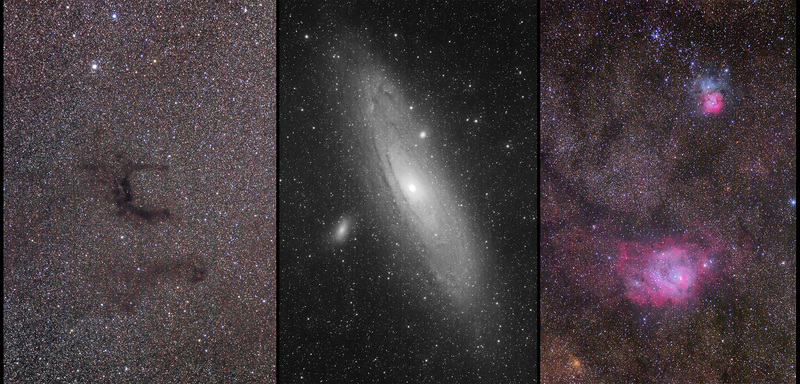 SOLAR ECLIPSE
-Kim Goldberg (Canada,
winner of the Rannu Fund Poetry Prize for Speculative Literature)-
I hurry down to the park--
I don't want to miss the solar eclipse
that reaches its maximum in
fifteen minutes. I stride past a rumpled
blanket in the underpass. Cars thunder
overhead. In my eagerness to see the sun
I do not notice the human lump
asleep (or unconscious or dead) beneath the
dirty blanket on the concrete.
Down at the park the astronomy club
hands out special glasses
so we can watch the eclipse safely
without being blinded by the intensity of its
white-hot truth. And I wonder what else
I have been blinded to--what
fierce pieces of the cosmos are now beyond
my seeing.
TOTAL SOLAR ECLIPSE 2013 OVER KENYA
-photo by Catalin Beldea-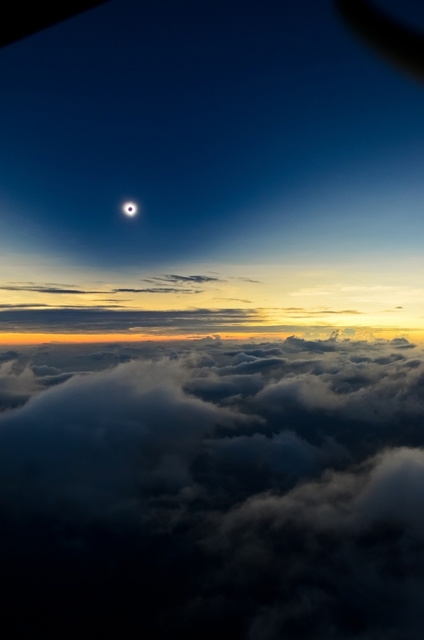 LA PALMA 2014
-photographic poem by Valentin Gigore-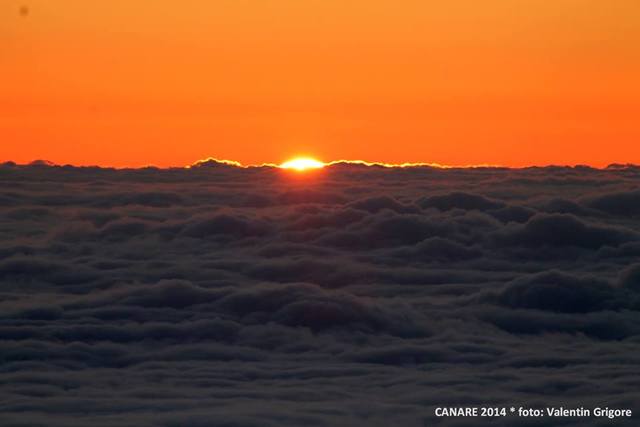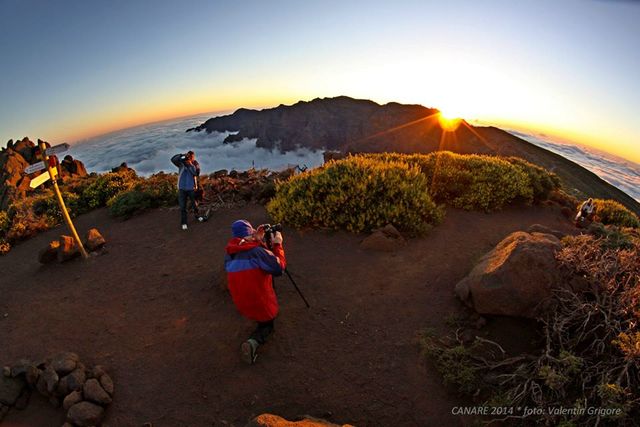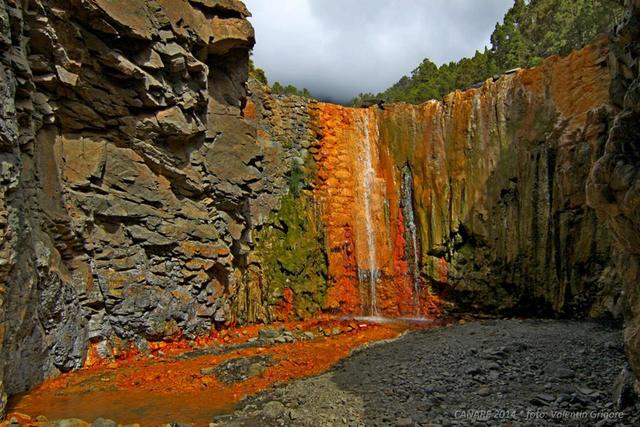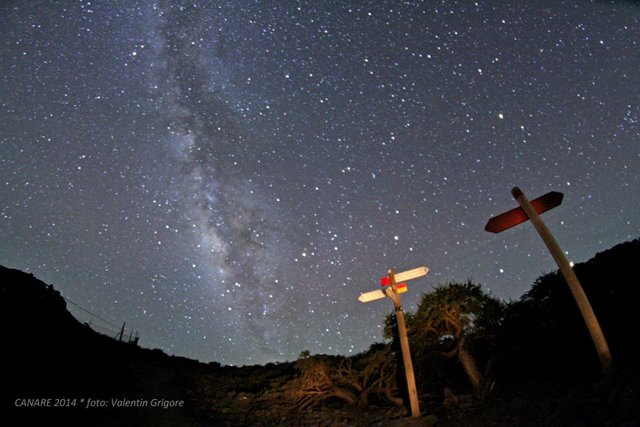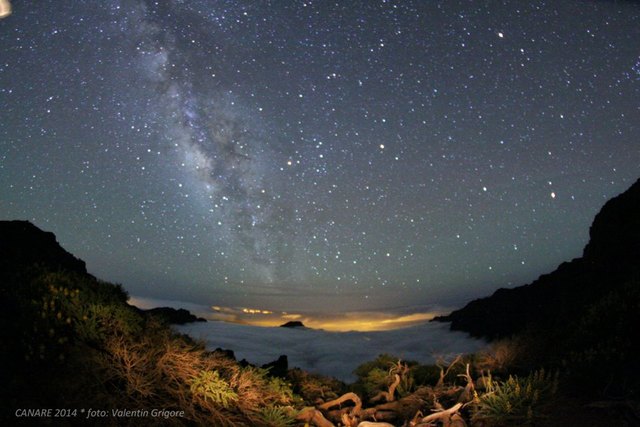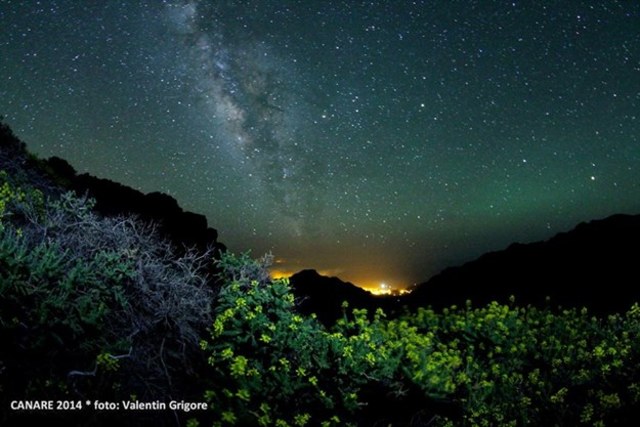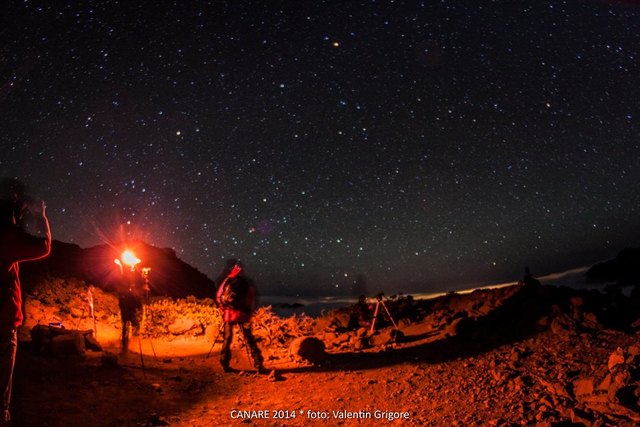 AFTER DYOGENE
-by Tit Tihon-
Am I a man? Or a "dyogenet"?
When I was born,
my star had set,
or perhaps it had risen,
so why did Pluto hide after it?
Oh the planet forgotten on the ceiling
of the pub which drowns my dream
in the arms of the sacred spiral,
it stuns me in giant octopuses
with gossips of alcohol thrown into the void
and more lives which passed into the hell.
With words of bar,
oh wine, I spin in 3D,
losing the wakeful place of life,
I'll become infinity.
I become universe
and I write my name on a star,
up there, among nebulae,
where I blab with Bacchus.
CONE NEBULA AND CHRISTMAS TREE
-photo by Attila Munzlinger-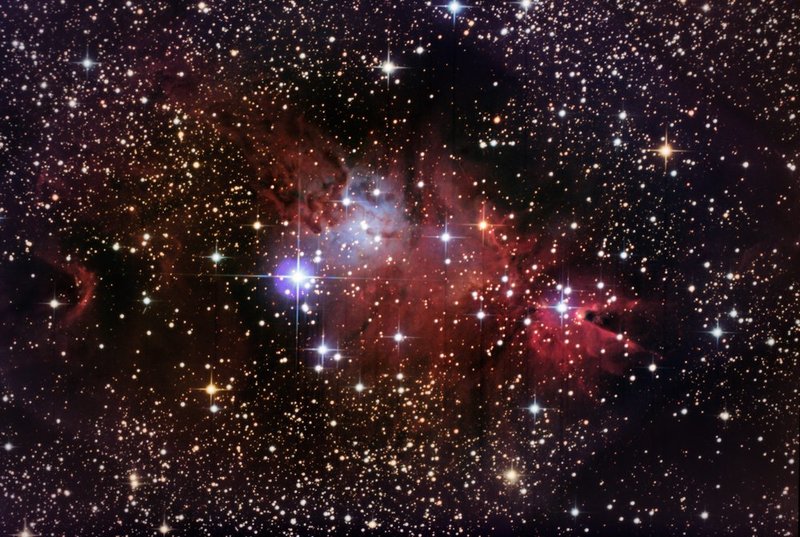 HEAVENLY BODIES
-photographic poem by Valentin Grigore-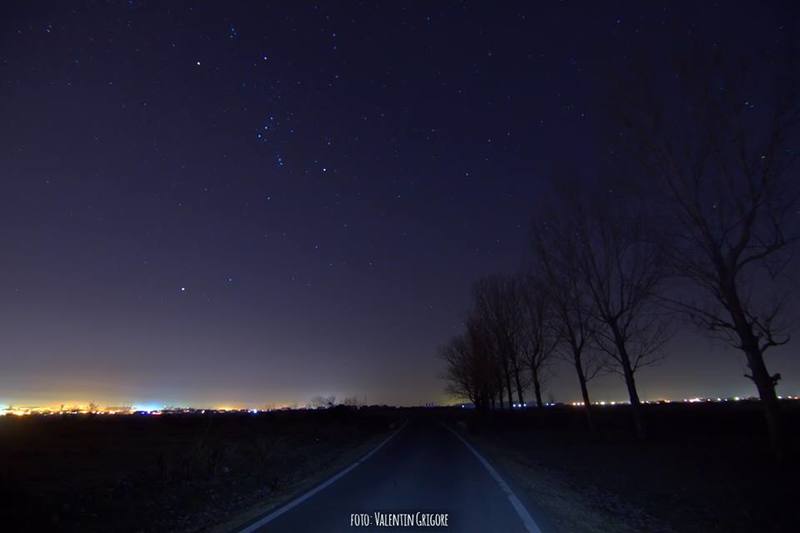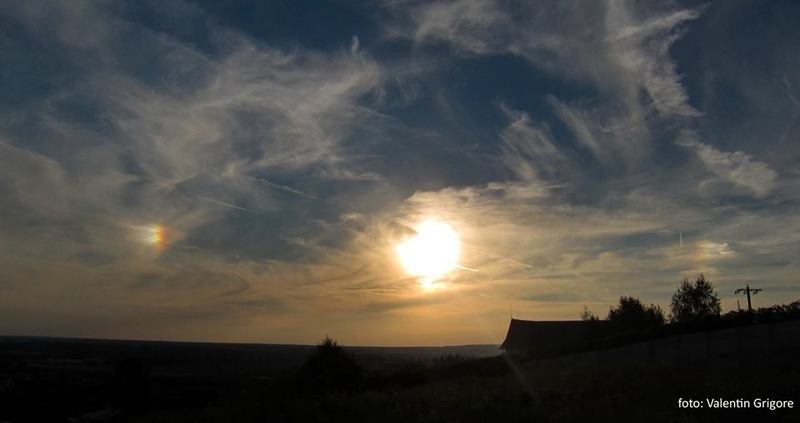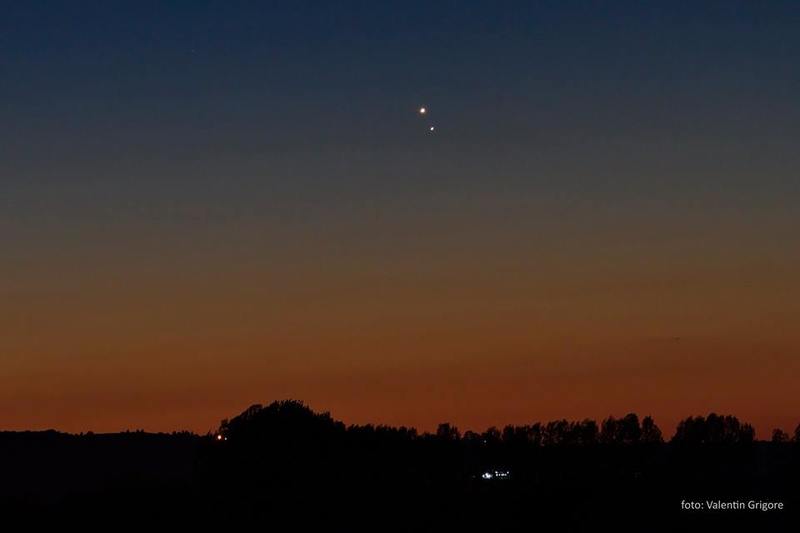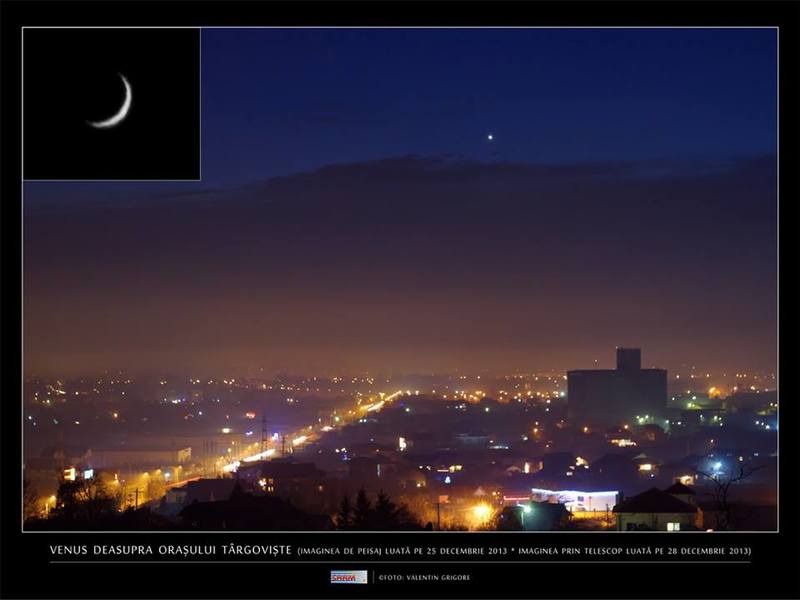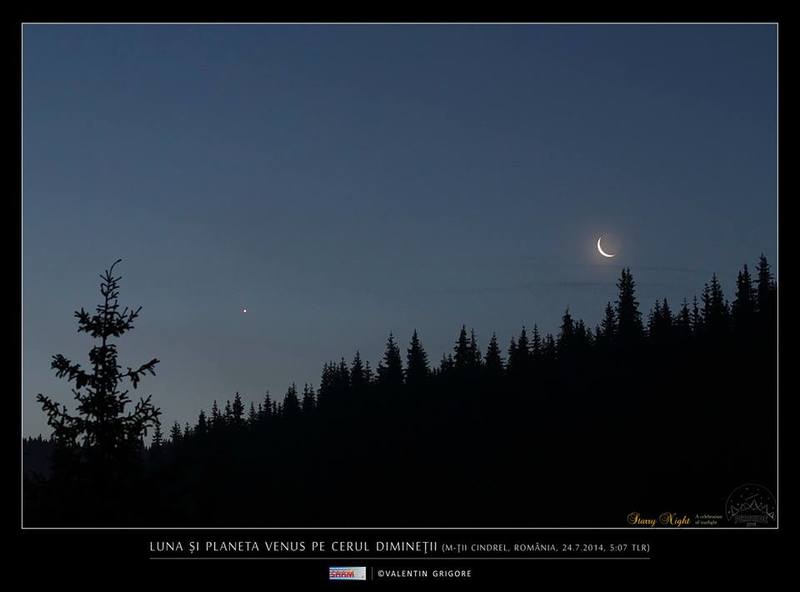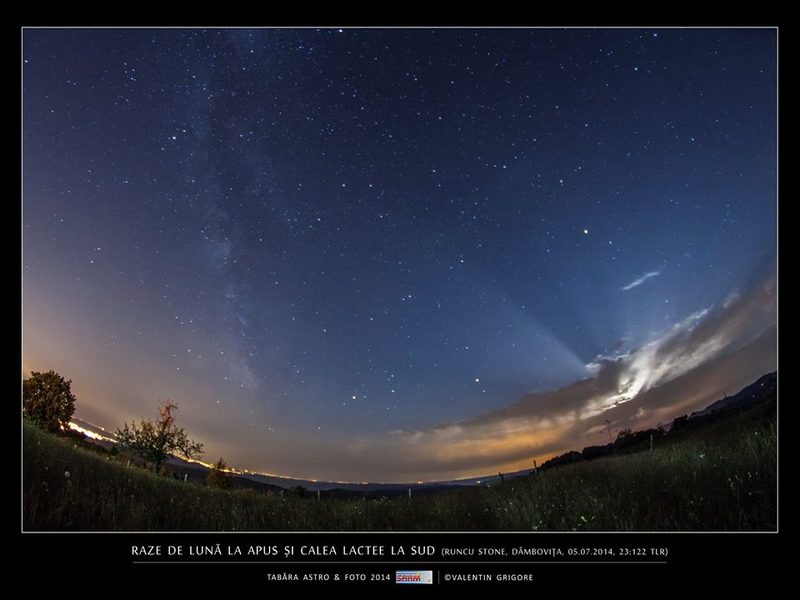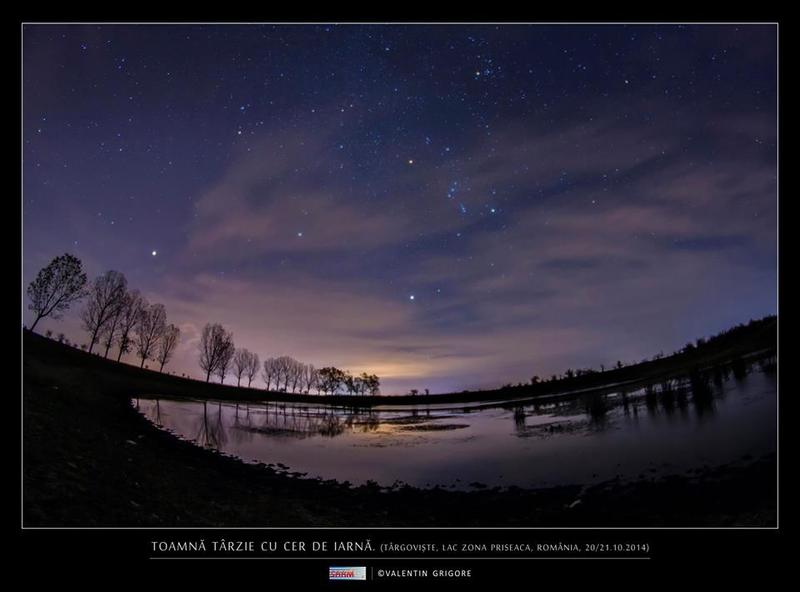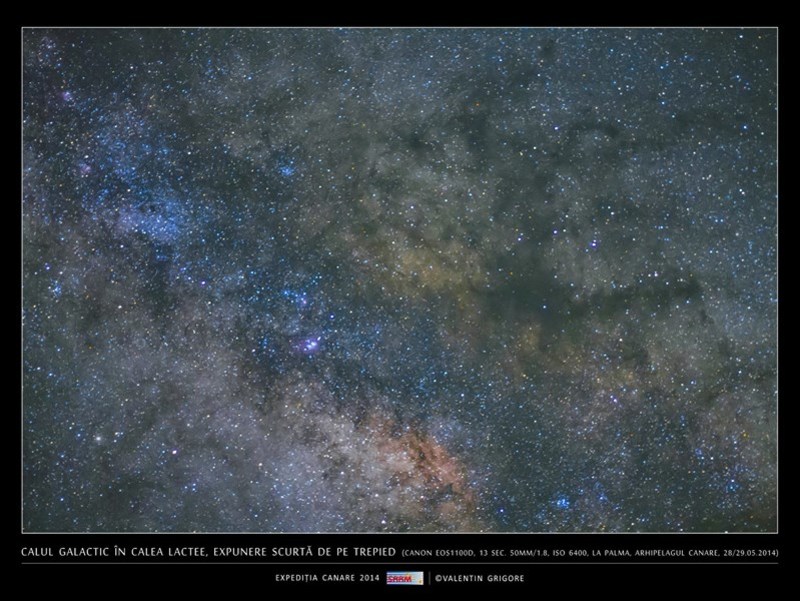 TOPOGRAPHY OF TIME
-by K.C. Patrick (USA,
Lunar Anomaly Research Society)-
Waiting in the echo
of the question
for the answer,
"Yes" or "Know"
is an "I AM" Awareness
tracing it's finger
over the side-eight-loop
of infinity.
Thought
is the answer born
on the coin-flip side
of the question.
Question-Answer
these opposing twins
seem to
quantumly disentangle
becoming
spooky action
staying distant.
The waiting room
with the hard bench
and the bland walls,
a life-sucking
place to wait
for the door to open
to go inside,
is infinity.
If you sit on the square
long enough
a pawn pondering
you figure out the game
as a dance between
novelty and habit.
The centrepedal
force of love
spirals us toward
a black whole.
On the edges
the event horizon
we spin our time
in a mix-and-match game
of permutations and iterations
of fractally-fractured hearts.
Love created something
that was not there before.
Though love may dwindle
to a shadow of
its self-awareness point,
a node of observation
launches from the womb
of infinite potential
into a coalescing
landscape.
Birthed from the reunion
of question and answer
is a child called Wonder
joyously wandering
through the topography
of time.
SOLAR VISIONS
-photographic poem by Ciprian Grigorescu-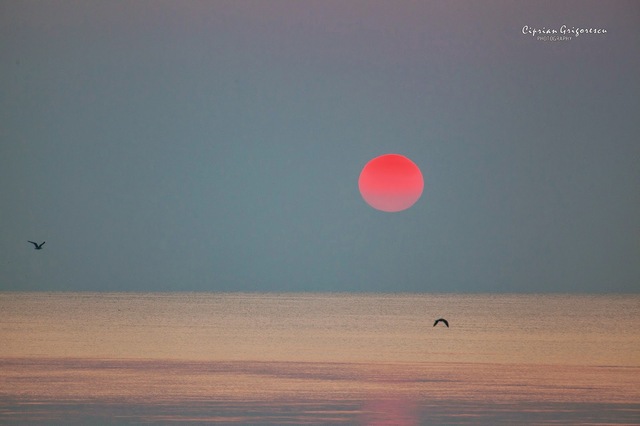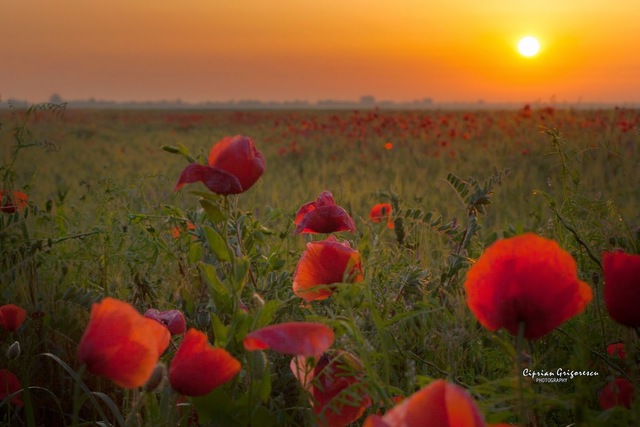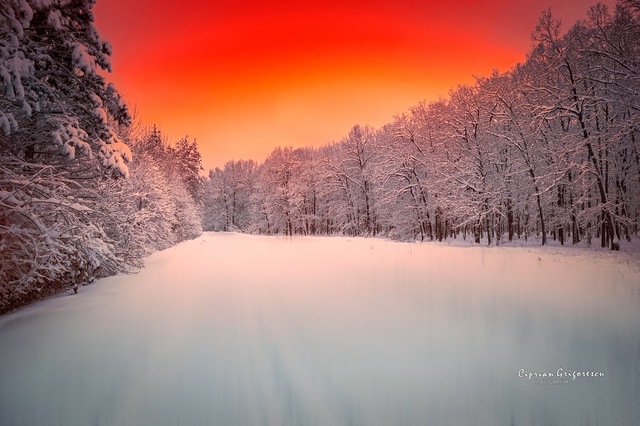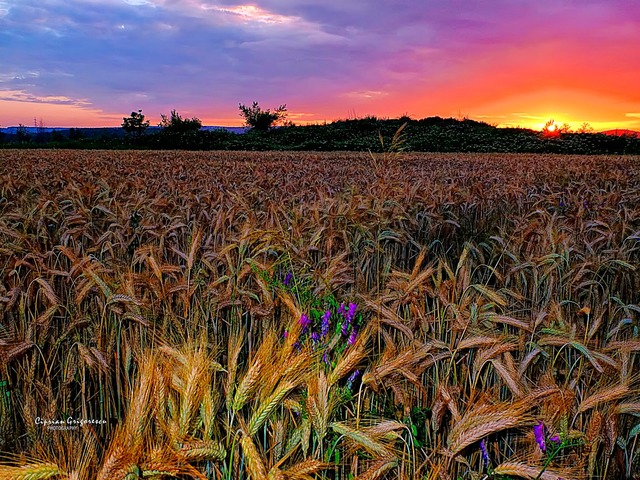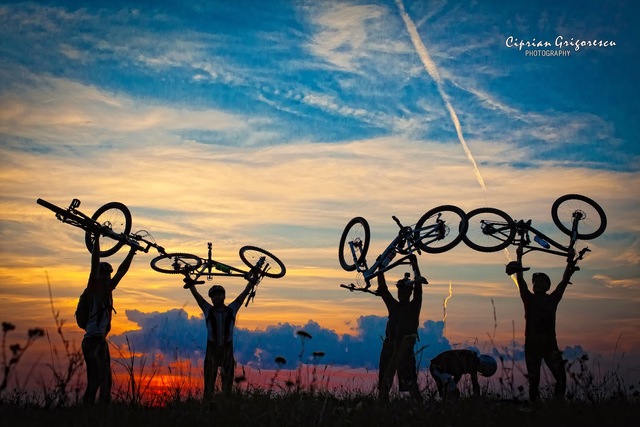 TIPURITURA
-by Dominic Diamant-
The infinite is, at a glance,
our distracting ignorance.
CLUSTERS
(M11, M15, M22)
-photos by Maximilian Teodorescu)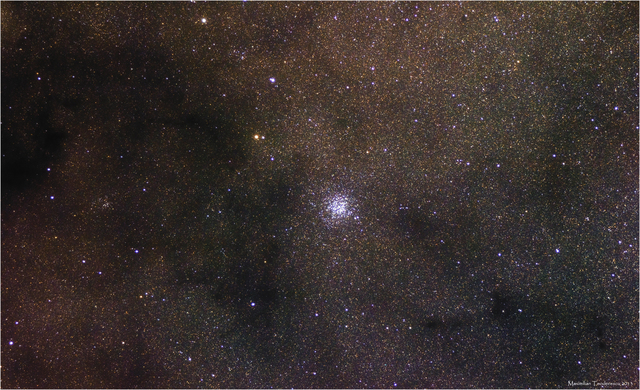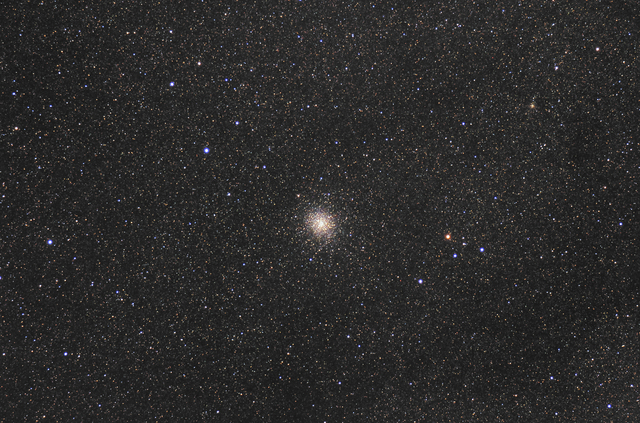 METEOR AND NEBULA IN EXPAMSION
-by Alfredo Caronia
(born in Italy, residing in Romania;
discoverer of five asteroids)-
The astronomy that you enclose in a meteor or expand in a nebula,
we can define the provincial harmony collected in one detail,
but also elastic profile stretched in extreme dimensions!
Deep Intimacy or scattered halo of light,
reflected energy triggered by cold gas of dilated immensity of space!
Fast tracks in time as darting flashes resulting from iced cots
sublimated to the Sun
or unperturbed equilibrium of gaseous masses in motion concentric,
sometimes gravitational forces convergent in a permeable fusion
cadenced in paths and times
marked by cosmic frequencies and immeasurable distances!
And you human, in this sea of harmony,
tread your steps and anxiously pour out your rhythm
and bewildered troubles in projects transcendent your static borders
and expand your tired breaths in a rush of cosmic cohesion
in uniform tension towards the galactic center of gravity,
thy seed recondite of existential trend, your direction of providence,
eco of emerging flows,
epicenter of energies of multiple fusions of irradiated impulses,
our ancestral ways of escape and discovery and at the same time memory
of stories sculpted in the manuscripts of the times!
Man, fulcrum of civility, consisting of disharmonic barbarism
submerged into you and of truths launched over you,
are you damned silly act or breath of air and expanded fire?
Maybe naturally you are dynamic balance of contraction and expansion!
Track infinite in melody of the cosmos in its alternate beats
of opposite synchronies of forces!
Comprised tumults, composed in a path unlimited!
So Silhouette of man you present yourself as a grape or as a pommel of apple!
But maybe you are both of them suspended and uneasy in this bridge
toward the Infinite.
METEOR COLLECTION
(1. Perseids 2013
2-4. Geminids 2013
5. Quadrantids 2014)
-photos by Catalin Paduraru "Sarpe"-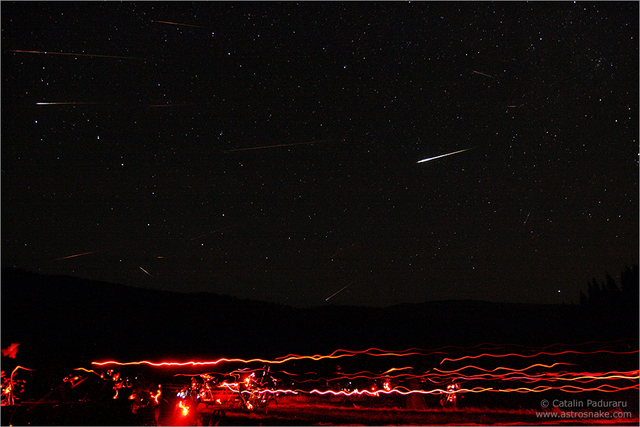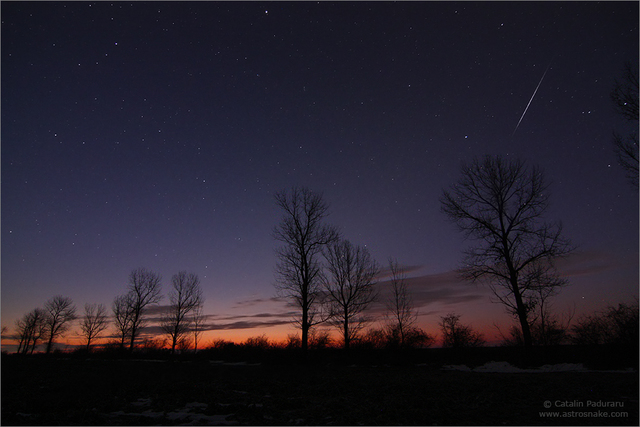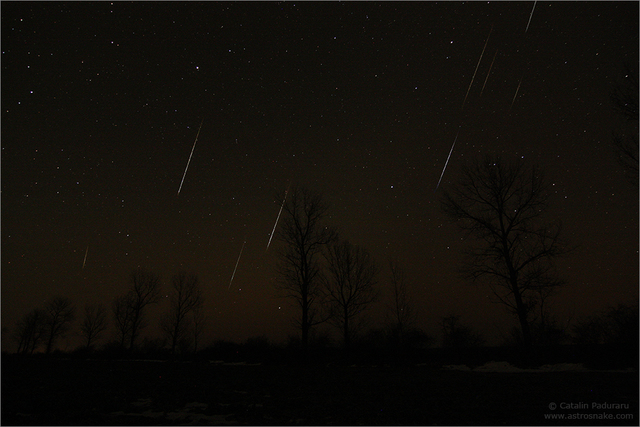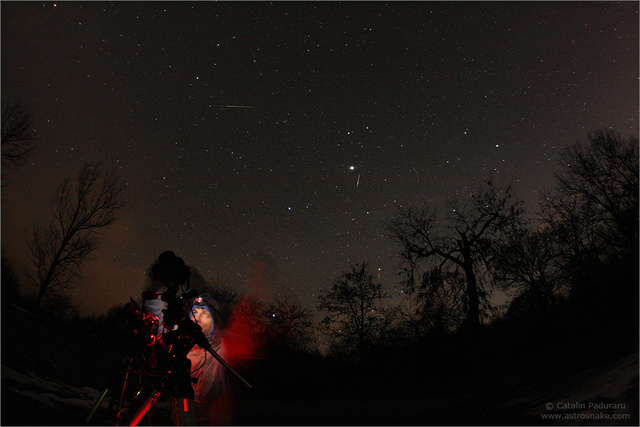 THE INFINITE
-by Iulian Ionescu-
+
The infinite is
the place through which
the snail comes out from its home.
-
The snail is
an interior infinite.
SOLAR SYSTEM
-photo-collages by Maximilian Teodorescu-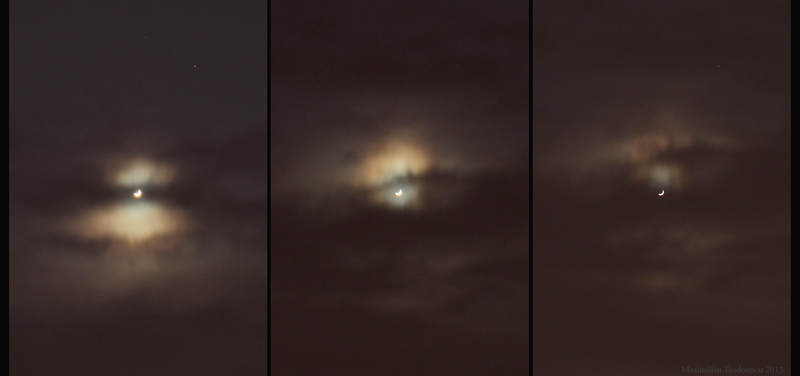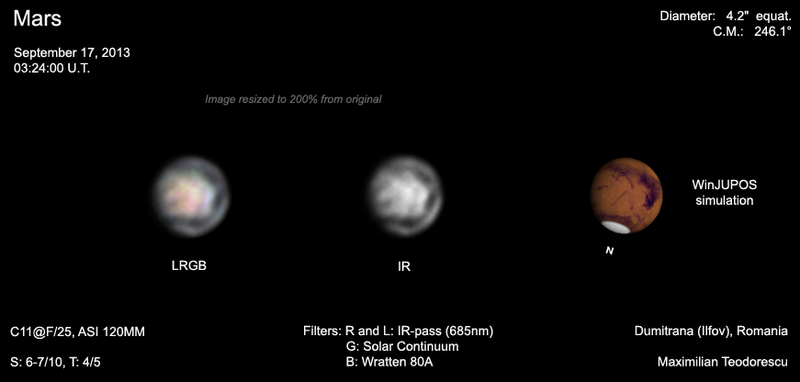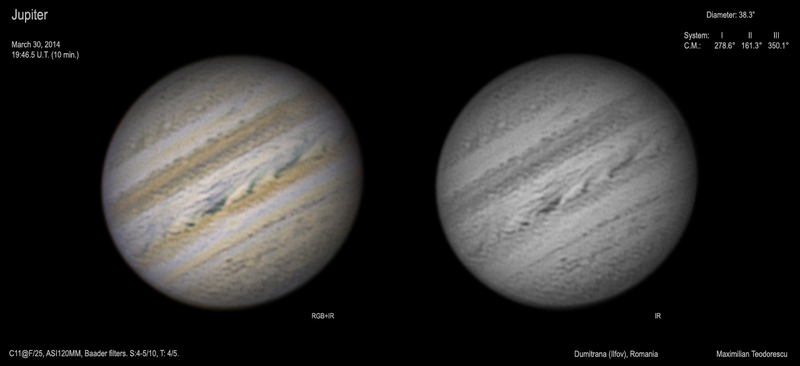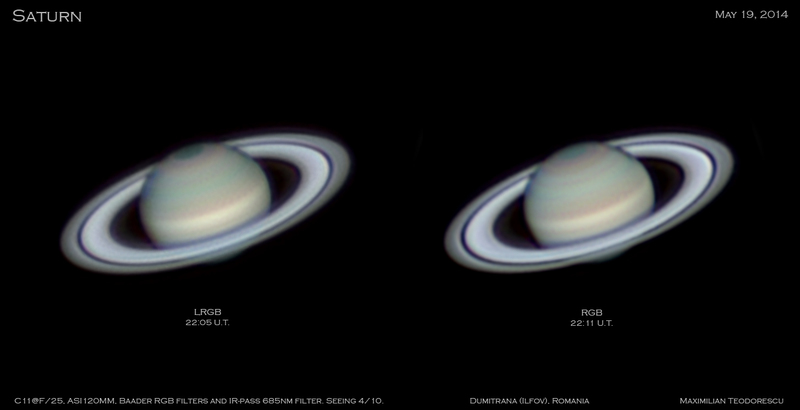 INFINITY
-by Antonio Martinez Picar
(born in Venezuela, living in Belgium,
member of the International Meteor Organization)-
It once occurred to me
to put two mirrors facing each other
and place myself in between them.
Something unusual happened:
There were so many repetitions of myself
that even though I tried to count,
I was unable to sum all the copies there!
I never tried that again...
Just thinking about the possibility
of an infinity of myself
is terrifying.
LUNAR FACES
-photographic poem by Ciprian Grigorescu-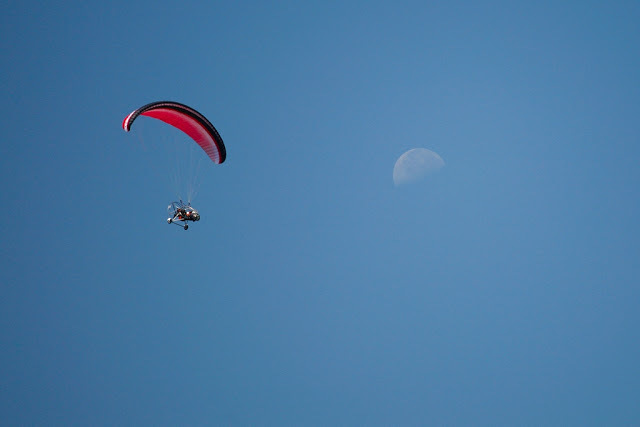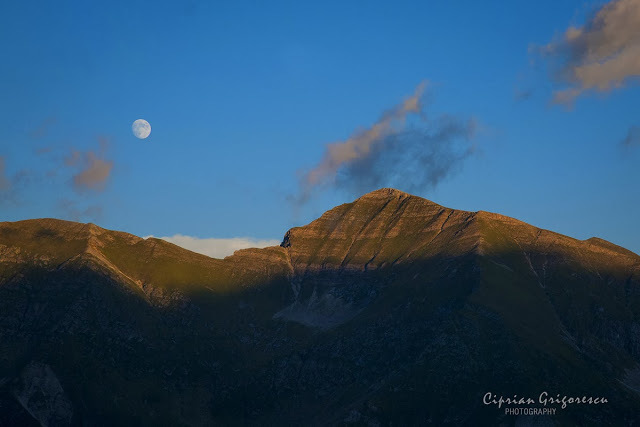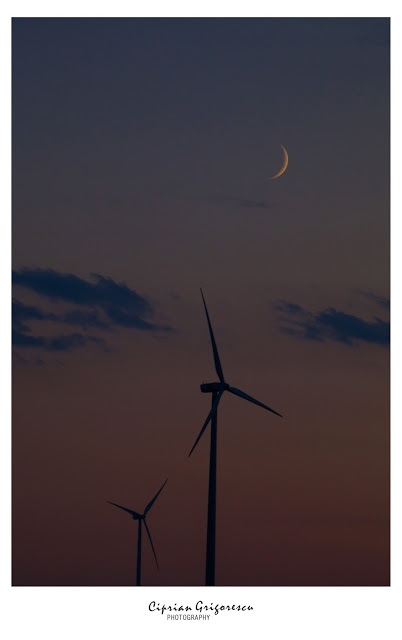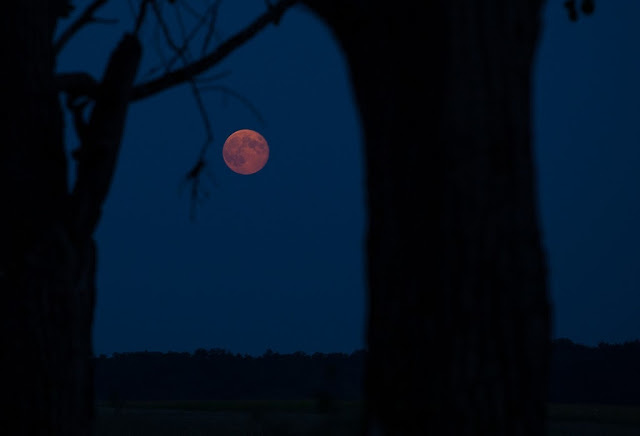 LUNAR ADVENTURES
-photographic poem by Valentin Grigore-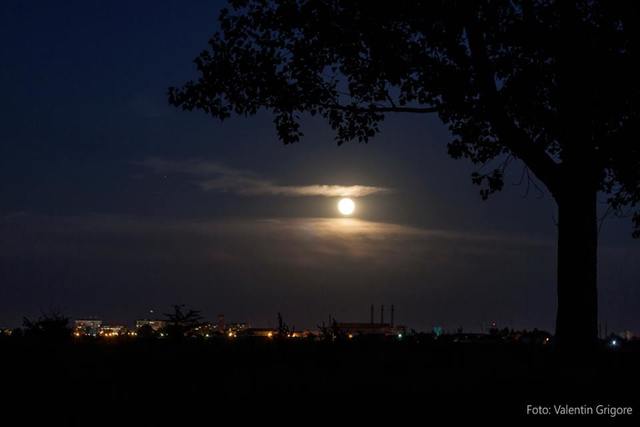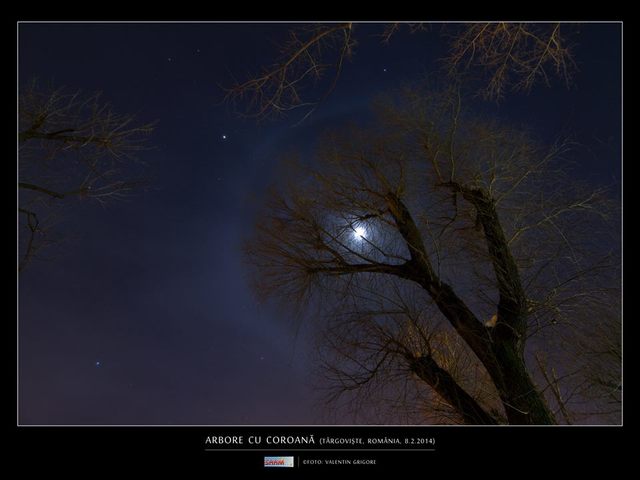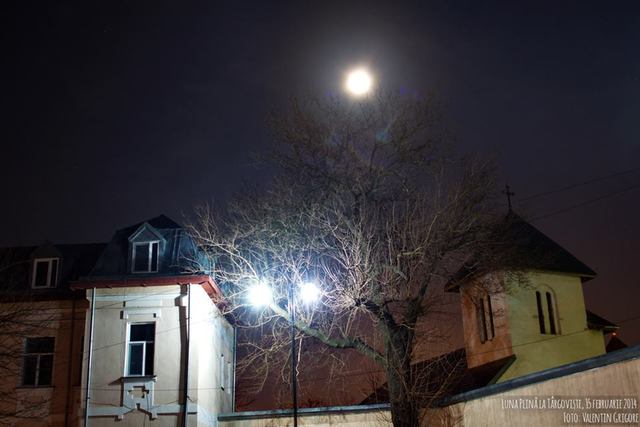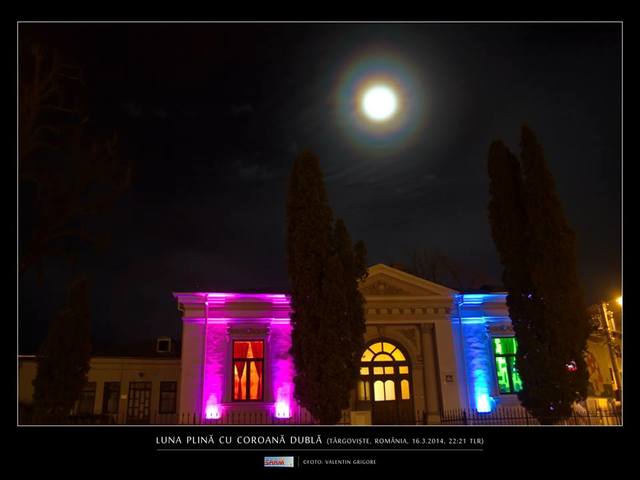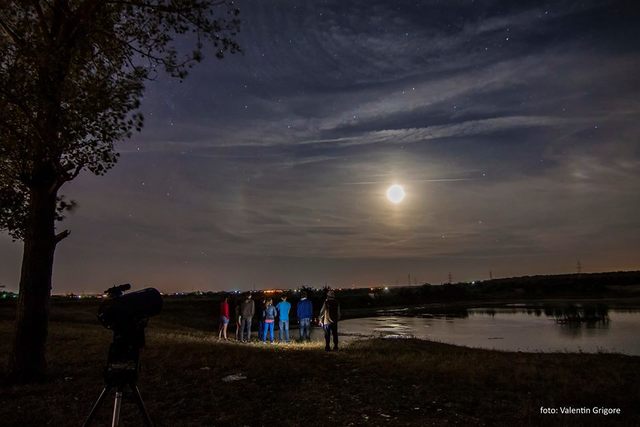 ZODIAC AND ECLIPTIC
-by Andrei Dorian Gheorghe-
Question:
Why is the Bull the most resistant
from the point of view of astrology?
Answer:
Just because the constellation Taurus
astronomically caries the biggest number
of famous cosmic elements:
the Pleiades cluster of starts,
the M1 Nebula (former supernova),
the Hyades cluster of stars…
the star Aldebaran
(right now I am its fan!)…
ASTROMANIA CAMP
(Valea Frumoasei, Cindrel, August 2014)
-photos by:
1.Laurentiu Alimpie (Galactic Dust in Taurus);
2.Andreea Fazacas (Milky Way)
3.Mona Constantinescu (Rise of Orion)-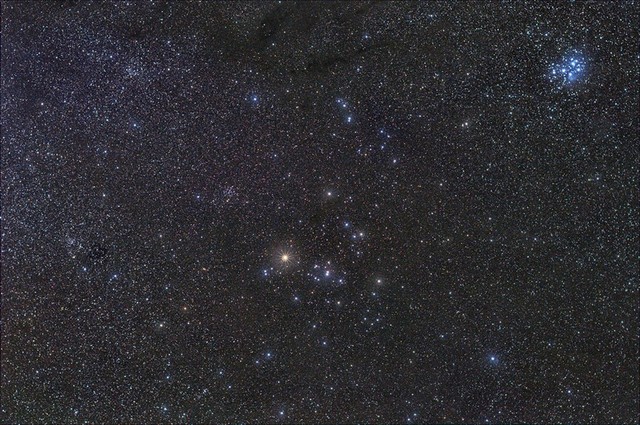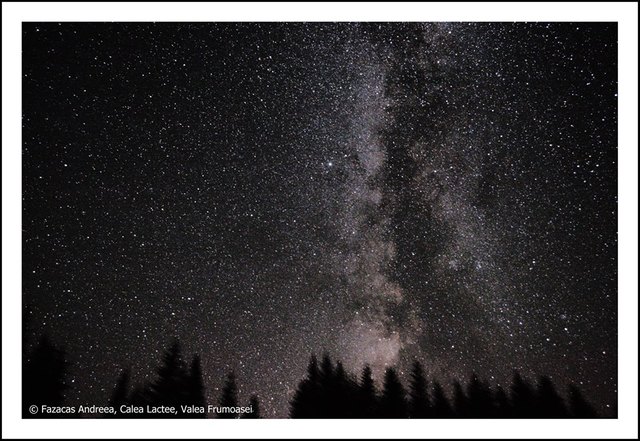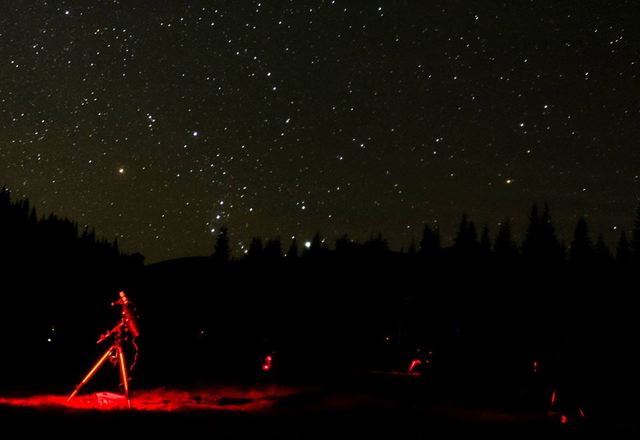 SARM'S PERSEID EVENT 22 - 2014
-photographic poem by Valentin Grigore-
Daytime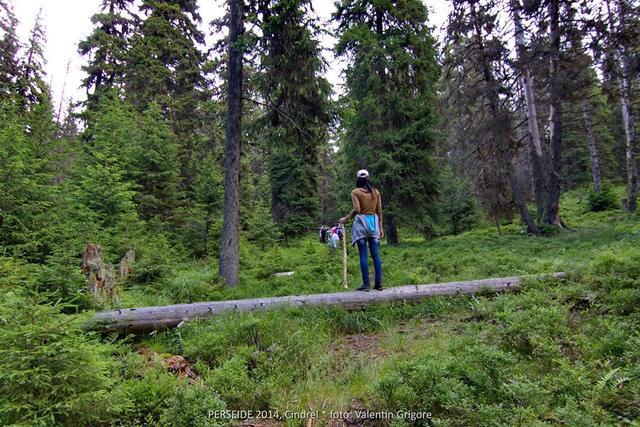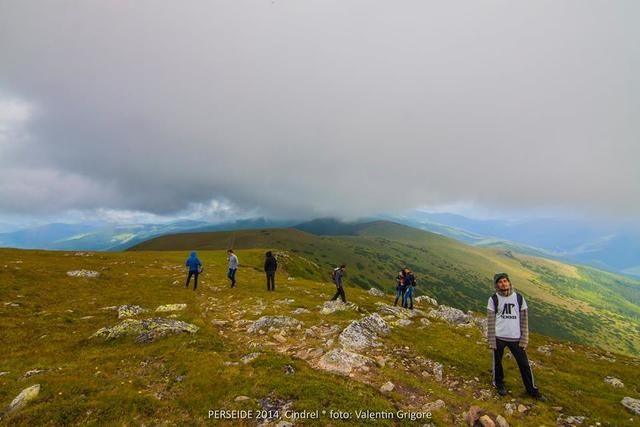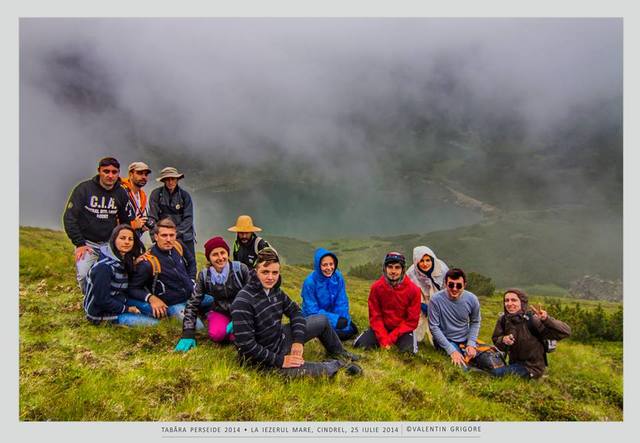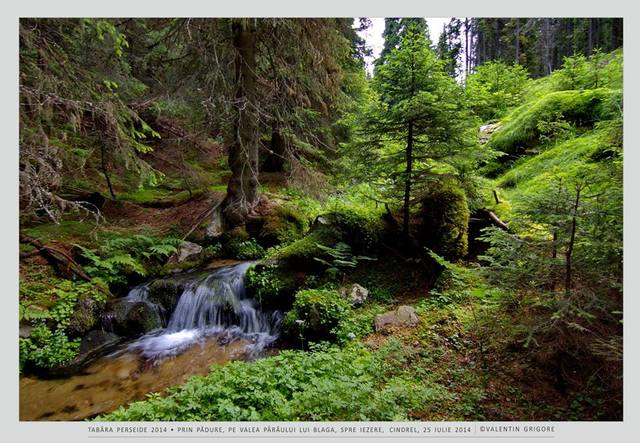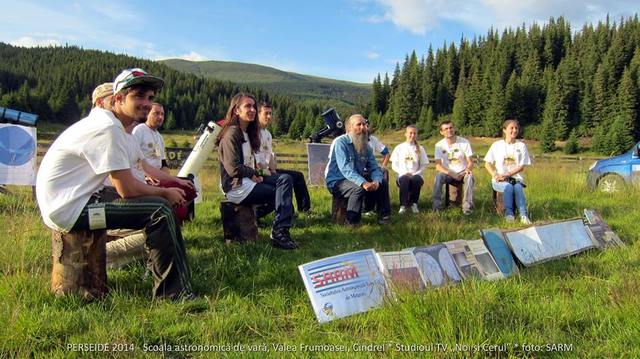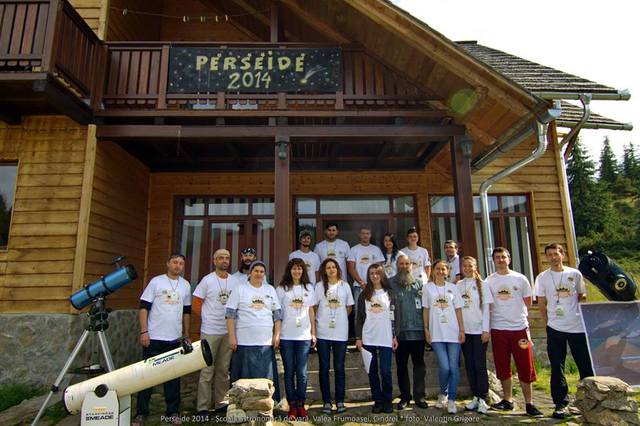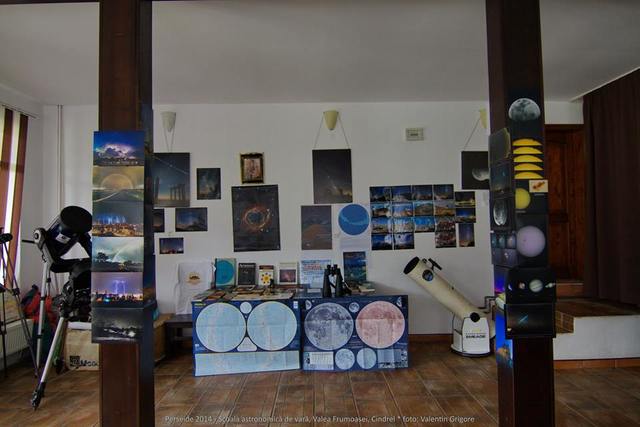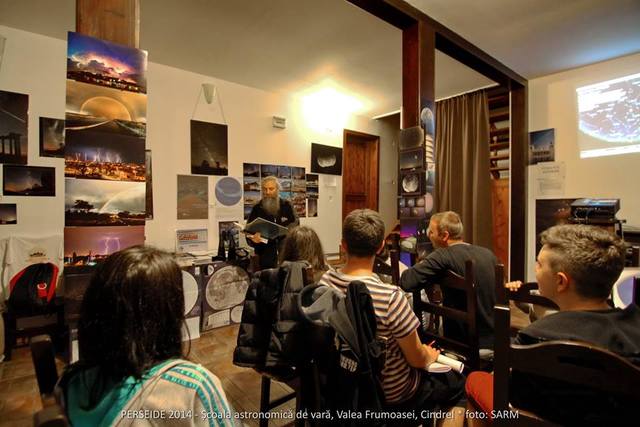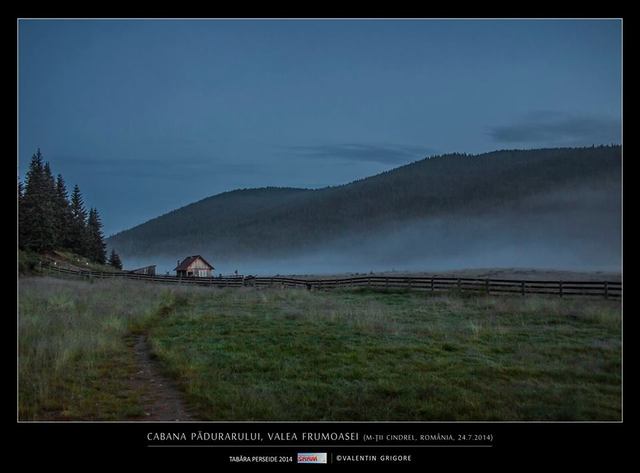 SARM'S "PERSEIDS 2014"
-logo-artwork by Alexandru Sebastian Grigore,
haiku by Andrei Dorian Gheorghe-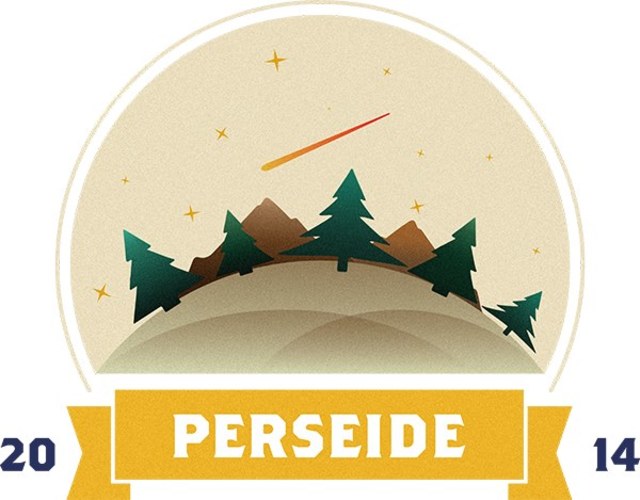 Yearly Perseids…
Celestial meeting point
for astral people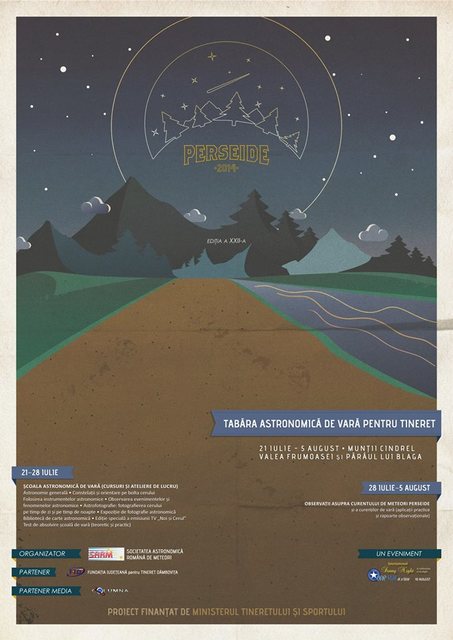 SARM'S PERSEID EVENT 22 - 2014
-photographic poem by Valentin Grigore-
Nighttime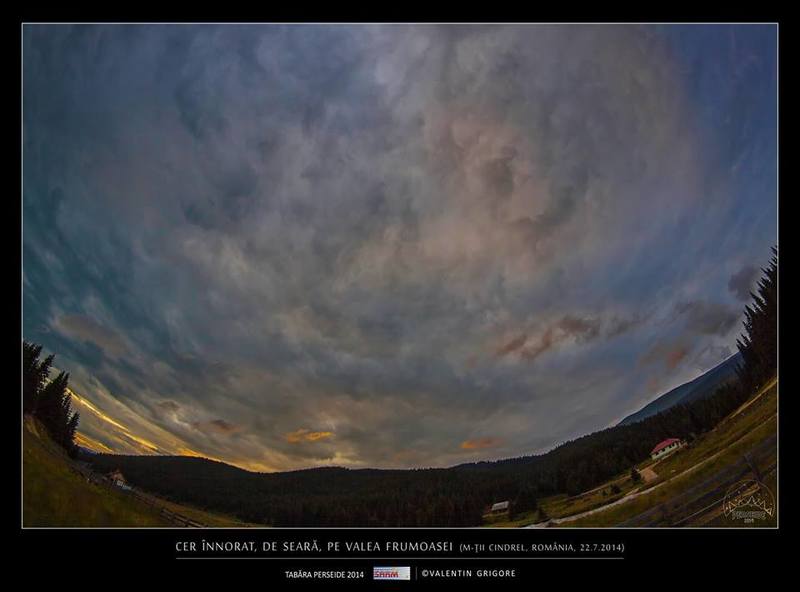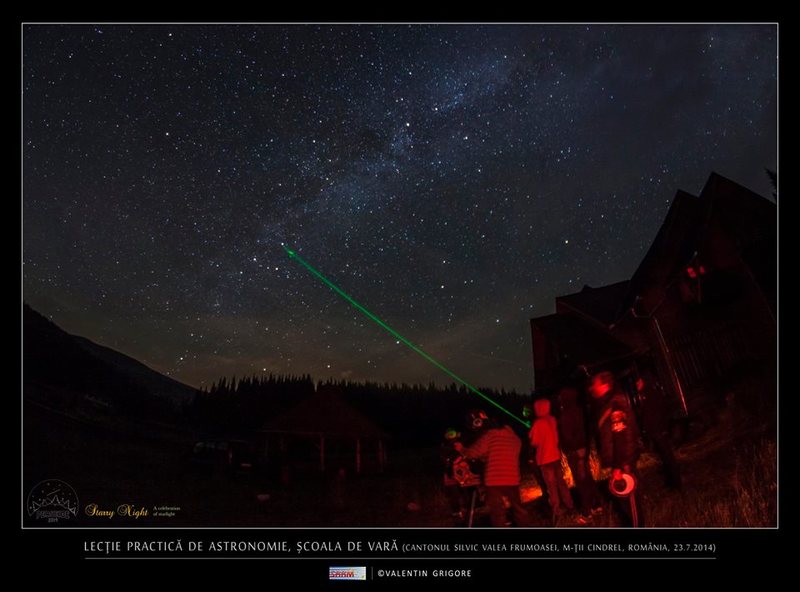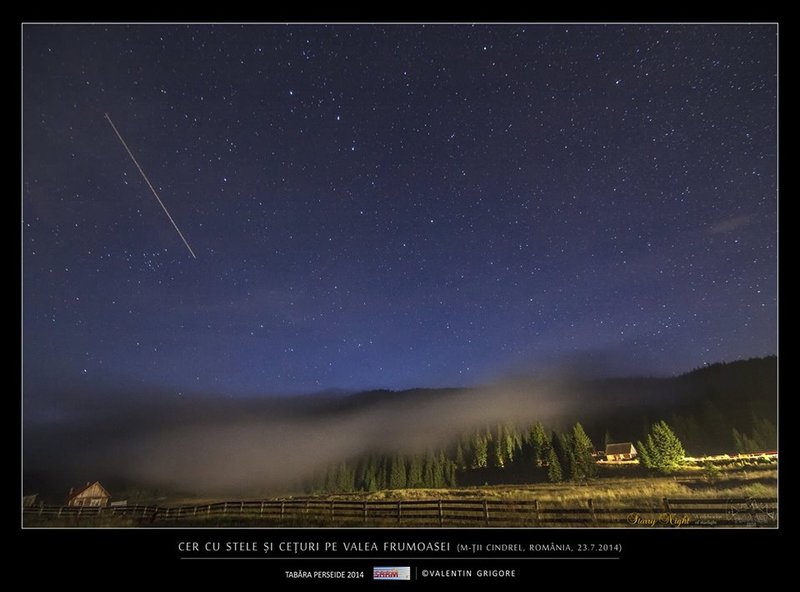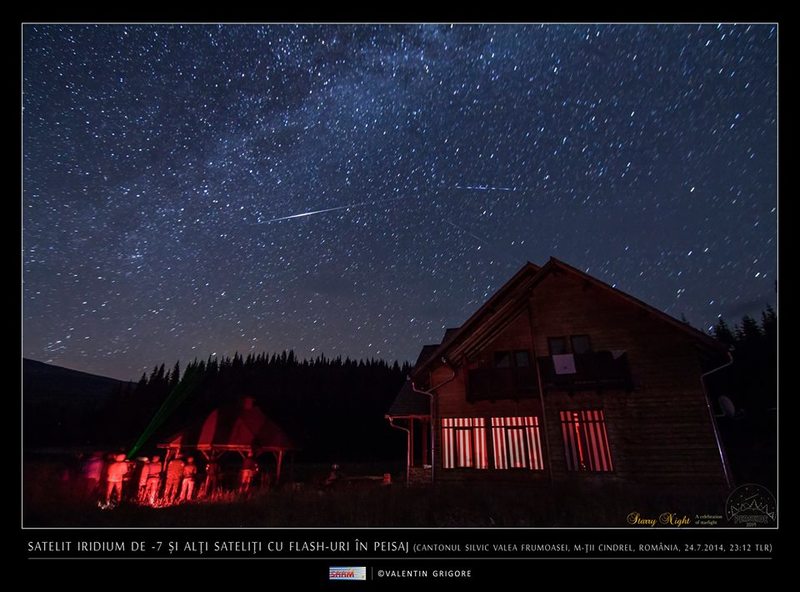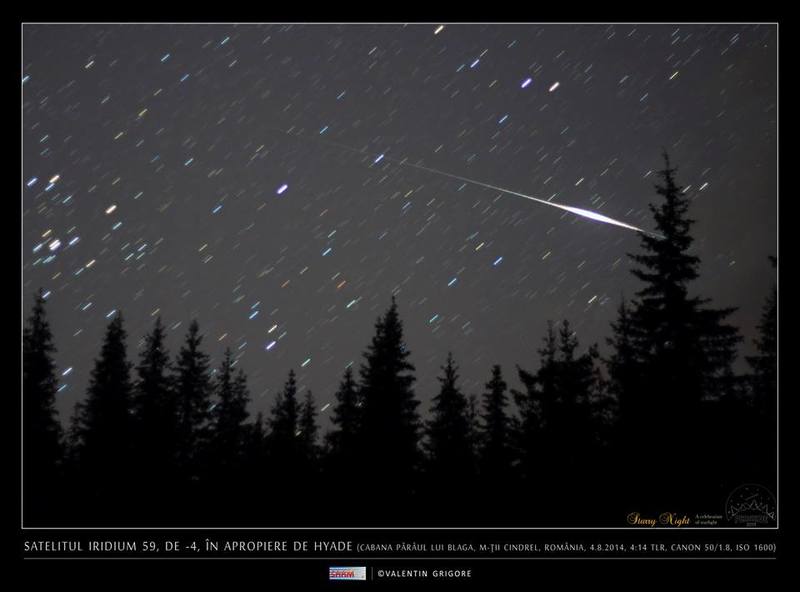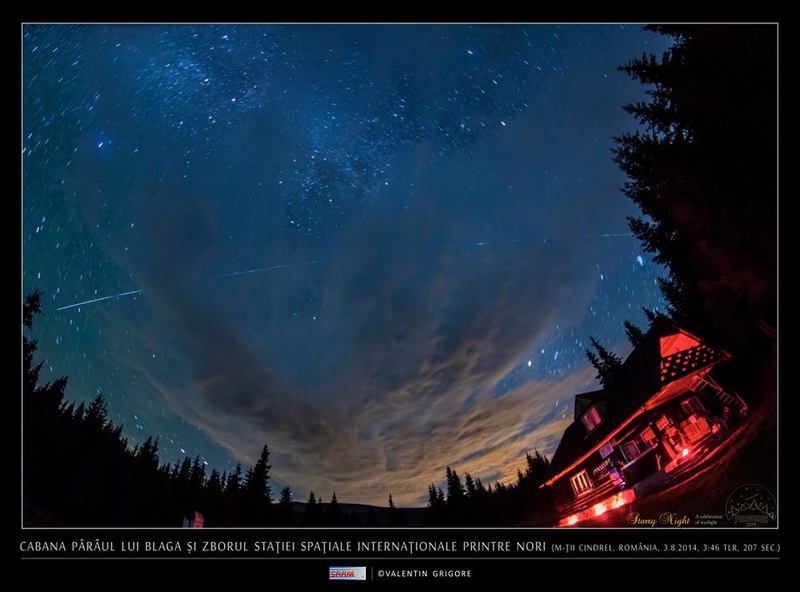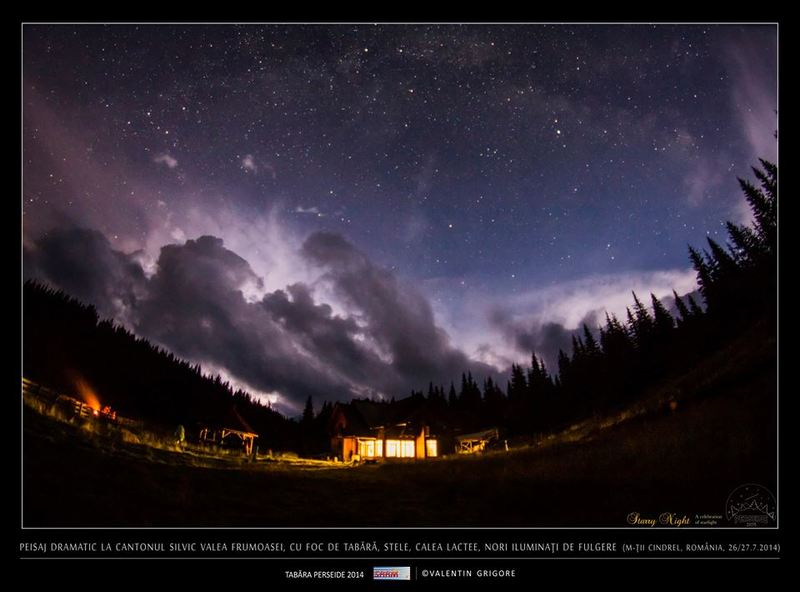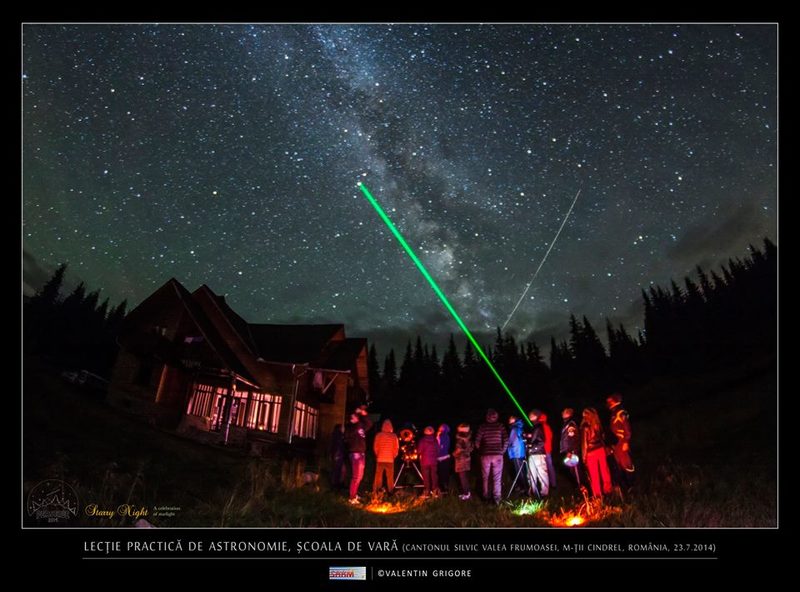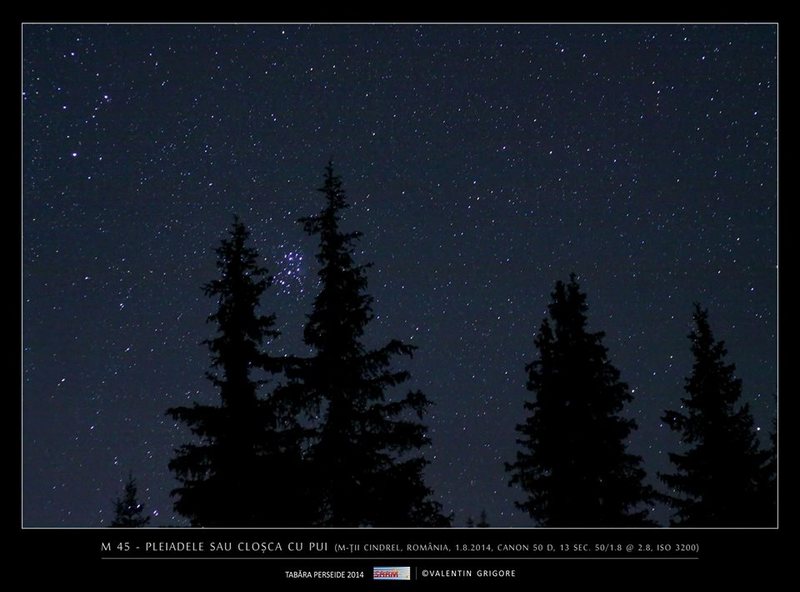 THE INFINITE
-astro-art-poem by Ion(ut) Moraru-
The infinite made me suffer
so I started to confront it
because I didn't think it is a never-ending abyss.
I fell asleep and I dreamt that my ship
was directed by the genius of the past century,
Albert Einstein.
We got closer to a black hole and sank inside…
then we were spat on other side
toward a star known on Terra,
but at a different distance.
I woke up and I really saw
two Einsteins with two books.
On the right, EPR (Intrication).
On the left, ER (Wormhole).
One was uttered by Quantum Physics,
the other by the Theory of General Relativity.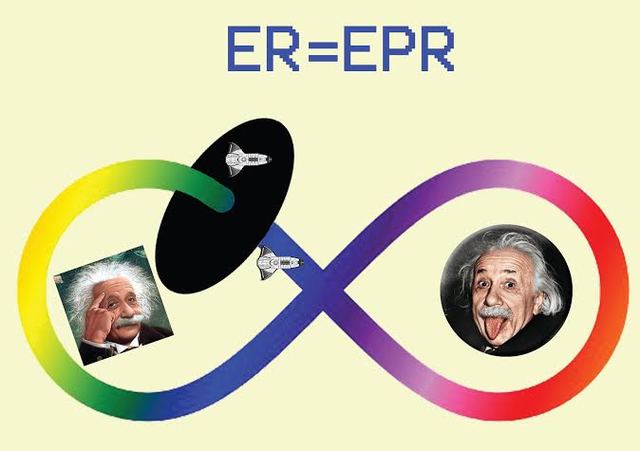 The two Einsteins
watched, scolded and intuited one another,
and maybe that is the infinite,
we are condemned to wonder,
eternally
in leaps.
INFINITE PAPILLON
-by Dan Bangala-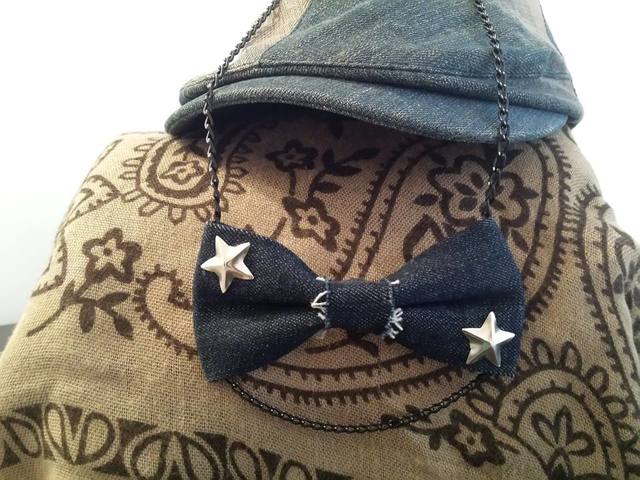 SICKLES IN THE SKY
(Moon and Venus)
-photos by Maximilian Teodorescu-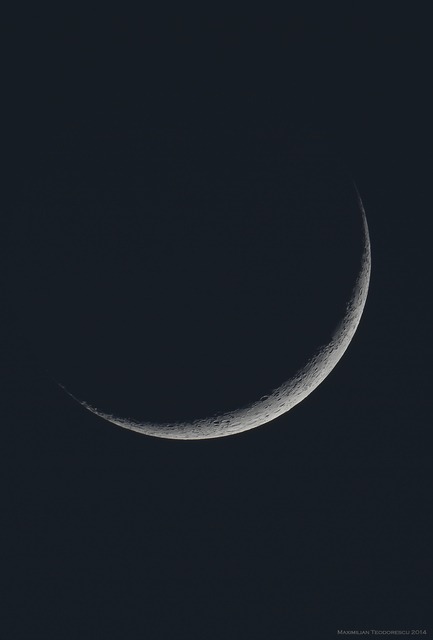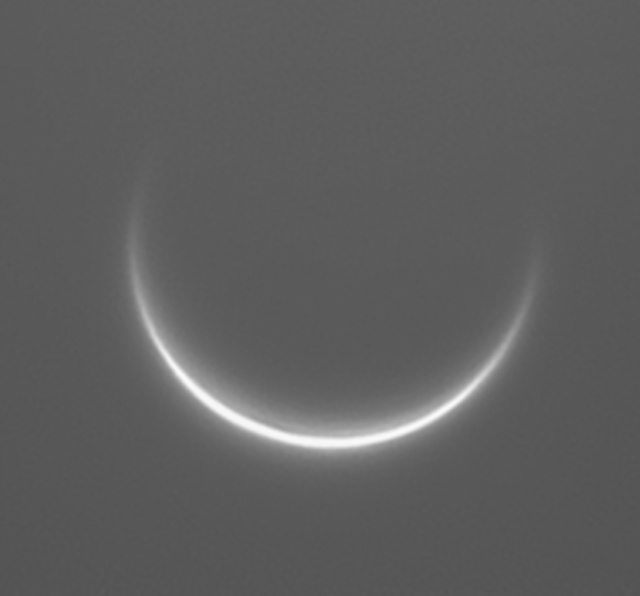 LETTER TO ANDREI
-astro-photo-poem by Arlene Carol
(born in the USA, residing in Turkey)-
hello there
middle of the night here. up for the Orionids.
i am not even going to try to tell you what things have been like here.
suffice to say, it's been a difficult year and it's not over yet!
since you requested that i 'do something' about the upcoming cosmopoetry edition,
i've been struggling to get my head around the topic...
so tonight, as i bundled myself up and sat outside
to catch sight of a few Orionid meteors,
it came to me - the shortest poem i've ever written - and here it is: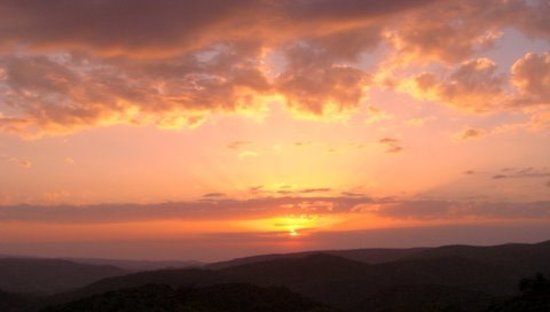 Trying to grasp the concept of
'the infinite'
is
like grabbing for the Pleiades with my hands.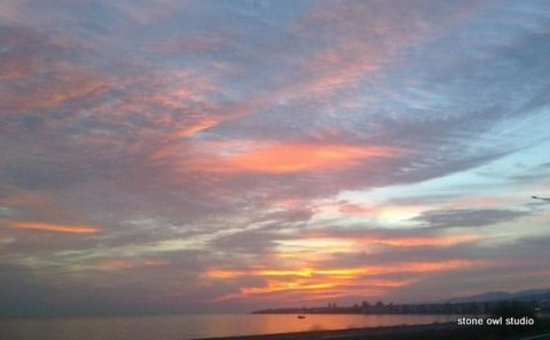 sorry, that's all i can manage now.
i'm going back out into the still cold night - hopefully see a few more meteors.
hope you are doing the same.
METEOR SHOWER NIGHTS 2013-2014
(Eta Aquariids 2013, Perseids 2013, Geminids 2013,
Quadrantids 2014, Lyrids 2014, Camelopardalids 2014,
Southern Delta Aquarids 2014, Perseids 2014, Kappa Cygnids 2014)
-photo-collection by Valentin Grigore-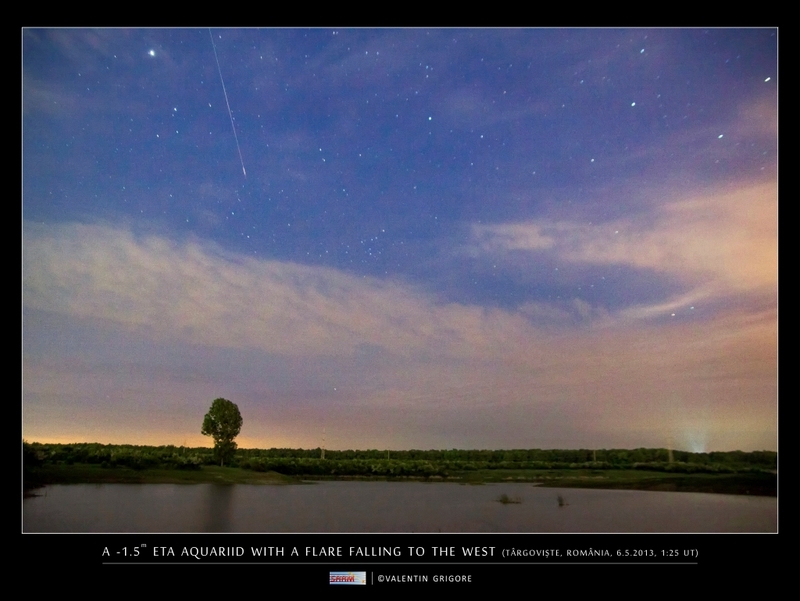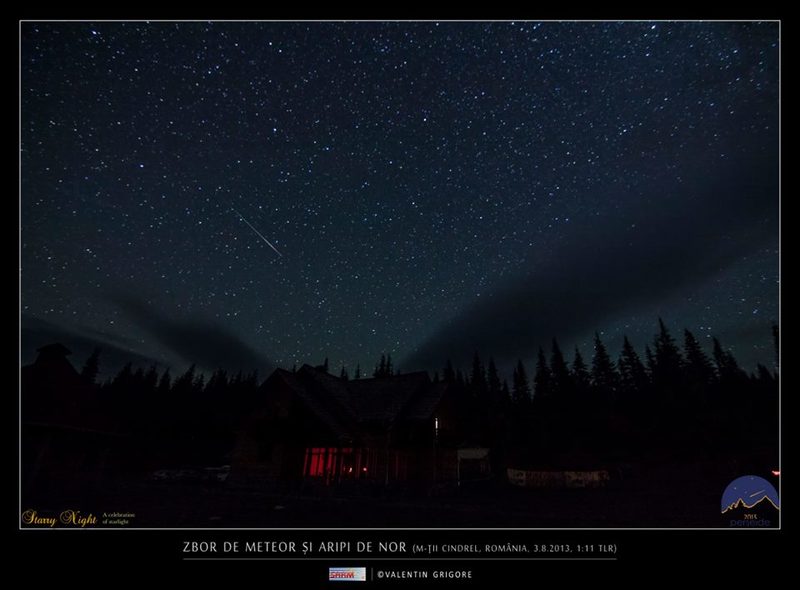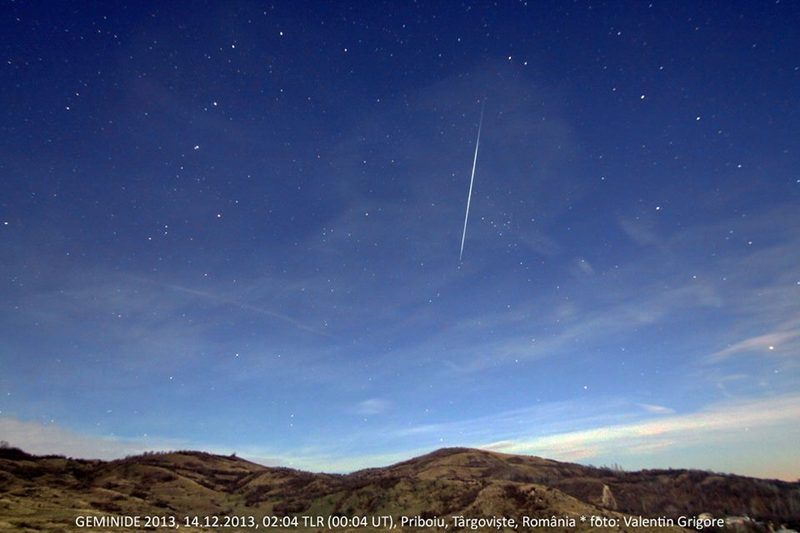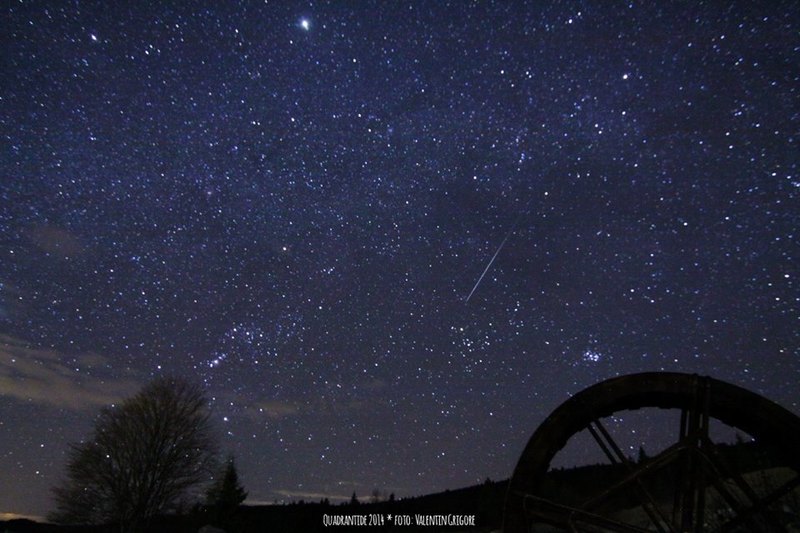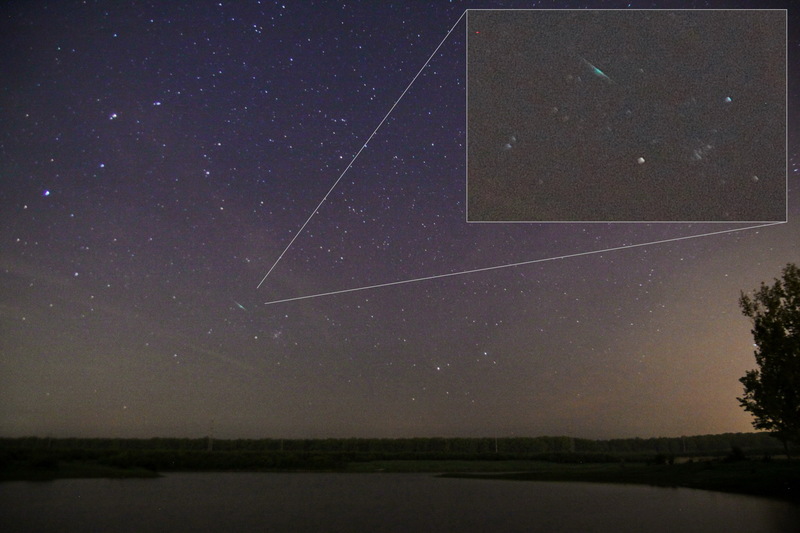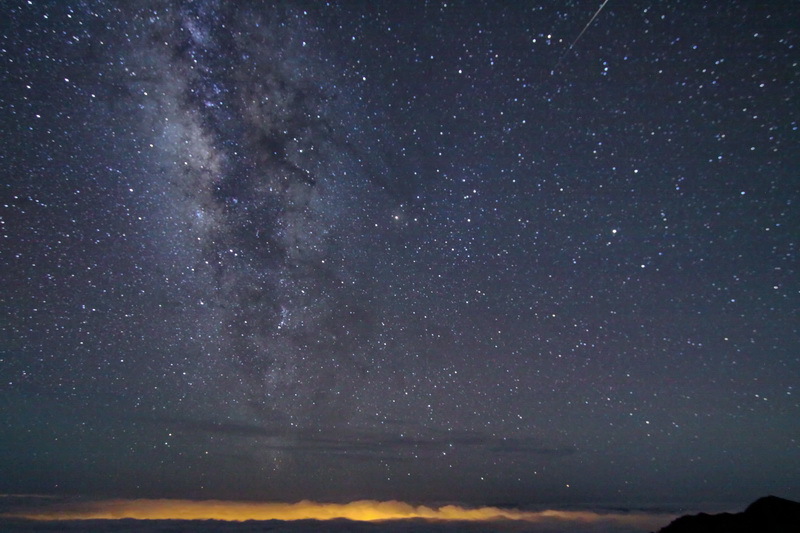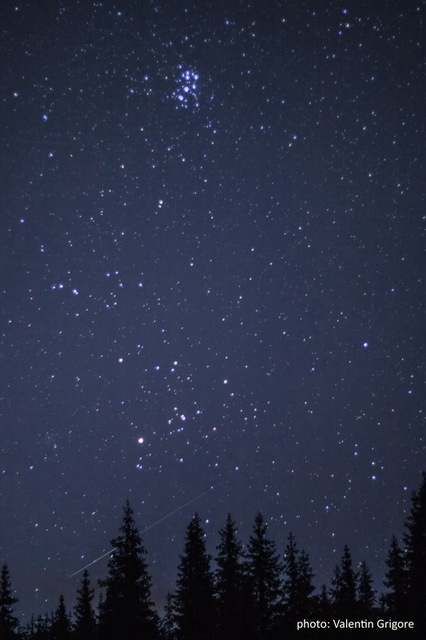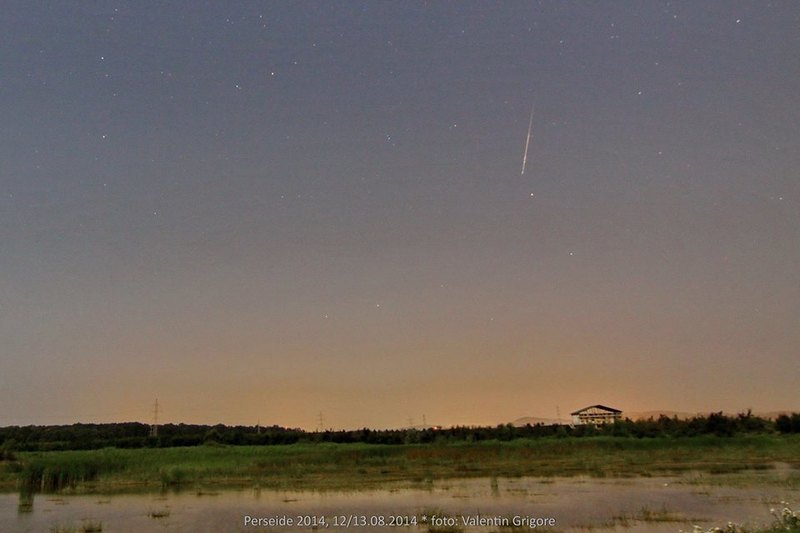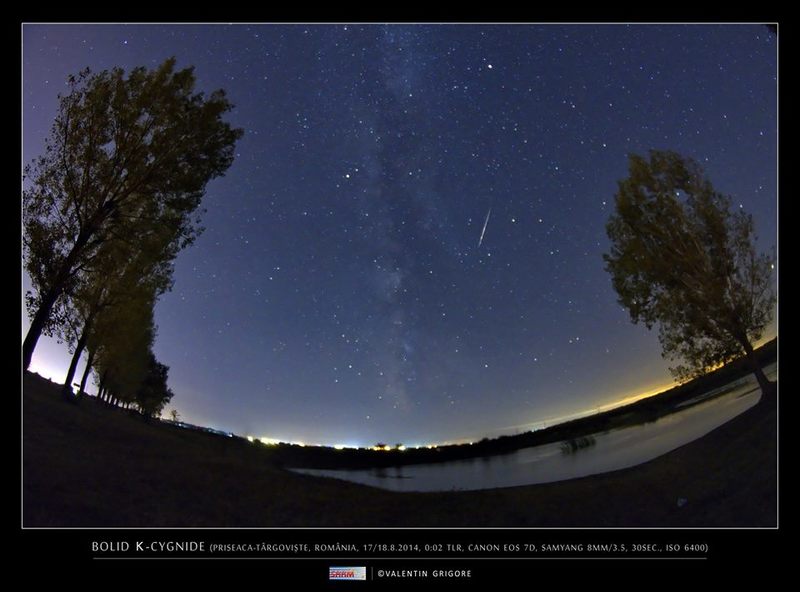 ASTEROID 2014 RC NEAR EARTH
-astro-art-poem by Adrian Bruno Sonka
(coordinator of Admiral Vasile Urseanu Bucharest Municipal Observatory)-
Before…
In 7/8 September 2014 a small asteroid (about 20 m)
will pass very close to our planet.
It was recently discovered, on 31 August,
by an American specialized program (Catalina Sky Survey).
It will not hit the Earth, but it will pass at 46,000 km distance.
Its orbit carries it beyond Mars and closer to the Sun than the Earth.
It will come from the darkness and will pass under the south pole of the Earth.
Once every three years, it comes close to our planet, but not like now.
It can be seen by astronomers from Australia, New Zealand
and by the penguins in Antarctica.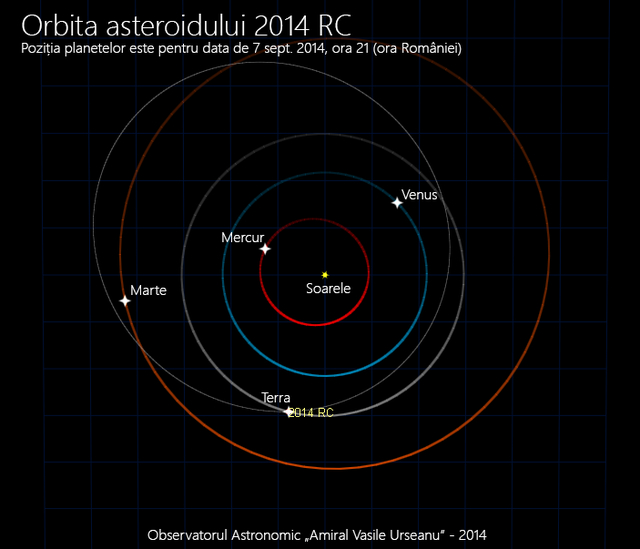 After…
Count with me: 1,2,3,4,5,6,7,8.
That's all.
It was not too much, I think.
Maybe surprisingly,
but this is the life of a day or a night on Asteroid 2014 RC.
Some American astronomers used three large telescopes
and found out that this object (which recently passed near the Earth)
turned on its axis in only 15.8 seconds.
This means that the Sun stays in the sky only a half of this time period.
So let's see what a day of 15.8 seconds would mean for us:
1. We would go to sleep after 10 seconds and we would wake up after 5 seconds.
2. For public officers the work time would be a little shorter than now.
3. Our memory would be very good (we would remember what we did yesterday.)
4. The students would stay at the school only 1 second.
5. We would get our salaries after 474 seconds.
6. We would celebrate our birthday each time after 5,757 seconds.
(Count 5,700 seconds and New Year's Eve will come again).
7. You have lost 3 days in your life reading this text.
OCTOBER MORNING 2013
-photographic poem by Valentin Grigore-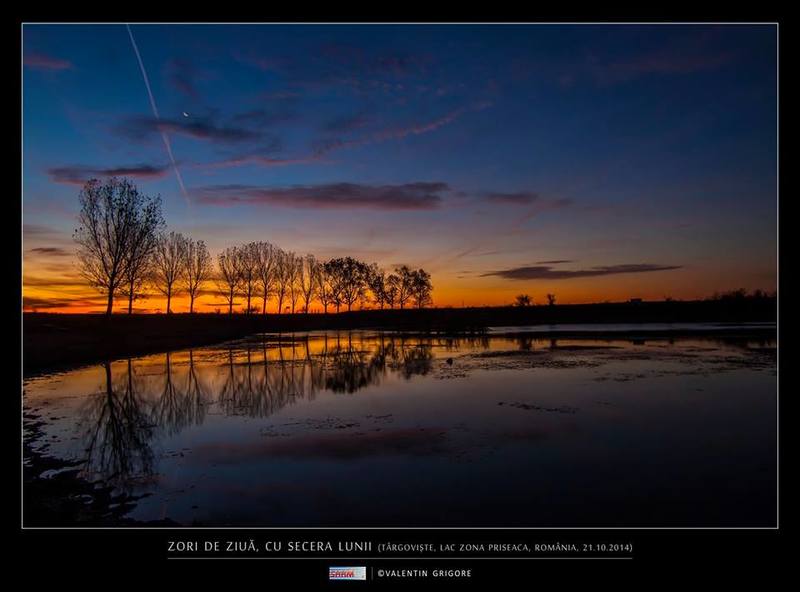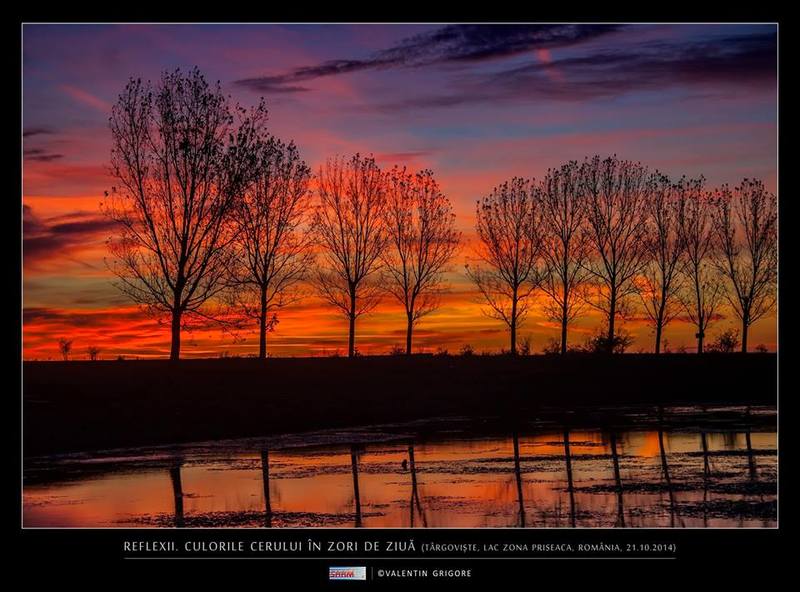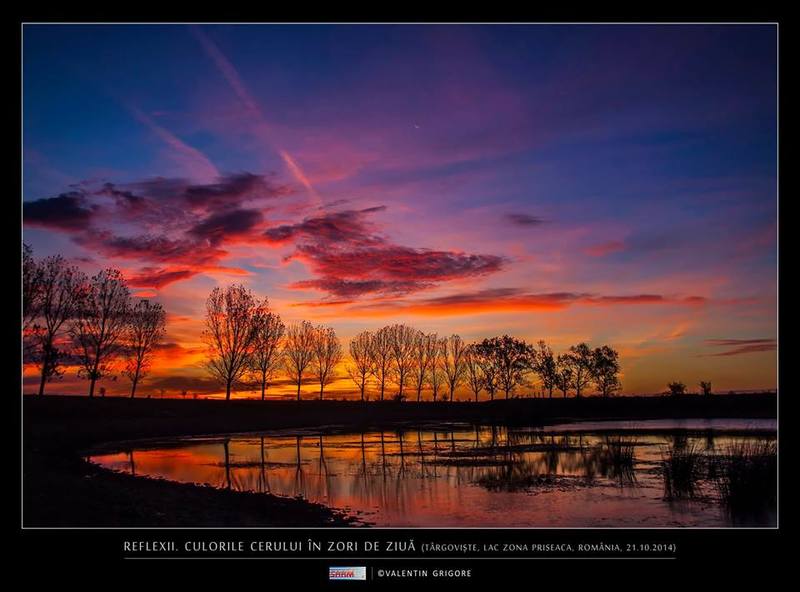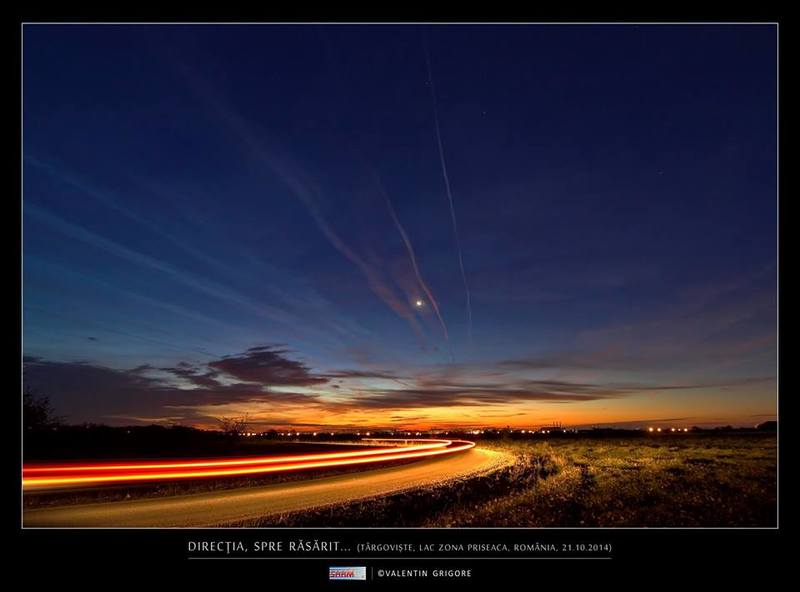 OUR PLACE
IN SPACE
-astro-art-riddle by Miruna Popescu
(born in Romania, residing in Ireland,
where she coordinated the International Year of Astronomy in 2009)-
This painting shows a corner of our galaxy
(a zoom-in our local spiral arm, Orion).
Can you guess which of these stars
is our Sun?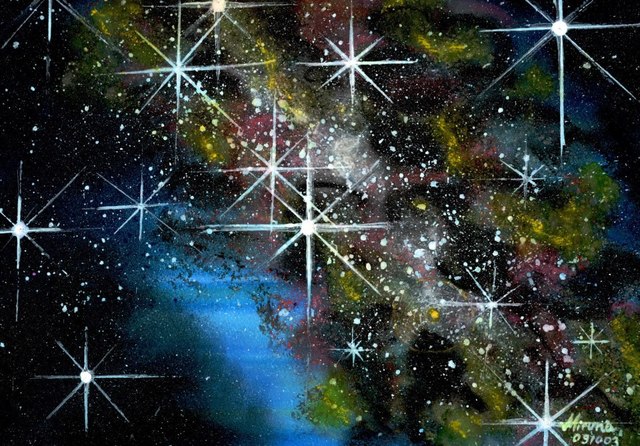 SUNDIAL IN RADAIA
-astro-art-confession by Dan Uza-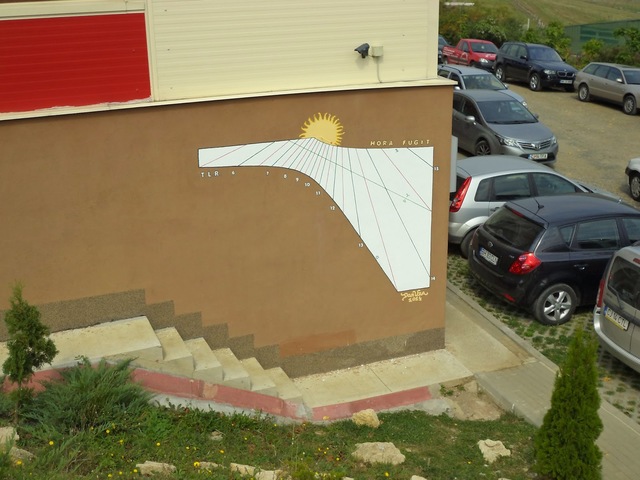 In September 2014 I finished
the biggest vertical sundial in North Transylvania
(Radaia, Cluj County, 46.796N, 23.469E,
about two meters high, 2.8 meters in width,
with a gnomon of 30.3 cm).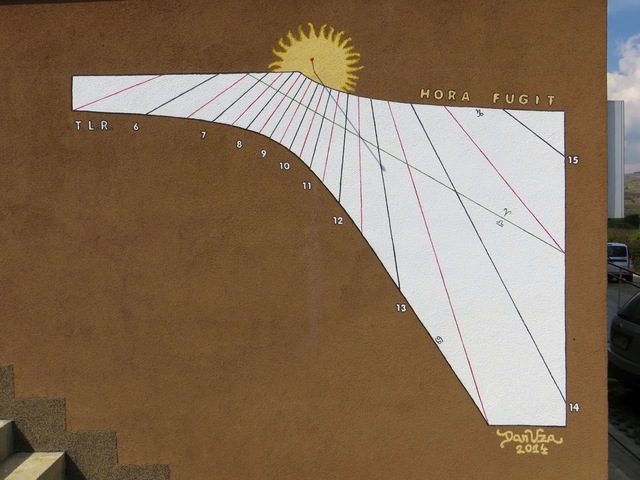 It measures the time after the Sun
(that has a sinuous walking in the sky,
depending on seasons).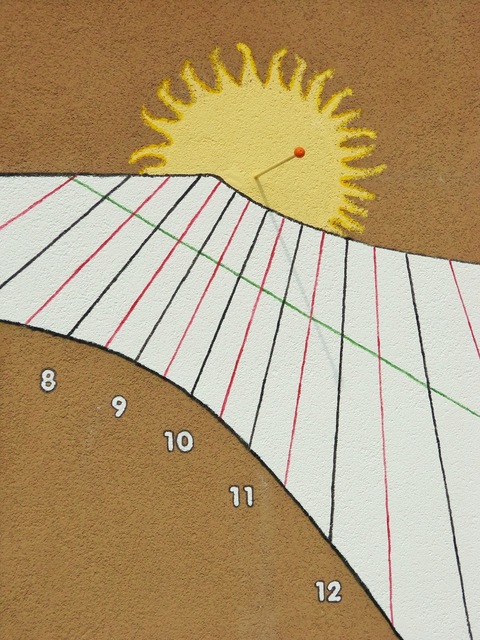 It also functions like
a solar calendar,
signaling the moments of
equinoxes and solstices.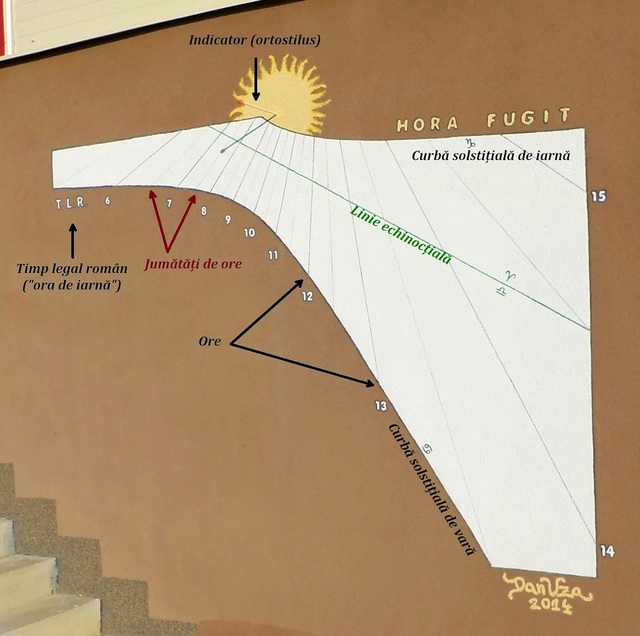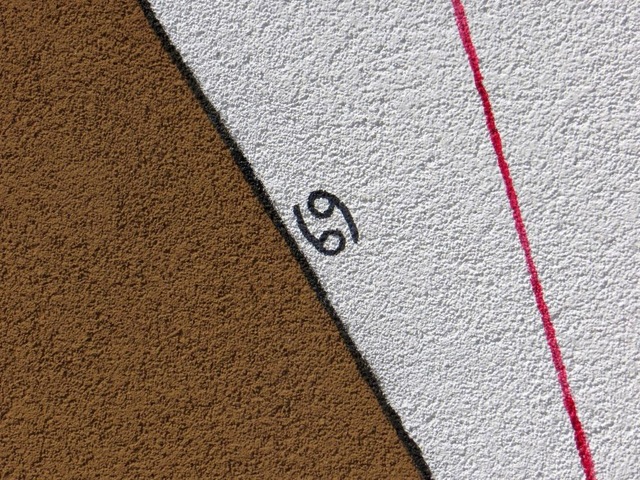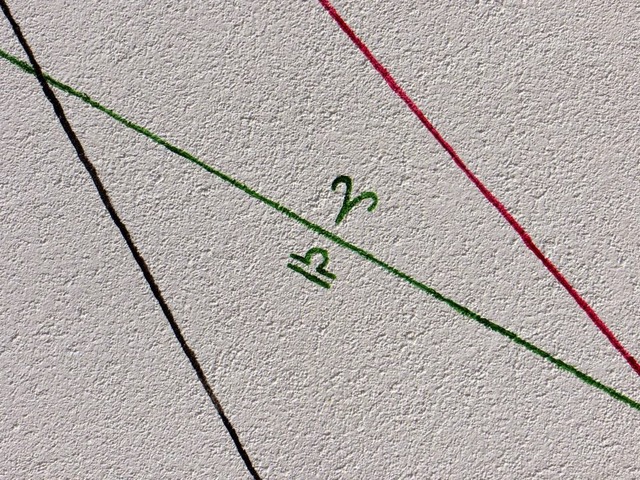 And beyond astronomical explanations,
I have to say that for it
I've chosen a classic motto, in Latin:
"The hour runs."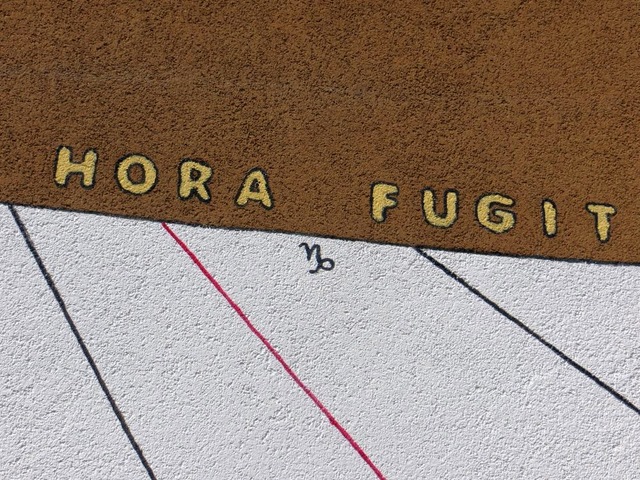 DARKNESS
-poem by Johannes Stubler
and photo by Herbert Raab (Austria)-
DARKNESS
THIS IS DARKNESS IN OUR LIFE I LOVE
THE COUNTERPART OF DARKNESS I HATE
NOT THE DARK ABYSS OF HUMAN LIVE
OR THE DEEP GULF BETWEEN PEOPLE AND VIEWS
NO, THE DEEP DARK ABYSS OF OUR SKY, OF OUR UNIVERSE
YOU CAN SEE IF YOU TAKE THE TIME
AND YOU HAVE THE ENDURANCE
TO VISIT DARK PLACES FAR FROM CITIES
THIS DARK SIDE SHOWS THE BRIGHT SIGHT OF OUR UNIVERSE
BRIGHT DARKNESS
WHERE I BREATH
WHERE I AM HERE
LOOKING UP TO THE STARS
BEEING PART OF THE UNIVERSE
CONNECTED TO EVERYTHING
CONNECTED TO ALL
WHERE EVERYTHING BEGUN
STILL BEGINS
AND ALL WILL END.
THE ONE AND ONLY TRUTH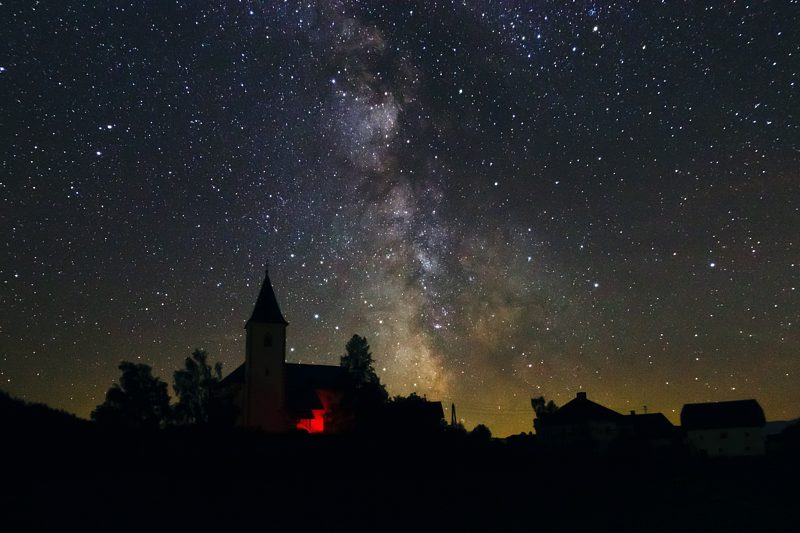 (
The only artificial light in this small mountain village is caused by corpse candles
Photo Credit: Herbert Raab/AUSTRIA)
INFINITE CAKE
-astro-photo-poem by Andrei Dorian Gheorghe
on a requiem gastro-astro-work by Vasilica Tudor-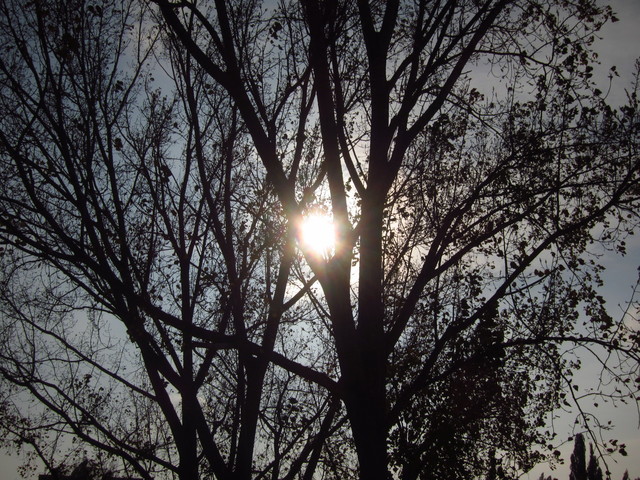 Let's imagine a Romanian old lady
in the kitchen.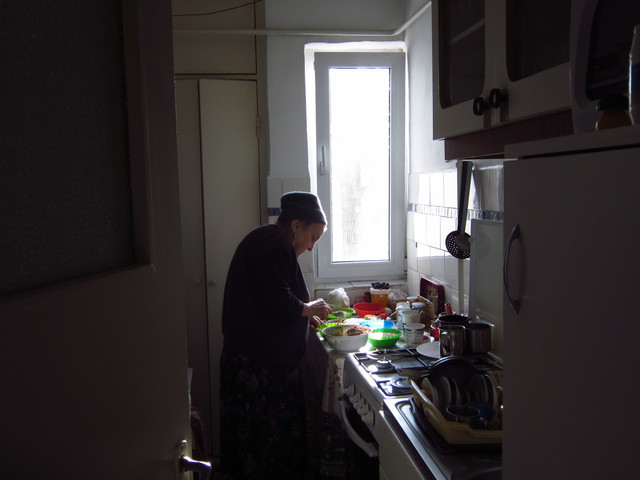 Going further,
let's think that she is my aunt
(and my adoptive mother for the past few years)
and is preparing a big requiem cake
in memory of my departed parents.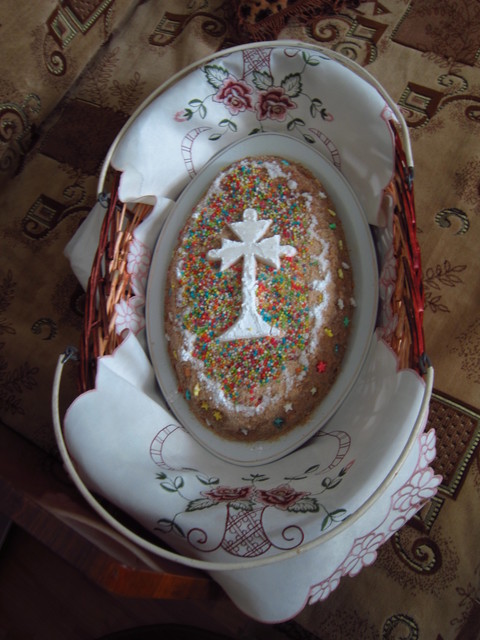 Beyond religious significance,
this traditional Romanian cake
(named "coliva")
has a few astronomical characteristics,
which I'll try to translate:
-the central cross is the stylized sun;
-the colored candies around it
are the colors given us by the sun;
-more stars (made of candies) appear
around this larger area,
as being out of the solar system;
-its oval shape seems like half of the symbol of infinity
(probably just + infinity).
So the "coliva" symbolizes
our bit of Universe.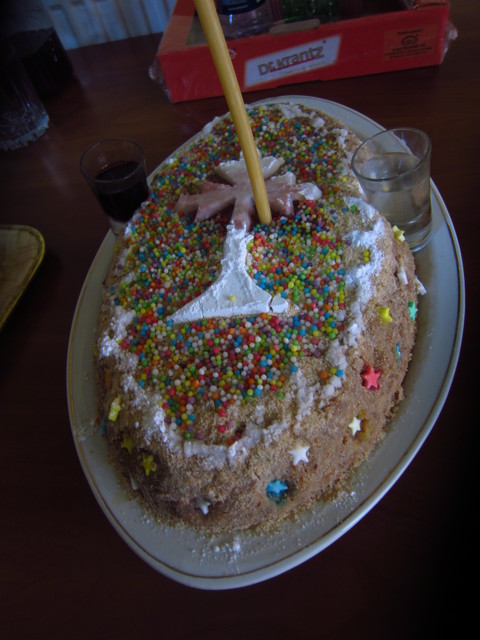 If we take into consideration that
the only thing which people dare
to superpose over the infinite
is just the Universe,
we can conclude that,
during commemoration of dear persons,
Romanians savor bits of infinity.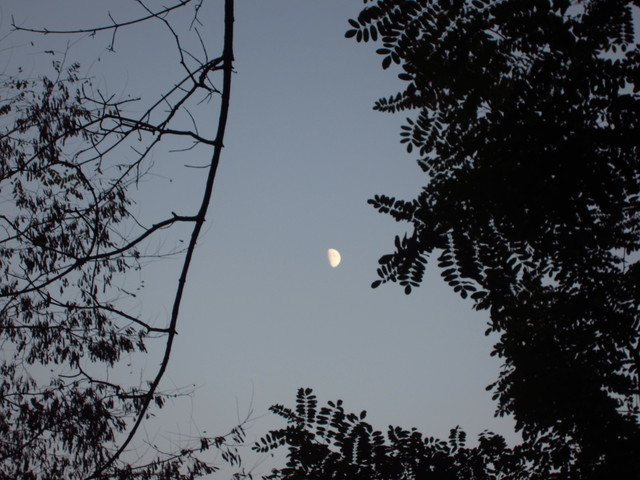 COSMIC REBEL
-astro-photo-poem by Danut Ionescu
(born in Romania, residing in New Zealand;
image made at Auckland StarDome Observatory)-
Even if the astronomers say
that our Sun is a yellow star,
my Sun is blue.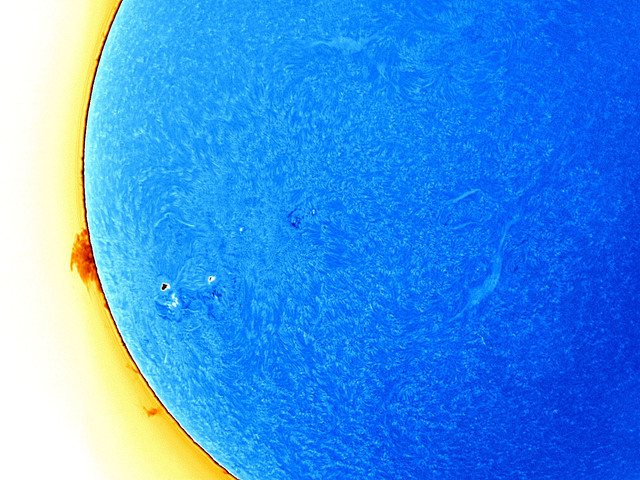 TO BE OR NOT TO BE
-astro-photo-poem by Valentin Grigore-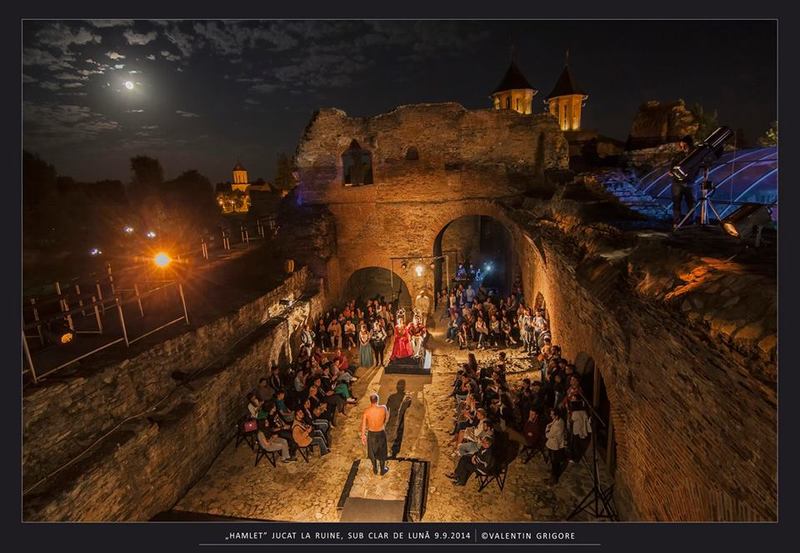 "Hamlet" by William Shakespeare
under the Moon.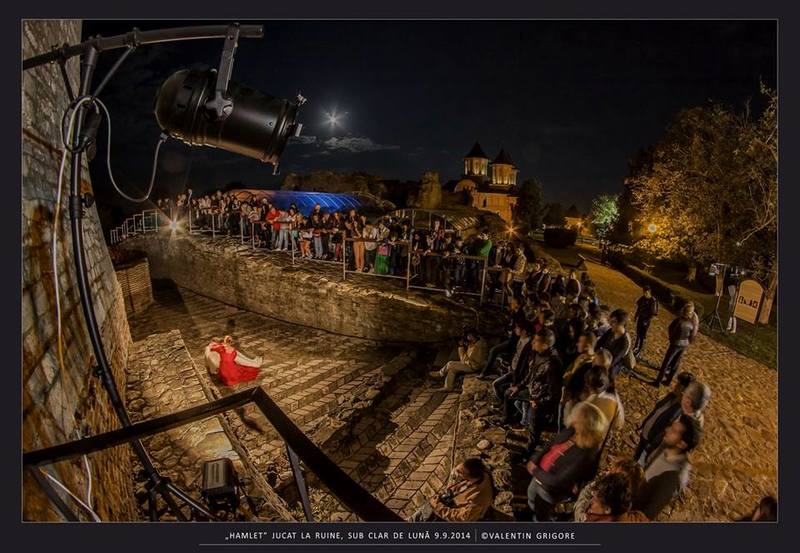 This time the "Prince of Denmark"
took place in Romania
at the foot of the Tower Chindia in Targoviste,
built by Dracula,
the Prince of Wallachia…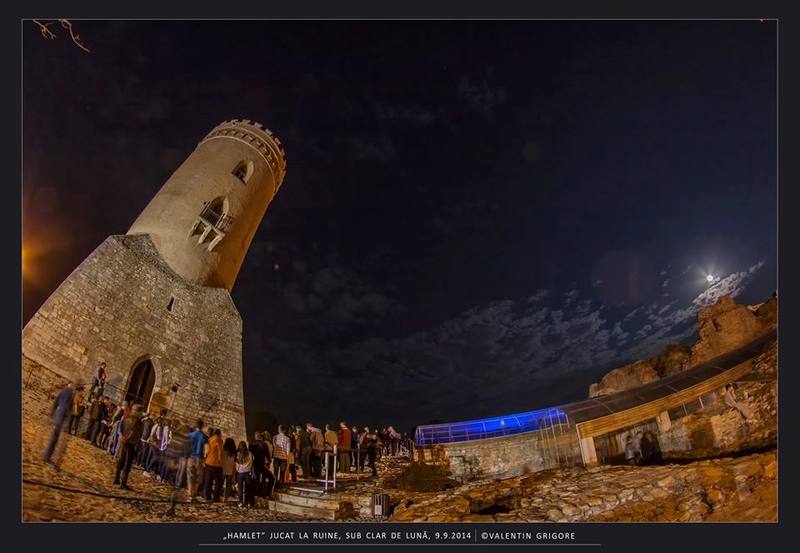 For a complete show,
the Moon as the Princess of the Entire Sky,
shining above the spectators
and polishing with her light the ruins of the Monarchical Court,
ennobled herself
with a beautiful corona.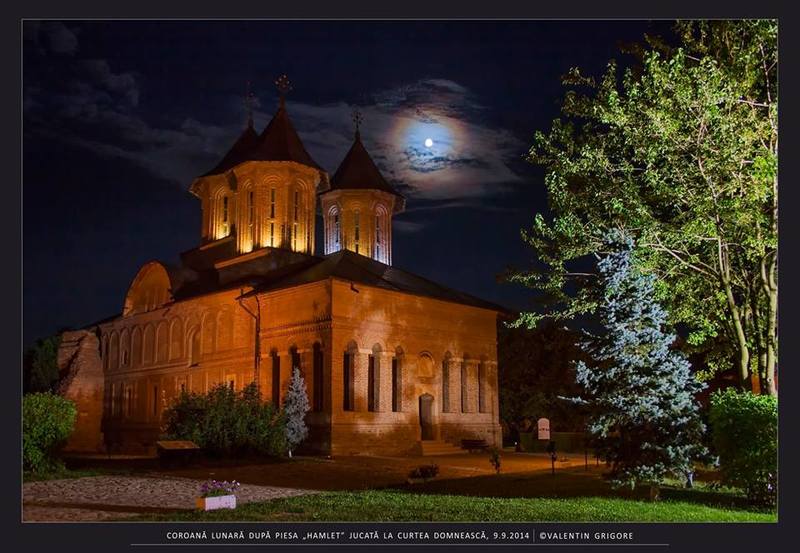 THE ASTRONAUT'S RETURN
-by Marge Simon (USA,
laureate of the Rhysling Award)-
A bouquet of honeyed skin,
you are as I'd imagined.
Our eyes the same, the way we smile,
long-legged wild child, little sister.
I only wish to come home,
but none believe it. With my name,
A fleet at my command, I own the stars.
Why do you turn away?
The circle worlds are multiple.
It is life, not death that has no limits.
You tell me you're my brother,
yet you don't know us.
Born a millennia before,
you cannot understand our ways.

When you left to sail beyond the skies,
our sun was always rising.
Now it sits above the western most mountain.
Ancestor or myth, you come too late
to save us from the end.
Our cherished histories endure
within the sea and frag,
our lives a part of the elemental clock –
why would we ever wish to leave?

Soon this last ring of time,
our small part of it, will disappear.
Yet it is ours, and all that's come and gone
in this infinitely small space
is known to us alone.

So I beg you take your ships away,
leave us be.
M81 AND M82
-photo by Csere Mihaly-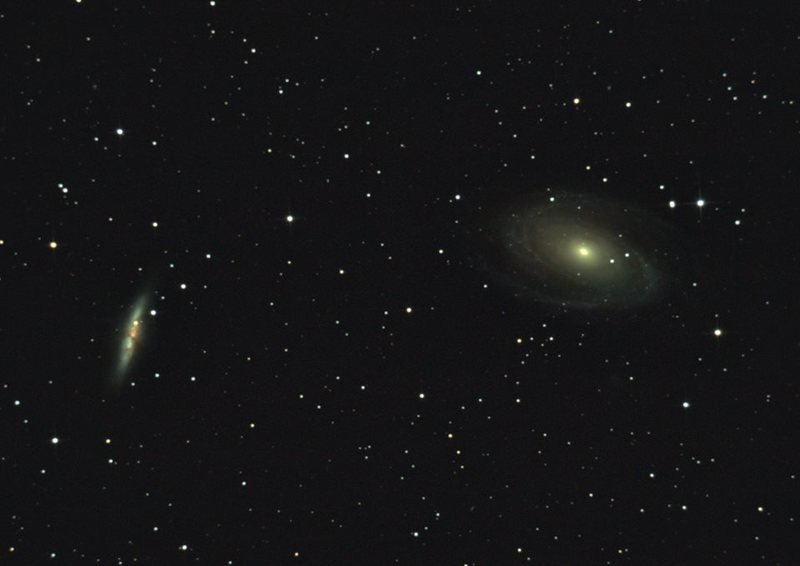 JUPITER
-photo-collage by Adrian Bruno Sonka-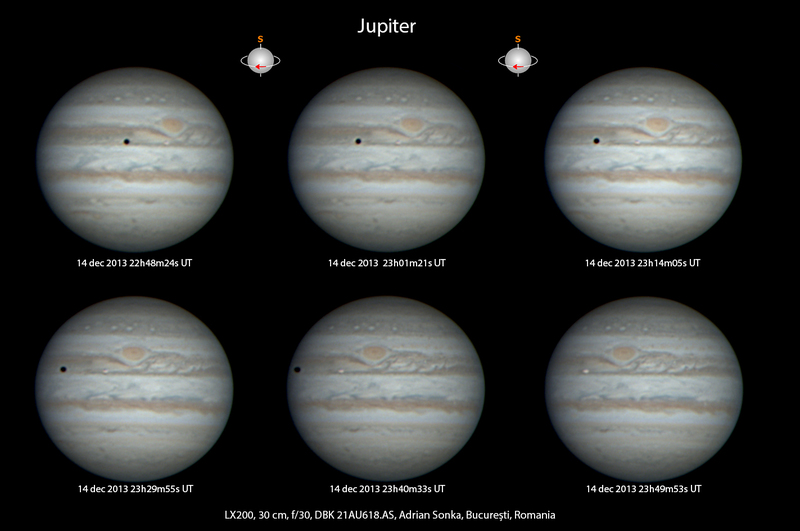 THE FIRST ASTEROID DISCOVERED IN ROMANIA
-by Galati Observatory
(Jan Ovidiu Tercu, Alex Dumitriu and Aurel Chirila)-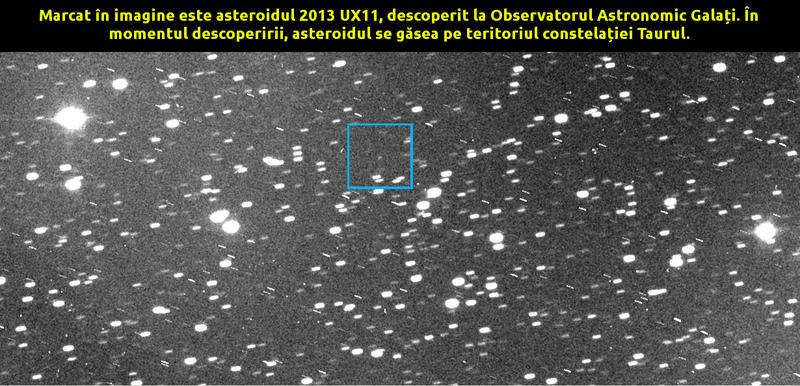 NEIGHBORS OF MARS
(Satellite Deimos and Comet Siding Spring)
-photos by Maximilian Teodorescu-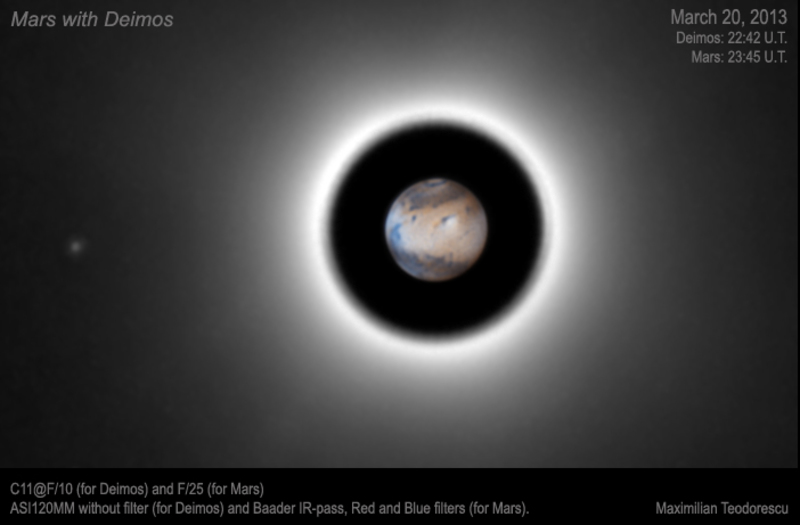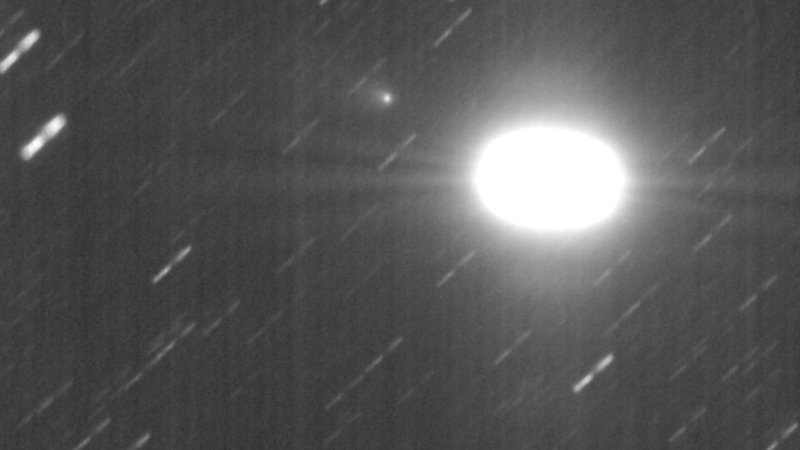 MOON AND ASTRONAUT
-by Doina Chilargi-
She fell in love with him
right when she saw him,
but too soon
the young astronaut left her…
Selene sighs, hopes and dreams
of his return
(what a commission!),
if not from longing,
at least for another mission.
MOON
-photographic poem by Maximilian Teodorescu-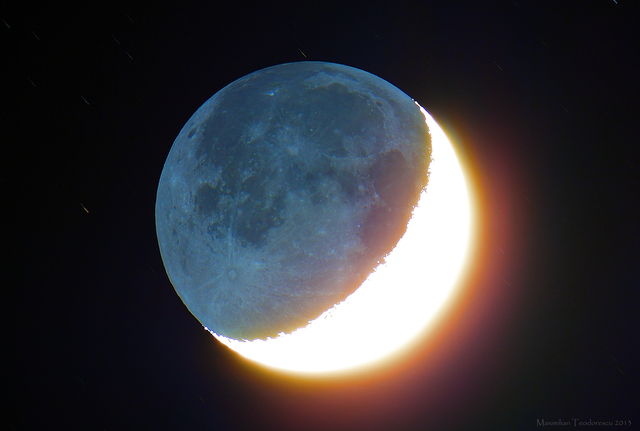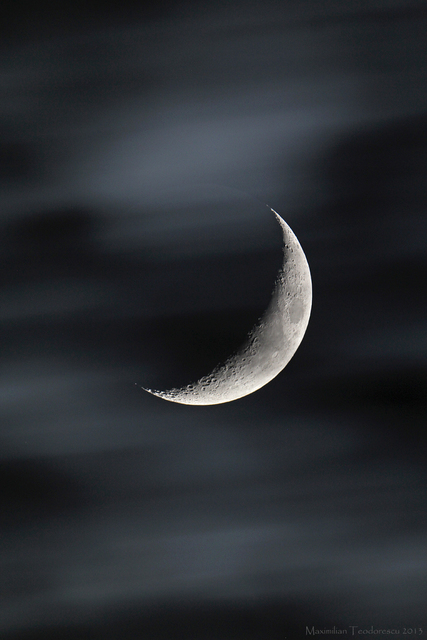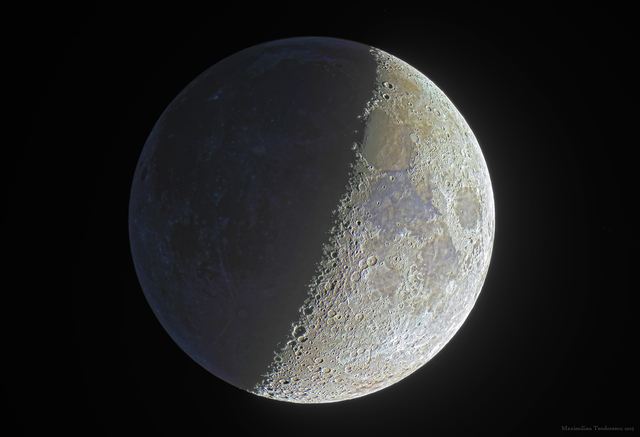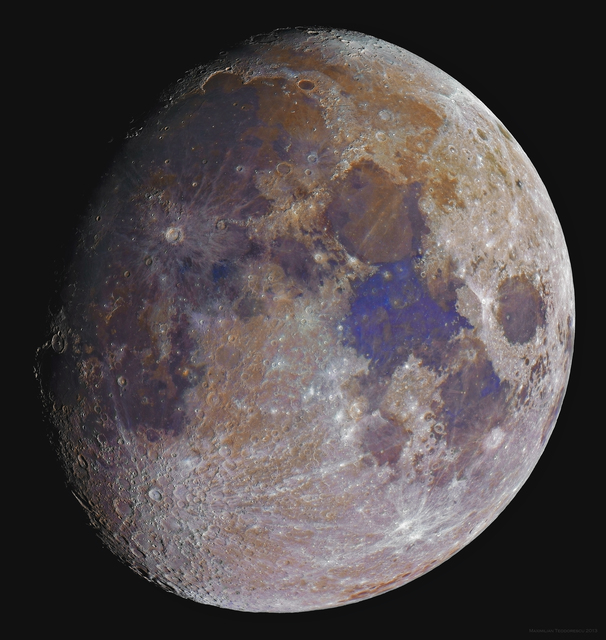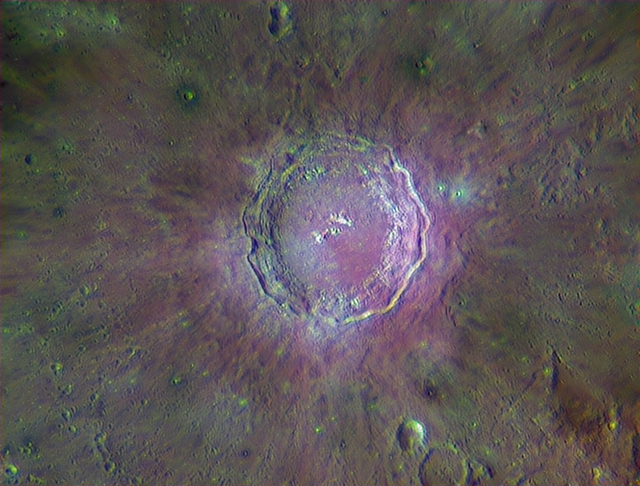 WHY
-by Ioan Mircea Corpodean-
I am a cosmic monkey:
I live in the Universe
and I write on Earth.
I cosmically think,
but I clown on Earth!
CELESTIAL SEQUENCES
(1. Perseid Fireball, 2013
2. Summer Sky
3. Lunar Eclipse, October 2014)
-by Yasuhiro Tonomura (Japan,
Nippon Meteor Society, Oriental Astronomical Society)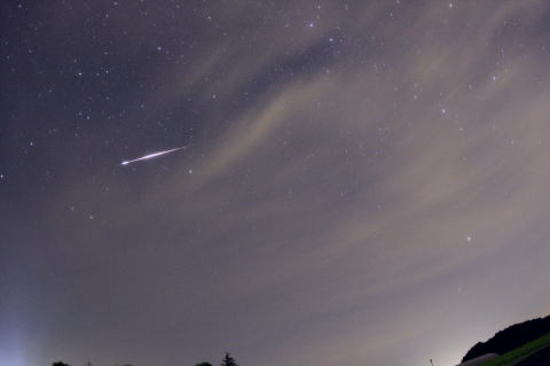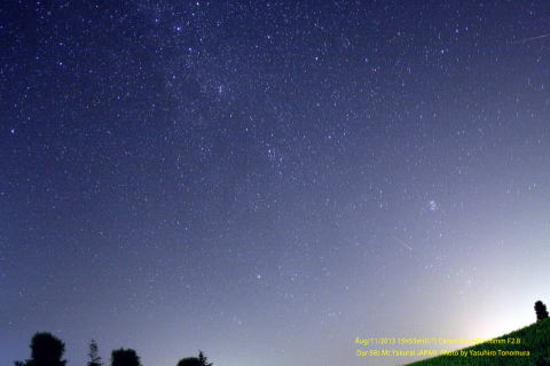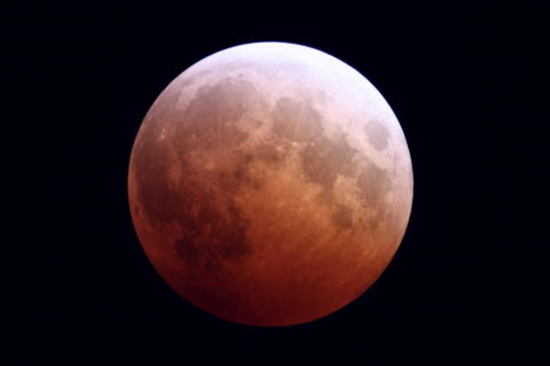 FEELING
-by Andrei Dorian Gheorghe-
Usually I don't think of the infinite,
but I miss it when the sky
is cloudy
and I naturally feel it when the sky
is ennobled
by solemn stars
or enlivened
by joyous meteors
(the success of the Rosetta Mission
on Comet Churymov-Gerasimenko
involves, for instance,
just the technical category
of the feelings).
METEORS NEAR GREAT OBSERVATORIES
(MAGIC and GRANTECAN, La Palma, June 2014)
-photos by Valentin Grigore-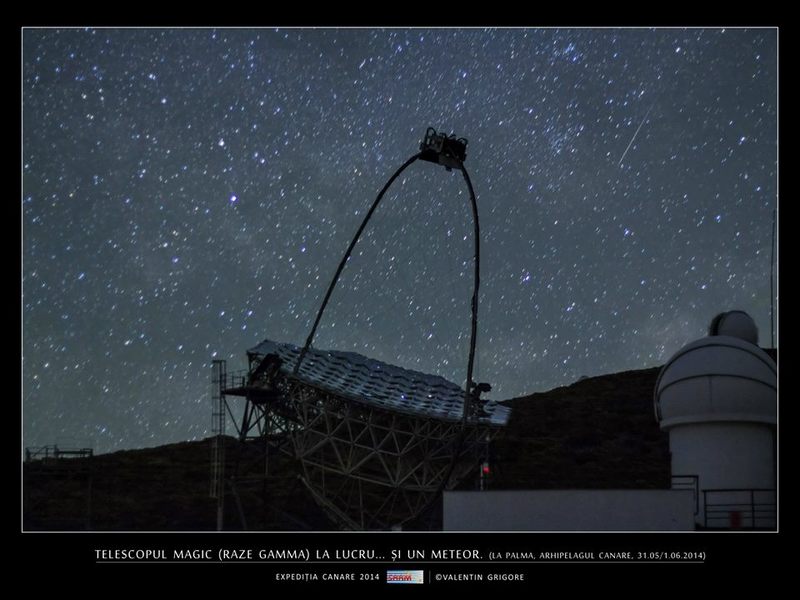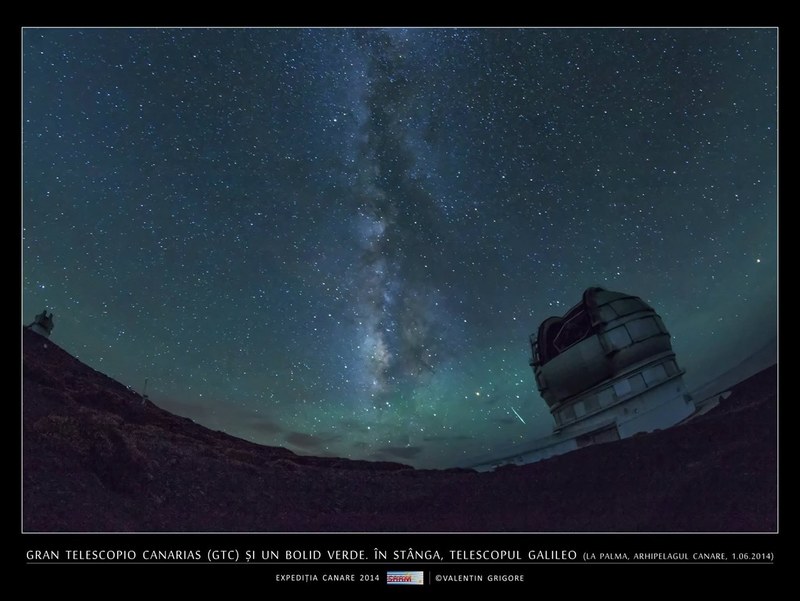 INFINITY
(EXERCISE FOR SHEPHERDS)
-by Dan Mitrut-
The night leaves the village
flowing under the claw
of a quivering root
the frost cures
the wounds of the ground
from the fallen stars
between windows
uncarolled by birds
crumbs of bread
time asks an old man
about the best beginning
of a new day
maybe over a poplar
almost withered
by its own shadow
HEAVENLY BODIES
(1. Forest Sun
2. Almost Super-Moon 2013
3. Comet Jacques, 2014)
-photographic poem by Casper ter Kuile (the Netherlands,
member of the International Meteor Organization)-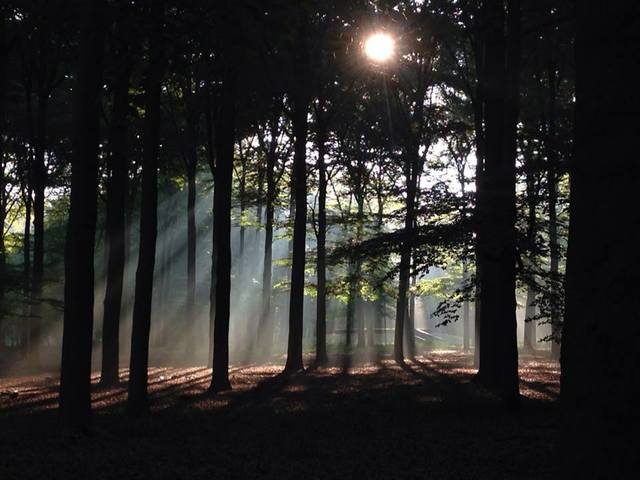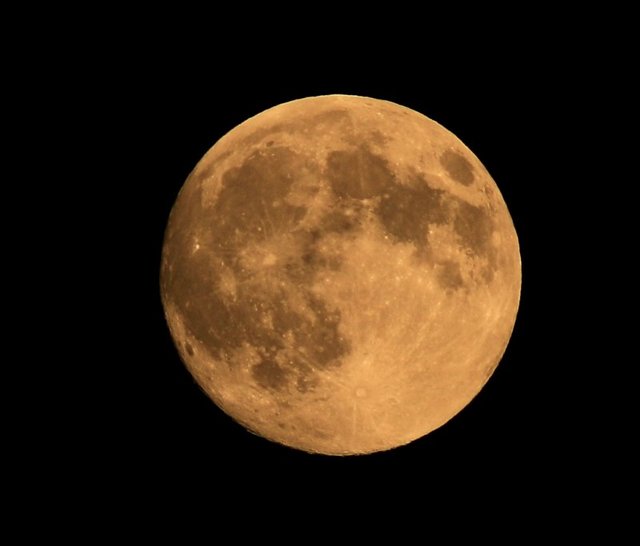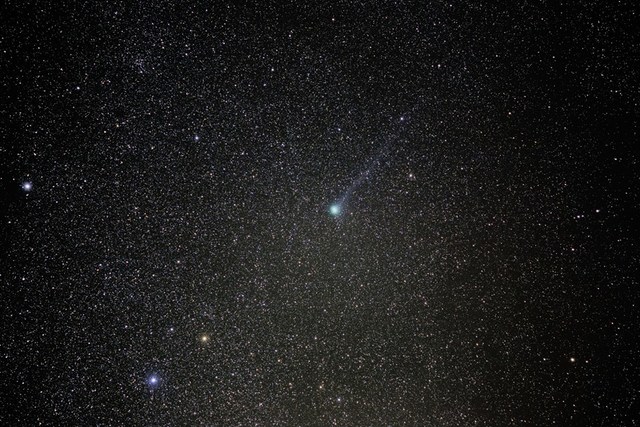 NOVEMBER FULL MOON 2014
-astro-photo-poem by Valentin Grigore-
And slowly
the Full Moon abandoned herself
in a nest of clouds…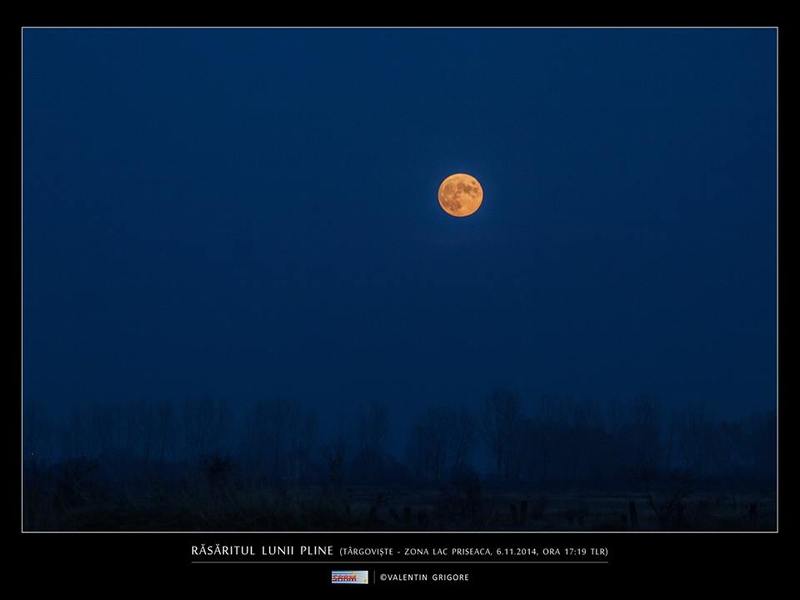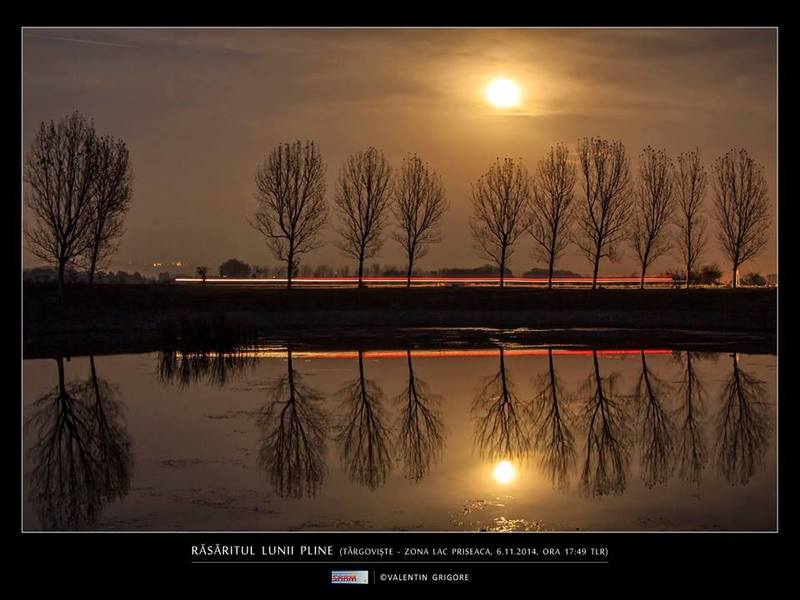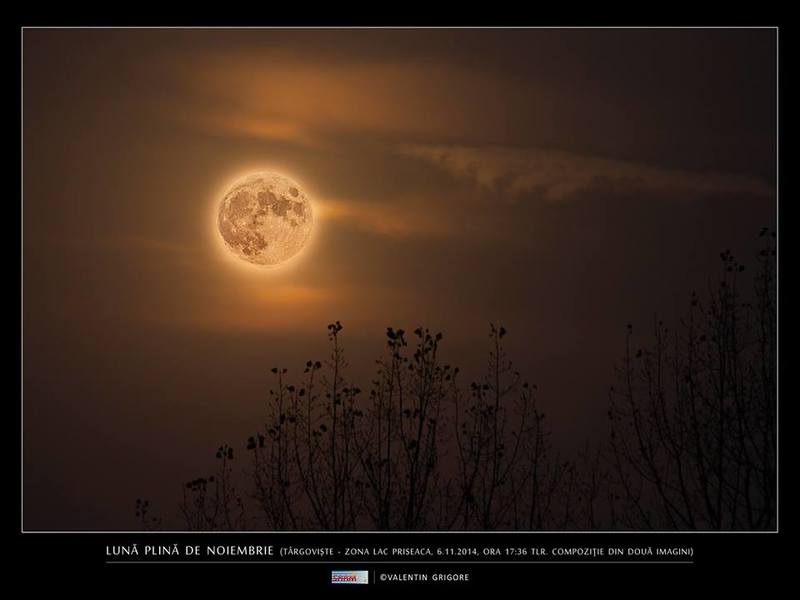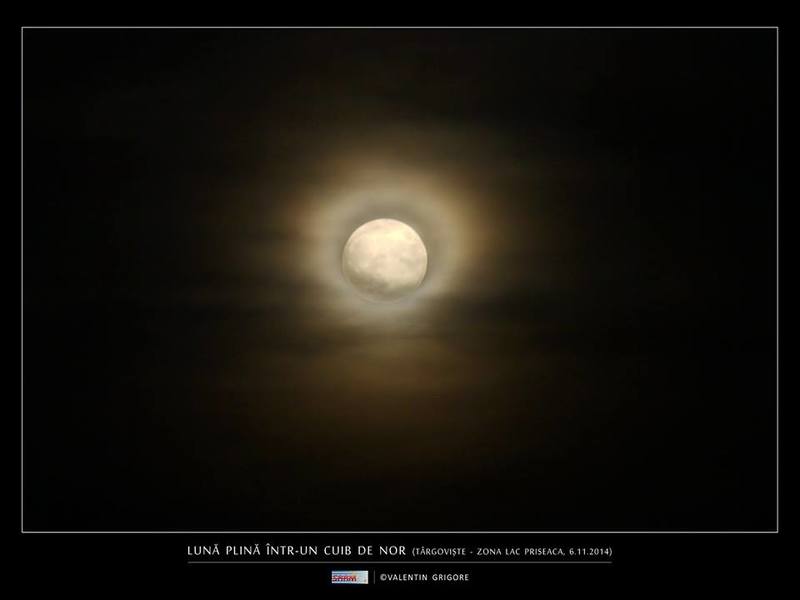 DEFINITION
-by Dominic Diamant-
Infinity -
the abstraction which
we don't find the edges.
ABOVE / BELOW
-photographic poem by Alin Tolea
(born in Romania, residing in USA)-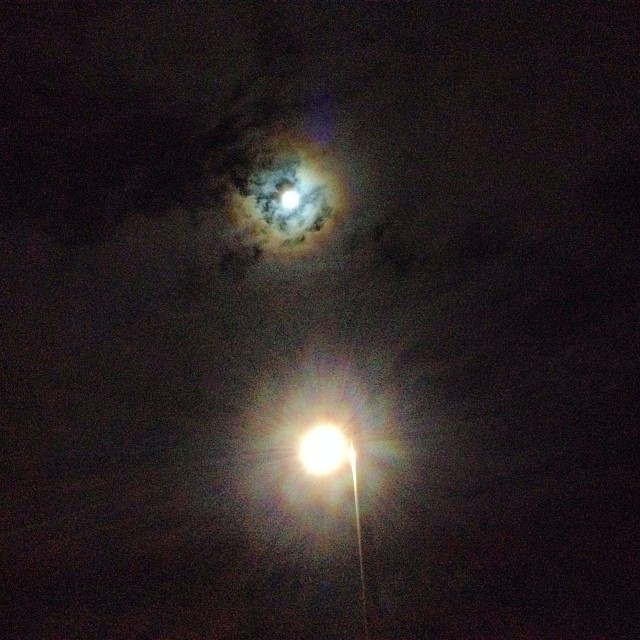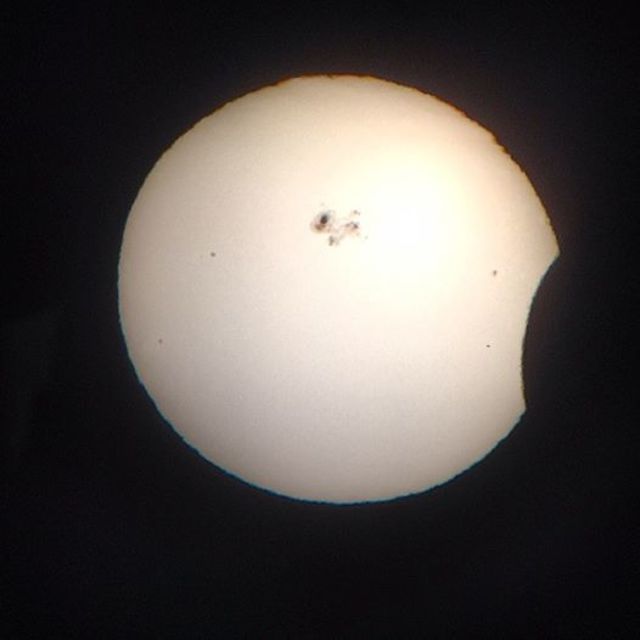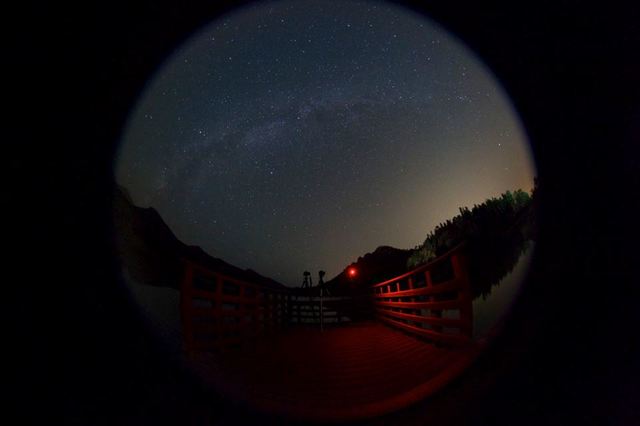 RAINBOW NEAR TARGU JIU
-photos by Valentin Grigore;
poem by Andrei Dorian Gheorghe-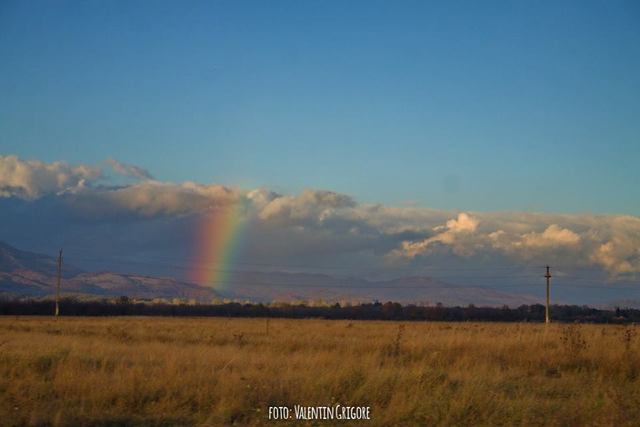 Since the real Romanians
chose the colors of the rainbow (red, yellow and blue)
for their flag
and the infinite column
as their artistic symbol,
maybe sometimes I could dream
of an infinite rainbow…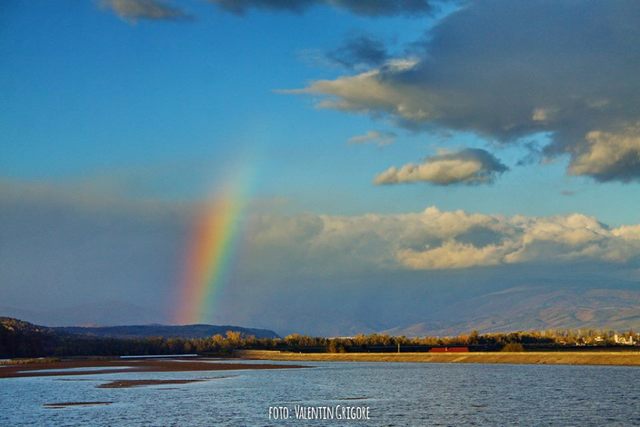 OTHER WORKS INSPIRED BY
CONSTANTIN BRANCUSI'S INFINITE COLUMN
(1. Small reproduction in the city of Roman, Romania
2. Sculpture in Sydney, Australia
3. The Column by Eugen Ciuca in the Herastrau Park, Bucharest)
-photos by Andrei Dorian Gheorghe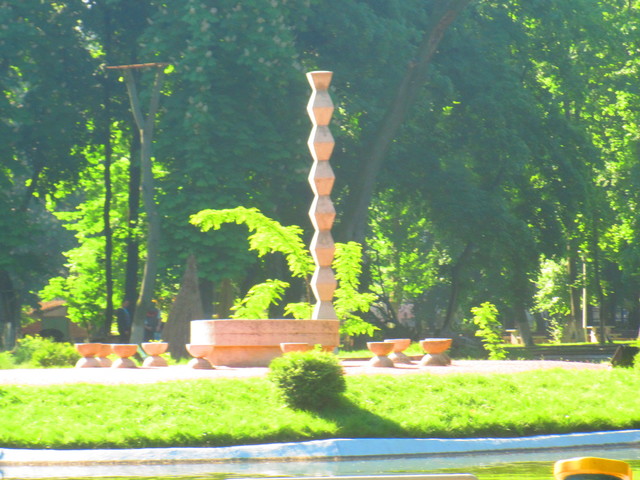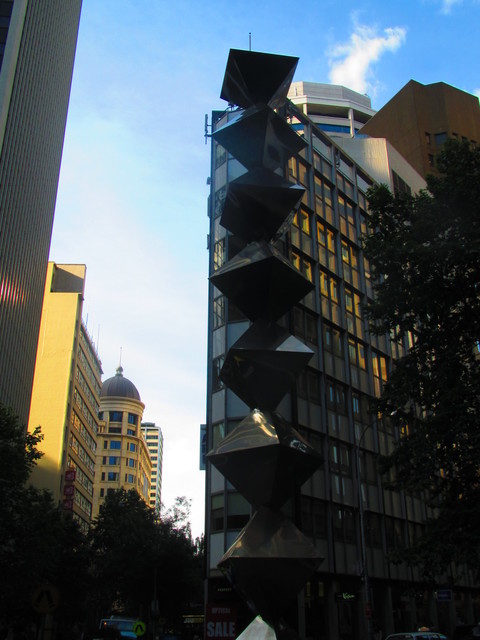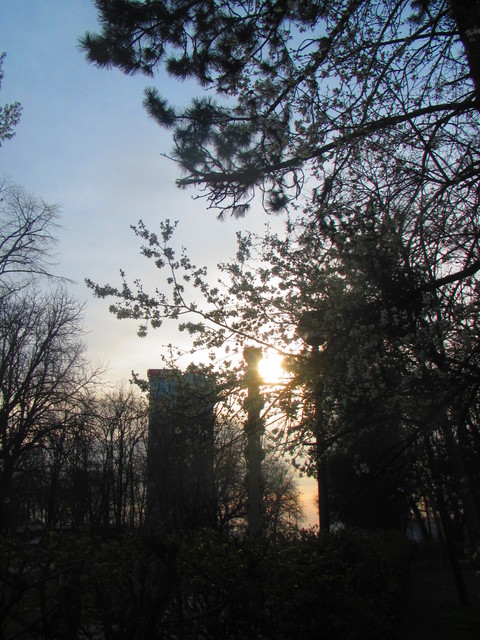 *
Coordinator: Andrei Dorian Gheorghe
Technical Counselllor: Valentin Grigore (President of SARM)
Proof Checking Counsellor: Arlene Carol
Web Master and Designer: Florin Alexandru Stancu
Secretary: Alexandru Sebastian Grigore
© 2014 SARM
(Romanian Society for Meteors and Astronomy)
With the support of some admirable members of the
Science Fiction Poetry Association, Astronomers Without Borders,
International Meteor Organization, Lunar Anomaly Research Society
and SRCSTV