TWO NEIGHBOURING ECLIPSES
SALUTE TWO MILLENNIA
"A difference of only two weeks,
a distance of almost 8000 km,
two different millennia,
and two eclipses:
one of the sun
and one of the moon…"
-Deak Zoltan-
PARTIAL SOLAR ECLIPSE IN NORTH AMERICA,
2000, DECEMBER 25TH
-photo-collage and words by Alin Tolea and Ovidiu Vaduvescu
(SARM counsellors established in USA and Canada),
Toronto-
In the memory of Roger Tuthill

Right in the Christmas Day,
we photographed the last partial solar eclipse of the 2
nd
millennium
in Toronto (Canada),
and used a special piece of Mylar filter
given at the EuRoEclipse 99 event in Romania by its inventor,
the American engineer Roger Tuthill
(who had started towards the stars
just 10 days before this phenomenon).
Thus,
one more time,
Roger was the "astronomical" friend of everybody…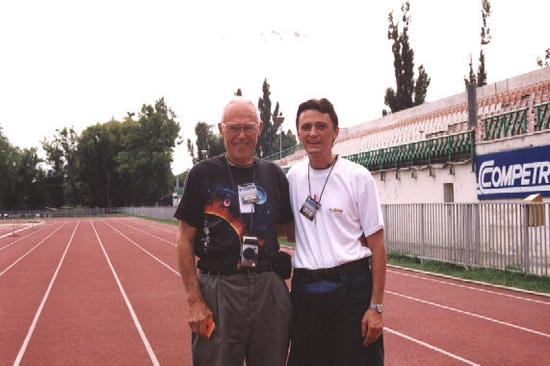 Roger Tuthill and Ovidiu Vaduvescu at EuRoEclipse 99
TOTAL LUNAR ECLIPSE IN EUROPE,
2001, JANUARY 9TH
-photo by Stefan Calin,
Bucharest-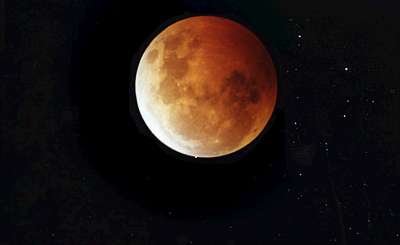 DEAR "AMIGOS DE LA ASTRONOMIA":
-by Andrei Dorian Gheorghe-
I've just received your postcard.
Now I'm staying in my balcony,
reading your message of love and peace,
and looking at the first total lunar eclipse
of the 3
rd
millennium.
The sky dragon is eating the satellite,
but I am not worried,
the great hunter Orion
(now a magnificent constellation)
is very close.
Totality.
The lunar circle seems to be dark and bloodstained,
forewarning us that on Earth
there is too little love and peace.
I'm thinking of you,
dear friends from the southern hemisphere.
Although you are caressed by other constellations,
the sky always remain the same,
noble and wonderful.
Orion begins to liberate the Moon,
and I'm very happy looking at
her progressive golden brightness
reflected from the Sun just like
a celestial message of love and peace.
Dear Argentinean "Amigos de la Astronomia":
when you will see the first meteor,
think that it will carry
my Romanian message of love and peace
towards you.
ECLIPSE SEQUENCE
-by Gerald England (UK,
editor of New Hope International)-
bright full moon
shines through thin cloud
- a plane flies over
the shadow bites -
level with big planets
Capella shines
four-fifths gone
more stars appear
Venus fades
from her sick-bed
my wife watches the action
on television
frosty night -
deep red disc
in Gemini
light rays spread
to Pollux and Castor
- crescent emerges
half moon
Procyon and Sirius
twinkle low
small shadow left
the biting wind
sends me indoors
the whole moon
south in winter sky
- curtains close
HAIKU
(after the eclipse)
-by Gelu-Claudiu Radu-
Hey, fellows,
I've found the Moon
irresistibly yellow!
*
Note:
The lunar eclipse poems were first published in
Romanian Contemporary Astropoetry and Guests 2001
Design: Florin Stancu
© 2009 SARM
(Romanian Society for Meteors and Astronomy)